As we approach the 2021 NFL Draft, there is a growing sense that we all know how this is going to unfold. And as everybody's knowledge of the various draft prospects increases, our sense of certainty about who is and isn't a viable first-rounder only magnifies. The inevitability at the top of this draft when it comes to Trevor Lawrence and likely Zach Wilson only intensifies that feeling.
But there are surprise first-round picks every season. After all, there are 32 teams in the NFL, each with its own unique draft board. Some teams do things in a radically different way than the rest, and it only takes one team to fall in love with a prospect for Roger Goodell to call a name that very few expected to hear on Day 1 of the draft.
Here are eight players who haven't been seen as first-rounders in mock drafts and draft guides but may have first-round grades on an NFL team's draft board.
View PFF's 2021 NFL Draft position rankings:
QB | RB | WR | TE | T | iOL | DI | EDGE | LB | CB | S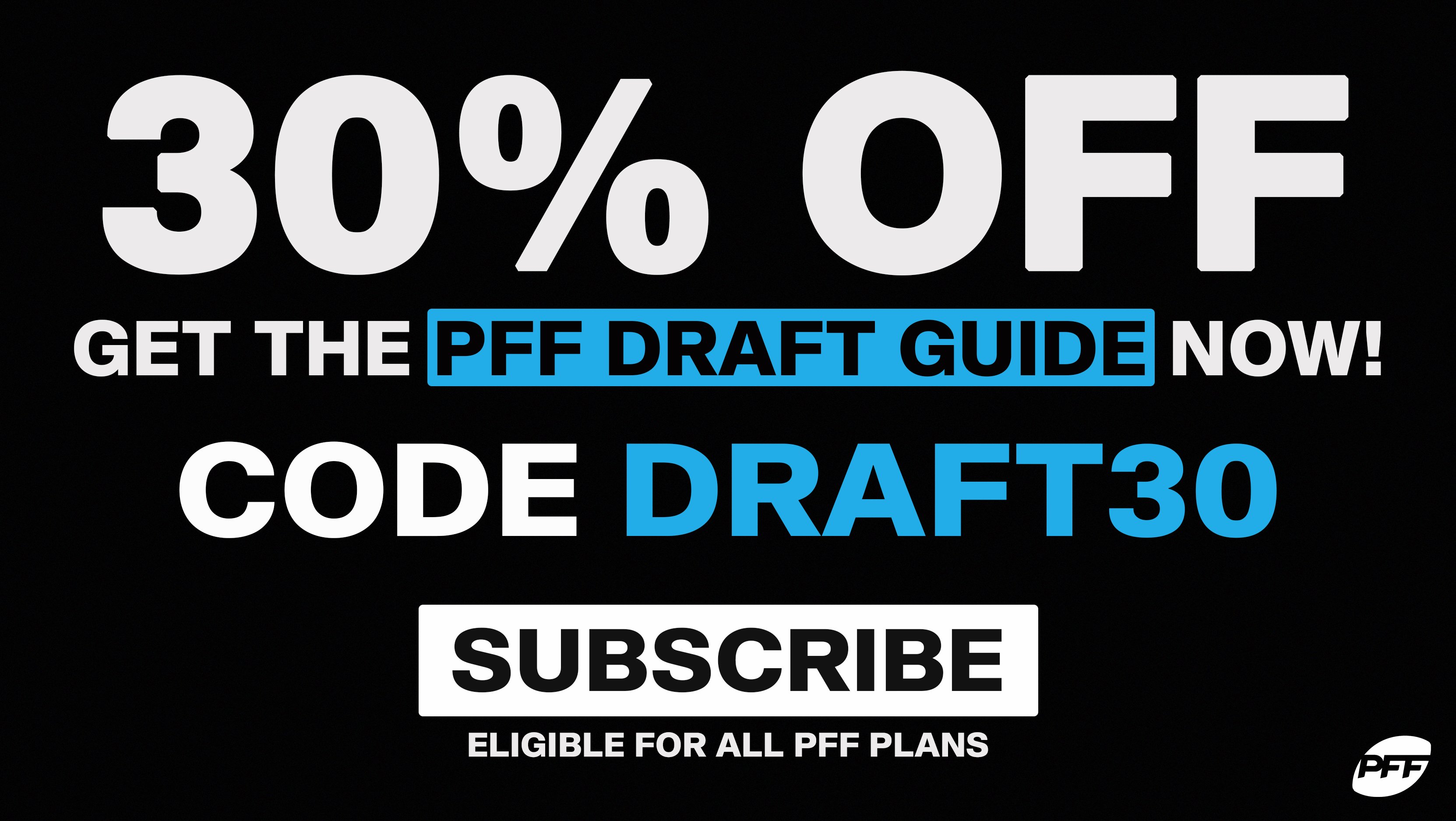 The offensive tackle position is still desperately coveted by a lot of NFL teams, and some of the better teams in the NFL have a glaring hole at tackle heading into the draft.
Much like last season, it seems likely that a glut of them go in the first round. And while the top candidates are obvious, the ones who sneak into the bottom of the round will be more debatable. Several names are being thrown around as likely candidates, but one that I think could hear his name called is Alabama's Alex Leatherwood.
Alabama has produced an impressive run of successful tackles, and in the uncertainty of this draft cycle, a degree of comfort like that might be appealing to teams.
Leatherwood has had two very solid seasons at left tackle in college, where he was a dominant run-blocker who struggled a little more in space or against quickness. He allowed nine total pressures in each of the last two seasons, and while he is a notable step down from the top tackle prospects, he could still start in the NFL in the right situation.
Related: 2021 NFL Draft offensive tackle rankings via Mike Renner
---
We expect to see five quarterbacks drafted in the first round, and all five could be gone in the first 10 picks, leaving a couple of the more quarterback-needy teams without a plan going forward. The bottom of the first round has often been a target spot for teams either trading back into the round or simply selecting one more passer to secure that fifth-year option on his contract. And we have seen talk of a few players getting that kind of buzz as the draft approaches.
Davis Mills is one such player, and though I think it would be approaching madness to reach for him in the first round, he at least fits the bill of the type of player who might get unexpectedly pushed up draft boards. Mills has the big arm and NFL tools to succeed and be a better player at the next level than he was in college. A reel of his big-time throws makes for some exciting viewing, and once the cleanest prospects are gone at the position, the desperation for a starting QB might force someone to roll the dice in the hope that they can develop him into the player they think he can become. Mills earned an overall PFF grade of 82.9 this past season on just 373 snaps.
Related: Ranking the late-round quarterback options via Sam Monson
The NFL is always going to chase freaky athletes, and few are freakier than Ifeatu Melifonwu. Following in the footsteps of his brother a few years ago, Ifeatu posted some of the best workout numbers you are ever going to see, ranking in the 95th-percentile or better in three explosion drills, including the vertical and broad jumps.
That athleticism shows up on tape in the form of elite burst to the football and a wingspan that makes anything at the catch point a challenge for receivers and quarterbacks.
His college career has been good, not great, with his career-best overall PFF grade of 78.8 coming this past season. Still, there will be NFL teams that believe he can be so much better than that at the next level and will look to tap into the kind of physical gifts that they won't be able to find anywhere else.
---
With Kyle Pitts expected to be one of the top five selections in the draft, it feels like the tight end position might be "one and done" in the first round. However, such is the dearth of talent at the position throughout the NFL right now that we could see another one sneak in lower down.
Pat Freiermuth has all the tools to be a complete player at the position, and while he doesn't have the kind of unicorn skill set Pitts does, he could still provide an answer for several teams that have almost nothing at the position.
The Penn State product averaged 2.3 yards per route run and generated a target share of 28% within the Nittany Lions offense, making him one of the few tight ends who was a genuine focal point of an offense in college.
Related: 2021 NFL Draft linebacker rankings via Mike Renner
---
I'm not sure the league knows what it should be chasing when it comes to linebackers in 2021. The position has become so stressed by the way modern offenses attack that few players can consistently earn elite PFF grades — especially in coverage — and the transition from the college to the NFL level has become more difficult by orders of magnitude from the days where linebackers were always a pretty good bet to win defensive rookie of the year if they were likely to start.
The NFL knows that they want athleticism at the position, but beyond that, it's unclear right now how productive the player needs to have been in college.
Jamin Davis really only has one season of play under his belt, and it was impressive, albeit not truly elite (overall PFF grade of 81.6). The tools to be a complete NFL linebacker are unquestionable. He forced just one incompletion in addition to three gifted interceptions, but that lack of production on the ball is a concern.
Related: 2021 NFL Draft linebacker rankings via Mike Renner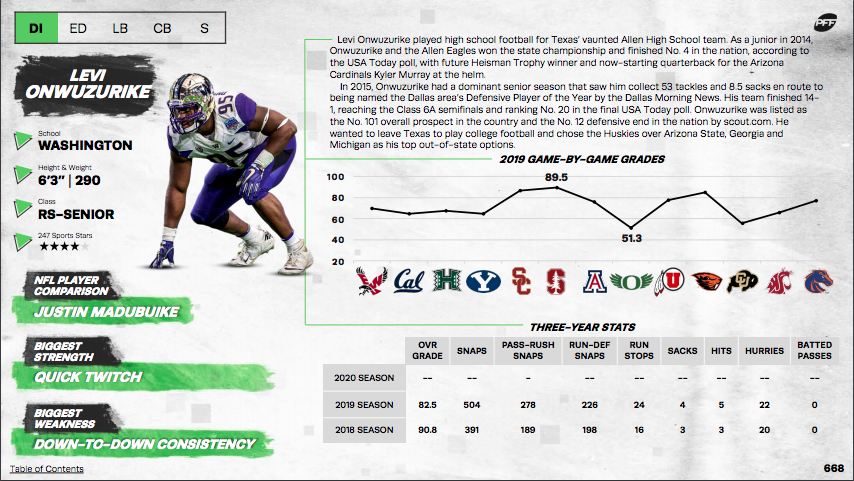 Interior defensive line may be one of the weakest positions in this draft and one of the weakest classes for years at that spot. Alabama's Christian Barmore is the one consensus first-round player, and there is even a notable and vocal minority of analysts who aren't sold on his game. There are still plenty of needy teams that are going to be looking for players at that position, and so relative scarcity could push some higher than they might ordinarily go.
Levi Onwuzurike opted out in 2020 but is one of the few players who has the potential to be a dominant pass-rushing force on the inside. He flashed that ability in 2018 before hitting a plateau as a full-time starter in 2019, though the number of snaps he played at nose tackle (184 snaps out of 504 that year) surely did him no favors.
The lack of 2020 playing time potentially hurts him a lot, but if NFL teams are prepared to project growth, somebody could buy into the idea of him as a first-round talent in a draft without too many of them in this spot.
---
A 4.34 40 time combined with a 1.5-second flat 10-yard split at Georgia's pro day made everybody sit up and take notice of Eric Stokes, who has a lot of consistent tape on his resume in a tough conference but has yet to really show special play that might justify that draft pick.
Stokes has been solid in coverage and has put up some excellent numbers, allowing just 145 total receiving yards across 299 coverage snaps in the SEC this past season. He managed four interceptions and 15 pass breakups over three seasons and just shy of 1,000 coverage snaps, which is a degree of playmaking that teams will want to see more of at the next level, but his ability to keep opposing receivers as quiet as he did for most of his college career is significant, especially when paired with that blazing straight-line speed.
---
The edge rusher class is utter chaos this season. There is no clean, universally loved prospect like Chase Young who will take their place atop the group with no question marks. Instead, every player has some form of red flag, missing data point or question mark, with playing time a real issue for most of them. As such, we are going to see them ordered in a variety of dramatic ways.
Payton Turner is a player most people have outside of that first-round group, but a team could easily rank him among them. He ranks No. 58 on PFF's 2021 NFL Draft Big Board and earned an exceptional PFF pass-rushing grade of 91.7 against true pass sets in 2020. His season was very low in sample size, with just over 200 snaps in total, but he flashed the ability to be a dominant rusher and has the versatility at his size to rush from the inside and dominate, as well. Turner is a player that could easily make it to the first round.
---
More of PFF's 2021 NFL Draft tools here: 
2021 NFL Draft Big Board | 2021 NFL Draft Guide | 2021 NFL Draft Stats Export | NFL Mock Drafts | NFL Mock Draft Simulator