The rumors you've heard are true: This is a special offensive line class. It may not have the top-end we saw in 2020, but it has the kind of depth that we simply haven't seen in our seven years of grading college football.
It remains to be seen whether that means NFL teams will get starters later on or that several big-name prospects go early. What it does mean, though, is that it's a good year to need offensive line help.
View PFF's 2021 NFL Draft position rankings:
QB | RB | WR | TE | T | iOL | DI | EDGE | LB | CB | S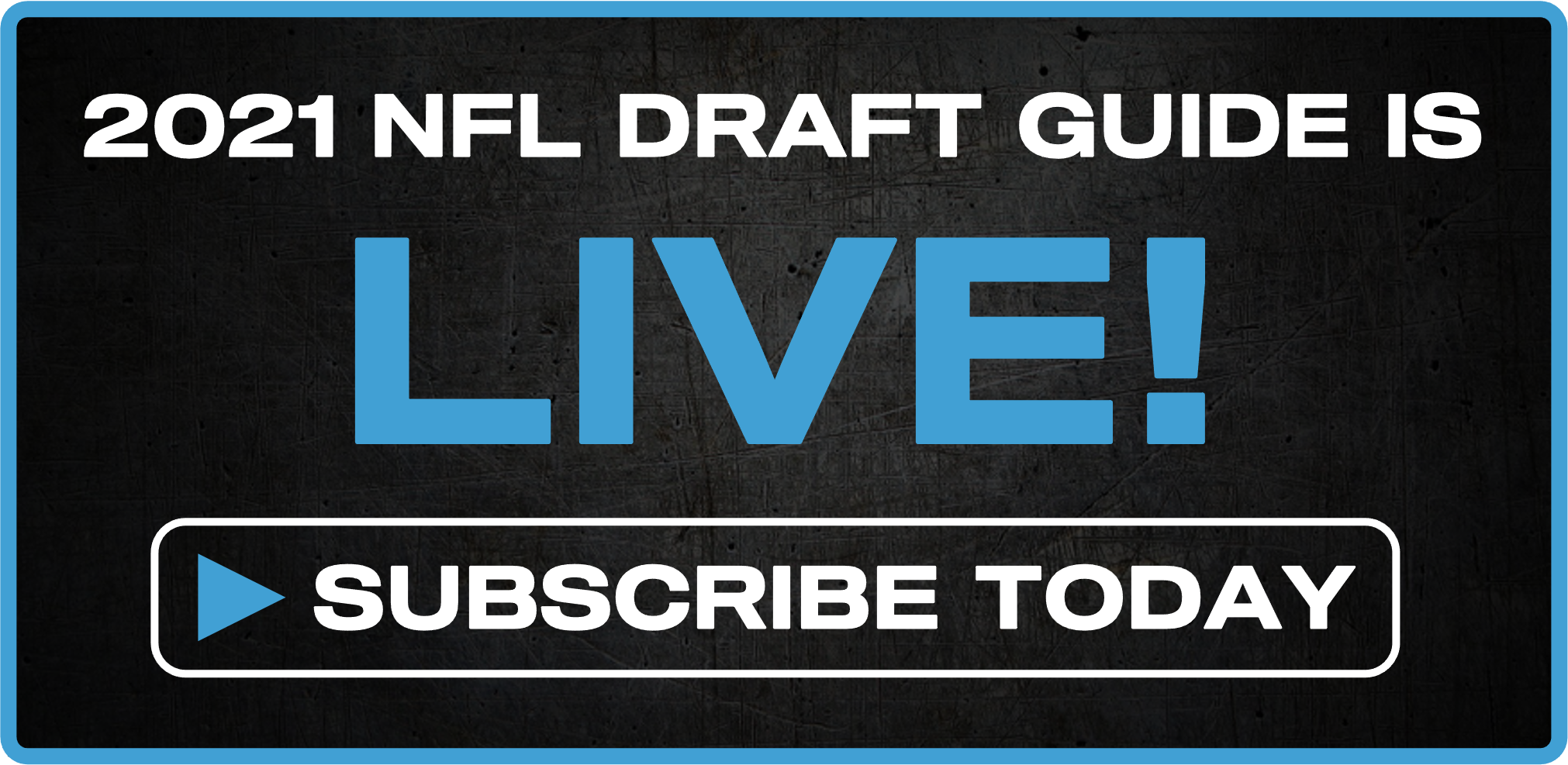 This is where Slater wins. Watching him close down space between him and defenders is a thing of beauty. It's why he handled 2020 No. 2 overall pick Chase Young better than any other offensive lineman in the country back in 2019. He truly is a special athlete for the position.
Enjoyed watching former Northwestern OT Rashawn Slater. I think he's a tackle. The 2019 game vs. Ohio State sold me on that. He handled Chase Young well. There will be some teams that grade him as an IOL though. pic.twitter.com/ZiNIND40uX

— Jordan Reid (@Jordan_Reid) November 5, 2020
Dickerson plays with an uncoachable mean streak. He not only wants to put guys in the turf; he wants to dive on top of them while they're down. He tied for the Power 5 lead in big-time blocks in the run game this past season and routinely buried defenders in pass protection. His 92.8 run-blocking grade in 2020 was the highest we've seen in a single season at the center position since former Arkansas center and now Detroit Lion Frank Ragnow.
Landon. Dickerson.
Every. Single. Week. pic.twitter.com/lv8m91NQU9

— Cole Cubelic (@colecubelic) November 29, 2020
This one is not only backed up by how visually appealing his technique is in pass protection, but it's also backed up by the PFF grades. His 91.7 pass-blocking grade on 297 true pass sets over the past two years is far and away tops in the draft class. For Vera-Tucker's entire college career, he only allowed 16 pressures on 975 pass-blocking snaps. That's quite the track record.
Another clean performance from #USC OT Alijah Vera-Tucker (LT #75) yesterday vs. Arizona. Hard to believe that it's only his second career game playing tackle.

In a zone based blocking scheme, he could be an ideal fit at either guard or tackle. pic.twitter.com/RIFqgagCB8

— Jordan Reid (@Jordan_Reid) November 15, 2020
Slater started his career at right tackle before switching to the left in 2019. While he's only played on the edge, he has the ideal body type — 6-foot-4, 304 pounds, 33-inch arms — and athleticism to play anywhere on the offensive line. That arm length may make teams think about putting him on the interior, but it would be absurd not to start him anywhere other than tackle at the next level.
With 2,941 career snaps, Anderson has the most snaps played of any lineman in the top 250 on PFF's 2021 NFL Draft Big Board. Others who have cracked 2,700-plus career snaps are Northwestern's Rashawn Slater (2,700), Iowa's Alaric Jackson (2,758), South Carolina's Sadarius Hutcherson (2,759), Nebraska's Brenden Jaimes (2,785), Cal's Jake Curhan (2,827), Texas A&M's Carson Green (2,927) and Kentucky's Drake Jackson (2,940).
The #Bills met w/ Texas Tech OG/C Jack Anderson (@JackAnderson56) at The Senior Bowl. The Bills love his positional flexibility. He has plenty of Pass Pro experience on his resume. His wide frame & physicality help him create displacement on Down Blocks or Inside Zone concepts. pic.twitter.com/3JQHjN05qf

— Erik Turner (@ErikJTurner) February 24, 2021
This one was hotly contested this draft season. Illinois' Kendrick Green (36-inch vertical and 9-foot-11 broad jump) as well as Texas' Sam Cosmi (4.87-second 40, 36 bench reps, and 7.35-second three-cone) both had all-time pro-day figures in their own right.
But it was Brown who put up arguably the single freakiest offensive line testing figure we've ever seen. He ran a 6.96 three-cone at 311 pounds. That's the fastest ever recorded for an offensive lineman. To put that into perspective, Antonio Brown only ran a 6.98 three-cone coming out of Central Michigan.
Spencer Brown is a pure project at this point, but you won't find better project tools.
Spencer Brown just tossin people.
#Titans pic.twitter.com/xYwas1OFDq

— Wes On Broadway (@TitansDraftTape) April 5, 2021
Jenkins earned the highest run-blocking grade in the class on gap runs over the past two seasons. This should come as no surprise to anyone who has watched his tape.
Get the feeling that Oklahoma State OT Teven Jenkins might go sneaky high. Tough, physical and nasty mofo (his words). pic.twitter.com/7oVBxGxB1e

— Purple FTW! Podcast (@PurpleForTheWin) April 5, 2021
Gap run-blocking prioritizes movement over everything, and Jenkins routinely moves defenders against their will. It's why he earned a 93.6 run-blocking grade in 2020. He's an extremely powerful tackle who did 36 bench press reps and produced a 32.5-inch vertical at his pro day.
Sewell's blend of athleticism, size and play strength are why he earned a 95.7 run-blocking grade on 342 zone runs as a sophomore back in 2019. He can thrive in any scheme, but you really see his ability to shine on the move — 330-plus-pounders simply don't move the way he does.
Another one from @oregonfootball LT Penei Sewell…drops a shoulder n a LB for a pancake. ???? pic.twitter.com/DxQeacxVuC

— Cole Cubelic (@colecubelic) September 23, 2019
BYU's Brady Christensen also deserves a shoutout here, as he graded out just behind Sewell with a 95.4 zone grade over the past two seasons.