By now, we know enough about the NFL Draft to realize that it is a guessing game — there are inherent blind spots and risks that often get overshadowed because, well, we think we can evaluate talent and project from the college to the NFL ranks better than we actually can. That doesn't just apply to PFF and others in the media, but it also applies to NFL teams. Even the teams that draft the best miss on a lot of selections. That is what makes overconfidence a detriment during draft season. It's easy to get locked onto your guy and reach for that player or — in the worst case scenario — overpay to move up in the draft and select him, opening yourself up to compounding the mistake if he doesn't pan out. 
Our research and development team has done some great work this offseason on stuff like the surplus value of draft picks (spoiler: value doesn't drop off as steeply as you think early in the draft) and the draft success of every NFL team. It suggests that unless you are targeting a franchise-changing quarterback, trading back is almost never a bad idea. In a game of chance, why not get a few more rolls of the dice? 
[Editor's note: Check out PFF's 2020 Mock Draft Hub, NFL Draft Big Board and NFL Mock Draft Simulator. PFF Elite subscribers can also download the 1,100-page 2020 NFL Draft Guide.]
With that in mind, I compiled a list of five teams that I thought could benefit most by trading down from their first-round selections. If you want to see what kind of trades you can pull off yourself for these teams, head over to PFF's Mock Draft Simulator, complete with the ability to mix PFF and consensus big boards and customize settings such as drafting for need and taking into consideration positional value. 
PFF's Timo Riske already explored this possibility in-depth back in February, but it is worth repeating — if a team is looking to trade up to the second overall pick to get to either Tua Tagovailoa or Justin Herbert, the Redskins should trade down. As of right now, they have the No. 2 pick but don't select again until the 66th overall pick. For a team that has far from a complete roster, that is not an ideal gap to have in the early portion of the draft. The Redskins are in a position where they could amass multiple first rounders and/or Day 2 selections by moving off the second pick. Failing to do that would be a mistake.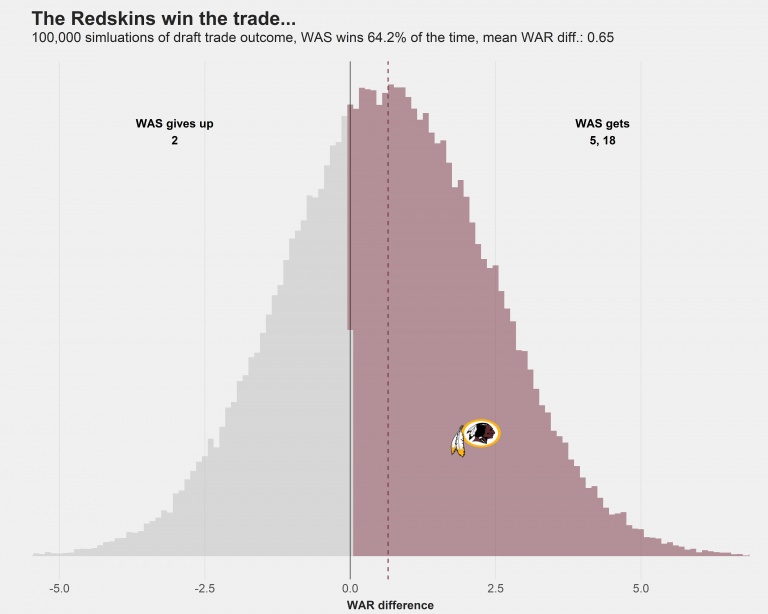 This potential offer from the Miami Dolphins of the 5th and 18th overall picks for the second selection in the 2020 NFL Draft — a deal that I think we can realistically say is on the low-end of what the Redskins would accept — still has Washington winning nearly 65% of the time. 
The Redskins have glaring needs at wide receiver and cornerback, along with several other spots along the roster. Yes, Chase Young is the best edge prospect we've seen since the start of PFF College in 2014, but he can only do so much for that team. The Redskins are better off moving back, acquiring extra draft capital and taking shots on filling multiple holes on their roster. 
For similar reasons as those we pointed out for the Redskins, the Lions have come up frequently as a potential trade partner for teams looking to move up and chase a quarterback early, especially if Washington stands pat and selects Chase Young. PFF's Sam Monson earlier this week laid out the teams that might be interested in trading up, but we'll focus here on why the Lions should be willing to move down. 
When NFL teams have a franchise quarterback in their sights, they're going to be willing to overpay to get their man. In some cases, that works out because of how massively important hitting on the quarterback position is, but it also provides value on the other side of the coin to teams that have no interest in selecting a quarterback. There is room for a win-win, and the Lions appear to be a team in that situation — they are confident in the play of Matthew Stafford, particularly with how he looked early last season before going down with injury. 
The Lions need another cornerback after replacing Darius Slay with Desmond Trufant; they need more pass-rushing help to complement what Trey Flowers brings; and they could use some more speed and coverage ability at the linebacker position. By trading down, they could get additional picks to bolster their defense and add to the offensive line. On top of that, there is a decent chance that an elite talent like Jeffrey Okudah or Isaiah Simmons is still on the board when they pick depending on how far they move down. 
The Raiders have two first-round selections, but I chose the second of them (19th overall) as the spot to move down because they should probably stand pat and take one of the top three wide receivers (Jerry Jeudy, Ceedee Lamb or Henry Ruggs) at 12. The other position they should target in the first round is cornerback, but at 19 they probably have some wiggle room to move back and still end up with someone who fits their defensive scheme under Paul Guenther. 
The PFF Draft Guide lists Kristian Fulton as an ideal fit for the Raiders, and someone like Jaylon Johnson of Utah makes a lot of sense as well. Though the 19th pick would be a reasonable spot for either of those players to come off the board for us at PFF (Fulton ranks 12th on the PFF Big Board while Johnson ranks 24th), Las Vegas should be able to move back and target one of those players later in the first round while picking up some extra draft capital. They currently have two first-round selections, but they do not pick in Round 2. A trade back would open the door to getting a value at a position of need and adding another Day 2 pick to their three third-round selections. 
The Patriots are in limbo as a franchise right now. Their options at quarterback consist of names such as Jarrett Stidham and Brian Hoyer, and yet this is a team that won 12 games last season. There were plenty of departures this offseason, none larger than Tom Brady, but this is still a roster that has some talent. It all depends on what they do at quarterback, though. With it looking less and less likely that Justin Herbert will last until this portion of the draft, the leader in the clubhouse is Jordan Love. For us, that would be a massive reach. Love currently sits at 76th on our Big Board, largely because of how inaccurate and turnover-prone he was at Utah State. 
With their next selection coming at 87th in this year's draft, this is an opportunity for New England to move back and address multiple holes on its roster across the defensive front seven and at the skill positions on offense. They don't need to reach in the first round on a quarterback that we believe is better suited going somewhere in Round 3. 
This isn't exactly an original thought. Many people expect the 49ers to move back out of this selection, and there are a couple of reasons why. 
San Francisco isn't currently slated to select at all in Rounds 2, 3 or 4. That is a long time to go without adding any players. They should jump on any chance to add picks in the middle rounds of the draft. A pick like No. 31 in the back of the first round just so happens to be a coveted target of teams looking to move back into the first round to get one of their guys with a fifth-year option attached to his contract. Lastly, the 49ers acquired the 13th overall pick in exchange for DeForest Buckner, so they're not at all missing out on the opportunity to add top-end talent if they were to trade back rom 31. 
Moving out of this spot just makes too much sense for San Francisco to stay put. They already have one of the best rosters in the NFL, but there are a couple areas (wide receiver, cornerback, interior offensive line) where they could stand to upgrade. Trading out of the first round would help in that effort.