It's widely known at this point that the 2020 wide receiver draft class is absolutely loaded. Heck, Mel Kiper has even gone on record saying he thinks 30 wide receivers will be off the board within the first three rounds. While that may be a bit of a hot take and a stretch from reality, it's something that should happen considering it's been proven by PFF's Research and Development team that it's one of the most valuable positions on the field. That being said, let's breakdown where we would slot the top 15 wide receivers in the 2020 NFL Draft if we were acting as the decision-maker of each team:
(Reminder: This is what we would do, NOT what we think will happen. A greater emphasis was put on team fit as opposed to best available.)
[Editor's note: PFF's 2020 NFL Draft Guide is live! Subscribe to PFF's EDGE or ELITE subscription today to download your copy.]
The pairing of Kyler Murray and CeeDee Lamb in Arizona makes way too much sense considering the damage the duo did against every defense they went up against in 2018 at Oklahoma. Not to mention, Lamb is our sixth-best prospect overall in the class. When Murray targeted Lamb in 2018, the Sooners generated 0.803 expected points added per play, which is an astounding number. The duo combined for a passer rating of 145.2 in 2018, which ranked behind only Dwayne Haskins and Terry McLaurin as well as Tua Tagovailoa and DeVonta Smith for the best in the FBS. The Cardinals were 27th-ranked in team receiving grade a season ago, and the addition of Lamb would certainly improve that mark. He has been the most valuable wide receiver in college football the past two years and one of the best after the catch, tying for the fifth-most yards after catch per reception and third-most broken tackles in that same stretch.
While Lamb's fit with the Cardinals is better, we still think the best wide receiver in the class is Jerry Jeudy, who rings in as one of the five best prospects available regardless of position. Going up against stiff competition in the SEC, Jeudy has lit up the field. Since 2018, Jeudy has produced 3.31 yards per route run, which is among the five best marks in college football. Jeudy has routinely generated separation with his route-running and when he does get a step on his coverage defender, things can get pretty ugly for the defense. His 53 explosive plays of 15 or more yards with at least a step of separation the past two years is eight more than any other FBS wide receiver. The Raiders are still in dire need of another receiver, as only one of their wideouts produced a PFF receiving grade that cracked the 35th percentile in 2019 (Hunter Renfrow).
It's still up in the air as to who will be under center for Indianapolis come Week 1, but whoever it is should be brought in through free agency as opposed to reaching for Justin Herbert or Jordan Love at Pick 13 — where the Colts should instead take a wide receiver. Out of all 32 NFL teams in 2019, the Colts owned the second-least valuable wide receiver unit. Taking speedster Henry Ruggs III, who our analytics team absolutely loves, would be an immediate upgrade on the outside and form a top-tier duo with T.Y. Hilton. Ruggs is clearly one of the most explosive receivers after the catch and can make plays in traffic as good as anyone in the class.
Henry Ruggs III on slants, crossers and in routes in 2019 (@PFF_College)

20 targets
15 catches
26.5 yds per catch
15.2 yds after catch per rec
11 explosive plays

Ruggs' ability to make plays in traffic is special. As of now, he sits in the top 10 on the PFF big board. pic.twitter.com/k6wL4XMpS3

— Anthony Treash (@PFF_Anthony) March 5, 2020
Ruggs had a low target share as a result of being teammates with Jeudy as well as top 2021 draft prospects DeVonta Smith and Jaylen Waddle. As my colleague Ben Linsey said last week, Ruggs' production is an outlier — no other receiver with a target rate below 20% the last two years managed to average more than 11.0 yards per target other than Ruggs, who sat at 12.0. Trust us on this one Indianapolis — Ruggs over Herbert or Love is the way to go.
Any Denver wide receiver not named Courtland Sutton was a liability on the field in 2019. Sutton saw the most targets in the offense and produced one of the 15 best receiving grades in the NFL last year. After Sutton, the Broncos second-most targeted receiver was DaeSean Hamilton and he ranked 93rd of 98 in PFF receiving grade. In other words, they desperately need a WR2, and snagging Jalen Reagor in the first round could solve that.
Reagor's box score stats aren't going to impress you by any means. He was targeted 88 times and caught only 43 of them for 611 yards and five touchdowns. As usual, though, you should never trust the box score. Reagor saw a catchable target just 61.4% of the time, which ranks 118th among 120 wideouts to see at least 80 targets. His athleticism and ability to win at the catch point was apparent when the ball was in his hands or when he was thrown an accurate pass. Over the past two years, Reagor has generated an explosive play of 15-plus yards on 51.6% of his catches — the second-highest rate in college football and nearly 20 percentage points above the FBS average.
There wasn't a more disappointing receiving unit in the NFL last year than the Philadelphia Eagles' group, and there have been rumors that their highest-graded wide receiver from the season, Alshon Jeffery, could be on his way out. Regardless if he stays or if he goes, the Eagles need a new face in the wide receiver corps, as they were the least valuable unit of the 32 teams.
One of the biggest risers on the PFF big board throughout the last few months has been Denzel Mims, who tore up the Senior Bowl and the NFL Scouting Combine. Mims is far from a separation getter — he owns one of the three highest rates of contested targets seen since 2018 among FBS receivers at 33.3% — and has thrived despite that by ranking second in PFF receiving grade in tight coverage since 2018. And before you Eagle fans say, "Oh great, another J.J. Arcega-Whiteside who did nothing in 2019," give him time to develop first. Second, keep in mind that Mims projects considerably well in PFF's model. As Dr. Eric Eager said in he and George Chahrouri's analytics mock draft, Mims has a couple of his comps as DeAndre Hopkins and D.J. Chark Jr.
Buffalo's receiving unit got a huge jolt with the additions of John Brown and Cole Beasley last offseason, as both ranked among the 35 best wide receivers in PFF grade. But the Bills could certainly use another addition on the outside — particularly one who can create after the catch like Brandon Aiyuk. After spending a couple of years in JUCO, Aiyuk made his way to Arizona State in 2018 and was OK in his first year but had a breakout year in 2019. Aiyuk averaged a remarkable 10.9 yards after catch per reception in 2019, which was the ninth most, and was explosive wherever he got the ball, whether he was underneath or making a deep catch. On underneath targets, Aiyuk produced six explosive plays (third) and averaged 12.1 yards after catch per reception (second). On targets of 15 or more yards, Aiyuk once again averaged over 12 yards after catch per reception (fourth most).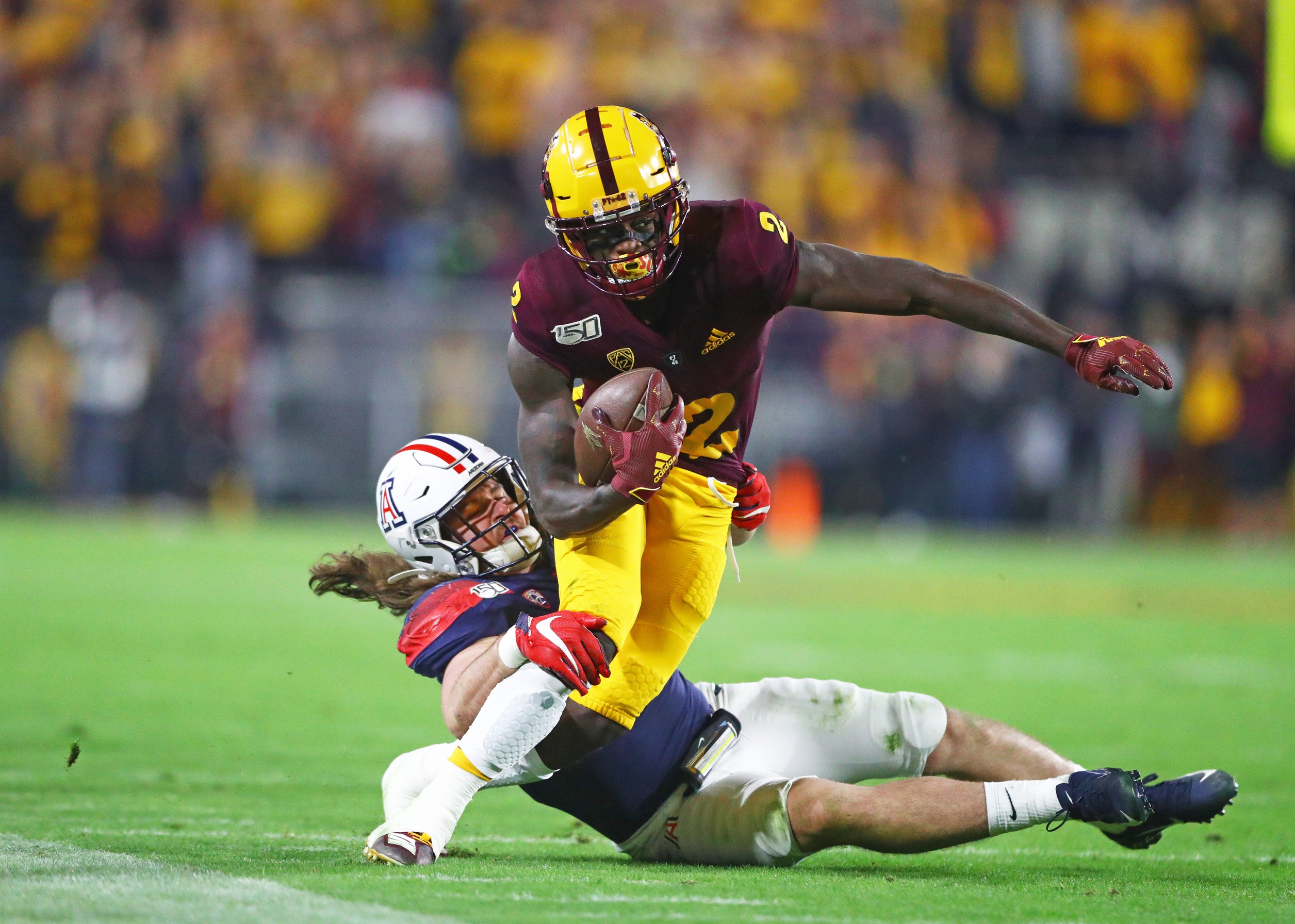 The first step to wooing Tom Brady back to New England is dedicating their free agent and draft plans to getting him receiving weapons, something he obviously lacked in 2019. Snagging 6-foot-4, 216-pound Tee Higgins, who owns 34-inch arms and a massive catch radius, to man the outside would be the gift of from an angel to Brady. Over the past two seasons, Higgins has produced the second-best PFF receiving grade in college football. He's bodied defensive backs in tight coverage situations in that stretch, being the highest-graded receiver on such plays. Not to mention, he can win after the catch too.
Laviska Shenault Jr. might be the eighth wide receiver to come off the board, but it's not because we are low on him — he is the fourth-ranked wide receiver on the PFF big board. The injuries are just a bit concerning, and the teams above have no time for caution and are far better fits. We all know Michael Thomas is one of the best wide receivers in the NFL, but the wide receiver unit outside of that is horrendous. Both Tre'Quan Smith and Ted Ginn Jr. produced receiving grades in the 50.0s and Ginn is set to be a free agent.
Shenault was used in unique ways at Colorado,  particularly with screens/jet sweeps, quick hitches, quick outs, crossers and slants as well as the occasional go ball. Really, they just needed to get the ball in Shenault's hands, and he could create a play with his elite explosiveness. Since 2018, Shenault has produced a PFF receiving grade that ranks among the five best in the country while breaking an FBS high 44 tackles and averaging 7.7 yards after catch per reception in the process. With Drew Brees at quarterback, who can deliver a quick, accurate pass better than anyone in the NFL, Shenault could be the final piece to the Super Bowl puzzle for the Saints.
Aaron Rodgers' Super Bowl window is getting smaller and smaller as he'll turn 37 next season and is coming off his fourth-lowest-graded season of his 12 years as Green Bay's starter. And to get back to the big game, he desperately needs another reliable wide receiver to throw to other than Davante Adams.
We here at PFF aren't nearly as high on Justin Jefferson as other scouts and media outlets for three primary reasons: (1) most of his production was schemed through underneath routes or from finding a hole in the zone (815 such yards led the FBS by nearly 100), (2) he faced press coverage on just 17% of his routes in 2019 and (3) when he did go up against defensive backs in single coverage, he performed poorly, producing just the 60th best receiving grade in 2018 and failing to crack the top 100 on such plays in 2019. That being said, Jefferson in the slot for Green Bay is exactly what Rodgers needs, as the Packers' receivers generated just the 23rd best grade in the slot. While we are low on Jefferson, he still has great ball skills, can sell double moves like a charm and can break tackles after the catch better than most.
First and foremost, the Giants' receiving unit performed a lot better than we all thought in 2019. Despite missing some time, Sterling Shepard, Golden Tate and Darius Slayton all produced PFF grades above 70.0. That being said, there is still room for improvement, particularly on the outside, where the Giants ranked 23rd in receiving grade and 27th in expected points added per target. Michael Pittman Jr. would plug that hole right up and is exactly who the Giants should take at Pick 36. At 6-foot-4, Pittman owns a massive catch radius and has some surefire hands — he dropped only five of his 176 catchable targets in his career at USC. His route running was elite for his size and well refined. Let's not forget Pittman destroyed the Combine with a 4.52 40-yard, 4.14 20-yard shuttle and 3.96 three-cone too. We should take the Combine with a grain of salt, but it verifies his athleticism, which we saw with his route-running on the field.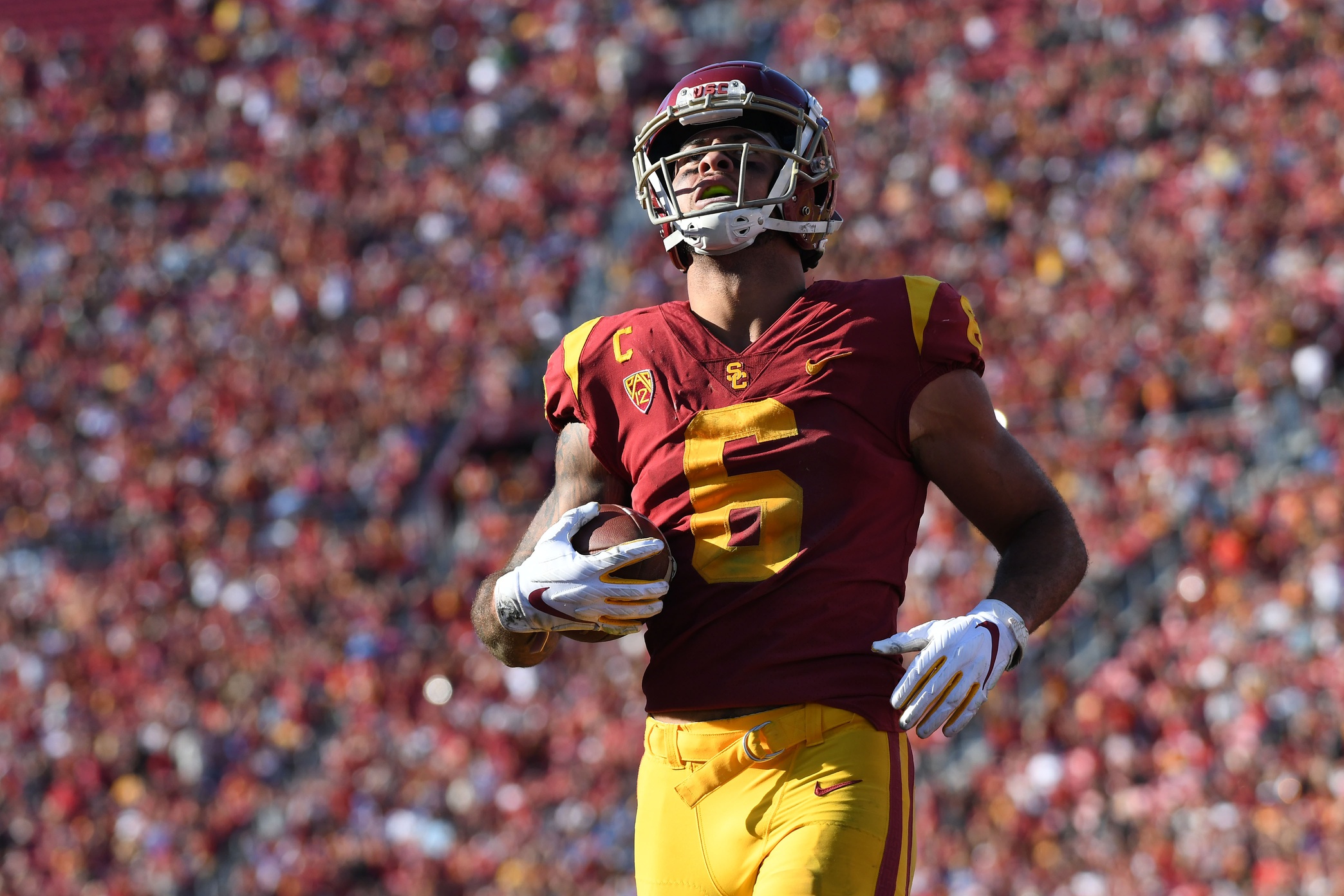 There are very few reliable receiving options for Sam Darnold and the Jets at the moment. Jamison Crowder posted a respectable 73.3 receiving grade in his first season in New York, but their next two highest-graded receivers, Robby Anderson and Demaryius Thomas, are going to be free agents and it's unlikely they'll be brought back.
The Jets need help across the board, and while Tyler Johnson is a slot receiver like Crowder, he'd be a great addition to the squad. He has a few red flags that caused him to slip this far — such as not receiving a Senior Bowl invite after being one of the top receivers in the country in 2019, murmurs of character issues and the fact he didn't do any drills at the Combine to "give himself more time to prepare" — but we mustn't forget he is PFF's highest-graded receiver over the past two seasons and has generated the most yards per route run. He's been an elite contested receiver in that stretch by maintaining his number one spot in PFF grade but has also been a solid separator with his crisp route running. He's a risk, but one the Jets need to be willing to take.
The Steelers have solid young receivers in JuJu Smith-Schuster and Diontae Johnson, but they desperately need help in the slot, where they ranked dead last in PFF receiving grade as a team. While he comes with some drop issues (17.6% drop rate that ranked 344th of 361 qualifying wide receivers), K.J. Hamler should be on the Steelers' radar. In 2019, Hamler generated open separation against single coverage at the third-highest rate in college football. He's a separation getter and an explosive play waiting to happen — his 41 plays of 15-plus yards in the slot since 2018 are the third-most in the FBS.
With having to pay an arm and a leg in free agency for Dak Prescott and Amari Cooper, it seems unlikely that the Cowboys' 2019 slot receiver Randall Cobb will be brought back in free agency. K.J. Hill has been a reliable slot receiver for the Buckeyes throughout his career, dropping only nine of his 266 targets and generating an explosive play on well over a quarter of his catches from the slot. He's not going to kill you with speed, but he can on underneath routes where he has averaged 8.6 yards after catch per reception and broken nine tackles on 46 such catches since 2018.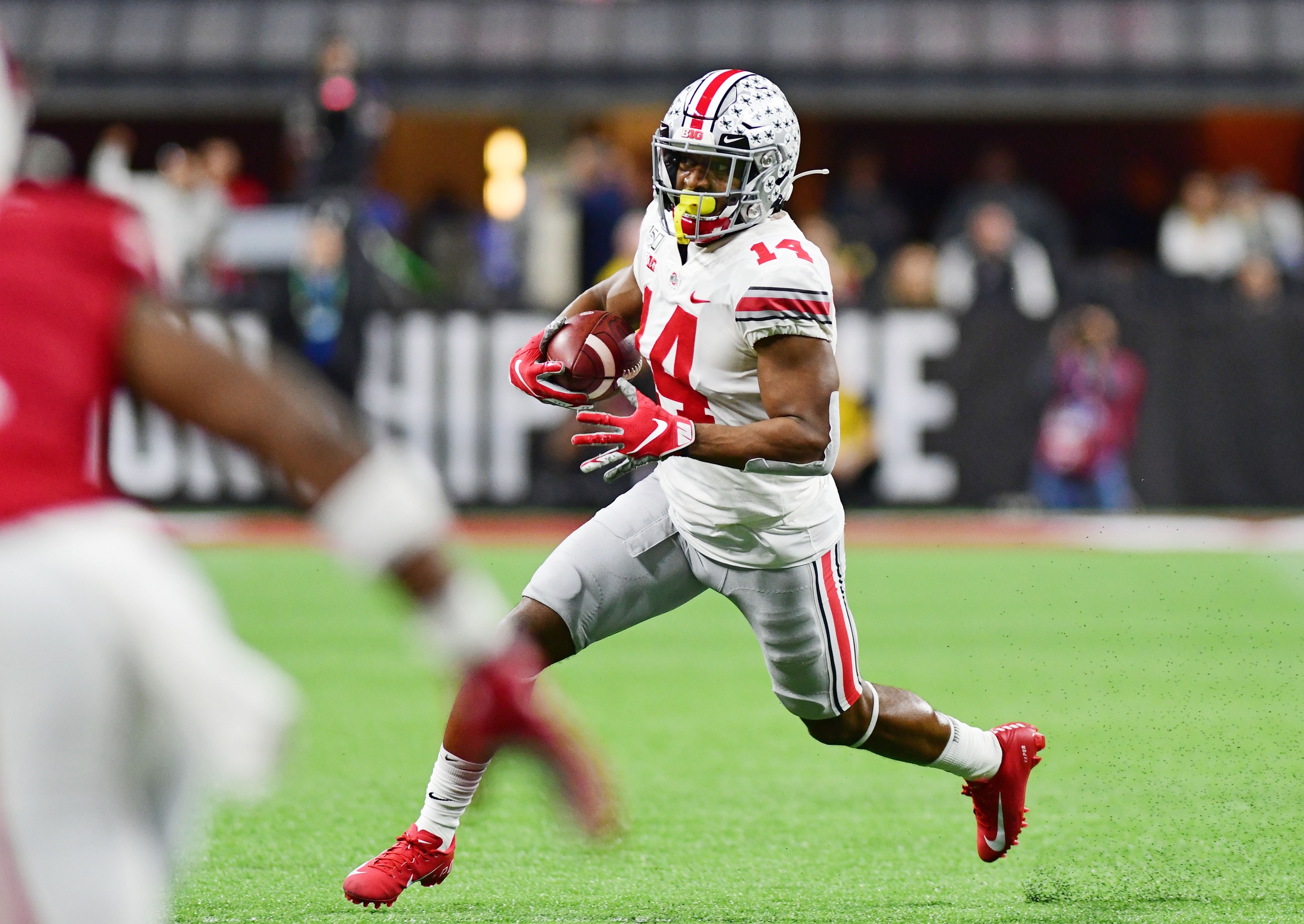 A lot of teams wanted Chase Claypool to work out at the Combine as a tight end, as he came in a 6-foot-4, 238-pounds. Considering he ran a 4.42 40-yard dash and posted a 40.5-inch vertical and 10-foot-6 broad jump, Claypool would make a scary tight end at the next level. And we all know how much Baltimore loves tight ends. He's not going to create separation by any means, but he routinely will win in tight coverage. Claypool owned an impressive 57.7% contested catch rate in 2019 and would plow through defenders with frequency, as he broke 14 tackles on his 66 catches in 2019. With the news of Baltimore shopping Hayden Hurst, Claypool seems to be on their radar to perhaps be a tight end/wide receiver hybrid like Darren Waller.
Washington found a diamond in the rough in Terry McLaurin, but outside of him there is no one reliable for Dwayne Haskins, or perhaps Tua Tagovailoa, to throw to in 2020. Jauan Jennings destroyed his stock at the Combine, but we aren't killing it nearly as much as everyone else is. Jennings was a monster after the catch in college, breaking an incredible rate of tackles (30 broken on 59 catches) while posting the eighth-most yards after contact. That should translate to the NFL just fine.