It's officially reset time in college football. 
We are on to the 2022 season, where teams across the country will compete for a chance to play for the College Football Playoff National Championship at SoFi Stadium in Inglewood, California. There's still a lot to be figured out between now and then with team rosters and depth charts — the transfer portal deadline is months away — but the 2022 NFL Draft deadline is approaching for those who are eligible, so we now know which of college football's top talents will be leaving and returning for this season.
As such, there's no better time to dive into early position rankings of the top returning players in college football. First up is the most important position on the field: the quarterback.
Below are the top 10 quarterbacks returning to college football for the 2022 season. NFL potential was not considered for these rankings.
Click here for more PFF tools:
Rankings & Projections | WR/CB Matchup Chart | NFL & NCAA Betting Dashboards | NFL Player Props Tool | NFL & NCAA Power Rankings
Best Bets Tool
---
Young may have fallen short of a national championship win in the end, but he performed at a rare level in his debut season as Alabama's starting quarterback. Not only did his 92.2 passing grade finish as a top-three mark for the 2021 season, but it was also among the three best that PFF College has on record from a non-draft-eligible quarterback.
The true sophomore's raw production is impressive in itself, considering the stiff competition he went up against and that he entered the year with only garbage-time reps to his name. Throw in the continuous pressure he had to endure, and it makes it that much more special. Young spent 36.2% of his dropbacks under pressure this season — the eighth-highest rate in the Power Five. While he was poised beyond his years under duress and made ample plays when knocked off rhythm, such plays tend to drag down a signal-callers grade. Young's 94.7 passing grade from a clean pocket was the highest in the country. 
His high-level processing, in particular, stood out more than anything. The Alabama quarterback earned an 89.5 PFF grade when forced off his first read in 2021, the second-best in the country. Young is indisputably the best quarterback returning to college football this fall.
Williams, a top-10 recruit in the 2021 class and the No. 2 quarterback overall behind Quinn Ewers, is still in the transfer portal deciding on a new program. The team that lands the 6-foot-1, 218-pound quarterback — presumably Lincoln Riley's USC Trojans — will be getting one of the most talented players in the country. Williams showcased elite physical tools on his way to a 91.3 PFF grade in 2021, which broke Trevor Lawrence's record for the highest single-season mark by a true freshman quarterback in the PFF College era. 
There were times when Williams made things a little bit more difficult than they needed to be, always looking for the home run downfield. Because of that, Williams was often volatile, putting up four passing grades below 70.0 since taking over for Spencer Rattler against Texas.
Learning when to check down and not holding onto the ball too long are areas of emphasis for him in 2022. His 3.51-second average time to throw and 29.2% rate of quarterback-fault pressures were both among the three highest marks in the Power Five. Still, he boasts top-tier tools and mechanics, making him capable of producing at an elite level despite the lack of polish.
Rattler, formerly at Oklahoma, still has an opportunity to right the ship and return to star status with South Carolina. He has an ultra-quick, effortless release with jaw-dropping arm talent and elite playmaking outside of the offense's structure. At the same time, he is prone to fleeing clean pockets, invites pressure, lacks polished footwork and is too willing to pass up the check down for a home run. Rattler's playstyle and talent from a passing perspective are eerily similar to the player who replaced him at Oklahoma, Caleb Williams.
Rattler's college production is truly some of the best that PFF College has seen, despite the fact that many believe he isn't a good passer. The former Sooner is still college football's highest-graded passer since 2020. He struggled to hit on his deep attempts in 2021 as the offense focused on more intermediate concepts. He ended up with a lowly 45.5 passing grade on 20-plus yard throws after a 98.1 passing grade on such passes in 2020.
Still, Rattler shined on nearly every other throw. His No. 1 ranking in negatively graded throw rate and completion percentage over expectation (CPOE) for the 2021 season back that up. 
Rattler isn't perfect, but his ceiling is as high as any other quarterback in the country, which is why he received so much fanfare ahead of the 2021 campaign. He didn't produce the highest passing grade PFF has ever seen from a non-draft-eligible quarterback in 2020 by luck.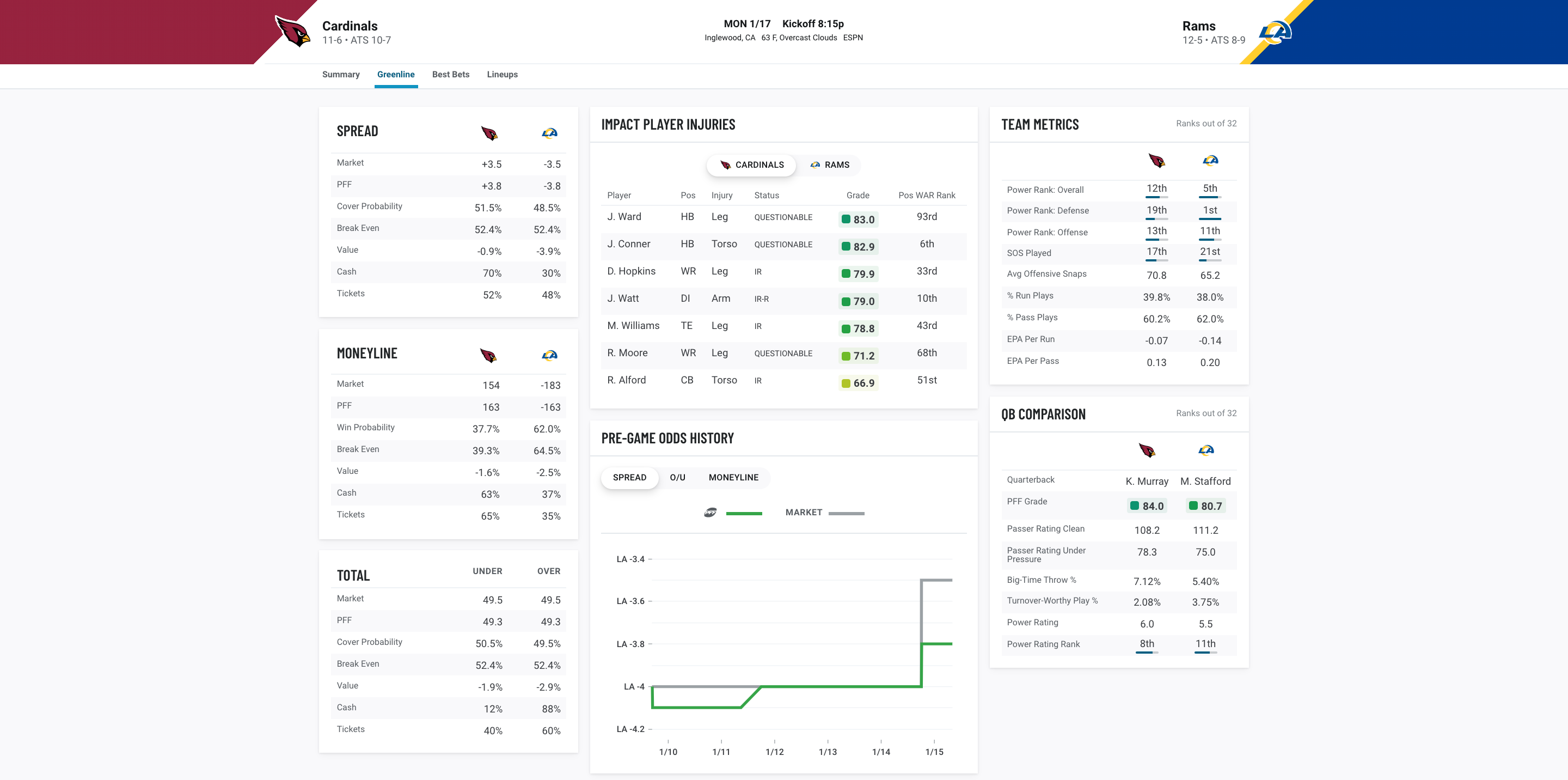 While Stroud was blessed with one of the best ecosystems in the country and had his fair share of inconsistencies in 2021, he still finished with a 91.8 passing grade for the season, ranking fourth in the FBS. He battled a shoulder injury through his first three starts, which hurt his accuracy and caused him to sit out against Akron in Week 4. Stroud then returned in Week 5 and was sharp the rest of the way.
He earned an 89.0-plus PFF grade in five of his last nine starts and posted the highest rate of accurate passes in that span. The first-time starting quarterback did an excellent job of evading sacks when under duress, leading to the ninth-lowest pressure to sack conversion rate in the FBS (10.8%). 
It was a little bit easy for Stroud, given all the open throws created for him, but he did show immense growth as the season progressed when moving off his first read.
C.J. Stroud Passing to his Next Read in 2021
| | | |
| --- | --- | --- |
| Weeks 1-9 | | Weeks 10-Rose Bowl |
| 48.8 | PFF Passing Grade | 93.0 |
| 7/13 | Comp/Att | 18/21 |
| 102 | Yards | 245 |
| 1:0 | TD:INT | 2:0 |
| 0:1 | BTT:TWP* | 1:0 |
*BTT = big-time throw; TWP = turnover-worthy play
Hartman led Wake Forest to one of its best seasons in program history this year. He ran the Demon Deacons' patented long-mesh run-pass option (RPO) offense with high-level efficiency. Because college football's illegal man downfield rules are more generous than in the NFL, RPOs can be longer developing and attack downfield. Hartman and the offense had a multitude of those plays built into their offense, which helped him to an FBS-leading 20 deep passing touchdowns, eight of which came from an RPO.
Overall, Hartman earned an elite 91.8 PFF grade for the season.
There were few bones to pick with McCall's passing performance, as he posted a 93.2 passing grade — the highest in the FBS for the year. McCall's ability to hit the deep ball over the top of defenses is a big reason why Coastal Carolina's option offense is as dangerous as it is. He delivered 15 big-time throws on 30 deep pass attempts in 2021. The 6-foot-3, 210-pound quarterback connected on 19 deep passes for 605 yards and eight touchdowns with no interceptions. 
Armstrong led one of the most explosive passing offenses of the 2021 college football season. Despite unorthodox mechanics, the Virginia Cavalier finished with the fourth-best PFF grade among FBS quarterbacks. One wouldn't think Armstrong can consistently deliver a catchable ball downfield when watching him throw against air, but he certainly can. His 28.1% uncatchable pass rate on 10-plus yards in 2021 ranked third-best in the Power Five. He also recorded multiple big-time throws in all but two starts, finishing with one each in that pair of outings.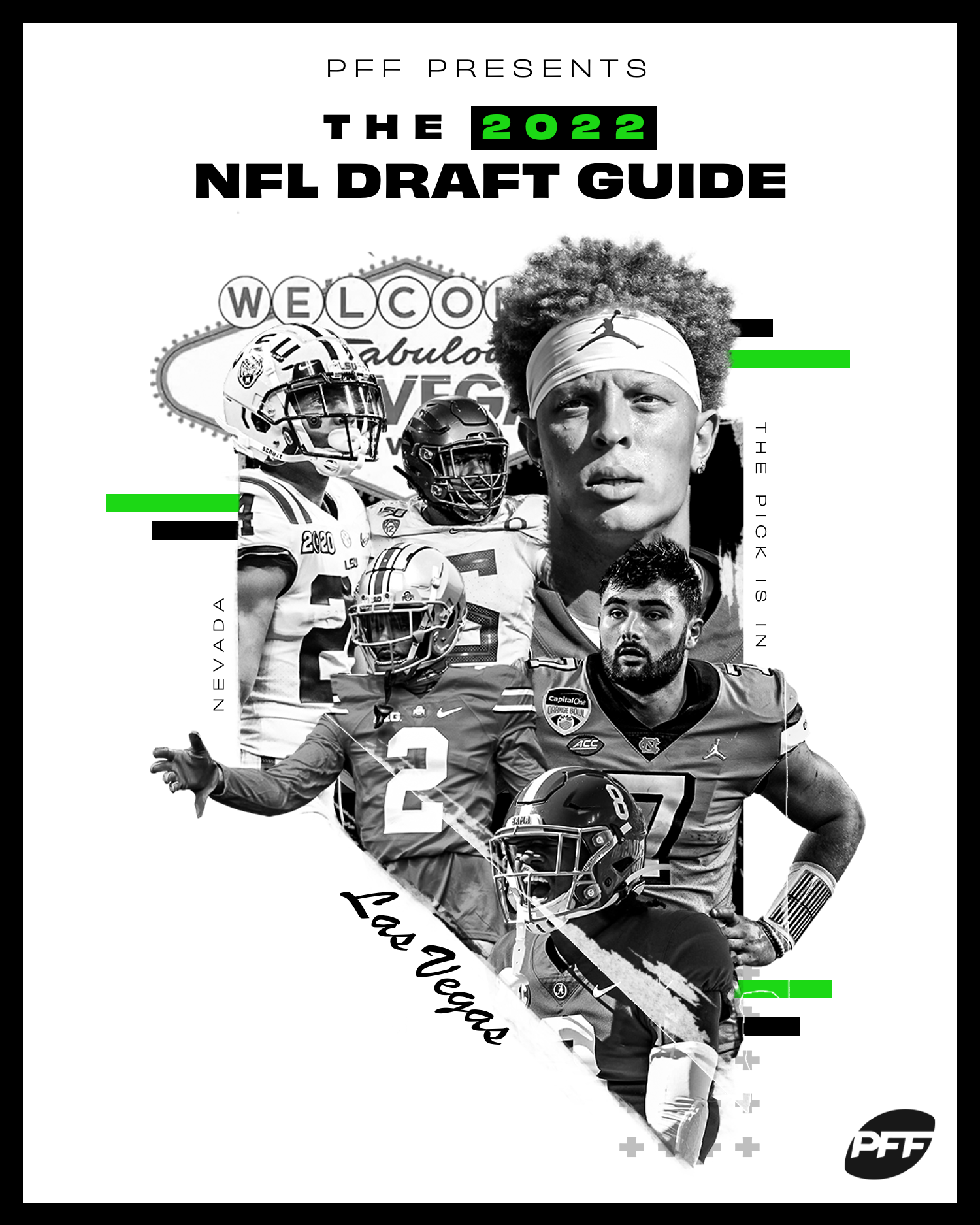 Gabriel will be reuniting with Jeff Lebby, who is now Oklahoma's offensive coordinator and quarterbacks coach after serving in the same role at Ole Miss from 2020 to 2021 and UCF in 2019.
The transfer quarterback thrived as an underclassman with Josh Heupel as the head coach and Lebby as his offensive coordinator — in 2019 only — prior to missing most of 2021 due to injury. Heupel is widely known for his quarterback-friendly offense that provides simplistic reads for the passer. While the concepts are painless for the quarterback, the offense still needs the signal-caller to consistently take one-on-one vertical shots down the sideline when the defense is in single-high.
Gabriel has fantastic touch downfield, and that trait led to major passing success. He earned 80.3 and 90.4 passing grades as a true freshman and sophomore in 2019 and 2020, respectively. Lebby's offense won't ask Gabriel to do too much and will take advantage of the quarterback's strengths.
It's going to be a challenge to replace the level of production that Kenny Pickett, the second-highest-graded quarterback of 2021, brought this season.
Slovis has what it takes to keep Pittsburgh in the ACC title race, though.
He was a consistently solid performer in his three years as USC's quarterback, posting single-season PFF grades of 78.8, 79.5 and 79.8. He is pinpoint accurate, maneuvers the pocket exceptionally well and stays calm on long-developing plays. At the same time, he does have a bad habit of firing late into small windows. That hindered his ability to take a step forward in his three years as a Trojan, along with USC's offensive design. Slovis was stuck in a variation of the Air Raid at USC that struggled to produce open receivers downfield and put the passer in unfavorable situations.
Opposing defenses knew the Trojans' run game wasn't a threat, and there wasn't a high chance of play-action fakes. Defenses weren't loading the box against them and giving them a high rate of drop-eight coverage. Still, Slovis' accuracy has shined, as he places second in completion percentage over expectation since 2019.
"if the LB's back is to the QB, the receiver is open"

couple of really nice seam throws from Kedon Slovis that fell incomplete this year. he actually leads the FBS in seam big-time throws since 2019 (15) ???? pic.twitter.com/m4IWVqDjVi

— Anthony Treash (@PFF_Anthony) December 30, 2021
With Slovis, 2021 Biletnikoff Award-winning wide receiver Jordan Addison and promising Akron transfer wide receiver Konata Mumpfield, Pittsburgh's offense will be intriguing in 2022.
After some early-season struggles and the loss of starting quarterback D'Eriq King to injury, Miami was down in the dumps in 2021. That was until redshirt freshman quarterback Tyler Van Dyke stepped in and showed a lot of promise.
The 2020 four-star recruit, who was also one of the best pitchers in his region in high school, earned a 75.5 PFF grade across nine starts in 2021. He recorded multiple big-time throws in all but one ACC start and tied for second in the Power Five in big-time throw rate, 7.1%. The 6-foot-4, 224-pounder throws with excellent touch and can hit the big play downfield. Van Dyke is only scratching the surface.
There's a good chance the Wolverines have a new face leading their offense this fall, despite 2021 starting quarterback Cade McNamara returning. That would be former five-star recruit J.J. McCarthy, who offers far more upside than the senior McNamara.
McCarthy played 165 snaps in his 2021 true freshman campaign and displayed the elite arm talent and athleticism that made him a highly regarded recruit in the first place. He earned an 84.0 PFF grade across those reps. McCarthy tossed six big-time throws and produced only one turnover-worthy play on 66 dropbacks. 
really good throw here from Michigan true freshman J.J. McCarthy vs Georgia playing rip/liz pic.twitter.com/2bxYH1ZwaM

— Anthony Treash (@PFF_Anthony) January 14, 2022
On the ground, the 6-foot-3, 197-pound quarterback picked up seven explosive runs of 10 or more yards on 25 attempts, most of which were from designed attempts. We've seen head coach Jim Harbaugh and offensive coordinator Josh Gattis incorporate some of the run concepts from Harbaugh's time with the San Francisco 49ers when Colin Kaepernick was his quarterback.
McCarthy's speed is also something to watch for — just look at him run next to running back Blake Corum, who has clocked a 40-yard time in the low 4.4s:
JJ McCarthy has some WHEELS.

(also a v nice run from Blake Corum)
pic.twitter.com/LObNdg2iRw

— Anthony Treash (@PFF_Anthony) December 5, 2021
Michigan's defense may regress, but the team's offense might be even better if McCarthy starts in Week 1.
---
2022 NFL Draft position rankings:
Top 10 players at every position