The 2021 college football season will officially come to a close Monday night as the No. 1-ranked Alabama Crimson Tide take on the No. 3-ranked Georgia Bulldogs in the College Football Playoff National Championship Game. And the best way to celebrate this year's wonderful college football season is to unveil the PFF College 101.
Below is a list of PFF's top 101 players from this past college season. This ranking is based on various factors, including PFF grade and other advanced statistics available to PFF's CFB Premium Stats+ Subscribers, and it does not incorporate positional value. On top of that, this has nothing to do with each player's pro potential, as we are looking solely at the top performers at each position.
(Note: Some players may have leapfrogged others at their positions since we announced our All-American and All-Conference teams due to postseason performance)
Click here for more PFF tools:
Rankings & Projections | WR/CB Matchup Chart | NFL & NCAA Betting Dashboards | NFL Player Props Tool | NFL & NCAA Power Rankings
Best Bets Tool
---
Young is playing at an unprecedented level given his age and experience. He earned a 92.7 PFF grade this season, which not only leads all FBS quarterbacks for the 2021 season but also is the highest mark PFF has on record (since 2014) from a non-draft-eligible passer. Young is a high-level processor and decision-maker, which has helped him become the most valuable underclassman in the country, per PFF Wins Above Average.
Hutchinson's disappointing performance against Georgia in the College Football Playoff (CFP) semifinal might take some of the shine off his draft stock, but that had more to do with Georgia's game plan than the players tasked with blocking him.
While Hutchinson did manage just one quarterback pressure and a season-low 62.5 pass-rush grade across 32 pass-rush snaps, over two-thirds of those plays featured either a screen, run-pass option or play-action pass — plays that do a good job of negating the pass rush. And on the few reps when Hutchinson was truly able to pin his ears back and get after the passer, Georgia made sure to send a double-team his way.
Despite the underwhelming night against Georgia, no college football player played better football in 2021 than Hutchinson. The 6-foot-6, 265-pound pass-rusher earned an FBS-leading 94.5 PFF grade in 2021 and did so after suffering a season-ending leg fracture during the shortened 2020 season. With his power, get-off and advanced rush ability, Hutchinson has been virtually unblockable this season.
Pickett is in the conversation for most improved player in all of college football this season. He was producing more turnover-worthy plays than big-time throws in 2018, 2019 and 2020 while earning PFF grades of 60.6, 75.0 and 69.8 in those three seasons. This year, Pickett produced 12 more big-time throws than turnover-worthy plays (29 to 17) en route to a 92.3 PFF grade. Pickett has been calmer under pressure and much more accurate when throwing the deep ball. His wealth of experience was on consistent display throughout 2021.
The Bearcats' pass defense was the team's only glaring positive in its CFP semifinal loss to Alabama, as Cincinnati held the Crimson Tide to their lowest successful pass rate since Week 1 in 2017. Gardner, who allowed zero yards in man coverage to Alabama, played a big part in that.
The 6-foot-3, 200-pound cornerback's performance in that final outing capped off what will forever be known as one of the best seasons — and careers — from a collegiate defensive back. He allowed 131 yards across 14 games and 482 coverage snaps this year. Impressively, he did that while playing mostly on an island in press-man coverage. Gardner closed out his three years playing over 1,100 coverage snaps without a touchdown allowed to give him one of the most decorated collegiate careers we have seen.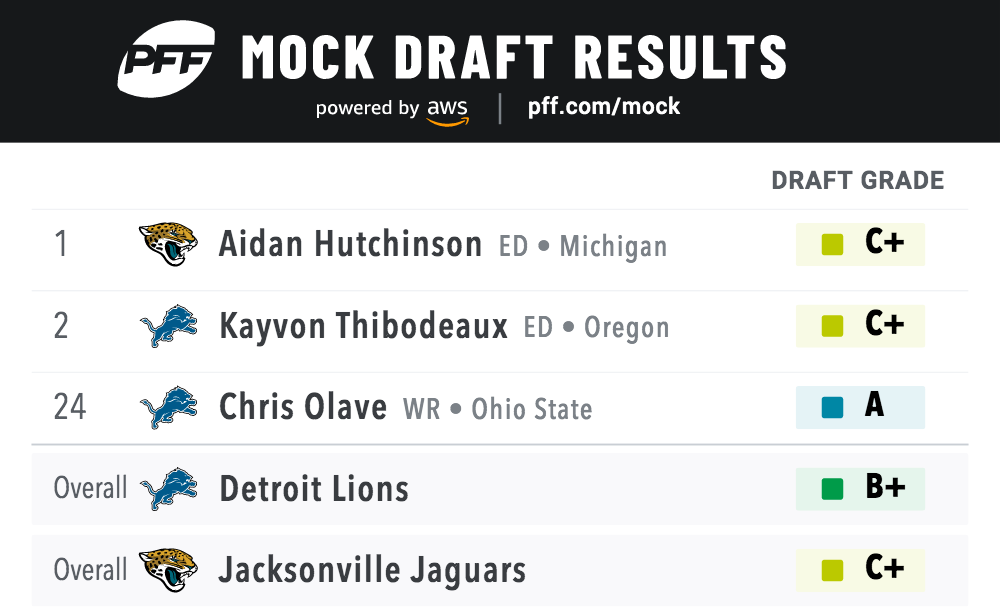 Linderbaum already was in the rare tier of players PFF has graded entering 2021, as he recorded the fifth-best PFF grade among centers in 2019 and then claimed the No. 1 spot in 2020 after flipping from defensive tackle to the position after his first year on campus in 2018. This year, he solidified himself as the best player PFF has ever seen at the position. Linderbaum's 95.4 grade in 2021 is the highest by a Power Five center in the PFF College era.
Dean was the best player on the field in the CFP semifinal, earning a 90.0 PFF grade on the back of five pressures, six defensive stops, a forced fumble and -2 yards allowed in coverage. Dean may be on the smaller end for the linebacker position, but he makes up for it with his freak athleticism and instincts. His blitzing prowess and coverage ability are second to none, as he has recorded a 90.0-plus grade as a pass-rusher and in coverage this season — something no Power Five off-ball linebacker has accomplished in the PFF College era.
He enters the national title game with a 92.7 PFF grade for the season — the second-best of the PFF College era behind Reuben Foster in 2016 (92.9).
Only three edge defenders in the Power 5 managed to generate PFF grades above 80.0 both as a run defender and a pass-rusher this season. Among them is Anderson. He is a high-level playmaker, ranking top five nationally among edge defenders in tackles for loss or no gain against the run (15) and positively graded run play rate while leading all players regardless of position in pressures generated (79).
Walker handled a whopping 262 carries in 2021 and generated a large portion of his production after contact. He ranked top-five in the Power Five in both broken tackles per attempt (0.34) and yards after contact per attempt (4.5). Walker produced 25 runs with 10 or more yards after contact, which ranked first in the Power Five (only three backs had over 15). He even led the Power Five in yards after contact in general (1,168). All of this helped Walker to a 90.7 rushing grade for the 2021 season.
McBride was the engine of the Rams' offense this season. The 6-foot-4, 260-pound tight end was targeted on 30% of his routes — the second-highest rate at the position — and he finished the season averaging an incredible 2.77 yards per route run. McBride earned a stellar 95.0 PFF overall grade for his efforts — second to only Kyle Pitts (2020) in the PFF College era. He also picked up 18 more combined first downs and touchdowns than any other FBS tight end.
And if that wasn't enough, he also recorded the seventh-most positively graded run blocks among FBS tight ends. Between his receiving ability and blocking prowess, McBride has made his name known as an all-around weapon at the tight end position.
Bowers is already in the conversation for best tight end in college football despite being a true freshman. He has earned a 91.7 PFF receiving grade in 2021 while generating 3.14 yards per route run. That's not just a never-before-seen level of production for a true freshman, but it's also a level rarely obtained by any player at the position. Bowers leads all Power 5 tight ends in both of those metrics this year. With the help of his speed, explosiveness and ball skills, Bowers is already a college football star.
Smith-Njigba's record-breaking Rose Bowl performance — where he caught 15 passes for 336 yards and three touchdowns — gave him a boost up this list, as his season grade went up to 91.7. Not only is that the best of 2021, but it's also among the three-best by a Power Five wide receiver in the last five years. Smith-Njigba also was the most productive wide receiver in the country this year, recording 4.01 yards per route run. Short-area quickness, ball skills, route-running — Smith-Njigba has it all.
Cincinnati managed to limit Alabama's passing attack better than any team this season, which subsequently hurt Williams' production in the CFP semifinal. Still, the 6-foot-2, 189-pound wideout is one of the fastest players at the position, making him an explosive play waiting to happen, as his 12 touchdowns of 20-plus yards led the Power Five this season. The Ohio State transfer's separation rate sits in the 94th percentile among FBS receivers, and his speed helped him gather 9.4 yards after the catch per reception over the year.
Lloyd finished his final game as a Ute with one of the lowest grades of his career, as he missed three tackles and gave up 124 yards and one touchdown en route to a 46.8 PFF grade on first review. Still, he'll finish the season with an elite 90.0 grade. Lloyd was an impact player in every facet, recording a grade north of 75.0 against the run, as a pass-rusher, in coverage and as a tackler.
London was running away with the Biletnikoff Award before fracturing his right ankle in Week 9. Despite not playing a full season, he should have taken home the award given his routine dominance before the injury, as the 6-foot-5, 210-pound receiver earned a 91.8 receiving grade this year. He dominated in one-on-one scenarios and put up monster numbers due to his physicality and ball skills. London totaled 19 contested catches and 22 broken tackles in eight games — the former is six more than any other Power Five wide receiver through Week 12 while the latter is the second-most.
Vaughn quietly earned a top-three PFF grade at running back this season (91.1). Between his work as a rusher and a receiver, the 5-foot-6 back was responsible for 59 total plays that resulted in a gain of 10 or more yards — the most among Power Five running backs. Vaughn's 93.4 rushing grade ranks second at the position while his 78.8 receiving grade finished in the top 10. Overall, he was the most valuable running back in the country, according to PFF Wins Above Average (WAA).
While Stroud was blessed with one of the best ecosystems in the country and had his fair share of inconsistencies in 2021, he still finished with a 92.5 PFF grade for the season, which ranked second in the FBS. He earned a grade above 89.0 in five of his last nine starts while throwing the highest rate of accurate passes in that span.
Raimann went from Austrian foreign exchange student in high school to Central Michigan tight end to star offensive tackle and PFF MAC Offensive Player of the Year. The 6-foot-7, 305-pound lineman earned a 94.3 PFF grade in the regular season, finishing with a 93.3 run-block grade and 88.7 pass-block grade to boot. He has been virtually flawless in pass protection over his last six games, too, allowing zero pressures in that span.
Covering the slot is difficult, as defensive backs have to be smart and quick while also profiling as a physical tackler who is ready to defend extra space when covering the inside. No one has been better at doing that this year than Johnson. The 6-foot-3, 200-pound defensive back ranks top three in the Power Five in both slot passing stops (14) and yards per slot coverage snap (0.58). Overall, Johnson has earned an 87.4 PFF grade for the season — not too shabby for a true sophomore.
Thibodeaux has started to show genuine refinement within his rushes and no longer relies on tools alone. As a result, he earned a 91.5 pass-rush grade in 2021 despite missing a couple of games early in the season due to injury. Opposing teams even started to scheme away from Thibodeaux to take him out of the game entirely — just as teams did with Chase Young a couple of years ago.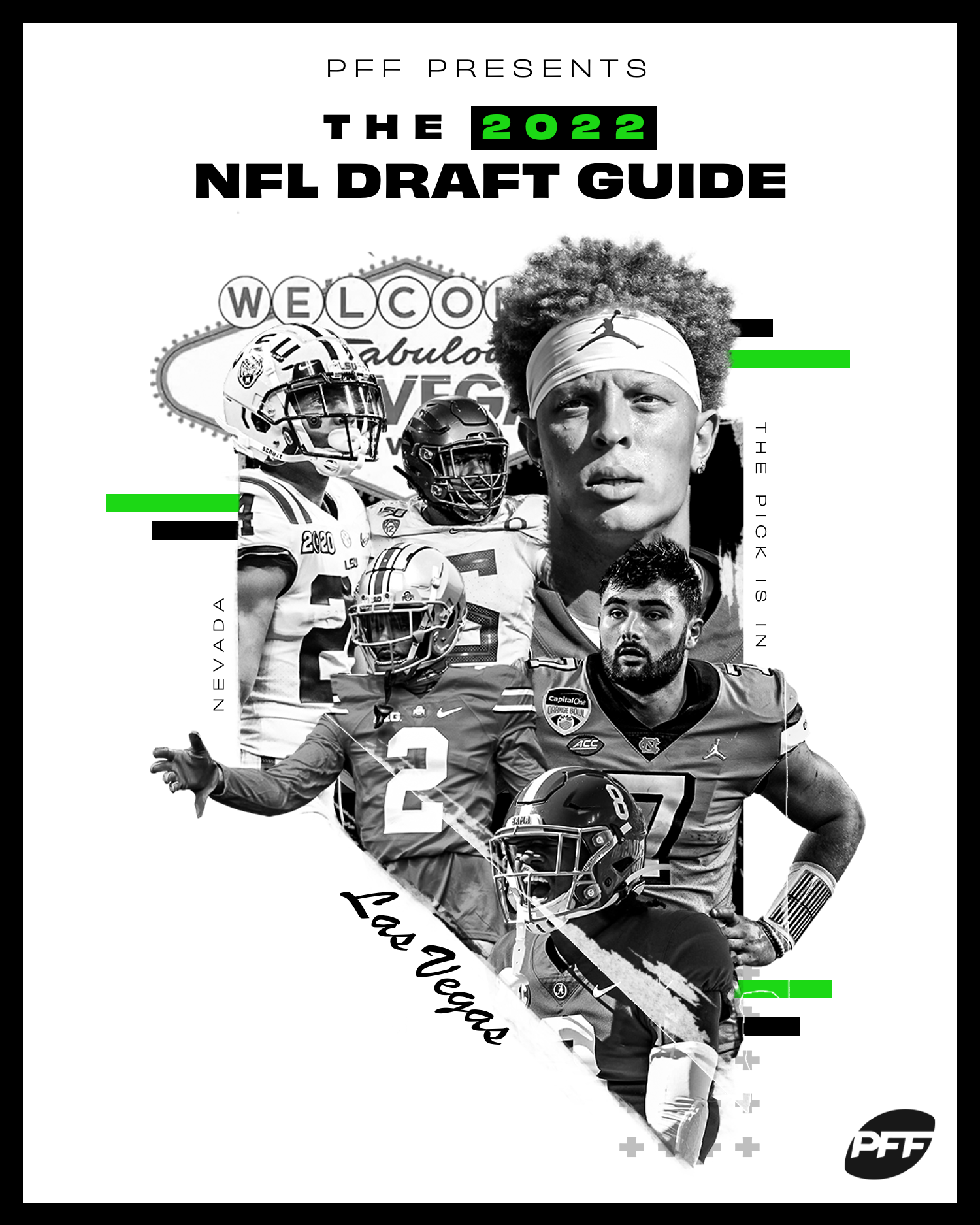 McCreary has had one of the best cornerback careers of the PFF College era, and his 2021 campaign is his best yet. The Auburn corner earned 78.0 and 80.8 PFF grades in 2019 and 2020 before posting an FBS-leading 89.9 mark in 2021. He's always at the catch point and rarely loses, as only Derek Stingley Jr. has forced more tight coverage than McCreary since 2019. He's smart, fast and scheme-versatile.
McDuffie earned an 80.0-plus PFF grade as a true freshman, sophomore and junior, and he will enter this year's draft as one of the most underrated players in his class. The Washington product allowed just 111 yards across 296 coverage snaps this year. He is a fantastic zone cover corner, and his awareness, athleticism, physicality and tackling ability allowed him to post elite, lockdown numbers.
Bonitto's 93.6 pass-rush grade flew under the radar in the COVID-shortened 2020 season, but that elite level of production remained in 2021. The Oklahoma edge defender earned a 92.5 pass-rush grade this regular season — tying for the second-best mark in the Power Five, behind only Hutchinson. He generated multiple pressures in every game he played, recording a pass-rush win rate above 18% in each contest. His 27.1% pass-rush win rate over the season ranks first among FBS players at the position.
Karlaftis — who was born in Athens, Greece — is the "Greek Freak" of college football. He is one of the most powerful defensive ends in the country, and he pairs that strength with arguably the best hand usage in the class and an explosive get-off that makes life tough on opposing offensive tackles. The 6-foot-4, 275-pound Boilermaker showed a lot of promise as an underclassman and maximized his full potential as a true junior, as evidenced by his 90.6 pass-rush grade this season.
Addison handled a heavy workload, averaging 10 targets per game in 2021, and seized the opportunity, earning an 87.6 receiving grade and generating the second-most receptions of 15-plus yards in the Power Five (40). He primarily works from the slot, where he leads the country in touchdowns (12), but he's also been a productive threat on the outside. Addison's 3.33 yards per route run on the outside is third among all Power Five wide receivers.
Over the years, Louisiana's offensive line has consistently found itself atop the national ranks, and Mitchell has produced better than any lineman the Ragin' Cajuns have fielded in the PFF College era. He leads FBS tackles with a 94.8 PFF grade, as the 6-foot-6, 297-pound tackle allowed only 13 pressures across 13 games while racking up the third-most big-time run blocks.
Luter missed the final two outings due to injury, but we won't let that take away from what he did in 10 games as a starter. Luter was tested with 45 targets in coverage but only allowed a 26.7% catch rate and actually came up with more combined interceptions and pass breakups (14) than catches allowed (12). The South Alabama corner even earned a 97.8 PFF grade in single coverage this year — the highest mark in the country by more than five grading points.
The level Kinnard played at in the most difficult conference in the country is something that doesn't get talked about enough. The 6-foot-5, 345-pound tackle posted a goose egg in the pressures allowed column in over half of his starts while producing a 91.8 run-block grade.
Chenal's explosiveness at 6-foot-2 and 260 pounds is a sight to behold and made him among the best run defenders and blitzers in college football, as he earned a 94.1 run defense and 91.8 pass-rush grade this year. The former is the third-best of the PFF College era — behind only Micah Parsons in 2019 and Reuben Foster in 2016. Of his 26 pressures (on 102 rushes), 10 were a sack while eight resulted in a quarterback hit.
Enagbare racked up high-level pass-rush production despite not possessing a notable sack total. He finished with a 92.5 pass-rush grade for the Gamecocks in his final year in college. After removing screens, run-pass options and play-action dropbacks (i.e. filtering to true pass rushes), Enagbare led the Power Five in pass-rush win rate.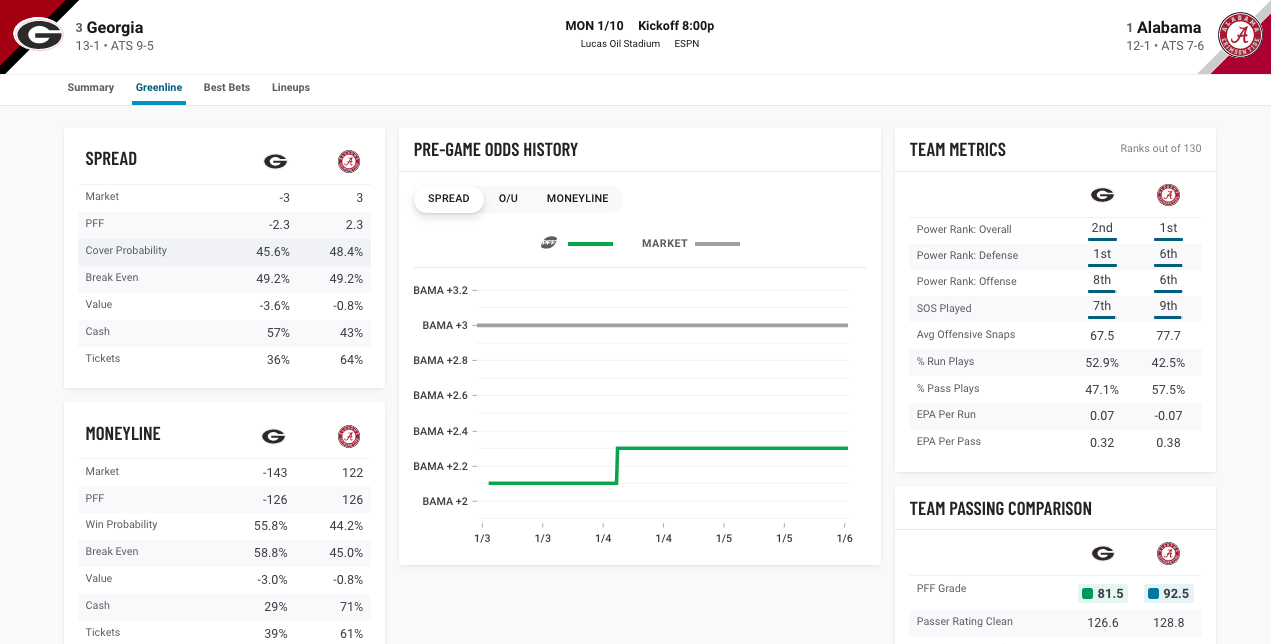 Thanks to his size, physicality and speed, Burks has made a name for himself as a big-play threat over the last couple of years. The 6-foot-3, 225-pound wide receiver has averaged 8.6 yards after the catch per reception while breaking 24 tackles on 115 receptions since 2020. He's hauled in all 21 of his catchable vertical route targets in that span for 792 yards and 10 touchdowns.
Ekwonu is one of the PFF College era's nastiest run blockers, boasting a 93.8 run-blocking grade for the 2021 season — the highest mark in the Power Five. He laid down a whopping 18 big-time blocks this season, which not only leads every Power Five offensive lineman in 2021 but is also the most in a single season since 2014. The NC State product has been that kind of a monster in the run game in all three of his years with the Wolfpack, but now, he's starting to improve as a pass protector, too. After posting a poor 55.3 pass-block grade in 2020, Ekwonu improved that to a solid 78.3 mark in 2021.
Battle is in the midst of the fourth-best season from an SEC safety in the PFF College era, as the Alabama star owns a 90.2 PFF grade heading into the national title game. He's played over 250 snaps each in the box, slot and at deep safety while sporting a 79.0-plus grade at all three positions.
Robinson transferred to Kentucky from Nebraska last offseason to be a true slot receiver in a pro-style offense, and the move paid big dividends. The 5-foot-11, 185-pound dynamic pass catcher boosted his PFF grade by nearly 15 grading points to 91.3. His 3.45 slot yards per route run and 73 slot receptions were both among the top three amidst Power Five receivers.
Armstrong led one of the most explosive passing offenses of the 2021 season. Despite unorthodox mechanics, the Virginia Cavalier finished the season with the fourth-best PFF grade among FBS quarterbacks. He recorded multiple big-time throws in all but two starts (finishing with one each in those two).
Muma finished the regular season with the third-highest PFF grade at the position (90.4). The Wyoming Cowboy is instinctive and has a great combination of size and speed at 6-foot-3 and 242 pounds. He racked up 59 defensive stops in 12 games — the second-most at the position.
Maietti pieced together an "ironman" collegiate career with 3,725 snaps played at Rutgers and Mizzou, closing it out with his best season yet with the Tigers in 2021. He earned an 88.5 PFF grade, which ranked second in the FBS to onlyLinderbaum. He was, once again, strong in pass protection, allowing zero pressures in eight of his 13 games played, but he was at his best as a run blocker. Maietti ranked second nationally in run-block grade this year (90.9).
Brisker has been one of college football's top safeties since he transferred from JUCO in 2019, as he has just earned his third straight 80.0-plus single-season PFF grade with the Nittany Lions. Brisker's performance against the run dipped a bit in 2021 due to playing closer to the line of scrimmage than in previous years, but he's hardly made a mistake in coverage. Brisker recorded a couple of interceptions and four pass breakups en route to an 89.5 coverage grade this season. He's just a smart, heady player.
Cross is one of the most improved players in college football. After allowing 44 pressures in the Bulldogs' Air Raid offense in 2020 — his first year starting at the Power Five level — he allowed just 16 in 2021 despite spending well over 100 snaps in pass protection. This year, the 2019 five-star recruit has earned a grade above 84.0 as a run- and pass-blocker, and he even kept a clean slate in pass protection against Alabama.
Wilson is a route-running savant. He's sudden and fluid, and he ranked in the 93rd percentile in separation percentage against single coverage for the 2021 season. The 6-foot, 192-pound receiver played primarily in the slot in 2020 before transitioning to the outside for 2021; yet, he still managed to average more than 3.00 yards per route run each year.
---
2022 NFL Draft position rankings:
Top 10 players at every position
QB | RB | WR | TE | iOL | OT | DI | EDGE | LB | CB | S
---
Dotson has improved his speed and explosiveness while becoming a strong route runner who has elite ball skills. He earned an 87.5 PFF grade in 2021 and dropped only two of his 138 total targets. The Nittany Lion is a promising receiver despite not being the most physical player at his position, as he's listed at just 5-foot-11 and 184 pounds.
Domann is a versatile, 6-foot-1, 230-pound linebacker for Nebraska. He primarily covered the slot, and he was damn good at doing so. Domann allowed a mere five first downs across 277 such coverage snaps while intercepting two passes and recording nine passing stops when covering the inside.
Sterns made the move to the FBS level from Houston Baptist alongside quarterback Bailey Zappe, and he was the go-to option in Western Kentucky's Air Raid offense. Sterns generated a 135.4 passer rating from his targets, which is quite impressive considering he saw a whopping 185 passes thrown his way. To make it even better, he managed just three drops on the season. Sterns was an impact player after the catch, as he averaged 7.7 yards after catch per reception. All of which led the receiver to a 90.5 PFF grade on the year.
Pitre plays the game kind of like former Notre Dame Fighting Irish rover Jeremiah Owusu-Koramoah. The Baylor Bear primarily manned the slot this past year and was an all-around weapon due to his explosiveness and instincts. He earned a 92.7 run defense grade, 83.6 pass-rush grade and didn't allow a touchdown in coverage while intercepting two passes and breaking up six others.
Henderson was the No. 1-ranked running back recruit in the 2021 class, per 247Sports, and he definitely looked the part. Henderson converted 18.6% of his carries into a gain of 10 or more yards — the eighth-highest rate among Power Five running backs. His five touchdown runs of 20 or more yards are also tied for second among that group.
Anytime Likely took the field, he was always one of the best players on the field, and his 93.5 PFF grade from this past season backs that up. The 6-foot-4, 240-pound tight end impressed with his athleticism and route-running chops, as he generated 2.99 yards per route run and broke 10 tackles after the catch.
Badie was the definition of a bell-cow back this season, as he received the most carries and the second-most targets among all Power Five backs this season. Badie was a safe option, as he didn't fumble a single one of his 271 carries while dropping just one of his 68 targets. All of this helped him to an 85.7 PFF grade for the year.
Sanborn's ability to attack downhill against the run and as a pass-rusher was vital to the Badgers' defensive success this year. He recorded an 84.8 run defense and 85.4 pass-rush grade in 2021. The only other off-ball linebackers to clear an 80.0 mark in both metrics were Dean, Lloyd and his teammate Chenal — all of whom are among the top 50 on this list.
Hartman led Wake Forest to one of its best seasons in program history this year. He ran the Demon Deacons' patented long-mesh run-pass option (RPO) offense with high-level efficiency. Because of the illegal man downfield rules at the collegiate level are more generous than in the NFL, RPOs can be longer developing and attack downfield. Hartman and Co. had a multitude of those downfield RPOs built into their offense, which helped him to an FBS-leading 20 deep passing touchdowns (eight of which came from an RPO). Overall, Hartman earned an elite 91.8 PFF grade for the season.
Charbonnet was one of the five most valuable running backs of 2021, and his 91.9 rushing grade was the third-highest in the FBS. The Michigan transfer ranked top five nationally in missed tackles forced per attempt (0.34) and was one of four running backs in the Power Five who finished with at least 200 carries and zero fumbles.
While Corum's final game of the season against Georgia's vaunted run defense didn't go as he had hoped, it shouldn't take away from how dominant the back was all year for the Wolverines. He was one of four Power Five running backs with at least 100 carries to average at least 6.5 yards per attempt. Corum was also one of six among that group to bust off at least four 50-plus yard runs. He has speed for days, which helped him to an impressive 91.1 rushing grade and the highest rushing yards over expectation (RYOE).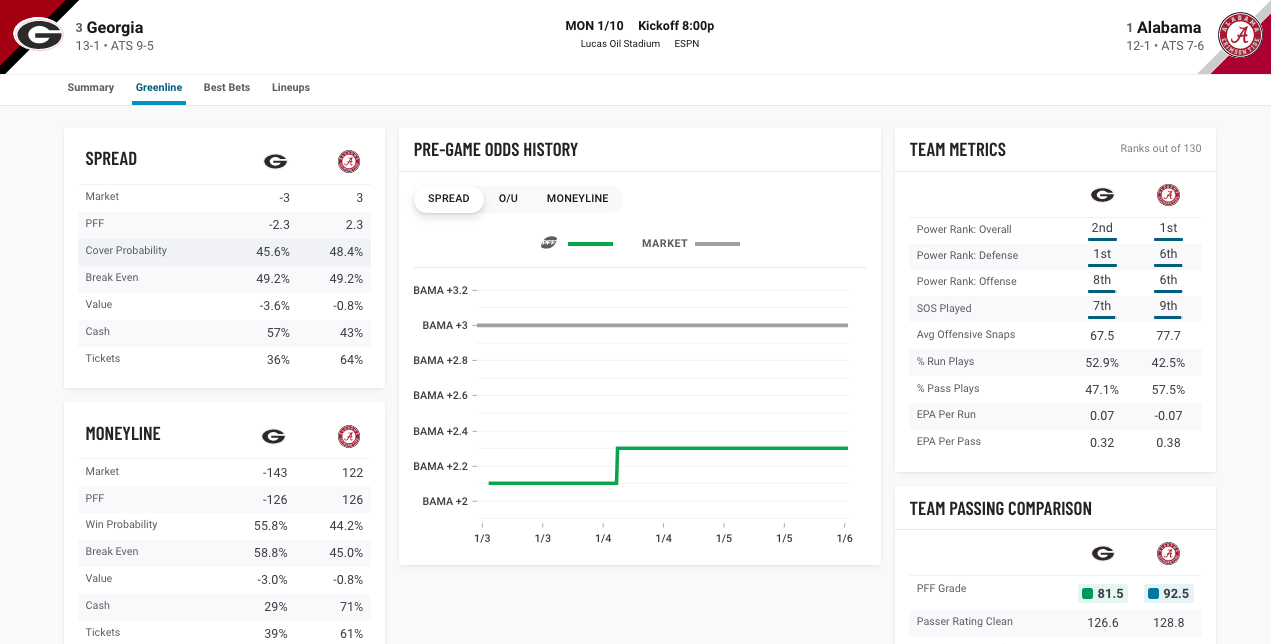 Ebiketie quietly broke out in 2020 with the Temple Owls and has since become one of the premier pass-rushers in the Power Five at Penn State. He is fantastic with his hands and stepped up in Shaka Toney and Odafe Oweh's absence by earning a 90.5 pass-rushing grade this season.
Willis is the most dangerous quarterback in college football from an athleticism perspective. He also possesses outstanding arm strength, helping him record an FBS-best 11% big-time throw rate this year. The Liberty quarterback also posted the highest rushing grade among FBS quarterbacks (94.5).
Thomas was one of the most disruptive defenders in the Group of Five. He recorded four or more pressures in all but one of his 14 games and racked up 77 pressures overall — including 12 sacks and 21 hits. The 6-foot-5, 270-pound edge defender recorded an 85.0-plus grade as a run defender and a pass-rusher, something only one other FBS edge defender — Michigan's Aidan Hutchinson — accomplished this season.
North Carolina may have suffered a double-digit upset loss to South Carolina in the Duke's Mayo Bowl, but Howell was hardly to blame. He earned a 92.4 PFF grade in that contest, recording three big-time throws and zero turnover-worthy plays in the process.
After losing four of his marquee weapons to the NFL prior to the 2021 season, Howell was forced to make up for a one-dimensional skill position group by leaning on his legs more. He thrived while doing so, generating the second-most runs of 10-plus yards among FBS quarterbacks (45). Howell also managed a 90.3 passing grade and 9.0 yards per attempt when throwing from a clean pocket.
Bell came into 2021 with big expectations after a couple of promising years as an underclassman, and the Boilermaker lived up to the billing. He earned 77.3 and 76.2 PFF grades as a true freshman and sophomore, respectively, and then recorded an 86.9 PFF grade in his 2021 campaign. The 6-foot-2, 205-pound wide receiver has fared far better against single coverage this season while displaying top-notch body control. Bell has also been more of a threat after the catch, with 25 broken tackles on 93 receptions.
Schmitz has been one of the more under-the-radar offensive linemen in the Big Ten over the past few years, and this season was his best yet. His 88.1 PFF grade ranked third-best among FBS centers. The Golden Gopher earned an 87.5 run-blocking grade while not allowing a single sack or hit in pass protection.
Aside from Pittsburgh's Kenny Pickett, no quarterback improved their game more than Ridder in 2021. The Bearcats signal-caller took full advantage of his physical gifts, ending 2021 with a 90.4 PFF grade that sits 13 grading points above his previous career-best. Ridder ranks among the nation's top 10 quarterbacks in accurate pass rate and deep passing grade this season, and he tossed 24 deep big-time throws without recording a single turnover-worthy play on those passes. The 6-foot-4, 215-pound quarterback also led the position in total games with zero turnover-worthy plays this year, with nine.
No running back was more elusive in 2021 than Robinson. His 0.40 missed tackles forced per attempt figure led all FBS running backs. Robinson's elusiveness showed up in the passing game too, as he broke eight tackles on 26 receptions while averaging 10.7 yards after the catch per reception.
Diesch was a top recruit in the 2016 cycle for Texas A&M, but he didn't consistently see the field until 2020 with Arizona State. And even then, it was only four games due to the pandemic's impact on their season. He still flashed that year and subsequently sustained that over the course of 2021 at left tackle. Diesch earned an 87.2 PFF grade for the Sun Devils this season. He was one of four Power Five players to rank inside the top 15 at the position in both pass-blocking grade and run-blocking grade.
---
2022 NFL Draft position rankings:
Top 10 players at every position
QB | RB | WR | TE | iOL | OT | DI | EDGE | LB | CB | S
---
White earned 89.0-plus grades as both a runner and receiver in 2021, something no other running back in college football accomplished this season. That high-level production helped him earn a top-five PFF Wins Above Average (WAA) mark at the position in the Power Five.
Moore is a talented pass-catcher who was one of the top Group of Five receivers in 2021. He earned a 91.6 PFF grade and generated 3.40 yards per route run for the Broncos. The 5-foot-10, 195-pound receiver was tough to bring down after the catch too, forcing 26 missed tackles on 94 receptions. He also dropped only four passes on 125 targets and caught eight of his 13 contested targets.
Achane was an explosive play waiting to happen in the A&M backfield. He converted 20.8% of his runs into an explosive run of 10 or more yards and 37.7% into a first down or touchdown, ranking second and fourth overall, respectively, among Power Five backs.
Haskins' box score jumps off the page thanks to a lot of volume, but he rarely fell short of expectations. He didn't fumble a single time across his 270 carries. Haskins saw over 60 more gap scheme carries than any other Power Five back, and he ranked sixth among that group of players in rushing grade on such carries.
Jones is a monstrous right tackle at 6-foot-8 and 360 pounds. The Buckeye earned a 90.6 run-blocking grade in 2021, the fourth-highest mark among Power Five tackles. He tied for fifth in big-time run blocks among Power Five tackles and allowed less than one pressure on average per game.
Wyatt has been the most impactful player along a talented Georgia defensive line. He leads all Power Five interior defensive linemen in PFF grade for the 2021 season (90.1). Wyatt also ranks first in positively graded play rate against the run and 10th in pass-rush win rate. He's paired that with a couple of forced fumbles and batted passes.
Only six FBS wide receivers earned a 90.0-plus PFF grade in 2021, and Cowing was among them. The 5-foot-11, 170-pound slot receiver has been a prominent deep threat for the Miners in his three years on campus, including this year, when he racked up in the sixth-most deep receiving yards nationally (645). Cowing will be taking his talents to the Power Five level in 2022, joining the Arizona Wildcats.
No safety earned a higher PFF grade in 2021 than Joseph, and that's thanks to his top-notch coverage ability. Joseph intercepted five passes and broke up four others this year en route to a 90.6 coverage grade while primarily playing deep safety for the Illini. After playing sparingly across his first three years with the team, Joseph is putting his name on the map.
Goedeke graded out as one of the best run-blockers in the country across his 10 games this year. He joined teammate Bernhard Raimann as the only tackles nationwide to rank in the top 10 in both positively and negatively graded run-block rate. That led him to a 94.3 run-blocking grade for the season. Pair that with just seven pressures allowed, and he was an easy decision for the PFF 101.
Right behind Georgia's Devonte Wyatt for highest-graded Power Five interior defender is Farrell Jr. The fifth-year LSU Tiger's 24 run stops rank sixth, and 10 were for a tackle for loss or no gain. He often plays at nose tackle and remains productive when doing so. When playing zero- or one-technique, Farrell is the sole leader in PFF grade at the Power Five level.

Pierce may not be a workhorse back, with just 100 carries for the season, but what he did on that workload was nothing short of spectacular. He earned an FBS-leading 93.5 rushing grade while breaking 39 tackles and busting off 20 explosive runs. The Florida Gator also made a dent as a receiver when given the opportunity, generating 1.79 yards per route run.
Ford ranked behind only Michigan's Blake Corum in rushing yards over expectation this season. The former Alabama running back was a breakaway threat for Cincinnati this season, recording six touchdowns of 20-plus yards — tied for the fourth-most in the FBS.
Torrence was thrown into the fire as a three-star true freshman in 2019 after an injury to the previous starter during Louisiana's season-opener. He has since established himself as one of the top interior offensive linemen in college football. The 6-foot-5, 332-pound guard earned an 88.2 PFF grade in 2021 and allowed a mere five pressures in 12 starts. Now, Torrence is in the transfer portal with his eyes set on joining a Power Five program.
Cunningham was a quality level passer when tasked with play-action concepts — 92.3 grade with play action, 65.9 without it — but he cracks this list mainly for his rushing ability. His 90.3 rushing grade trailed only Sam Howell for the highest among Power Five quarterbacks. He racked up 20 touchdowns, 51 broken tackles and 38 explosive runs on 108 designed carries and 50 scrambles.
Chandler played near-flawless football in the second half of the season. From Week 6 on, he earned pass-blocking and run-blocking grades north of 90.0, which is something no other Power Five guard accomplished. He allowed only three pressures and earned a 92.6 overall mark in that span.
Williams had his fair share of highs and lows in his true freshman year, but at the end of the day, he performed at a rare level given his age. His 90.3 passing grade this season ranked second-best by a Power Five true freshman quarterback in the PFF College era (Trevor Lawrence in 2018). The 6-foot-1, 215-pound quarterback is also a dynamic ball-carrier who racked up 13 explosive runs and 22 broken tackles on 64 runs. Williams has a tendency to make things more difficult than they need to be, but that's a common issue for first-year starters. There's no denying his physical talent.

Pace was the easy decision for PFF's 2021 MAC Defensive Player of the Year. This year, he stepped into a starting job for the first time and came out with an 88.3 PFF grade. He was a weapon, regardless of the role, but stood out as a blitzer where he earned a 91.2 pass-rush grade and totaled 19 pressures on 46 rushes. Pace paired that with an 88.6 coverage grade and 78.7 run-defense grade.
The former four-star recruit — who is yet to turn 18 years old — decided to skip his senior year of high school and reclassify for the 2021 class. He joined Wisconsin early to play safety or linebacker but instead found a home at running back — and he is already among the best backs in the country. Allen led all Power Five backs in yards after contact per attempt at 4.5 in 2021. He's a star in the making.
Rodriguez racked up a Power Five-leading 66 defensive stops en route to one of the five highest PFF grades at the position. The Oklahoma State Cowboy joins Nakobe Dean and Devin Lloyd as the only off-ball linebackers in the Power Five to earn a grade above 80.0 against the run and in coverage.
Carter was a secret superstar for Army this season. Despite entering the year with only 74 career pass rushes to his name, he was dominant right from the get-go as a full-time starter in 2021 and closed out the season with a 93.3 pass-rush grade. He racked up 15 sacks and one of the five highest pass-rush win rates in the FBS (25.9%).
Vorhees moved from left guard to left tackle down the stretch of the 2021 season, but the 6-foot-6, 320-pound lineman still thrived. He recorded a 90.0 PFF grade overall for the 2021 season and is the only lineman in the country who managed to record a 90.0-plus grade as both a run-blocker and pass-blocker this season.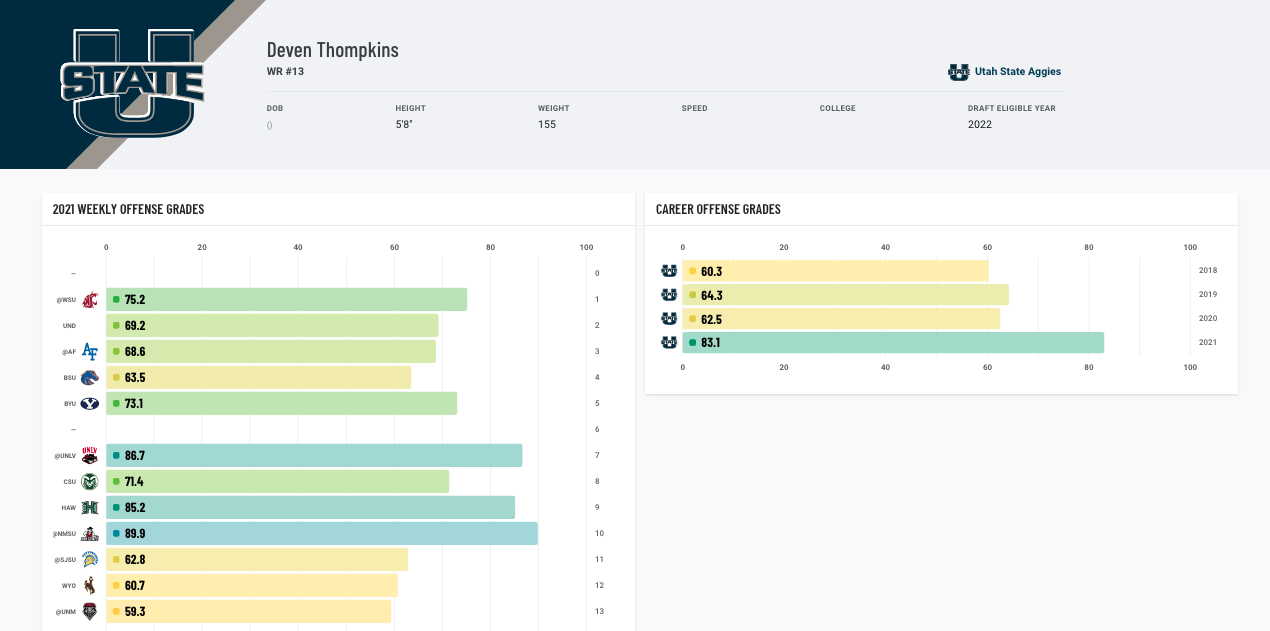 The 5-foot-8, 155-pound receiver caught nearly twice as many passes as anyone else in his offense, with a good chunk of those looks coming deep downfield. Thompkins ranked first in the FBS in deep receptions (24) and receiving yards (906). The diminutive receiver also made a killing adjusting to off-target throws, as he led the country in receptions from inaccurate passes with 33.
Standing 6-foot-2 and weighing in at 230 pounds, Tindall has the kind of speed and explosiveness that makes your jaw drop. He has a stack of highlight-reel plays this year, even though he's not technically a starter. The Georgia off-ball linebacker earned an 83.8 PFF grade across 426 snaps this season while racking up 30 defensive stops and 21 pressures.
The Clemson corner earned the highest PFF grade of his season in the Cheez-It Bowl against Iowa State, thanks to a forced fumble and interception. Goodrich was the most valuable cornerback in the ACC this year, as he allowed no touchdowns while intercepting two passes and breaking up another seven.
Smith, one of the unsung heroes of the 2021 season, allowed multiple catches in just two of his 11 games this year. In all, he gave up only 15 catches for the entire season. Of those 15, 10 went for a first down, which is fewer than the number of plays he made on the ball (12).
Zappe was gifted a considerable amount of production in WKU's Air Raid offense, which is ultimately how he was able to break the NCAA passing yards and touchdowns record. Still, Zappe performed admirably this season by posting an 87.6 passing grade. His 97.7 deep passing grade was the second-best among FBS quarterbacks.
Neal is a 6-foot-7, 350-pound monster with rare athleticism for a man his size. He came in at No. 1 on Bruce Feldman's annual Freaks List this past offseason for a reason, and he has the tools and collegiate production to back it up. The Alabama product recorded an 80.0-plus grade in each of the last two seasons while facing stiff SEC competition. This year, Neal was the model of consistency, allowing just 16 pressures — and committing only one penalty — in 14 games at left tackle.
Kendrick's life was made a bit easier than other SEC corners, thanks to the front seven he has the benefit of playing with, but the Clemson transfer has still impressed this year. He allowed fewer than 10 yards in coverage in half of his starts, and he has yet to allow a touchdown.
Jones is the definition of versatile. He ranks first in kick-return grade and fourth in punt-return grade among all FBS return specialists and was one of two players with a kick- and a punt-return touchdown in 2021. The Houston defensive back also ranks 11th in PFF coverage grade among FBS cornerbacks for the 2021 season and even played slot receiver for the first four games of the season, where the Cougar ran 40 routes and picked up a solid 2.73 yards per route run.
Robinson runs with anger, which helped break 75 tackles and put up a 91.1 rushing grade — both of which are top-10 marks among FBS backs. His 56 runs with at least five or more yards are the second-most in the Power Five.

Hawkins pivoted to more of a deep-safety-exclusive role after playing closer to the line of scrimmage in 2019 and 2020 and ended up having a career year. The Michigan safety earned an 83.0 PFF grade this season while generating 0.38 PFF WAA. The latter makes him the fourth-most valuable player at the position for the year.
Allgeier — who played some off-ball linebacker for BYU back in 2019 — is a legitimate truck at running back. The 5-foot-11, 220-pound back trailed only Kenneth Walker III in total yards after contact this season with 1,143. He finished with 67 total runs with five or more yards after contact, which was five more than any other FBS back.
Gordon is an uber-athlete who started to show technical refinement in his 2021 campaign. The Washington Husky allowed 243 yards across his 354 coverage snaps in 12 starts. He didn't allow a single touchdown and committed just one penalty while intercepting two passes and breaking up six others.
McMillian earned an 88.5 PFF grade that ranked top three among FBS cornerbacks. The 5-foot-9, 177-pound corner finished with five interceptions, eight pass breakups and 13 passing stops. Most of his work came from off-zone coverage, where he earned a 90.1 coverage grade, second in the FBS.
Tolbert was one of the top deep threats of 2021. The 6-foot-3, 190-pound receiver was responsible for 646 deep receiving yards this season, the fifth-most in the FBS. Tolbert was the go-to guy in South Alabama's offense, and he made the most of those opportunities by generating 3.16 yards per route run.
Hicks was a top-three graded safety in the FBS this season and the only player at the position to earn a grade above 85.0 against the run and in coverage. He was a high-level playmaker, with four forced fumbles and three interceptions.
Strong ended his final collegiate season in Nevada's Air Raid offense on a heater. He was one of the five highest-graded quarterbacks in the FBS from Week 7 on, and he delivered multiple big-time throws in all but one start.
Tucker finished top-three among all Power Five backs in 15-plus-yard runs (24) and yards after contact (1,014). He averaged an astounding 6.6 yards per attempt on zone runs and earned the seventh-highest rushing grade in the nation on such carries.
Gibbs was the most valuable running back in the ACC, thanks to elite pass-catching chops. His 91.5 receiving grade was the highest among all FBS running backs this season. Gibbs was no slouch in the run game either, as he earned a solid 86.2 rushing grade. And last but not least, Gibbs also produced a top-10 return grade. The dynamic weapon will take his talents to Alabama in 2022.
There were few bones to pick with McCall's passing performance, as he posted a 93.2 passing grade, the highest in the FBS for the year. McCall's ability to hit the deep ball over the top of defenses is special. He delivered 15 big-time throws on 30 deep pass attempts in 2021. The 6-foot-3, 210-pound quarterback connected on 19 deep passes for 605 yards and eight touchdowns with no interceptions.
Jones made his name known as one of the top interior defensive linemen in the FBS his first two years on the field in 2018 and 2019, but a canceled season in 2020 prevented him from building on that. This year, Jones got back to the field and had no issue getting back to his old form, as he earned an 87.6 PFF grade — a top-five mark in the FBS at the position.
Mayer was the engine of the Fighting Irish's passing offense, as he was responsible for more combined first downs and touchdowns than any other pass-catcher on the roster. He also racked up more such plays than any other Power Five tight end. Mayer ran well over half of his routes in the slot or out wide, making his 82.0 receiving grade for the year that much more impressive. The true sophomore's 15 explosive plays in the slot or out wide actually tied for the most in the FBS by a tight end.