Athleticism isn't the be-all and end-all in the game of football. It doesn't take much more than a cursory glance at the top combine performances at each position from the last decade to deduce that.
Still, there is no denying that athleticism matters. Combining elite tape with elite measurables makes draft evaluators feel that much better about a player's prospects of translating to the NFL. That's why it's notable that 15 of PFF's preseason top-50 prospects ended up on Bruce Feldman's 2021 Freaks List. Let's break down exactly who they are and what it means for each.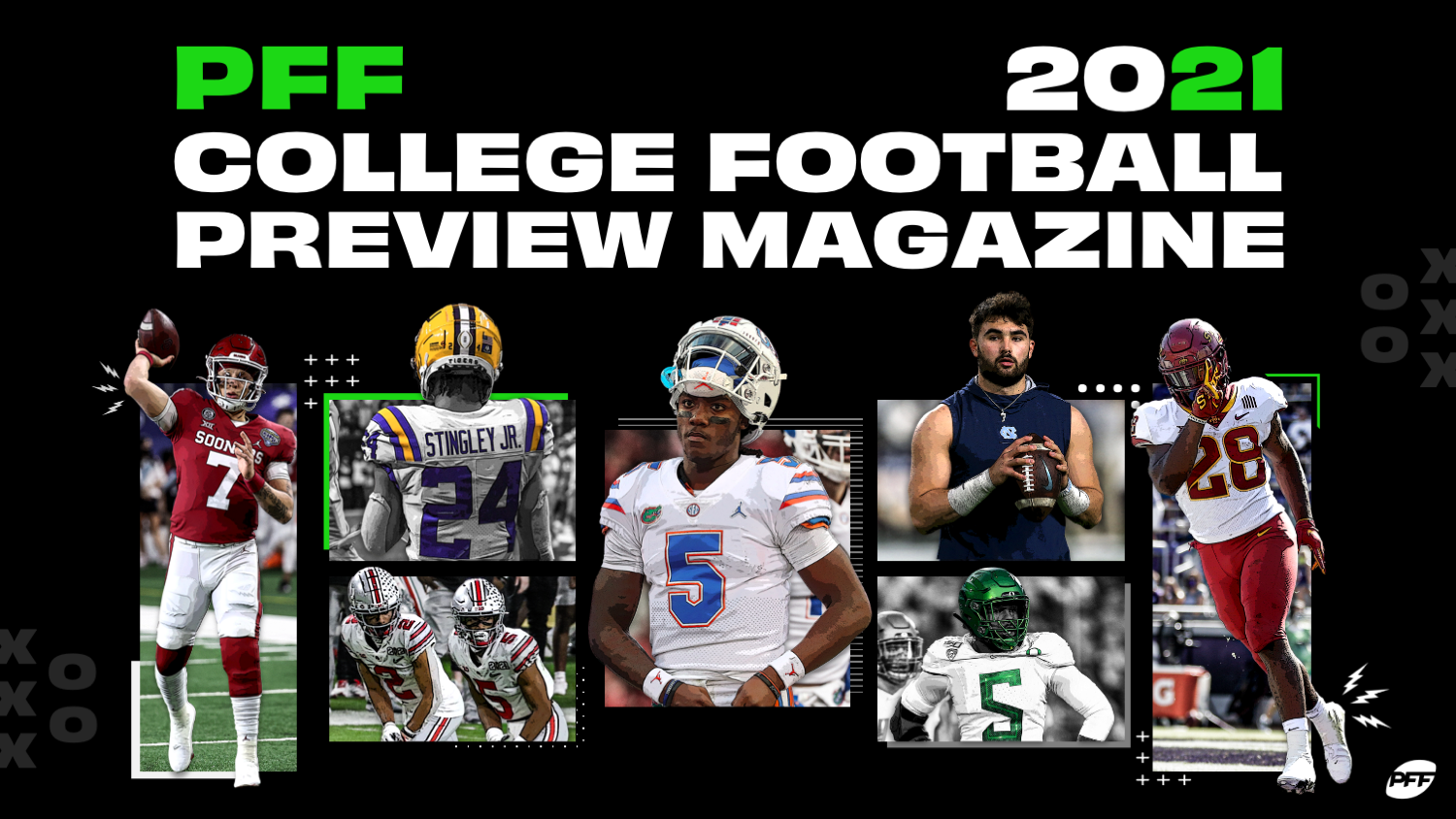 If you've watched Neal's tape at all the past two seasons at Alabama, this ranking should come as no surprise. What he's able to do on a football field for a 360-pound man is nearly unprecedented. It's why he stacked up the sixth-most big-time blocks in the country as a true sophomore. Now, he's cut 15 pounds this offseason and is more nimble than ever, which should pay dividends in pass protection. That's where his biggest room for improvement could come after earning a 73.1 pass-blocking grade in 2020.
Hutchinson was done no favors by playing on the same line as 2021 first-rounder Kwity Paye. There's no shame in being a noticeable step slower off the line of scrimmage than a guy who was Bruce Feldman's No. 1 freak in 2020. The big difference is that Hutchinson will win in vastly different ways because he has a vastly different body type. At 6-foot-6 and 270 pounds, Hutchinson can be a Justin Smith clone with his size and inside-outside versatility. Smith went fourth overall back in 2001 and ultimately became the game's premier 3-4 defensive end with the 49ers.
Yet another guy who possesses the kind of freaky athleticism that only looks more absurd when you factor in his size. He's not the first person to have an explosive 41-inch vertical and 10-foot-8 broad jump, but not many that did it before him were 6-foot-4 and 219 pounds. This repeatedly shows on tape, which is why he's collected five picks and 11 pass-breakups in two seasons. With top-five tape and athleticism, Hamilton is unlikely to be sliding down the PFF draft board anytime soon.
Karlaftis came into college football as one of the strongest true freshman defensive ends you'll ever see, and he racked up 55 pressures that season. Injuries and a bout with COVID-19 limited his development as a sophomore, but his ranking here shows just how much he's continued to develop physically. The craziest part of his physical profile is that his weight hasn't changed since his freshman year, but his body fat has dropped 10 percentage points. That's some insane physical development that I can't wait to see on the football field.
It's been well known that Stingley is a different breed ever since he ran a 4.3-second 40-yard dash with a 42-inch vertical in high school. The bigger revelation here comes from the fact that Stingley is apparently confident he'll top both figures at the combine and is at his lowest body fat percentage of his career. The continued commitment to improving his game even after the best true freshman season we've graded from a corner only makes us feel even better about his standing as the top position player on PFF's draft board.
Feldman states in the article that Linderbaum has "elite feet," which is all too evident for everyone who's watched him play. Last season, Linderbaum was the highest-graded center in college football, and he's continued to pack on muscle since. His reported 4.22-second short shuttle, if run at the combine, would be the second-fastest ever for an interior lineman, behind only All-Pro Jason Kelce's 4.14. That's good company to share at the position.
Even though Sanders' on-field production isn't quite as dominant as you'd like, given his competition level, his position on the Freaks List is why he checks in where he does on the PFF draft board. Rushing the passer off the edge in the NFL is a very traits-based endeavor when there are high-level athletes in excess of 6-foot-5 and 300 pounds. Sanders not only has the ideal long body type at 6-foot-5 and 259 pounds, but he also has the explosiveness as outlined in the article. If he can build on his 84.3 overall grade significantly as a senior, he'll be a first-rounder.
Feldman notes Harris' explosiveness, which is his biggest selling point. His ability to stick a running back or stack an offensive lineman is why he's our early LB2 in the class. There shouldn't be too much debate about whether his athleticism can translate to a three-down linebacker role at the next level. We'd just like to see his coverage instincts improve from 2020 when he allowed 539 yards on the season.
I've called him the best runner at the position on numerous occasions. He was the only quarterback in the FBS to go for over 1,000 yards on the ground last year. So, it's nice to see that backed up by a 4.5 40 and 38.5-inch vertical. We are high on what he can do as a passer, too, but those are great numbers for a running back, let alone the 6-foot-1 and 230-pound quarterback.
McDuffie is poised for a monster junior campaign after he yielded all of 52 yards in four games last season. While he's not going to tick the height box for every team at his listed 5-foot-11, having the 41.5-inch vertical and 10-foot-9.5 broad jump will surely help make up for that in the NFL.
We just need to see Daniels healthy at this point. In his four years at TCU, he has managed to play only 353 snaps. His 4.27 40-yard dash and 400-pound hang clean are ultra-freaky numbers. He has the tape and athletic profile of a first-round man corner in the NFL but the injury history of a Day 3 flier.
Burks has been one of the best receivers in the class in contested situations, so it's no surprise to find out he has massive 10.75-inch hands. Last season, Burks went 8-of-12 in contested situations for the Razorbacks. Now, we'd just like to see him run more routes from the outside, as he's done so only 73 times in his career.
One doesn't rack up 10 big-time blocks as a true sophomore without some freak power. That's precisely what Ewkonu possesses. If he truly does run faster than Garrett Bradbury's 4.92, as suggested in the article, the 327-pound Ekwonu will have put up one of the most impressive 40s from an offensive lineman in NFL history.
London's 38-inch vertical should come as no surprise given his basketball background. His dunk contest performances from high school were the stuff of legend. While his speed is still a question mark, the 6-foot-5 London has one of the largest catch radii you'll see from a draft prospect.
One doesn't become the best tackling safety in the country without some special athletic ability. Brisker made Feldman's Freaks List last year for his 10-foot-7 broad jump and 355-pound bench. This year, it was his 4.07 short shuttle that turned heads. That explosive, agile and physical profile is why he missed only one tackle on 60 attempts in 2020.