Another offseason has gone by and another summer has been spent arguing with rival fans about who has the better quarterback situation, the better receiving corps, which secondary is best and all in between. Here at PFF, we've spent time diving deep into our databases, improving our grade formulas and launching our Premium Stats 2.0 on the NFL side.
We've also spent a large portion of time diving into the depths of the college data we have at hand, starting with the Atlantic Coast Conference in today's first of our conference preview series. The ACC has oft been one of the leaders in quarterback production not only in terms of NFL-caliber players but in dominance across statistical categories as well as annual awards. This year, the quarterback landscape may look a bit different than last year, despite the amount of snaps returning.
Quarterback turnover
The ACC boasts some of the nation's more experienced signal-callers despite the loss of first-round pick of the Baltimore Ravens, former Louisville QB Lamar Jackson, Max Browne from Pittsburgh, John Wolford from Wake Forest and Kurt Benkert of Virginia. In total, the ACC returns 11 starters from 2017 that qualify among PFF Signature Stats by taking at least 25 percent of their respective team's snaps last year. Add to that list Deondre Francois from Florida State, and you're looking at a combined 12,683 snaps at the quarterback position from last year's (or 2016) starters.
While we'll get into the incumbents at a later point, we'll focus on the unknowns headed into the year and what we can learn from them with PFF's data.
Ryan Finley is the starter at NC State. James Blackman and Francois will battle it out at FSU. Eric Dungey is Syracuse's man. Daniel Jones will be Duke's go-to guy. Josh Jackson, if he can play, will likely start the year as QB1 in Blacksburg for Virginia Tech. Malik Rosier is Mark Richt's quarterback to start the season at Miami. TaQuon Marshall returns to run Georgia Tech's triple-option offense. Anthony Brown is clearly atop the leaderboard at Boston College after being medically cleared to participate.
So, what about the other quarterback situations across the conference?
Clemson returns arguably one of the more underrated signal-callers across all Power-5 teams in Kelly Bryant. Bryant led the conference in adjusted completion percentage en route to taking Clemson to the College Football Playoff. He connected on 262-of-401 attempts and had the conference's lowest drop rate on catchable passes at 3.2 percent. All told, his 73.9 percent adjusted completion percentage outpaced Finley by 0.4 percentage points to take the top spot.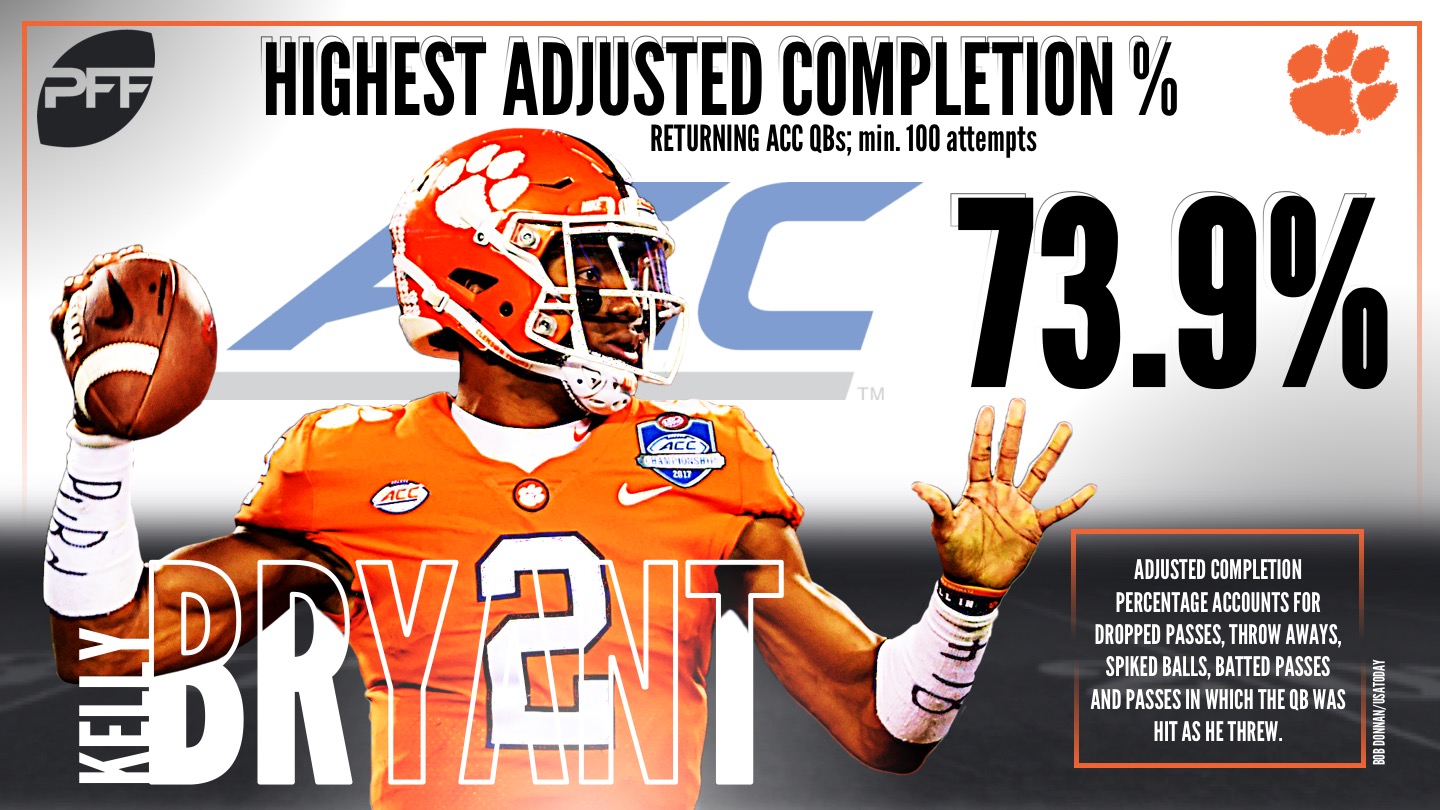 However, Bryant may not be the man at Clemson this fall. Trevor Lawrence joined Clemson earlier this spring as an early enrollee after a five-star billing coming out of high school and has wowed in his brief time with the team. Regardless, if Lawrence can oust Bryant, the Tigers should be in good shape considering the latter finished the year as 21st-highest graded quarterback in the FBS at 85.2 overall.
Next up is Chazz Surratt versus Nathan Elliott at North Carolina. Amid Brandon Harris struggles, Surratt played well before injury when then-third-string Elliott was handed the keys to the car that was the disappointing season for UNC in 2017. From a grade standpoint, Elliott outpaced Surratt by a mark of 77.3 (85th overall) to 65.0 (133rd). Surratt was definitely the more accurate of the two, however, finishing with an adjusted completion percentage of 71.3 compared to Elliott's 62.7. They each threw three deep touchdowns (passes targeted 20-plus yards) and they both fared well with the aid of a play fake on play-action passes.
Looking a bit further, Surratt seemingly has the leg up not only due to his athleticism, but rather due to his ability from a clean pocket, a metric found to be much more stable in year-to-year projection at the college and NFL level. When kept clean from pressure, Surratt completed 91-of-139 passes for 1,140 yards and seven touchdowns against just one interception. Elliott, on the other hand, completed 65-of-112 passes for 757 yards and eight touchdowns against two interceptions. Surratt's 104.6 passer rating when kept clean is the third highest in the conference among returning quarterbacks.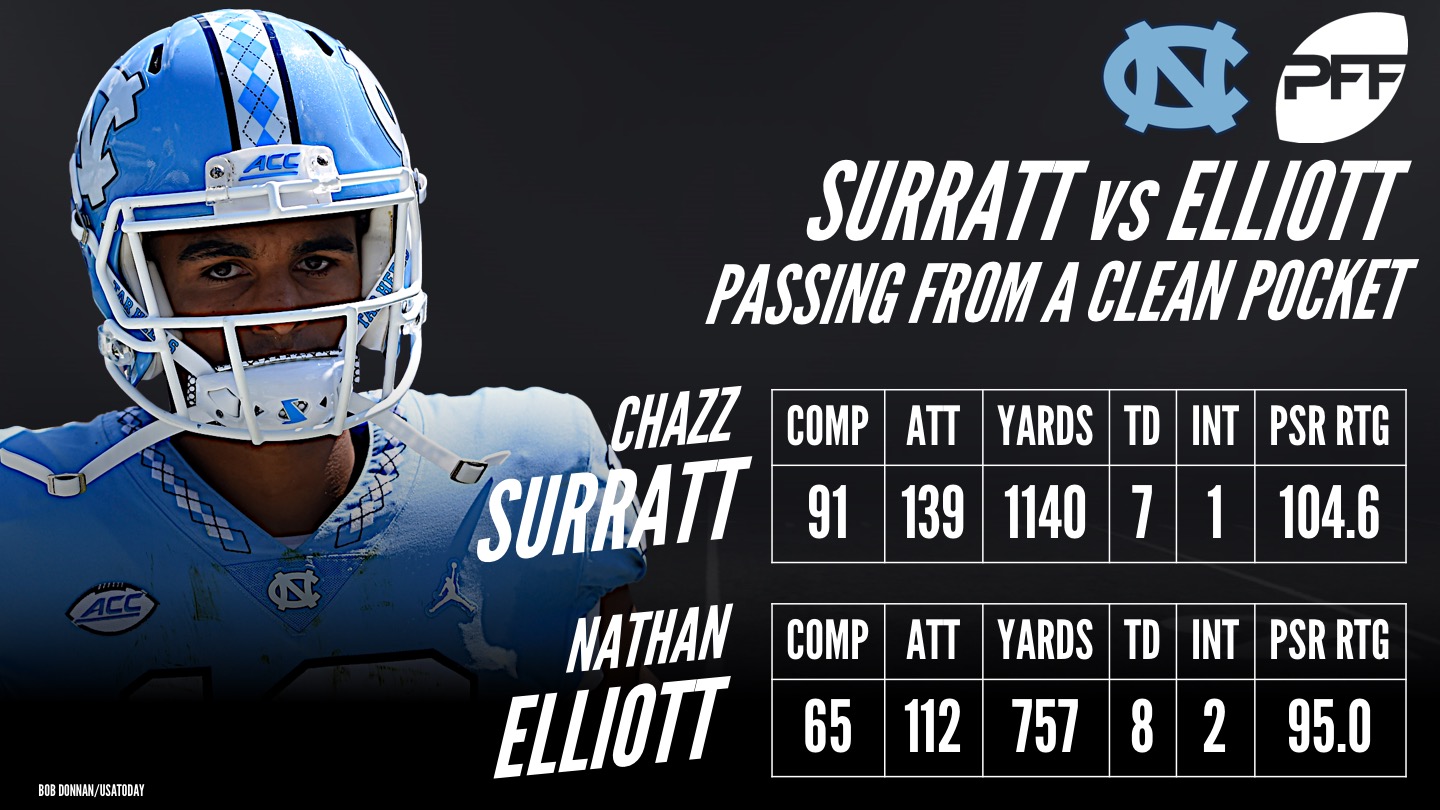 We'd give the edge to Surratt here.
Now we're down to Pittsburgh. Gone is journeyman Max Browne as is Ben DiNucci who transferred to James Madison. Head coach Pat Narduzzi is confident in his new signal-caller in Kenny Pickett, although he's played a grand total of 146 college snaps. Pickett played in four contests a year ago, including Pitt's upset over Miami in November, with a mixed bag of results. Logging the majority of his snaps during the team's final two contests, Pickett finished the year completing 39-of-67 passes for 501 yards and a lone touchdown and interception combination. He was under pressure on 29.7 percent of his dropbacks in his limited time a year ago and will have to tighten up when under duress as he took seven sacks (three of which were credited to him) and threw for just 65 yards on 13 attempts.
Then there's Jawon Pass, who takes over for a Heisman Trophy winner and first-round draft pick in Lamar Jackson at Louisville. A former four-star recruit from the state of Georgia who has played a whopping 95 snaps in his career so far. Replacing a legend like Jackson is certainly not an easy task but in limited time, Pass' play was decent enough to cement him as the No. 1 entering fall camp. In total, he finished last season completing 23-of-33 passes for 229 yards and two touchdowns with no interceptions. He added some dynamics on the ground much like his predecessor, totaling 82 yards on 10 carries including 30 yards after contact and two missed tackles forced. Pass will be put to the test early as they open the season against the defending National Champions in Alabama.
Wake Forest's situation has gotten murkier as the summer progressed as starting quarterback Kendall Hinton was suspended for the first three games after a violation of team rules. Hinton has 614 snaps under his belt and two games of significant playing time a season ago, including a strong performance late against Clemson. All told, he had a passer rating of 113.7 last season across 47 pass attempts. Who starts in his three-game absence is another question, though. Jamie Newman and Sam Hartman will likely battle it out to start the season atop the depth chart, and cement their status as the No. 2 quarterback once Hinton returns.
Last, but not least, there's Virginia and Bronco Mendenhall's quarterback situation. Sophomore Lindell Stone played 15 snaps against Boston College last season, in a dismal outing. He completed the same number of passes to the other team as he did to his own team, finishing the day 2-of-9 for just 26 yards and two interceptions. According to reports, Stone was even beat out by Bryce Perkins, who transferred from Arizona Western after playing 10 games for the Matadors a year ago. The jury is still out and fall camp should go a long way at deciding the Cavaliers' starting quarterback for 2018.
It starts with the quarterback
In all, the 2018 season will largely be a season dominated by quarterback play in the ACC. Whether it's replacing Lamar Jackson or two once-full-time starters in Francois and Blackman battling it out under a new head coach in Tallahassee, every team's success in the ACC will likely come down to who their quarterback is, and how well they can perform in 2018.
PFF Power-5 Conference Preview Series
---