It doesn't matter if you're a team looking to rise up the ranks, a conference contender or even the defending National Champions, the quarterback position is still the most important one on the football field. We're now turning our attention to the SEC, where there are plenty of quarterback battles, and a few-signal callers hoping to attract some attention from the NFL before next spring.
Alabama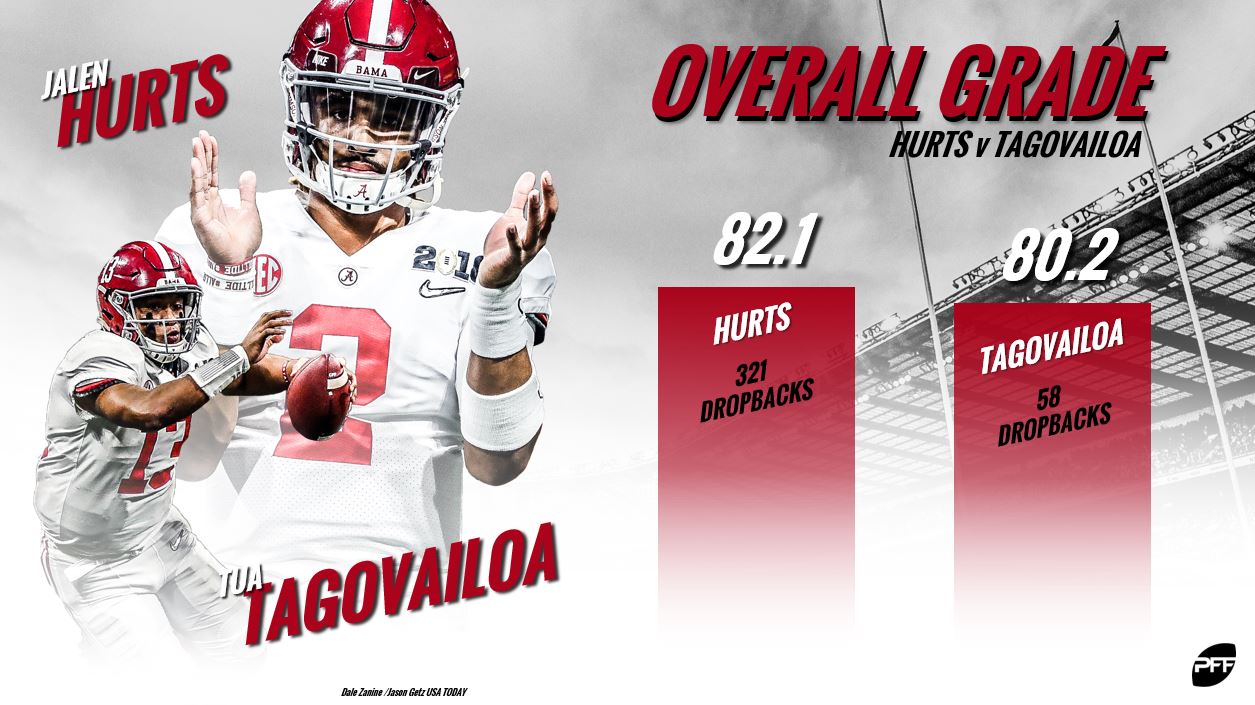 The battle to start for the defending National Champions continues to attract plenty of attention, and with Jalen Hurts' recent comments, along with the new redshirt rule to cloud the situation, don't be surprised to see this one rumble into the season. Hurts has often been criticized, but he took a step forward in 2017,  improving his PFF grade from 71.4 in 2016 to 82.1 a season ago. The trouble for Hurts is that he struggled late in the year, with PFF game grades of 51.3 against Auburn, 60.7 against Clemson and 61.2 against Georgia before being replaced in the College Football Playoff final. His replacement, Tua Tagovailoa, saved the day for Alabama in that game, and finished the year with a PFF grade of 80.2. Regardless of who starts, expect the Crimson Tide to be part of the College Football Playoff picture once again, but don't expect the debate over who should start at quarterback to stop any time soon.
Arkansas
First-year head coach Chad Morris' first job at Arkansas will be to find a quarterback. Of the players competing for the job, Cole Kelley has four starts for the Razorbacks under his belt, but he had just one start where he posted a PFF grade of 60.0 or better. Connor Noland was a four-star recruit, while Ty Storey has thrown just four passes, completing just one for three yards in the past two seasons. Kelley looks like the safe bet to open the year, but he'll need to take a step forward to ensure he keeps that job throughout the year.
Auburn
Jarrett Stidham first caught our attention at Baylor in 2015, when he stepped into the starting role and delivered to fill in as an injury replacement, putting up an 89.3 PFF grade. His first season at Auburn (71.5) wasn't quite at that level, but he did have some high points to make you believe that he's capable of leading the Tigers into the College Football Playoff race in 2018. Stidham was clinical when kept free from pressure, completing 74.0 percent of his passes with 15 touchdowns, three interceptions and a PFF grade of 89.0. His grade dropped to just 46.3 when under pressure though, and that's something he will need to improve upon in his second season as a Tiger.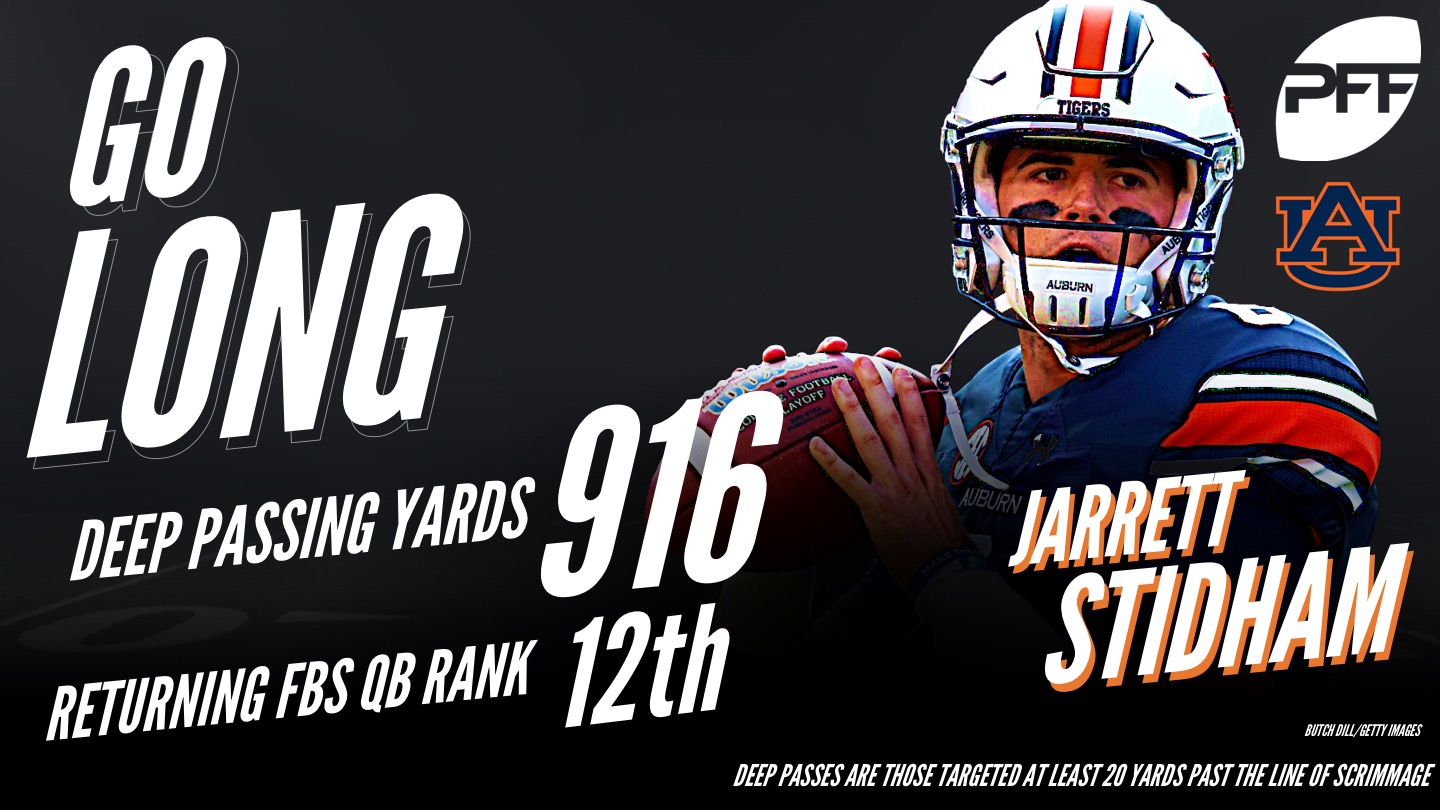 Florida
Feleipe Franks got the first reps as the starting quarterback when the Gators opened their preseason camp on Friday, but the battle to lead the Gators is far from over at this point. Franks struggled in 2017, producing a PFF grade of just 49.9, and his struggles were even more palpable when under pressure, where he produced a PFF grade of 36.0 and an adjusted completion percentage of 50.9 percent with two touchdowns and five interceptions. With Kyle Trask and Emory Jones trying to take the job away from him, he'll need to be much better than that this year.
Georgia
Two years ago, Jacob Eason was the future of the Georgia Bulldogs. One year ago, it was Jake Fromm. Now? Now it might be Justin Fields. Eason has now transferred to Washington, while Fromm finds himself with top recruit Fields, with no sign of who the starter will be to open the season yet. Fields has drawn plenty of praise this summer, but let's not forget that Fromm was key to the Bulldogs making it all the way to the College Football Playoff final in 2017. In his first season in college football, Fromm produced an adjusted completion percentage of 71.6 percent and he threw 14 touchdowns and three interceptions when opponents blitzed him. With Fromm coming off such a strong season, it's going to take a lot for Fields to beat him out, so this quarterback battle definitely shouldn't be viewed as a negative right now.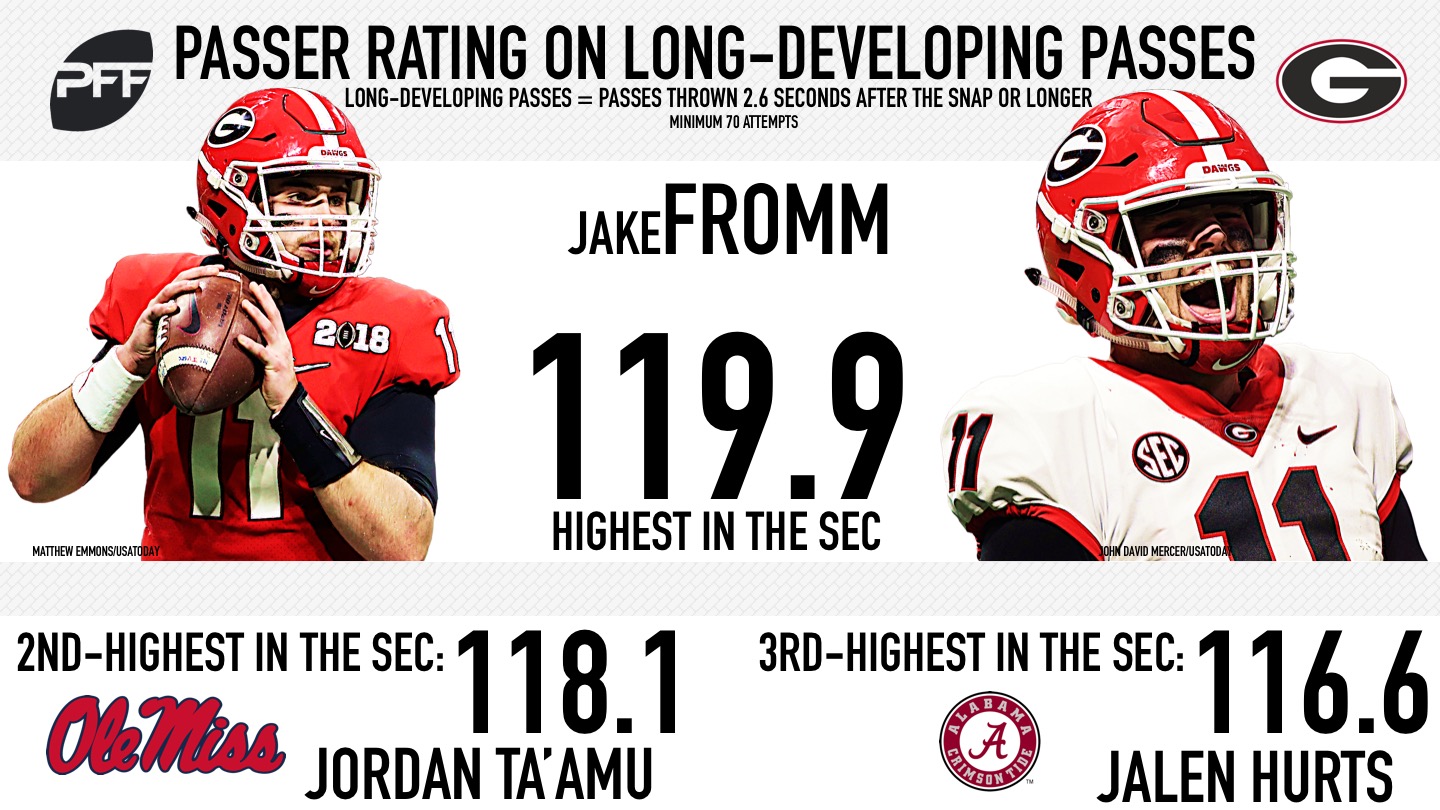 Kentucky
Stephen Johnson has graduated after improving every season for the Wildcats, and the battle to replace him features two players who have yet to take a snap of division one football. Gunnar Hoak and Terry Wilson are the two men vying for the job, but the Kentucky offense will likely be reliant on Benny Snell Jr. and the running game this season unless one of those quarterbacks can hit the ground running for the Wildcats.
LSU
Gone is former starter Danny Etling, who was drafted by the New England Patriots this spring, leaving a four-man race for the starting job for the Tigers, with zero starts between the four potential winners. The newest addition is former Ohio State signal-caller and graduate-transfer Joe Burrow. Burrow had just 42 dropbacks to his name as a Buckeye, but he was solid in very limited work in 2016, producing an adjusted completion percentage of 82.1 percent. Of the remaining potential starters, Myles Brennan, Lowell Narcisse and Justin McMillan, Brennan saw the most work of those three with 31 dropbacks in 2017, but he produced a PFF grade of just 36.9.
Mississippi State
There's no quarterback battle for the Bulldogs with Nick Fitzgerald expected to deliver big things as a dual-threat quarterback for Mississippi State again this year. Fitzgerald improved as a passer from 2016, producing a passing grade of 66.2 last season compared with 57.2 the year before. It's his ability with his legs that will continue to cause problems for opposing defenses. On 150 designed carries last year, Fitzgerald averaged 6.2 yards per carry and scored 12 touchdowns.
Missouri
Drew Lock has improved every season since arriving in college football, seeing his PFF grade rise from 43.7, to 67.8, to 82.1 a season ago. Lock is good enough to create problems for any defense the Tigers go up against, and they will have high hopes that he can lead them in the fight to win the SEC East if he can improve once again. He took advantage when opponents blitzed him last year, producing a PFF grade of 79.9 and throwing 18 touchdowns against two interceptions when defenses sent extra men against him.
Ole Miss
Jordan Ta'amu is the Rebels' starting quarterback heading into the 2018 season and there isn't much reason to expect any challenge to that. Taking over as the starter late in the year, Ta'amu had success when kept free from pressure, tossing 10 touchdowns to just one interception and an 80.7 adjusted completion percentage. When facing pressure he struggled though, producing a PFF grade of just 47.8, including a 58.6 adjusted completion percentage and just one touchdown compared to three interceptions. This is his team to lead now, and Ole Miss fans will be expecting him to make that step up in his first full season as the starter.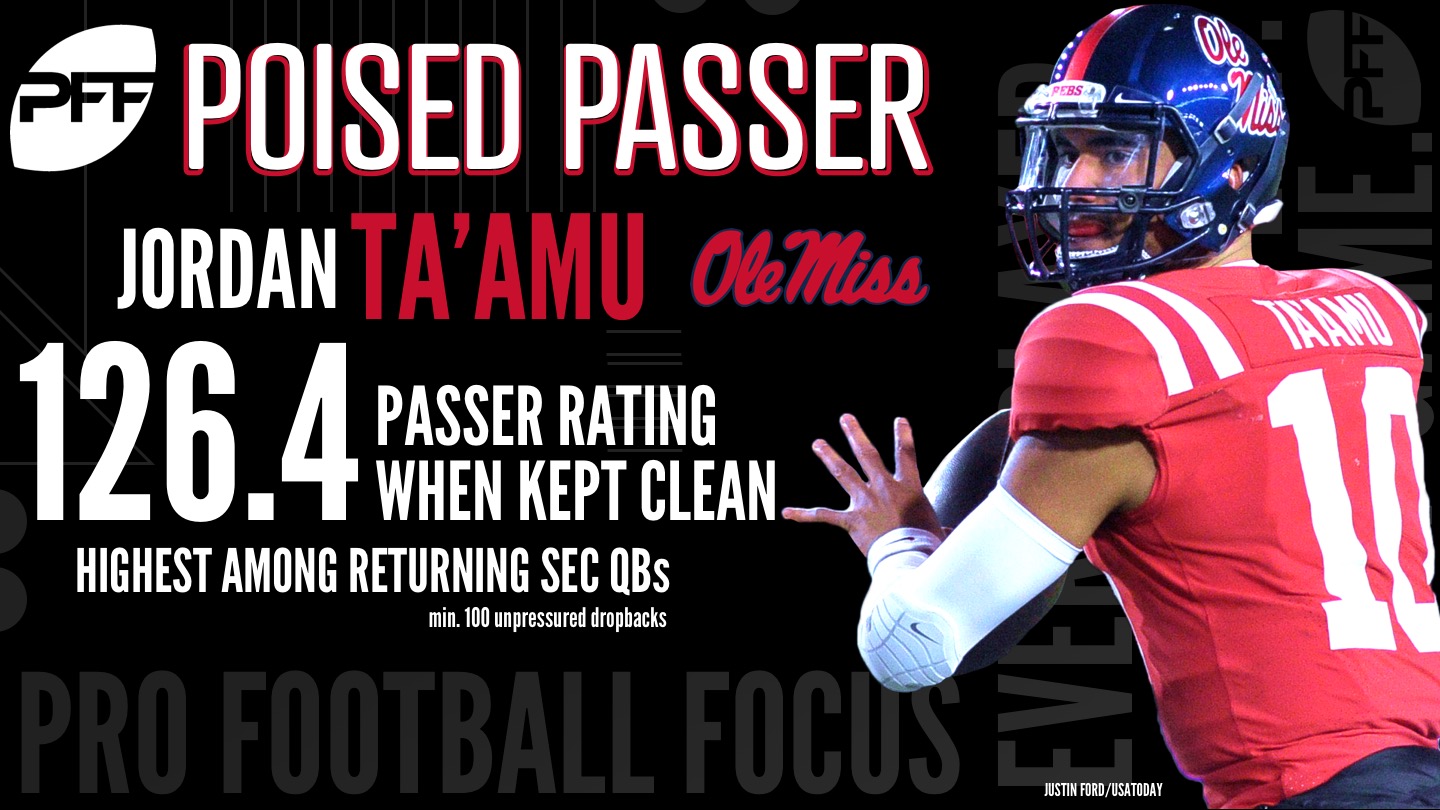 South Carolina
Jake Bentley took a step back in 2017. After flashing brightly as a freshman and producing a PFF grade of 70.2 as a 17-year-old true freshman in 2016, he saw his grade drop to 66.3 last year. He struggled under pressure in particular, with an adjusted completion percentage of just 57.3 percent when pressure got to him. One big plus for the Gamecocks is the return of wide receiver Deebo Samuel, who gives Bentley a top-tier target in the passing game. Samuel has dropped just seven of the 93 catchable passes thrown his way in his college career so far, and he's produced an NFL passer rating of 102.5 on throws where he was the target, so expectations will be high for both him and Bentley in 2018.
Tennessee
The Tennessee Volunteers have a two-man battle at quarterback, and right now it's anyone's guess which of Jarrett Guarantano and Keller Chryst will open the year as the starter. Chryst, a graduate-transfer from Stanford, had some big performances last year, including a PFF grade of 93.1 in the game against Oregon. Guarantano started in the second half of the year for Tennessee in 2017 and was solid when kept free from pressure, producing an 81.3 adjusted completion percentage.  When under pressure was a different story, as his adjusted completion percentage dropped to 61.4 percent. Both have the potential to deliver for Tennessee, but their success has come in short bursts rather than sustained performances so far.
Texas A&M
Jimbo Fisher takes over as the Aggies head coach for the first time this year, and his first big decision is at quarterback. Nick Starkel and Kellen Mond are the two players competing for the job, and right now there is no indication of who is going to win it. Taking over as the starter late in the year, Starkel produced a game grade of 71.7 or higher in four consecutive starts, while Mond was much more up and down. Starkel has the edge in terms of overall PFF grade from 2017, edging Mond 74.8 to 66.3, so if we had to give the edge to someone it would be him.
Vanderbilt
With improvements over the past three seasons, and an NFL head coach for a dad (New York Giants head coach Pat Shurmur), big things are expected from Commodores quarterback Kyle Shurmur in 2018. He delivered a huge performance against Tennessee to end the year, producing a PFF grade of 88.8 and throwing four touchdowns and zero interceptions. What he needs to work on this year is his performance when facing pressure. When kept free from pressure last year, he produced a 79.9 adjusted completion percentage, with 23 touchdowns and six interceptions to go along with a 91.7 PFF grade. When pressure got to him, however, his grade dropped to 37.2 and his adjusted completion percentage dipped to 52.9 percent, throwing for three touchdowns and four interceptions.
PFF Power-5 Conference Preview Series
---