The Big 12 conference saw two of their mainstays at quarterback selected in the 2018 NFL Draft, including the No. 1 overall selection to the Cleveland Browns, Baker Mayfield from Oklahoma. Mason Rudolph joined him when he was selected by the Pittsburgh Steelers, pitting the former in-state rivals once again in the same division, and once again as rivals in the NFL.
[Be sure to track along all of Rudolph & Mayfield's 2018 campaign in the NFL with your PFF's new and improved Premium Stats 2.0.]
Outside of Mayfield and Rudolph, who racked up ridiculous statistics for their respective Oklahoma schools, West Virginia's Will Grier headlines the 2018 season's signal-callers. Grier was well on his way to breaking the PFF College deep passing record before suffering a broken finger that prematurely ended his season. After Grier, the conference returns several other former starters while other schools will be looking to replace their now-graduated quarterbacks from a season ago.
Let's go through them, one-by-one:
Baylor
Charlie Brewer returns to Waco, and while this may surprise some, he returns as the conference's most accurate quarterback from a season ago. Brewer connected on 139 of his 204 total passes but was subjected to 11 drops, five passes batted at the line of scrimmage and threw away another three. All told, his adjusted completion percentage of 76.5 percent is nearly 2.0 percentage points clear of the second-best returning quarterback. The Big 12 Offensive Freshman of the Year will have new receiving options to play with this year as the Bears received the services of former Tennessee running back and converted wide receiver Jalen Hurd. Combine all that with a second season under a new blocking scheme and the return of Denzel Mims, and Brewer is poised for quite the season as the full-time starter.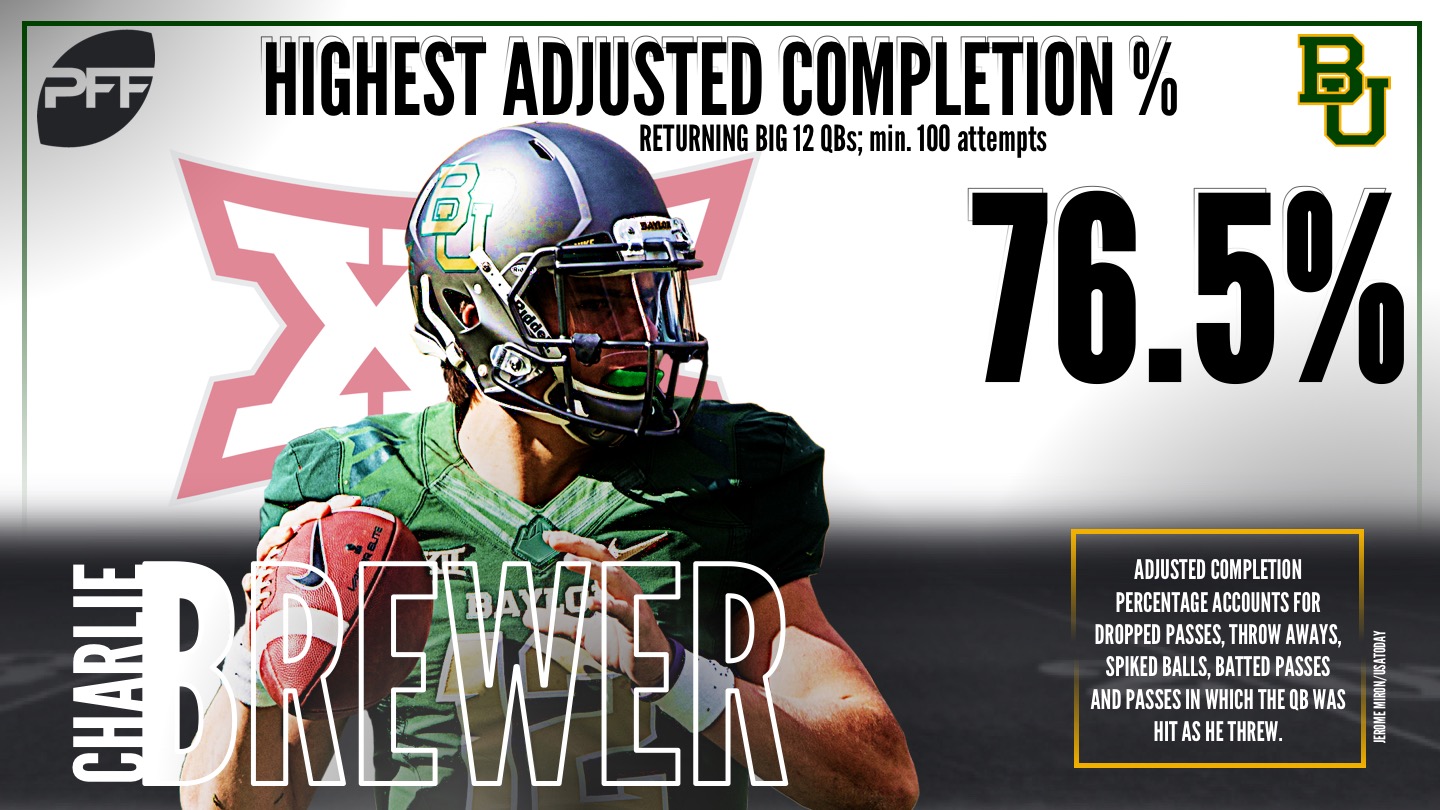 Iowa State
The Cyclones return the nation's leader in missed tackles forced out of the backfield in David Montgomery, but also a more than viable option in Kyle Kempt at quarterback. Despite Montgomery's rushing success a season ago, Kempt was arguably the conference's top quarterback on standard, non-play-action passes. He finished with the third-highest grade, second among returning quarterbacks, and had the conference's highest passer rating on passes without the aid of a play fake. Kempt connected on 93-of-134 standard passes for 1,099 yards and 10 touchdowns against just one interception. His 8.2 yards per attempt was second best in the conference as well. With such success, it would not come as a surprise if Iowa State used play action less frequently this season, a year after Kempt led all returning conference quarterbacks by attempting a play-action pass on 43.6 percent of his dropbacks. In fact, that figure was good enough for the 11th-highest percentage among all FBS quarterbacks last season.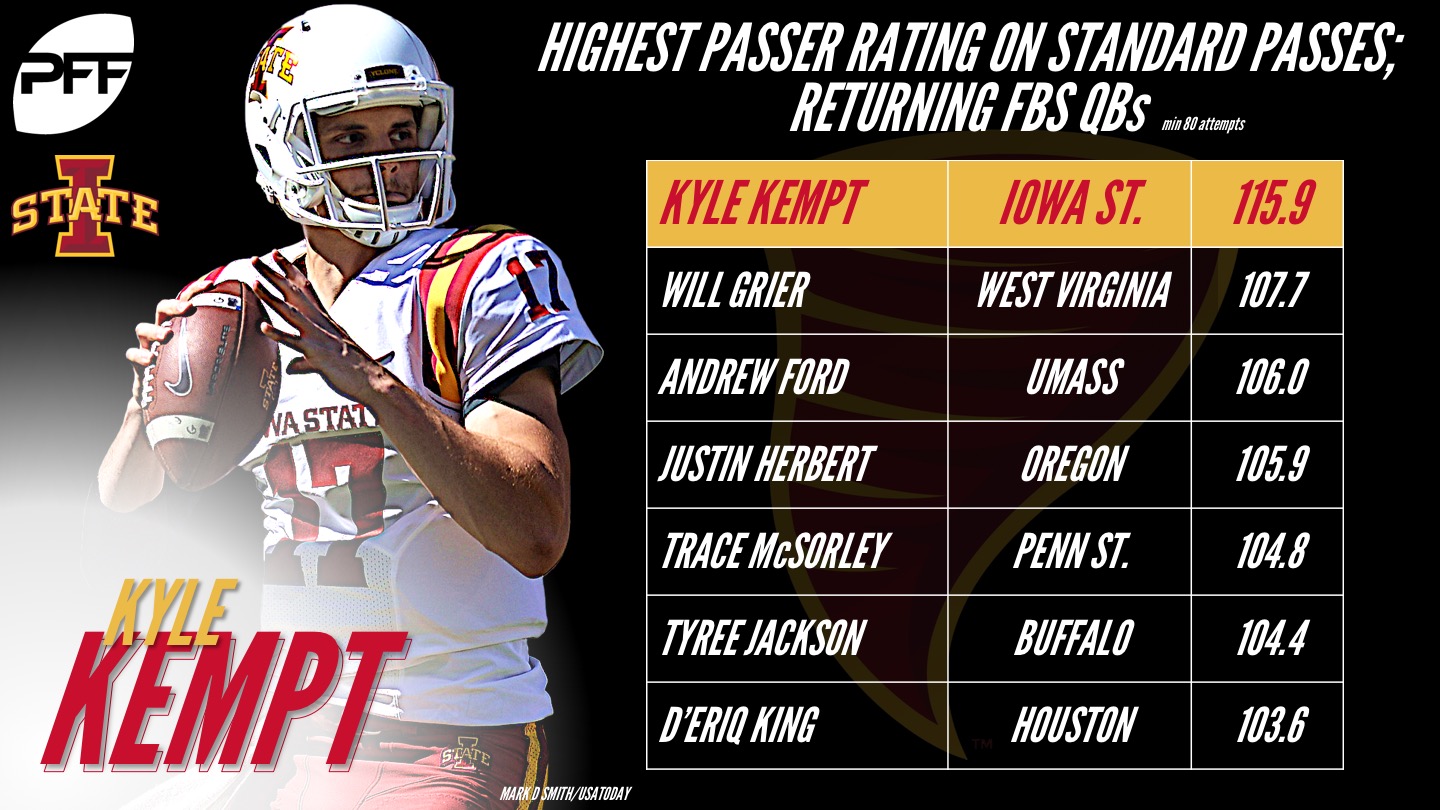 Kansas
The three-man race for the Jayhawks starting quarterback position has been on since spring, and no clear-cut winner has been crowned. Peyton Bender started eight games a season ago, finishing with the eighth-highest grade among qualifying returning conference quarterbacks who logged at least 100 snaps last season. While that may not seem too exciting, he did finish with a higher overall grade than Carter Stanley, who finished with the ninth overall grade among returning quarterbacks.
All told, Bender actually had the conference's lowest adjusted completion percentage at 62.5 percent while Stanley fielded the Big 12's eighth-ranked figure at 65.4 percent. Competing with those two is Kendrick Miles, who comes in from College of San Mateo (Calif.), where he threw for nearly 2,000 yards and 18 touchdowns last season. One way or another, whoever earns the starting nod will have to improve on their play from a season ago if Kansas wants to win more than one game this season.
Kansas State
Gone is Jesse Ertz, so enter the quarterback battle between Skylar Thompson and Alex Delton. On a small sample size last year, Thompson fielded the conference's fifth-highest adjusted completion percentage with a mark of 72.7 percent on 83 attempts. On a similar sample size, Delton fielded a 68.4 adjusted completion percentage, on 86 attempts. There is very little to separate the quarterbacks otherwise, however, Delton did show a penance to hold on to the ball, and put the ball in harm's way in the pocket. On just 96 dropbacks, he held on to the ball long enough to be hit as he threw on three occasions. The only returning conference quarterback who had more attempts as he was hit was Baylor's Zach Smith, who had 227 total dropbacks, or 131 more. One way or another, one of these quarterbacks will have to outplay the other during the fall camp to obtain the starting role. Maybe competition will be a good thing in this situation.
Oklahoma
Kyler Murray is the man in Norman. For this year at least. After former Oklahoma starting quarterback Baker Mayfield was selected with the first overall pick of the 2018 NFL Draft, Murray himself was drafted in the first round, of the Major League Baseball draft. Murray was selected ninth overall, putting in doubt the length of his career at Oklahoma past the 2018 season. In very limited time behind Mayfield last season, Murray picked apart defenses when kept clean from pressure, completing 16-of-18 passes for 283 yards and two touchdowns on 21 dropbacks free of pressure. While his success was against lesser defenses, and played from ahead on the scoreboard, it's no question Murray has the talent to lead the Sooners. It's just a question of whether or not 2018 will be the only season with him behind center.
Oklahoma State
Replacing a legend like Mason Rudolph may be a very tall task for whoever takes over at quarterback in 2018. The players competing for the task come from very different circumstances. In one corner, head coach Mike Gundy has a trio of players with experience in the Oklahoma State system and years in Stillwater. However, Taylor Cornelius, John Kolar and Keondre Wudtee have combined for 29 career pass attempts.
In the other corner, you have four-star recruit from Denton, Texas in 6-foot-2, 195-pound dual-threat Spencer Sanders, the reigning Mr. Texas football. Sanders has a bevy of experience at the high school level as he led Ryan High School to a 46-6 record during his tenure there. He threw for nearly 4,000 yards in his senior season and 54 touchdowns on his way to being named the 2017-18 Texas Gatorade Player of the Year. Sanders is arguably the most talented of the four quarterbacks and the argument over whether or not to throw in a true freshman under center can be thwarted by uttering the name of the player Sanders would be taking over for. Mason. Rudolph.
It was just four years ago that Gundy gave Rudolph the keys to the Cowboys offense as a true freshman and all he did was throw for well over 13,000 yards and 90-plus touchdowns, including back-to-back seasons with 4,000 or more yards. All told, Rudolph impressed every season under center, improving year over year. Ultimately, Sanders' success will largely be compared to that of Rudolph, even if they are two very different quarterbacks, stylistically.
TCU
Shawn Robinson is the frontrunner to land the starting job at TCU, even though projected backup Michael Collins is slated to receive every chance to take the job from him. Robinson is a dual-threat quarterback hailing from DeSoto High School, and much like the aforementioned Sanders for Oklahoma State, was the 2016-17 Gatorade Texas Player of the Year and a four-star recruit. He played in six games a season ago, fielding an adjusted completion percentage of just 53.8 percent on a small sample size of just 32 dropbacks.
Collins himself played for a high school powerhouse, winning three straight Connecticut state championships for New Canaan High School and legendary head coach Lou Marinelli. Collins went to University of Pennsylvania during the 2016 season, splitting the Ivy league Championship with Princeton that season before sitting out last year after transferring to TCU. Collins will have to impress to unseat Robinson, but given his pedigree and size (6-foot-5, 214 pounds), he may have the talent to do so. Either way, with their backgrounds, it's likely the Horned Frogs are in a good shape with whoever wins this quarterback battle.
Texas
A carryover battle from a season ago, Sam Ehlinger and Shane Buechele will duke it out once again for reps in Austin. Looking at their advanced statistics from a season ago, the duo aren't separated by a big margin in several figures. Buechele saw a higher adjusted completion percentage than Ehlinger (73.5 percent to 70.5 percent), had a higher passer rating both under pressure (70.2 vs 62.9) and when kept clean (91.6 vs 63.9) while Ehlinger saw better figures when unleashing quick passes. The both threw three interceptions on deep passes a season ago (targeted 20-plus yards), so whoever wins this battle may benefit from the competition if they want to find talented WR Collin Johnson and Co. downfield.
Texas Tech
McLane Carter looks like the frontrunner to replace Nic Shimonek after the latter had a tremendous year in the Air Raid offense at Texas Tech. Carter hails from Gilmer High School by way of Tyler Junior College in 2016. In his lone season with the Red Raiders so far, Carter had a rough outing during his only start, Week 13 against Texas. He finished the day completing just 16 passes on 37 attempts and tossed two interceptions for an NFL passer rating of just 42.3. It was a rough outing indeed, but with another full season under head coach Kilff Kingsbury, learning the offensive scheme, you'd expect him to improve in 2018.
Battling with Carter are Jett Duffey and Alan Bowman. Duffey played in the season opener a season ago, logging two total pass attempts but was the team's scout team quarterback when Texas Tech faced off against a mobile quarterback. Bowman enters the fold as a true freshman from Grapevine High School, where he threw for well over 11,000 yards and nearly 120 passing touchdowns. Carter gets the edge here with his experience, but with a strong fall camp, either one of these latter two could impress enough to push the envelope for Kingsbury and his staff.
West Virginia
Entering the season with a Heisman hopeful at quarterback is nothing new at West Virginia. The Mountaineers' season will go as Will Grier goes in 2018 as the redshirt-senior quarterback enters his final season at West Virginia on nearly every watch list imaginable, riding the momentum from an incredible 2017 season. Grier finished second among returning quarterbacks in deep passing yards, throwing for a ridiculous 1,506 yards on just 36 completions of passes targeted 20 or more yards downfield.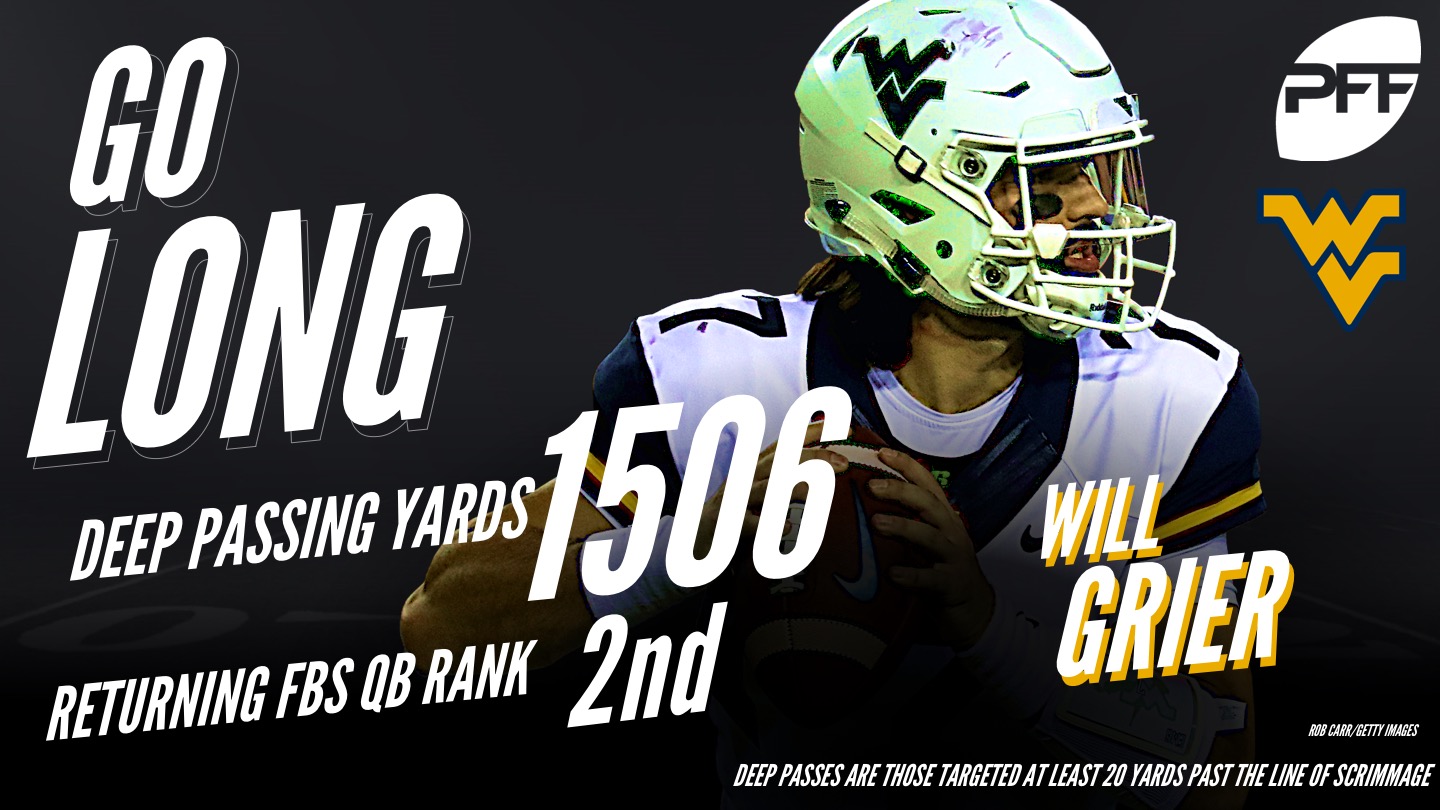 He was a menace to opposing defenses when he was kept clean from pressure in the pocket, fielding the conference's highest passer rating when free of pressure. He completed passes at a high rate (225-of-318) and threw more than double the amount of touchdowns than the next closest returning Big 12 quarterback did (28 to Kempt's 12) when not under duress.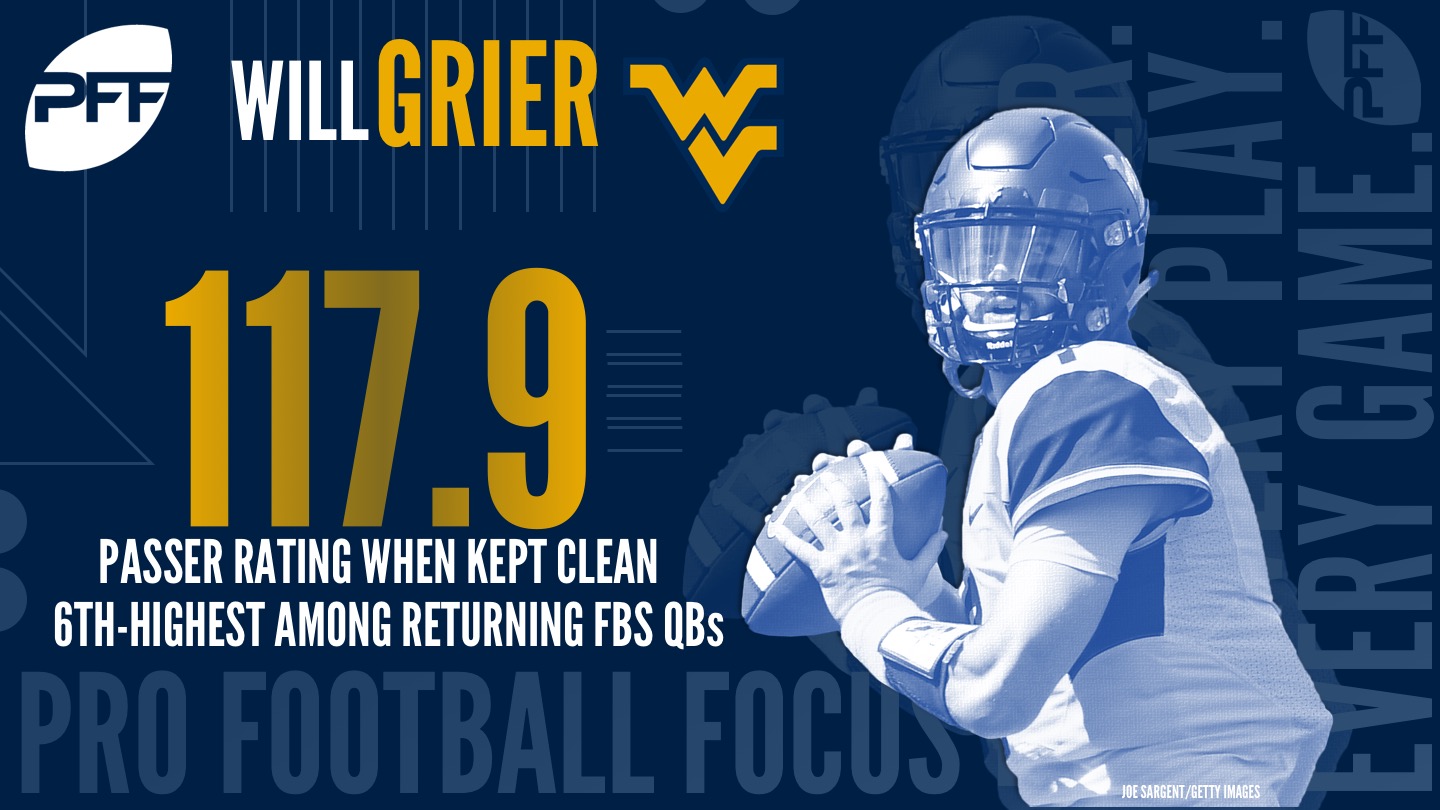 With time to heal from his gruesome finger injury that ended his year in 2017, Grier should pick up right where he left off, and instantly be a threat to break some PFF records, and maybe pick up a Heisman in the process.
PFF Power-5 Conference Preview Series
---