The 2018 season in the Big Ten will go as the story of Urban Meyer unfolds before our eyes. While we won't even get into that here today, we will at least point out that the Big Ten is seemingly open this year, after years of J.T. Barrett-led Ohio State teams were hands down the favorites almost every season No. 16 was behind center.
With Barrett gone and Dwayne Haskins now in at the Shoe, the conference is up for grabs. Haskins may be the answer in Columbus, but with a small sample size from Haskins last year, what to expect from him is still in the air. There are many talented position groups, sides of the ball and specific players returning across the Big Ten landscape, however, one interesting trend is developing.
That is a positional legacy, developed after several players have shown success a season ago, after their predecessors at their positions have now gone on to success of their own, in the NFL.

Positional Legacies
Noah Fant, Iowa
Iowa tight end Noah Fant returns to Iowa City after an impressive campaign in 2017 in which he registered 495 receiving yards on 56 targets, ranking 13th among returning FBS tight ends in yards per route run at 1.81. His skillset and stature on the field reminds fans a lot of former Iowa tight end George Kittle. Fant stands 6-foot-5, 232 pounds while Kittle is listed at 6-foot-4, 249 pounds. In Kittle's final year at Iowa, he racked up an incredible 3.12 yards per route run, topping the nation's tight ends before being drafted by the San Francisco 49ers.
If Kittle's legacy at Iowa isn't enough, he has produced in the NFL as well, checking in on our list of top 10 NFL tight ends for the 2018 season. You can bank on it if Fant has another strong season, he'll receive more than just first-round hype. He'll likely be a first-round pick.
Brian Lewerke, Michigan State
We can't go any further without mentioning this past NFL offseason's media darling, Kirk Cousins, who signed a lucrative deal to join the Minnesota Vikings earlier this spring, and the reigning Super Bowl MVP Nick Foles – both of whom played quarterback at Michigan State.
While I am in no way comparing current Michigan State QB Brian Lewerke to Cousins or Foles, the NFL bloodline at the position is clearly there. Lewerke heads to East Lansing this fall on the heels of an up-and-down campaign marred with lows and spotted with highs. He saved his best game for last as he lit up the Washington State secondary in the 2017 Holiday Bowl, completing 13-of-21 passes for 213 yards and three touchdowns. He threw away two of those incompletions and was hit as he threw on another, giving him an adjusted completion percentage of 77.8 percent, which was good enough for 11th-best mark during the bowl season from any one quarterback.
Lewerke also fielded a perfect passer rating of 158.3 on passes targeted at least 20 yards downfield, connecting on 4-of-5 attempts for 119 yards and two touchdowns. His perfect passer rating on deep passes not only paced all quarterbacks during their bowl games, Lewerke joined a list of just 20 other quarterbacks who attempted at least five deep passes in any single game in 2017, and field a perfect passer rating.
In total, Lewerke finished near the middle of the pack among returning quarterbacks in the conference, but his promise in certain aspects proven stable from year-to-year hint towards continued success in 2018. He finished with the second-highest passer rating in the conference on standard, non-play-action passes, sitting just behind Trace McSorley with a 91.0 overall mark.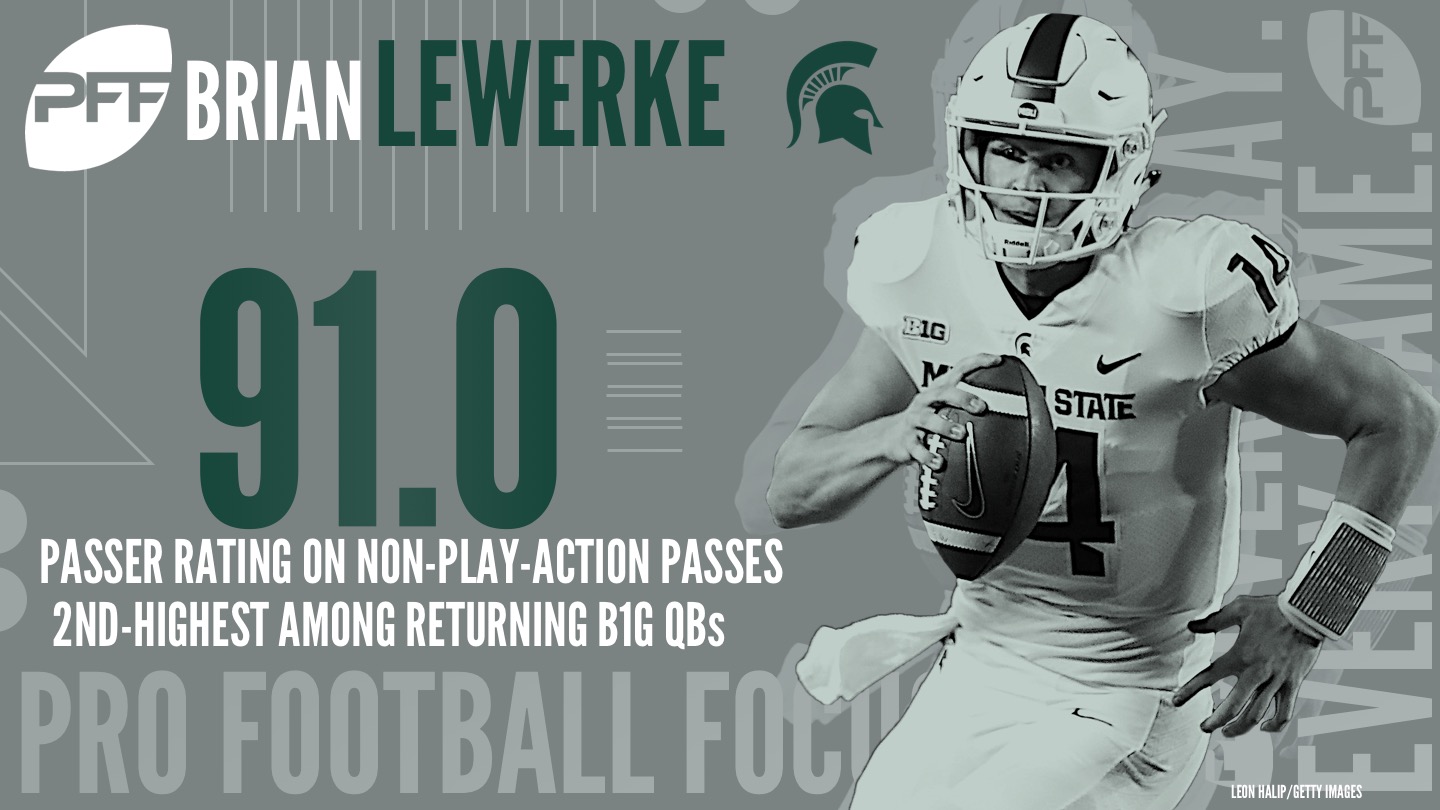 To raise his NFL potential, Lewerke will have to improve on limiting the mistakes and his overall accuracy. He enters camp with the nation's 66th-highest adjusted completion percentage, among 104 qualifying, returning quarterbacks.
David Long & Lavert Hill, Michigan
The long line of defensive backs in the NFL from the University of Michigan is well documented. From Charles Woodson to even as recent as Jourdan Lewis and Jabrill Peppers, currently of the Dallas Cowboys and Cleveland Browns, respectively, the Wolverines talent in the defensive secondary has been something special, even during their 8-5 season a year ago. Returning this fall for Michigan is arguably one of the more talented cornerback duos across the country in David Long and Lavert Hill.
Long set the PFF College record for lowest passer rating on throws into his coverage last year, sporting a ridiculous 11.9 mark on 29 targets. He allowed nine receptions for just 88 yards and came away with two interceptions. Quarterbacks targeting the left side of the field didn't fare much better as Hill allowed just a 38.4 passer rating into his coverage on 31 targets. He also came away with two interceptions and limited receivers to just 66 yards after the catch.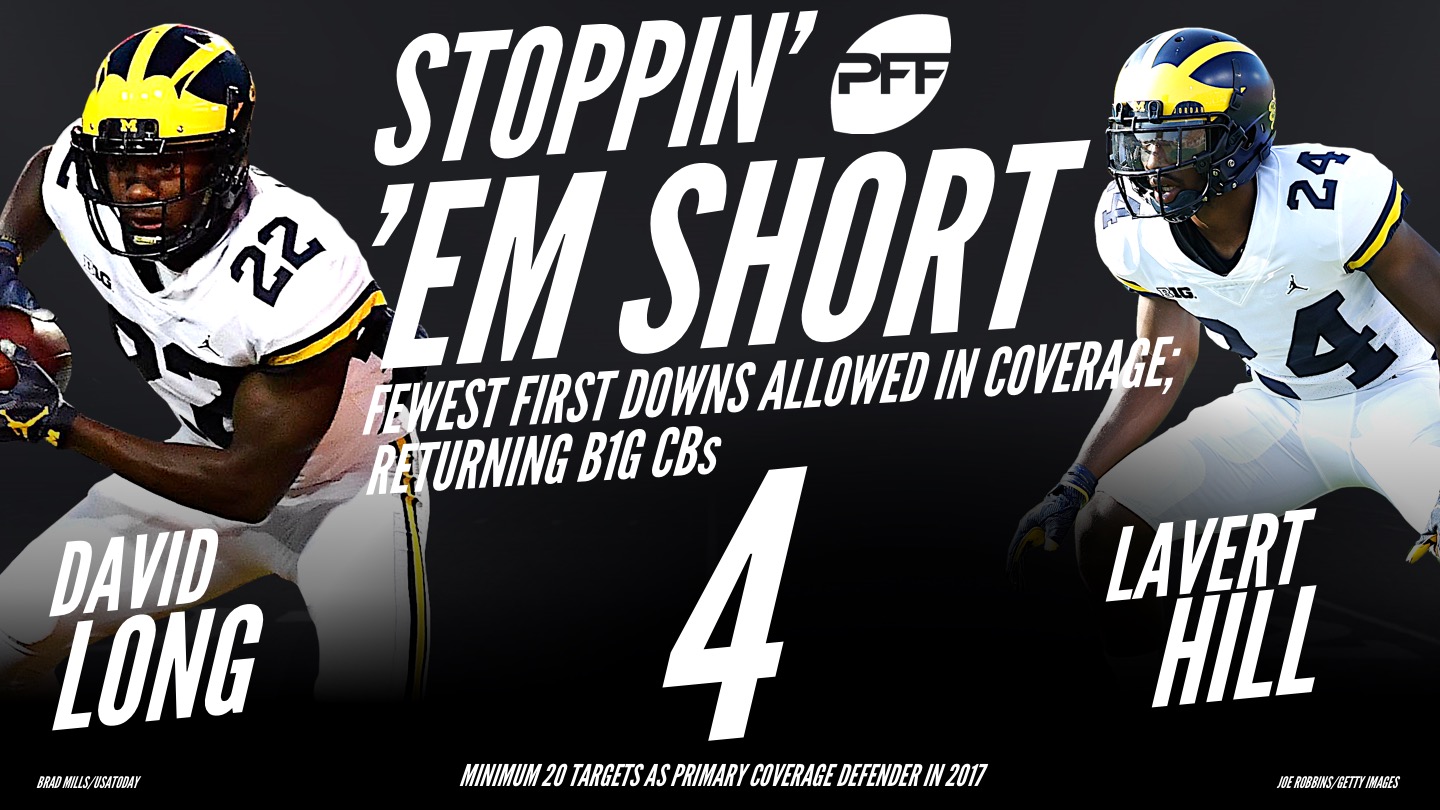 Together, they combined to allow just eight first downs into their coverage (four apiece), which tied them for the national lead among returning cornerbacks.
Nick Bosa, Ohio State
This one is arguably the easiest comparison to make, as Nick Bosa's older brother Joey, is wreaking havoc on Sundays for the Los Angeles Chargers. The younger Bosa is no slouch either, finishing last year with the second-highest grade among edge defenders and racking up the second-most pressures among returning players at the position.
Bosa's 16.2 pass-rush productivity from a season ago tops all returning Big Ten edge defenders as he got home on a pressure once every 4.8 pass-rush snaps, recording 66 pressures in the process. He was an equal opportunity pass-rusher, recording 26 pressures from the left side of the defensive line and another 40 from the right side, including seven of his nine sacks from the right.
The OSU to NFL edge rusher pedigree is longstanding especially lined with Bosa's immediate success in the league, and all Nick Bosa has to do is put forth another effort like he did in 2017 to hear his name among the first few names mentioned next April.
David Edwards, Michael Deiter, Beau Benzschawel, Wisconsin
The Wisconsin offensive line factory has churned out three more names likely to be heard next April in the NFL draft as David Edwards, Michael Deiter and Beau Benzschawel return to anchor the O-line in Madison. Edwards and Deiter were book-end tackles protecting QB Alex Hornibrook a season ago while Benzschawel has spent 1,890 snaps at right guard the past two seasons after splitting time between right tackle (459 snaps) and right guard (157) in 2015.
The trio look to join a long list of Wisconsin offensive linemen in the national football league, including Travis Frederick (86.3 overall grade in 2017, third among centers), Kevin Zeitler (73.2 grade, 20th among guards), Rick Wagner (75.2 grade, 21st among tackles), Ryan Groy (75.0 2016 grade, 15th among centers) and former Cleveland Browns tackle and sure-fire Hall of Fame selection Joe Thomas.
Edwards, Deiter and Benzschawel each had their struggles in pass protection last year, but where they really shined the brightest was with their run-blocking. On average, Wisconsin running backs saw a 6.7 yards per carry mark running to the left of Deiter, 7.8 yards per carry running to the right of Edwards and a combined 5.6 yards running to either side of Benzschawel last season.
Among the 72 returning offensive linemen in the Big Ten who logged at least 250 snaps last season, Benzschawel (third), Edwards (ninth) and Deiter (10th) all find themselves in the top 10 in terms of percentage of run-blocking plays in which they received a positive grade. Benzschawel finished with 15.2 percent of his run-blocking snaps earning a positive grade while Edwards recorded a positive grade on 12.2 percent and Deiter on 12.1 percent.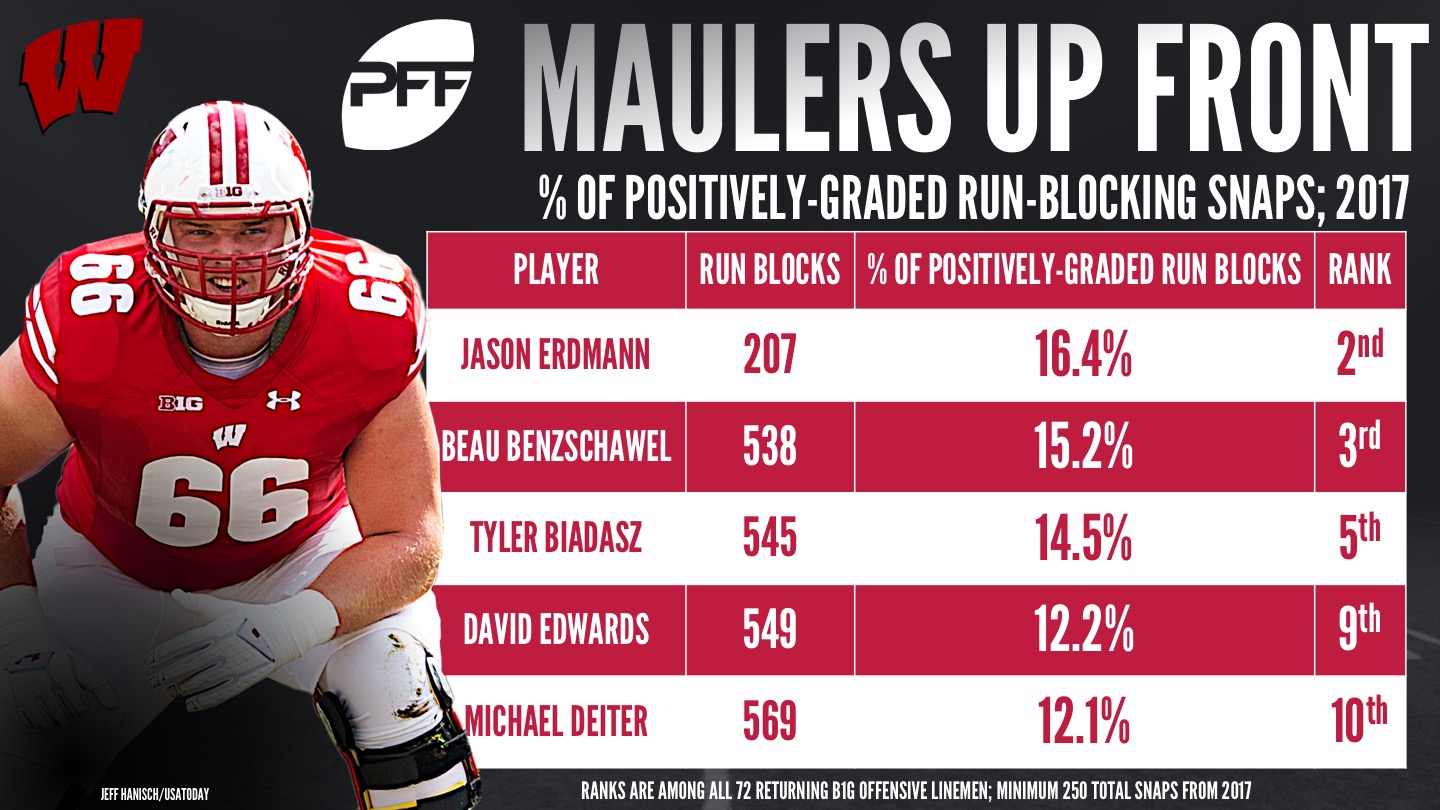 Throw in fellow guard Jason Erdmann and Tyler Biadasz, who recorded a positive grade on 16.4 and 14.5 percent of their run blocks, respectively, and this Wisconsin offensive line may not be just the best in the conference, but in the entire nation when it comes to run-blocking.
You can sure bet you'll hear some of those names next April.
PFF Power-5 Conference Preview Series
---