• Expect bettors to lock in Saints' legs up to +7.5, with the opportunity to also play Arizona in a teaser leg closer to kickoff, when New Orleans should be favored.
• If Dobbins and Bateman can go, we should see the line test Ravens -7. Based on PFF Greenline model, that's too many points for Baltimore to lay in a hotly-contested divisional matchup. 
• No time like the present to back Chiefs, but if San Francisco is preferred side, waiting until closer to kickoff is likely the best opportunity to maximize spread movement in your direction.  

Last updated: Tues. Oct. 18, 11:10 a.m.
Estimated reading time: 7 mins
---
The goal of our new weekly betting feature is highlighting spreads that have already moved, ones that still have value and other big line changes that could occur based on injuries or various market manipulation-type techniques.
Let's start by checking where the spreads in Week 7 have been at critical points in the past. 
| | | | | | |
| --- | --- | --- | --- | --- | --- |
| Away Team | Home Team | Preseason Spread | Lookahead Spread | Week-of-open Spread | Current Spread |
| NO | ARZ | -3 | -2.5 | -2.5 | -1.5 |
| DET | DAL | -7 | -6.5 | -7 | -7 |
| NYG | JAX | -1.5 | -3 | -2.5 | -3 |
| TB | CAR | 5.5 | 10 | 10.5 | 10.5 |
| IND | TEN | 0 | -2.5 | -2.5 | -2.5 |
| ATL | CIN | -10 | -7 | -6.5 | -6 |
| CLV | BLT | -6.5 | -6 | -6.5 | -6.5 |
| GB | WAS | 3.5 | 5.5 | 5.5 | 5.5 |
| HST | LV | -8 | -7 | -7 | -7 |
| NYJ | DEN | -7.5 | -4 | -3.5 | -3 |
| SEA | LAC | -8.5 | -7.5 | -7 | -7 |
| KC | SF | 1 | 1.5 | 2.5 | 3 |
| PIT | MIA | -4.5 | -6.5 | -7 | -7 |
| CHI | NE | -6 | -6 | -7.5 | -8 |
Another valuable datapoint is often the injury situation for all teams. One of the best ways to find value early in the week is digesting injury information quicker and more accurately than the rest of the market. This can be done by understanding who is returning and helpful to the team and also who is now hurt from the previous game but hasn't been added to the official game status for a team until later in the week.
To start, let's view the prior week's injury information for every team and what that means for their Week 7 outlook.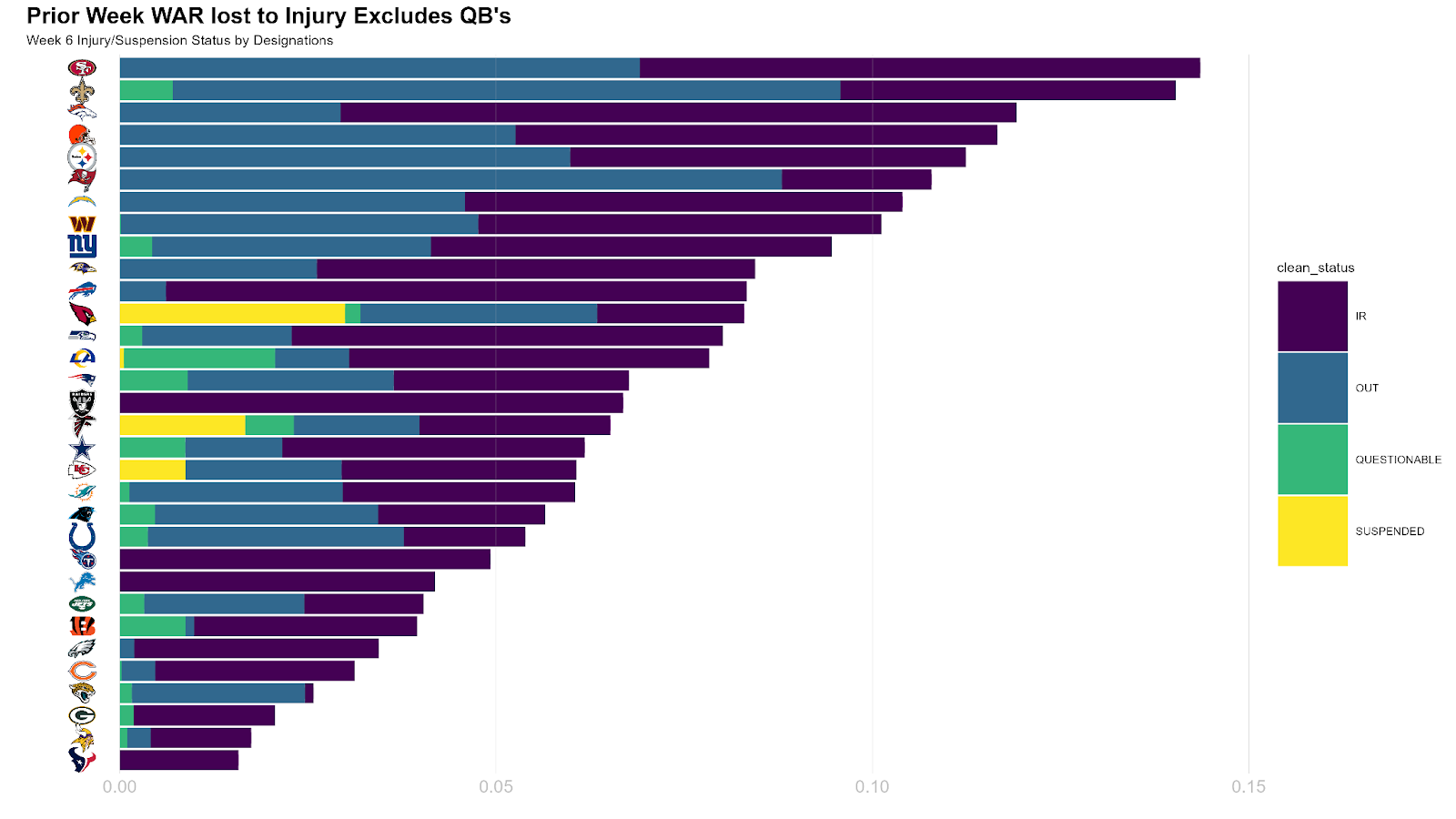 There are also a few injury situations that happened on Sunday and Monday that are relevant from an injury perspective and could impact the spread of games if the player does end up out for the upcoming week. Checking out Mario's fantastic injury roundup heading out of Week 6 is a great way to get ahead of the injury news that will be discussed this week and drive movement in the spread, moneyline and totals markets. 
We can also round up all the key news with highlights and thoughts on how long the potential issue is for the player in question. 
Let's dive into the games whose lines have already moved and others that could have the most spread movement as we head closer to kickoff.
Click here for more PFF tools:
Fantasy Draft Kit | PFF Betting Dashboard | PFF Fantasy Rankings
PFF Fantasy Projections | NFL Premium Stats | Win Totals Tracker
• The return of DeAndre Hopkins from his six-game performance-enhancing drug suspension is met with a sting of pain after losing Marquise Brown indefinitely to a knee injury: Perhaps the  only thing that can possibly overcome the lackluster in-game ability of Kliff Kingsbury is an abundance of playmakers on offense. They very much have the ammunition to be a top-10 offense when all the skill-position players are healthy, but the Cardinals  continue to be held back by a coach who remains in over his head in Year 4, and they
• For this particular Thursday-night matchup, the spread looks like it will only move in one direction: Both Andy Dalton and Jameis Winston are questionable, and any positive news will surely shift the spread toward the Saints, who eventually should be favored. Because of the teaser potential in this current number, expect bettors to lock in Saints' legs up to +7.5, with the opportunity to play both sides of this matchup in a teaser leg closer to kickoff. 
• The much-discussed AFC North showdown has been locked into a -6 or -6.5 spread since the preseason number initially opened. Both teams have been slightly disappointing to start the 2022 season, despite the Ravens having spent the most time in the NFL leading games. It's been their coverage unit that has, at times, let them down greatly in what could easily be considered an MVP-type performance from Lamar Jackson through six weeks. 
• Cleveland has experienced similar defensive struggles, except the Browns are supposed to have close if not the best overall defensive unit in the NFL. Myles Garrett's lingering injury issues haven't helped, but it's their coverage unit ranking 20th in PFF coverage grade that's been the letdown point for them defensively. If Baltimore's offensive weapons J.K. Dobbins and Rashod Bateman are able to go fully in this matchup, we should see the line test -7 at some point this week. Based on the PFF Greenline model, this is simply too many points for the Ravens to be laying in what will be a hotly-contested divisional matchup. 
• No spread has seen greater movement from the preseason number to where we currently sit: The J-E-T-S have shocked the world through six weeks and look like legitimate playoff hopefuls in a stacked AFC conference. Denver conversely looks nothing close to its preseason expectation and absolutely needs a victory in this matchup to keep slim (21%) playoff hopes alive. 
• The problem for the Broncos is it seems headed for continued movement off -3: As Russell Wilson has a hamstring injury added to his laundry list of issues this season. DraftKings already moved this to -2.5 (-120), and with leading books holding out on dropping an updated spread, we could easily see an overall market correction down to -2.5 happen quickly. If it does, we might not get a better buy-low and sell-high combination in a matchup this season. 
• Week 7's top matchup pits the No. 1 defensive unit in the NFL against the second-best offensive unit: The problem is the 49ers are so banged up defensively, that it's tough to consider them at their current ranking. No team could take better advantage of this discrepancy than the Chiefs, which is why we continue to see the spread drift in their direction.
• +3 is where we could stay locked, but given the push probability: It's possible we continue to move to +3.5 — especially if the injury situation breaks even worse for the Niners, who added CB Charvarius Ward (groin), RT Mike McGlinchey (calf) and rising star S Talanoa Hufanga (head) to the carnage Sunday. If you want to back Kansas City, there is no time like the present, but if San Francisco is the preferred side, waiting until closer to kickoff seems like the best opportunity to maximize spread movement in your direction.