• SGP Brady 325+ pass yards / 3 TDs, Mike Evans 80+ receiving yards, Chris Godwin: 75+ yards (+1200): Since Weeks 1-2, when they were running well below expectation, Bucs passing 13% above expected, only behind the Bills for NFL's highest mark.
• Struggling in SCOE, Steelers allowing second-most passing yards and are down their top two defensive backs.
• New users who bet $10 or more at BetMGM will receive a free year's subscription to PFF+ — a $79.99 value.
Last updated: Sun. Oct. 16, 8:45 a.m.
Estimated reading time: 3 mins
---
· While same game parlays (SGPs) are big money makers for the sportsbooks, that does not mean betting edges don't exist. SGPs offer two unique opportunities unavailable in other markets: they uniquely tell a story that we can create through props, spreads, and totals; and (2) SGPs allow us to combine outcomes that are correlated through a particular game angle, but will not be priced into the odds set by books.
· The goal in this space, then, will be to hit on SGPs that either tell unique stories about games and/or uncover correlated outcomes available only through SGPs.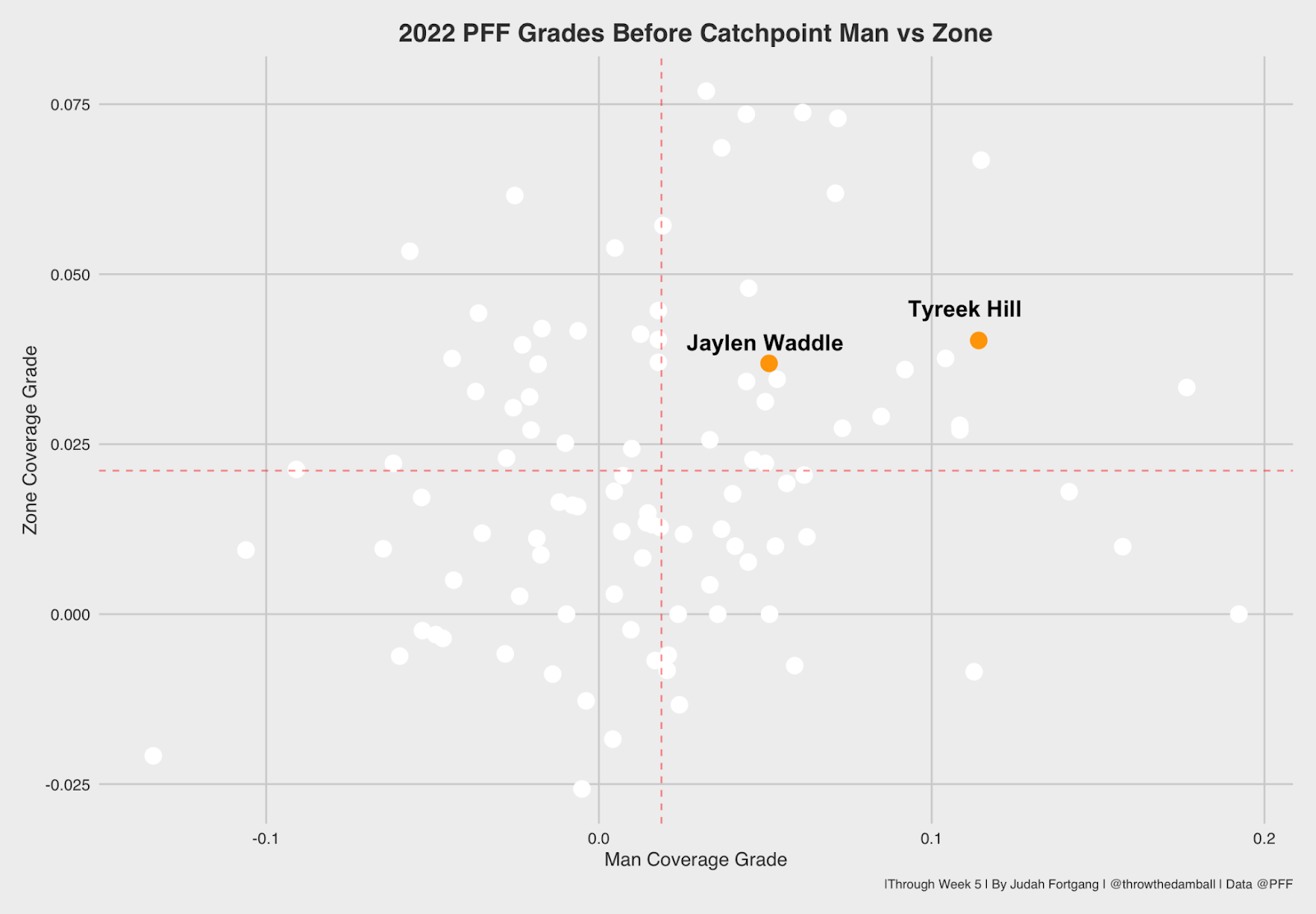 • Tyreek Hill and Jaylen Waddle have been among the best in the NFL at generating separation against both man and zone coverage. Now, for a young quarterback in his first NFL start, the ability for receivers to get open will be key to success to create easy throws. 
• Thompson might only need to get the ball into his playmakers hands, as both Hill and Waddle rank top 15 at generating yards after the catch (YAC), and the Vikings are 21st in YAC allowed. 
• The matchup is also quite favorable in this spot, where the Vikings are 23rd in EPA per dropback, and PFF's 28th-graded coverage unit. 
FanFuel SGP Build (+2541)
• Skylar Thompson 250+ Yards
• Tyreek Hill 70+ Yards
• Jaylen Waddle 70+ Yards
• Miami Dolphins ML
Story: Vikings QB Kirk Cousins and WR Justin Jefferson dominate man coverage, and Dolphins play 3rd most man coverage. 
We're going back to the well with this game with a different SGP: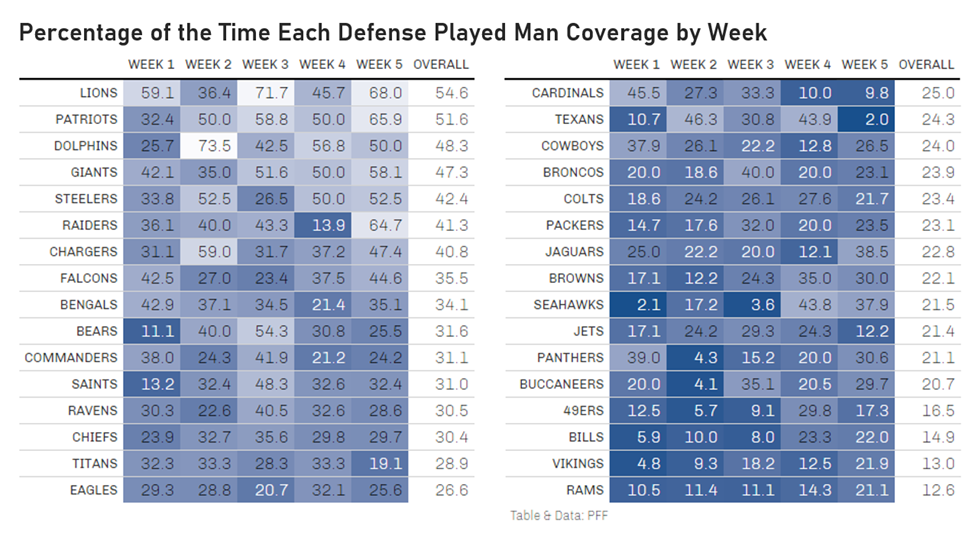 • The Dolphins have played man coverage at the 3rd-highest clip in the NFL. As we studied this summer, man coverage allows the talent to play out, and that's good news for Kirk Cousins and Justin Jefferson. Cousins is 2nd in EPA against man coverage since we started tracking in 2019.
• And Jefferson? He has absolutely dominated in his career — there is simply no corner who can matchup with him. 
• To make matters better for Jefferson, the Dolphins play single coverage at the NFL's 4th-highest rate, and Jefferson has been historically dominant (see graph above).
• Despite only catching one TD this season, Adam Thielen is still 8th in the NFL with 8 red zone targets. This is a buy-low spot on Thielen to find the end zone, with the opportunities present but the results not yet present. 
FanDuel SGP (+1318)
• Kirk Cousins 300+ Yards
• Adam Thielen TD Scorer
• Justin Jefferson 110+ Yards
Story: QB Brady goes to the air and puts up huge passing day.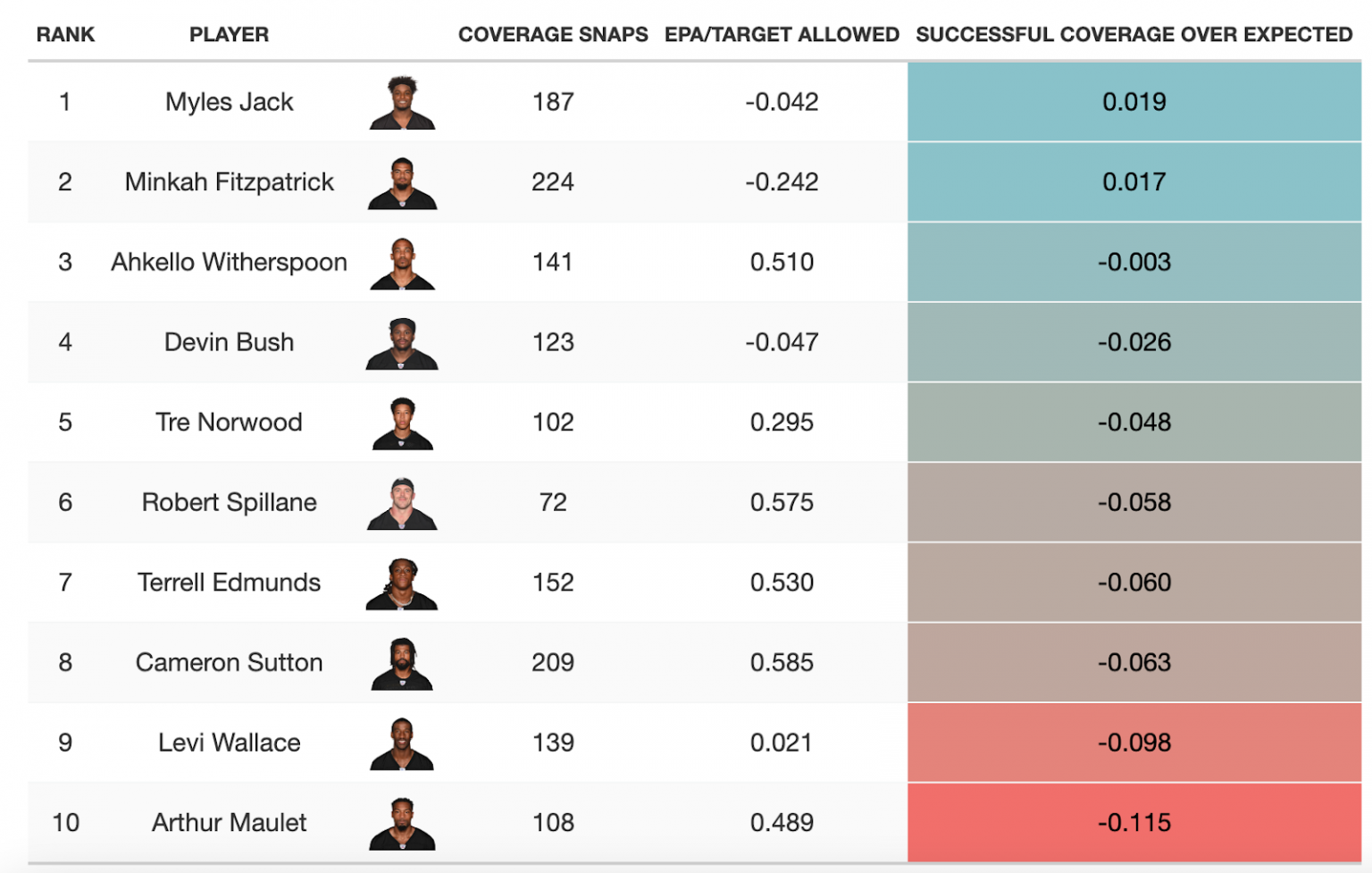 • The Steelers Cornerbacks are off to quite the difficult start in our SCOE metric. It is no wonder the team allows 288 passing yards a game, second worst in the NFL. To make matters worse, their two best secondary players—at least by this metric—are out Sunday with injuries. 
• This could pose an issue for the Steelers — especially considering they are a top-5 team in man coverage played. Without the talent on the back end, it could be a long day facing Mike Evans (No. 2 PFF grade in man coverage since 2019) and Chris Godwin (No. 25 PFF grade in man coverage since 2019).  
• Since Weeks 1-2, when Brady and the Bucs were running well below expectation, the team has passed 13% above expected, only behind the Bills for the highest mark in the NFL. Look for the Bucs to pass early and often against a porous secondary severely outmatched and still looking to play man coverage. 
DraftKings build (+1200)
• Brady Over 324.5 Passing yds
• Chris Godwin O 75 Receiving Yards
• Mike Evans O 79.5 Receiving Yards
• Tom Brady 3+ Passing Touchdowns 
---
Judah is 8-17 overall on the season (ROI: 102.79%).