• Elijah Moore's receiving yards prop (50.5): Take the under — The Jets will likely struggle against the Browns' pass rush, plus Cleveland is set to burn clock with a ground-heavy attack.
• Trey Lance's passing yards prop (202.5): Take the over — Lance struggled in a torrential downpour in Week 1 but gets a favorable matchup against a banged-up Seahawks' secondary,
• Baker Mayfield's pass TD prop (1.5): Take the over — the Panthers offense is a clear mismatch for a Giants secondary lacking high-end starters.
• New users who bet $10 or more at BetMGM will receive a free year's subscription to PFF+ — a $79.99 value.
Estimated Reading Time: 5 mins
---
It looked like our picks last week were all going to cash until Trevor Lawrence blew it with an ill-advised desperation heave and Trey Lance dug himself a hole to throw out of. Still, five of the seven touted props cashed last week for a solid start to the season.
Here are the five mismatches I'm looking to exploit in Week 2 of the 2022 NFL season, with a heavy emphasis on unders (there's always going to be an emphasis on unders).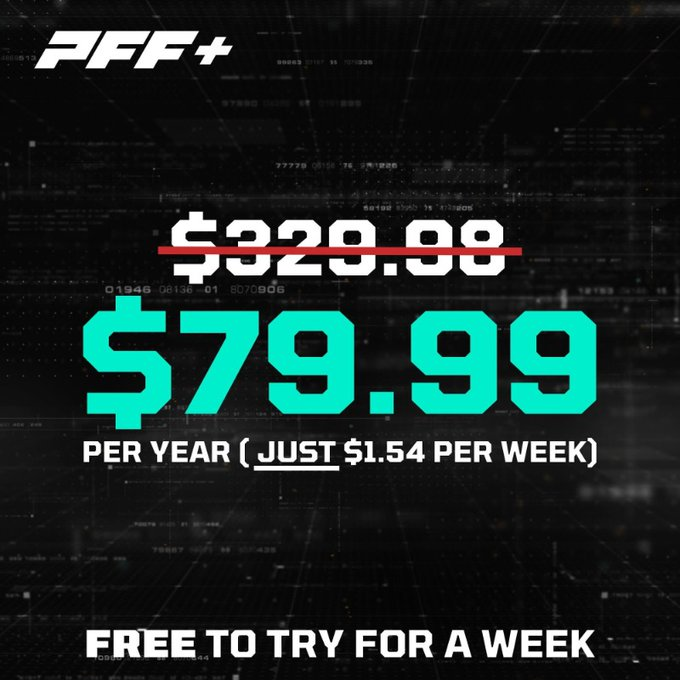 WR Elijah Moore Under 50.5 receiving yards
Don't get me wrong, Elijah Moore is one of my favorite young receivers in the game. He was 22nd on the PFF draft board in 2021 and excelled down the stretch as a rookie. This is more a product of the mismatches Moore has no control over. Let's just list them, shall we:
Myles Garrett vs. fourth-round rookie LT Max Mitchell
Backup quarterback Joe Flacco vs. Cleveland Browns defense
Uber-athletic Browns cornerback duo of Denzel Ward and Greg Newsome

The Browns' ground-heavy attack 
Let's start with the first one. The Jets' passing game is going to be seriously hampered by the simple fact that Mitchell has precisely zero chance against Garrett one-on-one. Garrett just earned one of the highest single-game pass-rushing grades we've ever seen in Week 1 (94.5) against the first offensive tackle drafted this year in Ikem Ekwonu. What's he going to do against the 10th offensive tackle drafted?
The next two are in a similar vein. Joe Flacco did nothing through three quarters in Week 1 (19-of-30, 165 yards and a pick) before the Baltimore Ravens took their foot off the gas in the fourth quarter. He now faces a similarly talented secondary with two cornerbacks running in the 4.3s who can match Elijah Moore's speed. Between them a year ago, they averaged fewer than two yards allowed per coverage snap. That's not to say Moore can't still get them a few times, but Flacco won't be able to consistently look his way.
The final point about the Browns' rushing offense speaks to the game script. This will likely be a low-scoring, running-clock affair. The Jets likely won't get the 62 dropbacks we saw last week that still resulted in Moore going under this prop with 49 yards.
---
WR Drake London Under 49 receiving yards
This one is simple: Jalen Ramsey. There's no other receiver for the Los Angeles Rams to fear on the Atlanta Falcons' offense. When that's been the case over the years, the Rams have been willing to deploy Ramsey in a shadow role. And even though I like London's pro prospects, he's not quite ready to take on PFF's highest-graded cornerback from a season ago.
---
QB Trey Lance Over 202.5 Passing Yards
Let's all pump the breaks on the Trey Lance slander until he plays a game that's not in a torrential downpour. There's simply no way he was going to be successful as a passer in those Week 1 conditions.
But if he fails to succeed this week, then it's time to panic. That's because he's going up against a Seahawks secondary already ranked 30th by PFF heading into the season and now is down two starters in cornerback Tre Brown and safety Jamal Adams this week. That backend got carved up for 340 yards by Russell Wilson in Week 1, and Wilson didn't even play well. He finished with a 57.6 passing grade and left multiple plays on the field. With a receiving corps that features Deebo Samuel, Brandon Aiyuk and George Kittle, this is about as big a mismatch as exists in the league this week.
---
RB Alvin Kamara Under 26.5 Receiving Yards
In eight games that Kamara has now played with Jameis Winston under center, he's gone over his receiving prop only three times. And those three instances came against teams with linebackers who don't hold a candle to the Tampa Bay Buccaneers' group (Patriots 29, Commanders 51, Seahawks 128). I don't think we'll ever see Kamara get back to the usage in the passing game he enjoyed under Drew Brees. Stylistically, Winston has never been one to target backs, and the Saints now have three capable receivers to get the ball to down the field.
Then, there's the game-planning aspect of New Orleans not even wanting to target the Bucs' linebackers with the screen game. Dallas tried a bit in Week 1, but Devin White and Lavonte David combined to allow only 43 yards on 10 targets. Chances are offensive coordinator Pete Carmichael will be dialing up downfield shots more than underneath dump-offs this weekend.
---
QB Baker Mayfield Over 1.5 Passing Touchdowns
There are two mismatches here that make me like this prop. The first is a New York Giants backend that's scant on impact players. They earned the second-lowest coverage grade of any team in Week 1, and that came against a Tennessee Titans receiving corps fairly bereft of talent.
The second mismatch is the Giants' interior defensive line against the Carolina Panthers' interior. Dexter Lawrence and Leonard Williams are two of the best run-stuffing defenders in the league. They just held Derrick Henry out of the end zone and to only 80 rushing yards on 21 attempts. That means it's likely the Panthers will have to do most of their work on offense through the air. With a favorable matchup there, this line looks underpriced at the moment.