• BET Ravens alt line -9.5 against Patriots (-215 FanDuel): With Lamar Jackson, 62.5% of Baltimore victories by 10+ points.
• Mac Jones is bottom 10 in expected points added vs. the blitz — which Baltimore deploys more than any NFL team.
• Miami toasted Baltimore with speed in WR corps, where Pats' top threat ranks 40th in separation.
• New users who bet $10 or more at BetMGM will receive a free year's subscription to PFF+ — a $79.99 value.
Estimated reading time: 4 min
---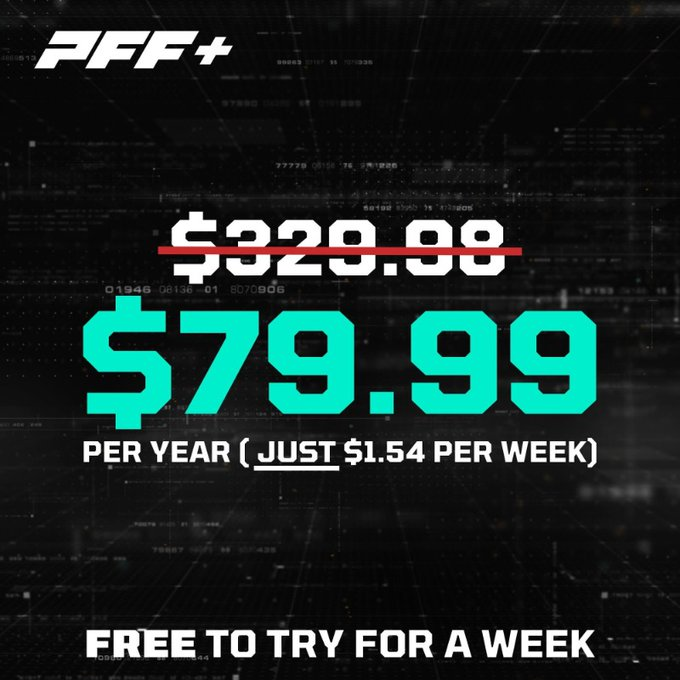 Baltimore Ravens (-3, 43.5) @ New England Patriots
New England is not built to stop the Ravens offense, nor can it exploit the areas in which Baltimore's 'D' is weakest. Look for the Ravens to win handily Sunday in Foxborough and run up the score while playing from ahead — a position in which they've been elite in the Lamar Jackson era. 
BET: Ravens alt line -9.5 at Patriots (+215 FanDuel)
Angle 1: Bet on the Ravens offense to outclass the Patriots Defense: 
• Drive Quality: A metric I've helped develop at PFF, Drive Quality essentially captures the "earned points" based on the quality of the drive — independent of realized scoring outcome, which often can be noisy in its results. Below is Drive Quality through Week 2: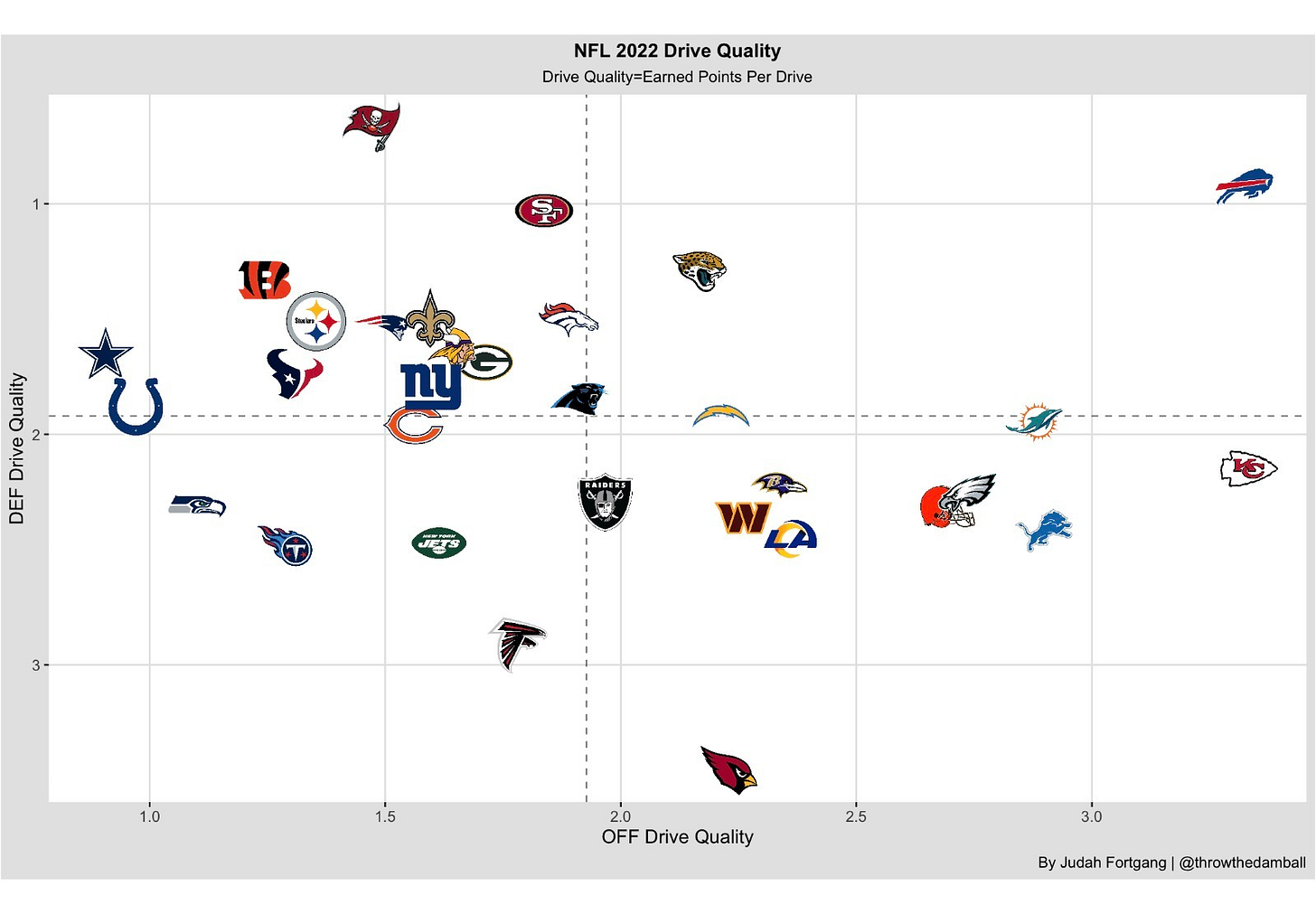 • Baltimore and New England occupy a nearly symmetrical place on this graph: The Ravens are stronger on offense, and the Patriots are in the same spot on defense. While early, the surrounding teams are revealing: New England is clustered with the Giants, Bears, Steelers, Saints, and Texans, while the Ravens are clustered along with the Commanders, Chargers, and Rams. 
• Strength vs. strength: But this graph also sets up the key questions for understanding this game: Who wins in the battle of strength vs. strength?
Ravens Offense vs Patriots Defense
• The Patriots play primarily man coverage — which the Ravens feast on: New England has ranked in the top five of man-coverage rate each season since 2019, but the Ravens are second expected points added (EPA) this season against man coverage. And Lamar Jackson has perennially dominated with his rushing ability (multiple top-three EPA seasons against man coverage).
• Level-up Lamar: The Patrots succeeded in blitzing Tua TagoVailoa in Week 1 (40% blitz rate), and in Week 2, they let their coverage players win against a porous Steelers offense. But Jackson also is perennially top 10 in EPA against the blitz, and we just established the defense will likely lose its man assignments against Baltimore. We're not sure the Patriots will be able to stop the Ravens. 
New England Offense vs Baltimore Defense 
Angle 2: The Ravens will blitz — and Mac Jones will struggle against the Blitz: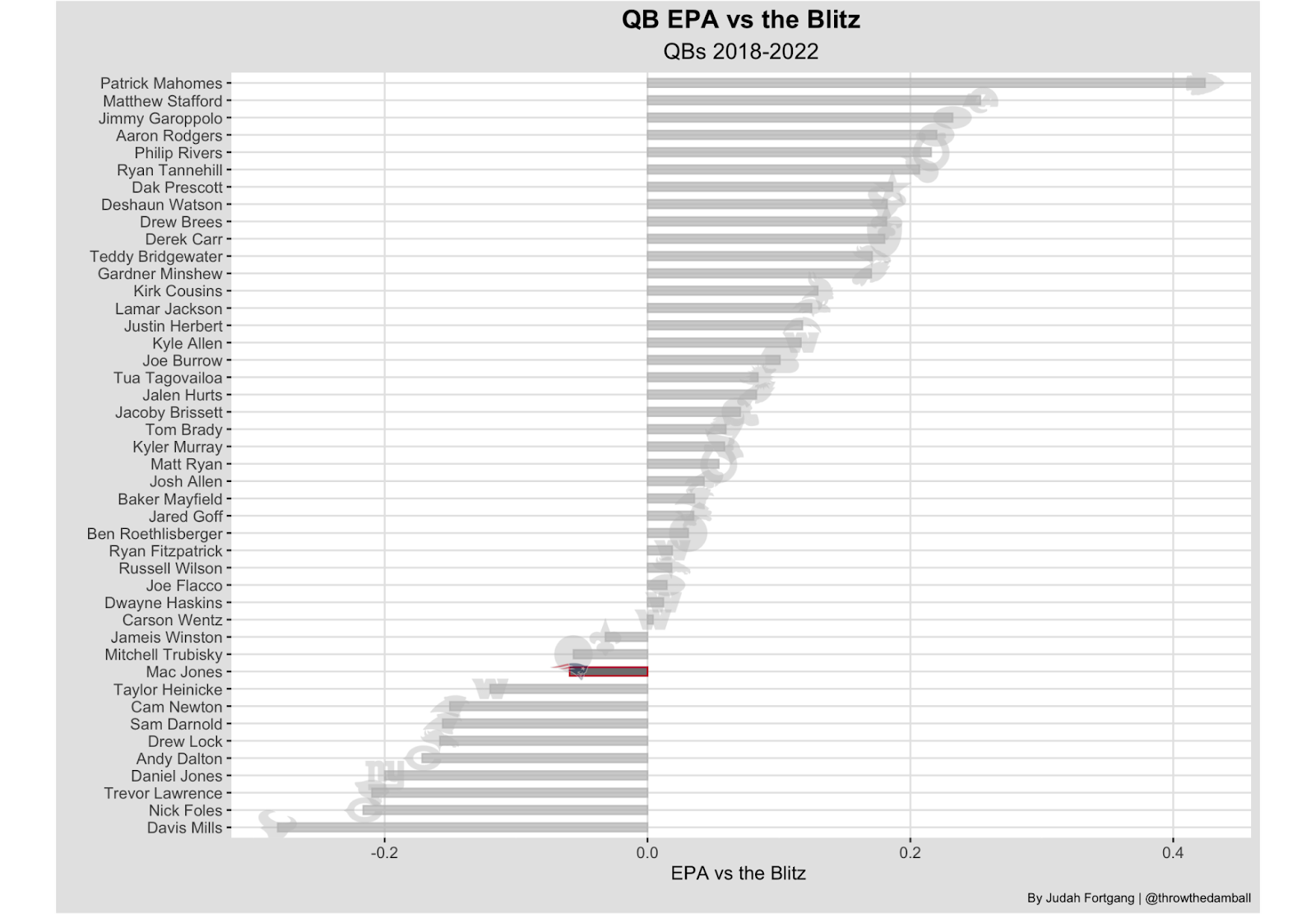 • No team has blitzed more since 2019 than Baltimore: And this year is looking like no exception. Mac Jones, as illustrated above, really struggles against the blitz. And without Josh McDaniels this year helping to make pre-snap adjustments, Jones' efficiency against the blitz could dip even further. 
Angle 3:
The Patriots can't capitalize on the ravens' secondary issues: 
• Separation time: On our way to cashing a +2100 SGP last week, we identified that the Ravens would struggle on defense when facing teams with receivers who separate well.  The Patriots don't have these types of talented receivers. Their best separator, Jakobi Myers ranks 40th in the NFL since 2019. Unlike last week, when Baltimore was no match for Tyreek Hill and Jaylen Waddle, it holds this advantage with Marlon Humphrey and Marcus Peters Sunday.
• Baltimore bread and butter: The Ravens live and die by their efficiency blitzing and success in winning coverage battles. Both spots seem to line up to their advantage this week.   
Angle 3:
 with a tendency to run up scores, the ravens are great to bet on alternative spreads:
 
• Closers close: In the Lamar Jackson era, the Ravens have been uber efficient when playing with a lead (2nd in EPA, 4th in SR). It is no wonder that with Lamar Jackson at QB, 62.5% of the Ravens wins have come by more than 10 points, making them ripe for betting the alternative spread.