A lot of the free agency focus gets put on the top names available, guys like Byron Jones, Amari Cooper and Chris Jones, who can step in immediately and offer elite production for their position. But if you head on over to PFF's Free Agency Rankings page and check out their projected contracts via Over the Cap, you'll see that those players don't come cheap. Teams in salary cap purgatory like the Minnesota Vikings, Jacksonville Jaguars and Pittsburgh Steelers won't be able to make plays on players in that price range. Instead, they'll have to shop around the margins.
With that in mind, we've highlighted one player at each position who will likely offer some value without breaking the bank. The players below all offer some upside at their projected price point, making them intriguing options for teams strapped for cash.
[Editor's note: Available to all of PFF's EDGE and ELITE subscribers, PFF's Free Agent Rankings Page consists of three-year grades, PFF WAR and in-depth analysis for all of the top NFL free agents. Contract information from our friends at Over The Cap is also available. Subscribe today for access!]
A case in point for taking a chance and signing Mariota while he's down was on the Tennessee Titans' roster this past season. Ryan Tannehill was a quarterback who had a solid history of average quarterback play with the Miami Dolphins before a disastrous 2018 season demoted him to a backup role in Tennessee. Tannehill then proceeded to take over for a struggling Mariota in Week 7, and the rest is history. Tannehill earned the best overall grade of his career (90.2) and helped turn a floundering Titans season into an AFC Championship Game appearance. Can the right environment draw similar results out of Mariota in 2020?
Season
Mariota's overall grade
Grade rank out of 32 QBs

2015

63.5

27th
2016

66.8

23

rd

 

2017

76.2

12th
2018

76.8

17

th

 

2019

64.3

N/A
Mariota is part of that same tier of mid-level quarterbacks who can move up or down in a given season based on supporting cast. After two difficult years to start his career, it looked like he was starting to pull things together with stronger showings in 2017 and 2018 before the 2019 season derailed that progress. 
He offers teams some mobility from the quarterback position on both scrambles and in the designed run game, but he also trends towards being overly conservative at times, particularly when it comes to taking sacks. Mariota has been sacked on 24% of his pressured dropbacks since 2015, a higher rate than any other quarterback in the NFL over that time. All in all, Mariota is a 26-year-old, mid-level starter who can be signed at a steep discount this offseason given how his tenure in Tennessee ended.
It's easy to forget about Riddick after he played just six snaps for the Denver Broncos this preseason before fracturing his shoulder and subsequently missing the entire 2019 season. Coming off a season-long injury in addition to being 29 before the 2020 season starts will likely suppress the market for Riddick, but he remains one of the best receiving options at the position. Among 63 running backs who ran 500 or more routes from 2014 to 2018, Riddick's receiving grade of 93.3 ranks first in the league, and no running back forced more missed tackles after the catch than Riddick did over that span (88).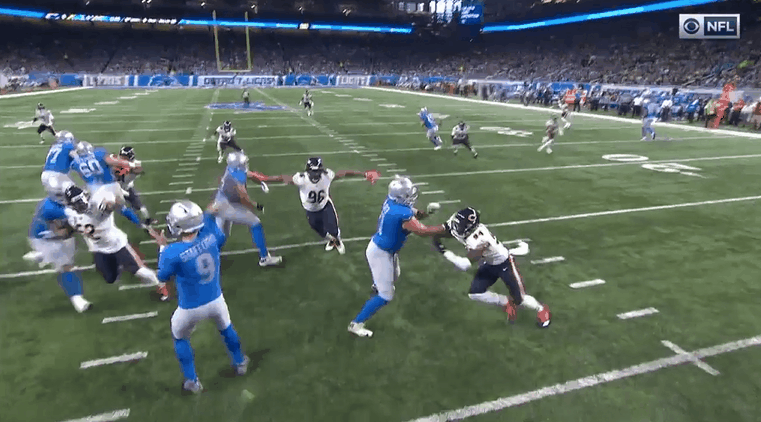 This is Riddick in his last season on the field (2018), making Eddie Jackson, the highest-graded safety in the league that season, look like quite the opposite. That's the kind of quick-twitch athleticism and elusiveness that Riddick still possesses and can bring to a team.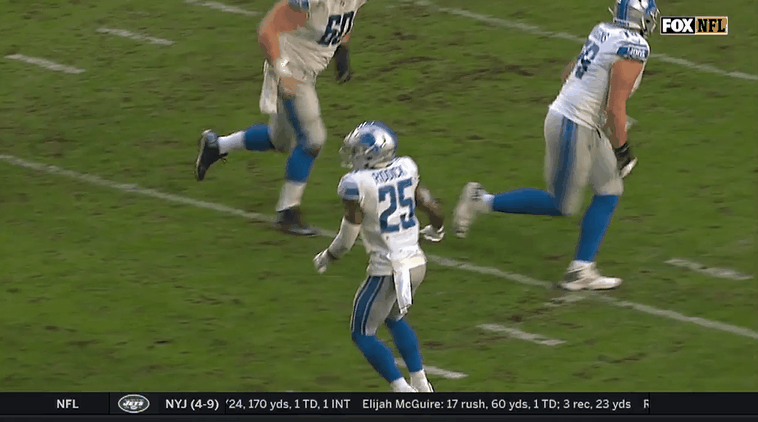 He may only be listed at 5-foot-9, but the guy has some power to his game as well, which is something Budda Baker (in the play above) can attest to. In addition to what he can do as a receiver, Riddick can hold his own when asked to stay in and block. He notched four consecutive seasons with pass-blocking grades of 70.0 or higher from 2015 to 2018. Riddick is nearing the "dangerous age of 30," but he's a strong candidate to add some juice to a team's passing game at a discounted rate.
Perriman was a bust. Through the first three seasons of his career, he had nine drops compared to just 43 receptions, and it didn't look all that much like he would ever live up to his first-round billing.
As Perriman was heading into his fourth season, training camp receptions had sarcastic onlookers yelling, "Oh my God, he caught it!" Per an ESPN piece labeling Perriman as Ravens' public enemy No. 1. Needless to say, the fresh start with the Cleveland Browns in 2018 was welcomed with open arms. Perriman didn't light the world on fire with that opportunity, but there were significant signs of improvement, as he earned a 76.0 receiving grade on 16 receptions for 340 yards and, most importantly, no drops. 
That earned Perriman a 1-year, $4 million contract with the Tampa Bay Buccaneers this past offseason, and he continued to show growth towards that first-round potential. Paired with Jameis Winston's proclivity for pushing the ball downfield, Perriman found a home in Tampa Bay as a deep threat. Among all wide receivers with 50 or more targets, Perriman led the NFL in average depth of target (18.8 yards), and he dropped just one of his 65 targets on the season. Injuries to Mike Evans and Chris Godwin thrust him into the No. 1 role late in the season, which was a role that Perriman thrived in with three consecutive 100-yard games to close the year.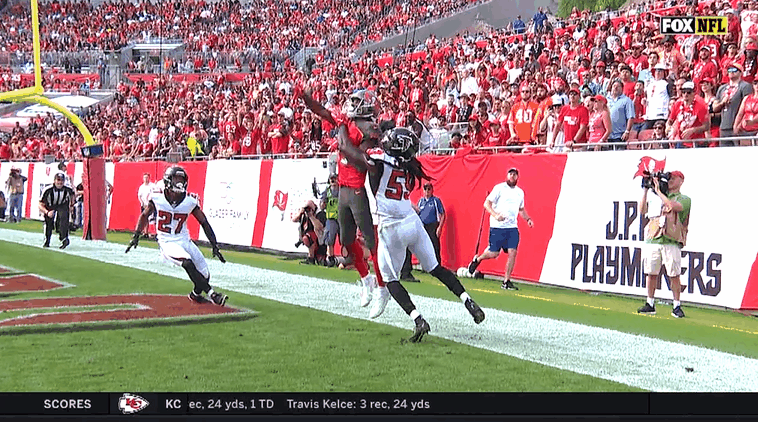 That stretch included catches like this (above), something that Baltimore Ravens' fans certainly didn't think would be in Perriman's future just a few seasons ago. At 26 years old, he makes a lot of sense for teams looking for a complementary, downfield threat who won't break the bank. 
Eifert is one of the biggest "what could have been" cases in the entire NFL. From a dislocated elbow that caused him to miss nearly the entire 2014 season to an ankle fracture that caused him to miss the final 12 games of the 2018 season and with more of his fair share of ailments in between, Eifert has simply been unable to stay on the football field. The 2019 season was the first time in his seven-year career that Eifert was able to play in all 16 regular-season games. Obviously, the biggest concern for prospective suitors is whether you can expect him to remain healthy for a full season again, or even the majority of a season for that matter.  
| | |
| --- | --- |
| Year | Snaps played by Eifert |
| 2013 | 678 |
| 2014 | 8 |
| 2015 | 821 |
| 2016 | 429 |
| 2017 | 104 |
| 2018 | 133 |
| 2019 | 491 |
Eifert's 2019 season didn't have the upside of what we saw in 2015 when Eifert earned a receiving grade of 89.7 and caught 13 touchdown passes, but he was a solid option at tight end on limited snaps. The Cincinnati Bengals used him almost exclusively in passing situations — just 80 of his 491 snaps came as a run blocker — and he put up respectable numbers with a 65.8 receiving grade and 43 receptions for 436 yards on that bad Bengals offense. The physical toll of all those injuries may have sapped some of Eifert's athleticism, but he still makes some sense as a cheaper alternative to guys like Hunter Henry, Austin Hooper and Eric Ebron for a team in need of a receiving threat at the tight end position.
Keeping in line with banking on injury-prone players remaining healthy, Gilbert has combined to play just 773 offensive snaps in the last three seasons between his time with the Pittsburgh Steelers and the Arizona Cardinals. When healthy in Pittsburgh, Gilbert showed that he could be a quality starting right tackle, however. From when he entered the league in 2011 through his last season with the Steelers in 2018, Gilbert ranked 11th among 49 qualifying right tackles in PFF grade at 78.6. In a four-year stretch from 2014 to 2017, he graded out with pass-blocking and run-blocking grades of 70.0 or higher. The talent is there. 
Talent does a team no good if Gilbert sees more of the Injured Reserve than the field, though. That's the dance teams have to make when looking for value at the tackle position. Someone like Jack Conklin is more of a sure bet than Gilbert, but he's also going to cost significantly more than Gilbert will. The upside with Gilbert is an average to above-average option at the position on a depressed contract given his lack of availability in recent seasons. He just needs to stay healthy to make that upside a reality.
Wisniewski is a veteran option at guard who may fly under the radar this offseason, but that shouldn't be the case after winning his second Super Bowl in three seasons, this time as a member of the Kansas City Chiefs. Wisniewski is entering his 10th season in the league, and he is coming off a season with the fewest snaps of his career in 2019 (416). Many of those snaps came late in the season during the Chiefs' postseason push after he filled in for an injured Andrew Wylie as the team's starting left guard. All he did was earn an overall grade of 70.9 that ranked ninth among qualifying left guards on the season. It was the seventh time in nine seasons that Wisniewski graded out at 70.0 or higher, and the only poor showing of his career came with the Philadelphia Eagles in 2018 (56.2 overall grade). Wisniewski is a reliable pass blocker, and he can be a low-cost, plug-and-play starter at guard. Those options aren't plentiful on the free-agent market — we're looking at you, Minnesota. 
When it comes to positional groups, the free-agent center market is pretty scant. The only two players at the position to make an appearance on the list of PFF's top 100 free agents are Connor McGovern at No. 83 and Austin Blythe at No. 98. That means players like Karras suddenly become more interesting than they might otherwise be if more players were available. He was strictly a reserve over the first three seasons of his career for the New England Patriots after coming out of Illinois as a sixth-round pick in the 2016 NFL Draft. Karras made good use of the limited opportunities he received, but the opportunities weren't plentiful.
| | | |
| --- | --- | --- |
| Season | Snaps | PFF grade |
| 2016 | 109 | 60.6 |
| 2017 | 154 | 73.7 |
| 2018 | 174 | 74.3 |
| 2019 | 1,102 | 66.5 |
As you can see in the table above, Karras didn't get more than a few spot starts until his fourth season in the league when an injury to David Andrews opened the door to a larger role. Karras started at center for 16 of the Patriots' 17 games, earning a 66.5 overall grade that ranked 20th at the position in the process. He is far from a lock for a team in need of interior offensive line help this offseason, but he's shown the ability to provide average play in a full season of action, which is more than a lot of the available options can say. 
In a recent article where I sorted through the deep interior defender free-agent class, I deemed Harris the "wild card" of the group. That revolves around the question as to whether he can repeat the elite grade that we saw from him in the 2018 season (90.4) on an increased workload. In the last three seasons, Harris has recorded overall grades of 76.3, 90.4 and 76.8 on snap counts of 516, 391 and 636, respectively. When the snaps went up, the grade dipped. 
It's not as if Harris was ineffective on the increased workload. His 76.8 PFF grade ranked 17th among players at the position, and his PFF WAR value sat inside the top 25 players at the position, as well. That's part of what makes his projected 3-year, $16 million contract look like a bargain relative to his peers. At worst, you're getting a plus starter who has three consecutive seasons grading at 75.0 or higher. At that price point, teams should be interested. 
Curry has been around the league for a while now, and he's built a pretty strong resume for himself as a rotational pass-rusher. In the last five years, Curry has recorded overall grades of 70.0 or higher each season sans his only season outside the confines of the Philadelphia Eagles' facility in 2018. We've seen veteran edge defenders pay dividends as rotational pass-rushers before, and as part of a strong defensive line, all signs point to Curry being able to provide some value doing just that. He's coming off the best pass-rushing season of his career — a year in which his pressure rate of 16.8% sat sandwiched between T.J. Watt and Danielle Hunter at fifth overall among edge rushers with 200 or more pass-rushing snaps.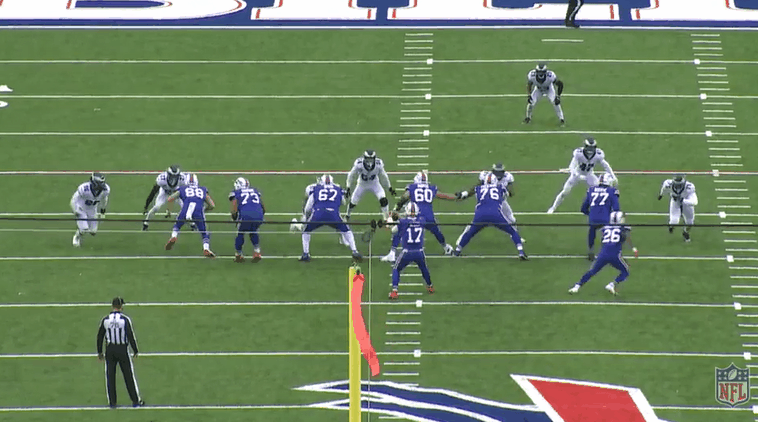 If he continues to make tackles look like Ty Nsekhe on this play, his new team will be pleased with the value they got on him this offseason. 
The Chicago Bears have some decisions to make at linebacker this offseason, as Kwiatkoski, Danny Trevathan and Kevin Pierre-Louis are all unrestricted free agents. Trevathan is the surest bet of that group given his experience and the several solid seasons that he has put together in Chicago, but Kwiatkoski might have the most upside. He doesn't have a season of full-time work under his belt yet, but in his two most recent seasons as a partial starter (2017 and 2019), Kwiatkoski has earned overall grades of 80.5 and 72.6 with well-rounded efforts across run defense, tackling, pass-rushing and in coverage. Those numbers came on 382 snaps and 512 snaps, respectively, so it remains to be seen how he handles a full season with a starter's workload. However, Kwiatkoski has shown enough to be intrigued by what he would look like in that role. 
Work by PFF's data scientists has shown that coverage is more volatile than pass-rush from season to season. The team that signs Darby this offseason will be hoping that volatility swings his play back in the positive direction just as fervently as it swung in the negative direction in 2019. 
Plays like the one above featuring Darby losing at the catch point down the sideline were too common of a fixture on his 2019 tape — it was close, but he was ultimately unable to make the play. In total, Darby had one of the worst coverage grades at the position among qualifiers at only 41.0. However, Darby's career up to last season gives reason to believe that was more of an outlier rather than the norm. Darby graded at 68.0 or higher each year from 2015 to 2018, showing a knack for getting his hand on the football with 33 pass breakups over those four seasons. This offseason provides a buy-low opportunity for teams that believe Darby will bounce back from an uncharacteristically poor 2019 season. 
After being selected by the Oakland Raiders in the first round of the 2016 NFL Draft, Joseph never really found his spot on the Oakland defense. Unlike some stories involving first-round picks who just didn't work out, Joseph hasn't played poorly. His overall grades in his four seasons as a pro range from 67.7 to 74.5 on 500 or more snaps each year. That's not what the Raiders were hoping for necessarily, but it is the sign of a quality NFL starter at the position. 
When looking at his grades by position, Joseph has received an overall grade of 82.2 when lined up in the box. That strong safety, in-the-box role is where it looks like Joseph plays best, and at just 26 years old and with the talent that he has, it makes sense for a team that is looking for that sort of player to take a flier on Joseph at a depressed price point.