It's officially reset time in college football.
We are on to the 2022 season, where teams across the country will compete for a chance to play for the College Football Playoff National Championship at SoFi Stadium in Inglewood, California. There's still a lot to be figured out between now and then with team rosters and depth charts — the transfer portal deadline is months away. But the 2022 NFL Draft deadline is approaching for those who are eligible, so we now know which of college football's top talents will be leaving and returning for this season.
As such, there's no better time to dive into early position rankings of the top returning players in college football.
---
Click here for more PFF tools:
Rankings & Projections | WR/CB Matchup Chart | NFL & NCAA Betting Dashboards | NFL Player Props Tool | NFL & NCAA Power Rankings
Best Bets Tool
---
Below are the top 10 interior offensive linemen returning to college football this fall. Please note that this has nothing to do with pro potential.
Mr. Clean should seek out a partnership with Patterson because their brand's name is the perfect representation of the Notre Dame center's play. Bucketing him with all Power Five centers this past season, Patterson ranks third in negatively graded run-block rate and first in pass-blocking grade. He played a whopping 526 pass-blocking snaps and didn't allow a sack. In fact, Patterson still has yet to allow a sack on over 1,300 pass-block snaps in his career. Now, he did have an uncharacteristic issue with false starts this season (eight in total), but that's not something to be concerned about in 2022. Patterson is the top returning center heading into the next year's college football season.
Torrence is following head coach Billy Napier from Louisiana to Florida this spring. He was thrown into the fire as a three-star true freshman in 2019 after an injury to the previous starter and has since become one of the premier players at the position. Torrence has a three-year streak of 80.0-plus pass-blocking grades. He has allowed only 17 pressures across 1,146 pass-blocking snaps in that span — none of which turned into a sack while only one became a quarterback hit. This past season, Torrence grew as a run-blocker by recording an 89.4 grade in that facet — nearly 15 points higher than the year before.
Going from 420 pounds in junior high to one of the best interior linemen in college football, Torrence has had an excellent story thus far. He received some SEC interest late in his high school recruiting process but decided to stick with the Ragin' Cajuns. After a few years in Louisiana, the 6-foot-5, 332-pound guard will get his chance to show his skill set in the SEC.
Schmitz has been one of the more under-the-radar offensive linemen in the Big Ten over the past few years, and this season was his best yet, as his 88.1 PFF grade ranked third-best among FBS centers. The Golden Gopher earned an 87.5 run-blocking grade while not allowing a single sack or QB hit in pass protection. Since 2019, Schmitz has been the second-most valuable center in the Power Five — behind only Iowa's Tyler Linderbaum, who is making the move to the NFL ranks.
Michigan's offense centered around the run game in 2021 and that's not changing in 2022 with running back Blake Corum — and potentially dynamic dual-threat J.J. McCarthy — leading the way. To help bolster their rushing attack, Michigan brought in Oluwatimi from the transfer portal. He comes from Virginia, where he posted the third-highest run-blocking grade at the position this season. Oluwatimi joined Linderbaum as the lone centers in the Power Five who ranked top five in both positively and negatively graded run-block rate.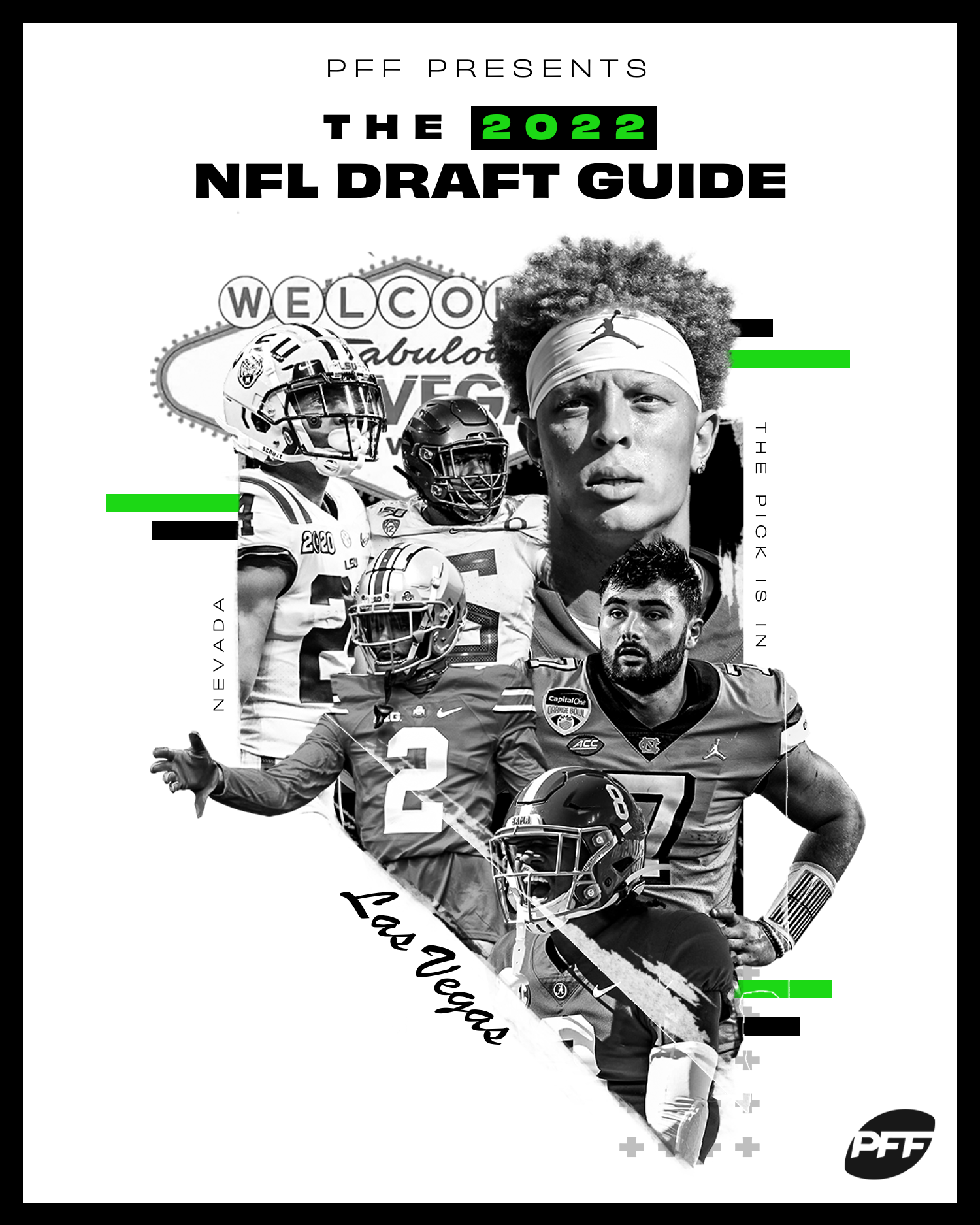 Wypler was one of the top interior offensive line recruits during the 2020 cycle, and the former four-star looks like the real deal. He was one of the 15 highest-graded centers in the FBS in his first season as a starter for the Buckeyes in 2021. Wypler ranked top 10 in both negatively graded run-block rate and pressure rate allowed. Playing that crisp as an underclassman at the Power Five level is rare to see. The 6-foot-3, 300-pound center's strength, athleticism and promising production should enable him to play at a high level in 2022.
Chandler played near-flawless football in the second half of the season. From Week 6 on, he earned 90.0-plus pass-blocking and run-blocking grades — something no other Power Five guard accomplished. He allowed only three pressures and earned a 92.6 overall mark in that span. Of all the players on this list, Chandler might be the most underrated.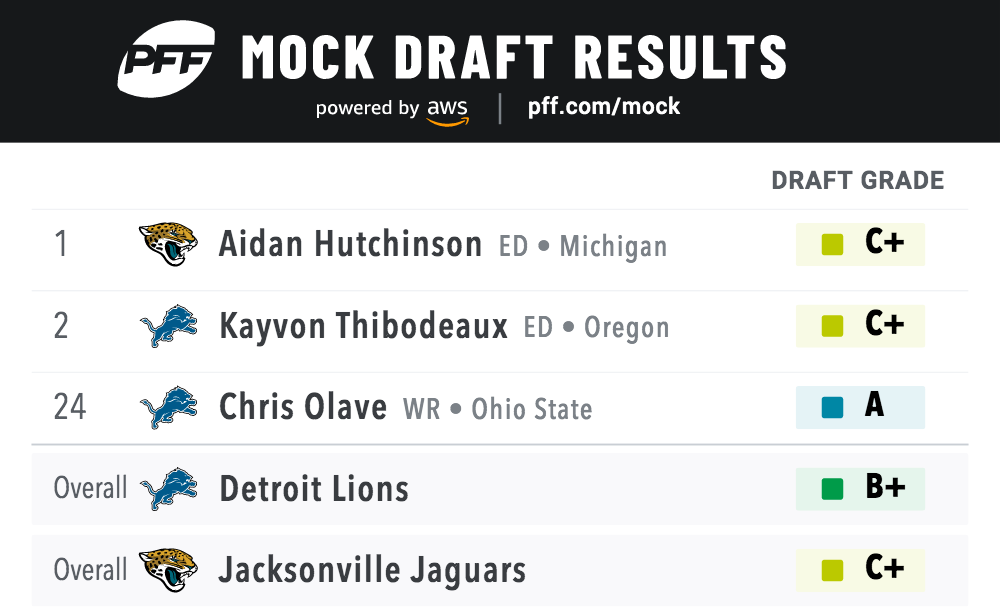 Only a handful of Power Five guards produced an 80.0-plus grade as both a pass- and run-blocker in 2021, and Mahogany is in that exclusive group, doing so in his second year as a starter. He allowed zero pressures in over half of his games played this past season.
Neilon took his play to another level in 2021. The 2017 four-star recruit earned an 86.2 PFF grade for the year, which is over 20 grading points higher than each of his previous two years as the starting center for the Trojans. Neilon's positively graded run-block rate — one of the most stable metrics for centers — was the fourth-highest at the position in the Power Five.
Gall was a PFF darling at Buffalo in 2020, earning a 90.5 PFF grade that ranked second among all FBS guards. He then transferred to Baylor for 2021 and kicked over to center. Despite playing a different position and seeing a dramatic uptick in competition level, Gall still produced a top 10 grade and finished sixth in PFF Wins Above Average (WAA) generated among FBS centers.
---
2022 NFL Draft position rankings:
Top 10 players at every position
QB | RB | WR | TE | iOL | OT | DI | EDGE | LB | CB | S
---
Barrington was one of the 10 highest-graded guards in the FBS last season, recording an 84.0-plus grade as a pass protector and run-blocker — only two other FBS guards were able to accomplish the latter last season. The 6-foot-6, 302-pound guard owns one of the more impressive stats of the season with 876 snaps and zero penalties to his name.
Stromberg is an experienced breakout candidate for the 2021 season. The three-year starter is coming off his highest-graded season (76.3) at Arkansas. From his all-around athleticism to the killer instinct he brings in the run game, Stromberg has the traits to take the jump to the top tier at the position. He was one of nine Power Five centers who finished with double-digit big-time run blocks in 2021. Consistency, however, was an issue for Stromberg. He finished middle of the pack among Power Five centers in negatively graded run-block rate, recorded eight penalties overall and finished with a good-not-great 72.3 pass-blocking grade despite not using a ton of true pass sets.