Pro Football Focus' Preview Team has come together to provide every fan with the right information to best prepare and enjoy Week 14 in the NFL. We offer advanced stats on key NFL matchups, fantasy advice and a Greenline perspective for all the weekend's games and Monday Night Football.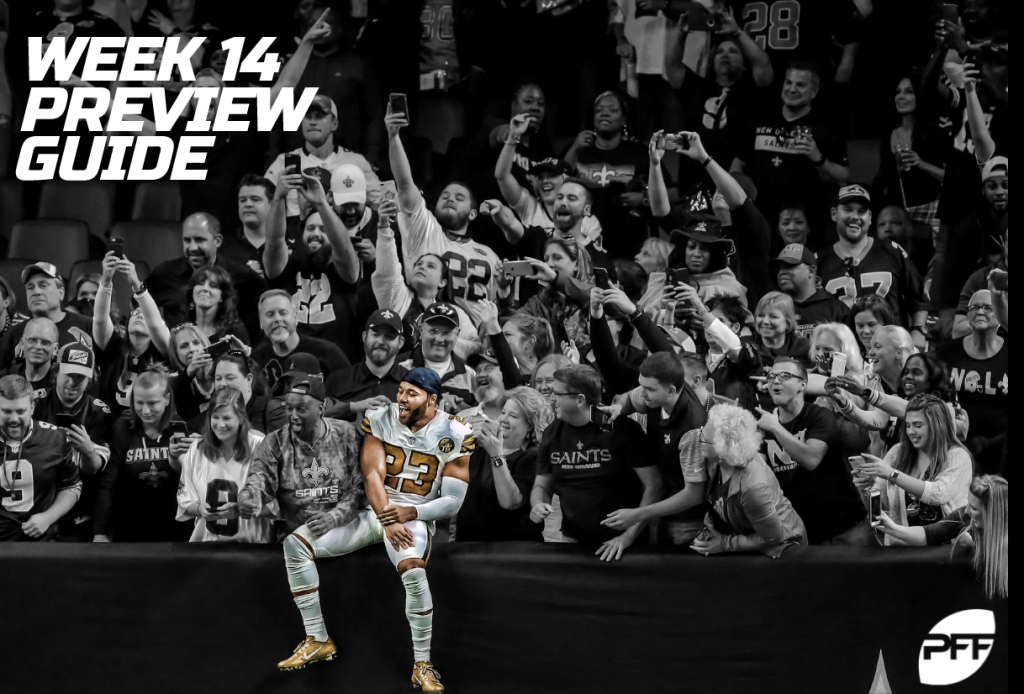 Key NFL Matchup/Stat:
Since the start of the 2016 season, Landon Collins has 71 run stops, which is 21 more than any other safety in that time.
Fantasy Stats to Know:
Josh Norman was once a name that struck fear in fantasy players any time their receivers had to face him. While we do expect a shadow from Norman on Odell Beckham this week, it isn't something to get too worked up over. Norman is allowing 71 percent of his targets to be caught with five touchdowns in his coverage this season.

Key NFL Matchup/Stat
Blake Martinez has 19 stops on pass plays, which is the most for all linebackers this season.
Fantasy Stats to Know:
We don't know how much will change for the Packers with the interim regime in place, but we do know that Aaron Jones is a plus play this week. The Falcons have struggled against the run for much of the season, and opposing backfields have topped 100 rushing yards against Atlanta in each of the last four games.
Key NFL Matchup/Stat:
Michael Thomas has a catch rate of 86.7%. That is over 5% more than any other wide receiver in a season over the past decade with 100 or more targets.
Fantasy Stats to Know:
Opposing quarterbacks have targeted Eli Apple 76 times this season, which is sixth among corners. Apple has especially struggled over the last two weeks with 15 catches on 20 targets in his coverage. Who does that benefit for the Bucs? Chris Godwin. Look for Godwin to have another solid week of production. He's in the WR2 conversation.
Key NFL Matchup/Stat:
When the Panthers are in the red zone, Cam Newton has an adjusted completion percentage of 84.8%, which is the best for all quarterbacks this season.
Fantasy Stats to Know:
The popular narrative this week is that the Panthers have struggled against the pass, which is good for Baker Mayfield. But look a little closer. Over the last three weeks, Carolina is allowing an average of 269 yards and 1.7 touchdowns through the air. While those numbers aren't shut-down, they're still not enough to justify starting Mayfield over many of your every-week fantasy starters at quarterback.
Related Articles:
Browns' Nick Chubb on pace for historic rookie campaign
Panthers' D.J. Moore running away with top rookie wide receiver honors

Key NFL Matchup/Stat:
Anthony Walker has 29 run stops, which is tied for second-most among all linebackers. Teammate Darius Leonard is one of the players he is tied with.
Fantasy Stats to Know:
This isn't the week to be an Andrew Luck owner. While Luck has largely exceeded fantasy expectations this season, he's running into a buzz saw in the first round of the fantasy playoffs. Houston has allowed more than one touchdown pass just once since Week 5.
Greenline/Predictive Analysis:
Our model likes the Colts here, fading the one-week blip that was the Colts' 6-0 loss in Jacksonville and the noise that was a multiple-score win for Houston in a game where they allowed over nine yards per pass attempt to Baker Mayfield and the Browns.
Related Articles:
Texans' Justin Reid playing well above expectation down the stretch of the 2018 season

Key NFL Matchup/Stat:
James White has 36 catches on second down. That is the most by any running back this year. If he gets one per game the rest of the season, he will have the most for any back in a season in the last 13 years.
Fantasy Stats to Know:
DeVante Parker flashed upside last week with a touchdown against the Bills. While this uptick is encouraging, it's wise to keep him on the bench this week. Parker will likely draw a shadow from Stephon Gilmore, who has been excellent this season. Gilmore has allowed just 47 percent of his targets to be caught.
Greenline/Predictive Analysis:
While the Patriots haven't even been 0.500 in Miami during Brady's tenure, we like them to cover this week, as the Patriots appear to be hitting their stride, while Ryan Tannehill is leading all quarterbacks in turnover-worthy play rate and will likely be without their best cornerback.
Key NFL Matchup/Stat:
Mitchell Schwartz has allowed pressure on 2.5% of pass blocks this season. That is the lowest rate for a right tackle in the last decade.
Fantasy Stats to Know:
While Spencer Ware didn't quite deliver on the hype last week, he did manage to find the end zone. But this is a brutal draw for Ware with the Ravens currently sitting as the No. 32 fantasy matchup for running backs. Baltimore has only allowed three backfields to top 100 yards on the season. Ware owners are right to be concerned but should still view him as a back-end RB2 in another potentially high-scoring game for the Chiefs.
Greenline/Predictive Analysis:
The Chiefs have won by seven or more games in each of their home games this year, and while they do struggle against the run, the passing game is the most important part of today's NFL. We like Kansas City to cover on the strength of the league's current co-MVP Patrick Mahomes.
Related Articles:
Ravens' Marlon Humphrey among the league's best since entering the league
Steven Nelson has risen to the challenge as the highest-targeted cornerback in the NFL
Key NFL Matchup/Stat:
Kicker Stephen Hauschka has made 43 consecutive field goals within 40 yards. That is the longest active streak among kickers.
Fantasy Stats to Know:
The No. 1 fantasy quarterback over the last two weeks is Josh Allen. Not quite how we drew it up, but Allen has been a monster with his legs. His 234 rushing yards over that span are more than all but eight other signal-callers have on the entire season. While Allen still comes with major fantasy volatility, he's in play as a desperation Hail Mary option for anyone who is hard up at quarterback this week.
Related Articles:
Jamal Adams is playing at an elite level after a substantial second-year leap

Key NFL Matchup/Stat:
Phillip Lindsay is gaining five or more yards on 45.5% of his carries. That is the best rate for a rookie with at least 150 carries in the last 13 seasons.
Fantasy Stats to Know:
Who the heck is Jeff Wilson Jr.? He's a back-end RB1 in fantasy this week. That's who. The rookie is an unlikely fantasy savior with Matt Breida sidelined, but he's poised for a full workload as the 49ers lead back. Last week, Wilson racked up 134 scrimmage yards on 23 touches. Expect similar volume for Wilson in this contest.
Key NFL Matchup/Stat:
Derwin James has produced 15 pressures on his pass-rushing snaps, which is the most among all safeties. If he continues at his current rate of more than one pressure per game, he'll set the PFF record for the most pressures produced by a safety in a season.
Fantasy Stats to Know:
Until just two weeks ago, there was essentially no fantasy buzz around Justin Jackson. But the rookie has changed all of that with impressive performances against the Cardinals and Steelers. Jackson has racked up 15 carries at an impressive 8.0 yards per clip over that span. Better yet, he gets to face a Bengals defense that has allowed a whopping 11 rushing scores to running backs over their last seven games. Keep in mind that Austin Ekeler is still the Chargers' lead back this week, but Jackson figures to get enough work to be a back-end RB2 play.
Greenline/Predictive Analysis:
While the point spread (LAC -14) doesn't offer a ton of intrigue here, the over/under of 47.5 might. The Bengals' defense is one of the league's worst, while the Chargers banged-up backfield might mean more throws (and hence more points) from the Chargers' offense. Hammer the over.
Related Articles:
Desmond King shines on SNF, continuing the remarkable start to his career

Key NFL Matchup/Stat:
Patrick Peterson has allowed 80 or fewer receiving yards in each of his last 67 games dating back to 2014, which is the longest streak we've seen from a defensive player in the 13 years we have data for.
Fantasy Stats to Know:
It's wise to temper expectations for Kenny Golladay this week. He's a good bet to draw a shadow from Patrick Peterson when he's on the outside. While Peterson isn't necessarily drawing the headlines that he has in the past, he's been excellent this year. He's only allowed more than two catches in his coverage once over the last six games, and opposing receivers are seeing an average of just 3.8 targets per game against Peterson.
Key NFL Matchup/Stat:
Lane Johnson has gone 89 consecutive pass blocks without allowing a pressure, which is the longest current streak among right tackles.
Fantasy Stats to Know:
Amari Cooper seems to have found his fit with the Cowboys. In the five weeks since joining the team, Cooper is eight among wide receivers in fantasy points, thanks in part to three touchdowns over that span. He's been especially good over the last two games with eight catches in each of those contests. Better yet, Cooper gets a nice upgrade this week against a decimated Eagles secondary that doesn't have a single player currently grading out inside the top 100 corners.
Related Articles:
Jaylon Smith's steady improvement lost in LVE's rapid ascent in Dallas
Key NFL Matchup/Stat:
Coty Sensabaugh has allowed 0.42 yards per coverage snap since Week 7, which is the second-best for all cornerbacks in that time.
Fantasy Stats to Know:
Jaylen Samuels has been the hottest name of the week in fantasy circles. With James Conner sidelined, Samuels will serve as the lead back, but fantasy players shouldn't get too carried away. Stevan Ridley is also in the mix for touches. The Steelers haven't been entirely clear on how they'll use both backs, so it's best to view Samuels as a borderline RB2 and Ridley as a flex play in deep leagues.
Related Articles:
Raiders' Gareon Conley coming on as of late, putting up strong numbers in coverage
Javon Hargrave is a budding superstar, the future of the Steelers' defensive line

Los Angeles Rams @ Chicago Bears
Key NFL Matchup/Stat:
Tarik Cohen has 2.78 yards per route run, which is the best for all running backs this season.
Fantasy Stats to Know:
It looks like Mitch(ell) Trubisky will be back on the field for the Bears after missing the last two weeks. Before the injury, Trubisky was in the midst of a breakout season, but should you use him this week? While the Rams rank as a mid-pack matchup for quarterbacks on the season, they're actually the top fantasy matchup for the position over the last five weeks. To be fair, they did face Patrick Mahomes in that stretch, but still, the Rams have allowed 14 passing scores over that span.
Key NFL Matchup/Stat:
When Frank Clark lines up on the defense's right side, he has a sack rate of 4.3% this year, which is the best among all edge defenders.
Fantasy Stats to Know:
Russell Wilson was fantasy's top quarterback last year, but things haven't quite gone as well in 2018. Entering this week, he sits ninth among signal callers in fantasy scoring, and his owners may actually want to fade him with their fantasy playoff lives on the line. Wilson draws a brutal matchup against a Vikings defense that has allowed just five passing scores over their last seven games, with opposing quarterbacks averaging just 212 passing yards per game over that stretch.