The Kansas City Chiefs are considered one of the favorites to be hoisting the Lombardi Trophy in February, and that has a whole lot to do with their offense putting up video game numbers behind the ascending Patrick Mahomes. The 444 points that they have scored this season are 25 points higher than the second-place New Orleans Saints and Los Angeles Rams. With the Chiefs putting points up on the scoreboard early and often, opposing teams are forced to put the ball in the air to try to keep pace, and that means that the Chiefs secondary has been put to the test. And no one has been tested more than fourth-year cornerback Steven Nelson.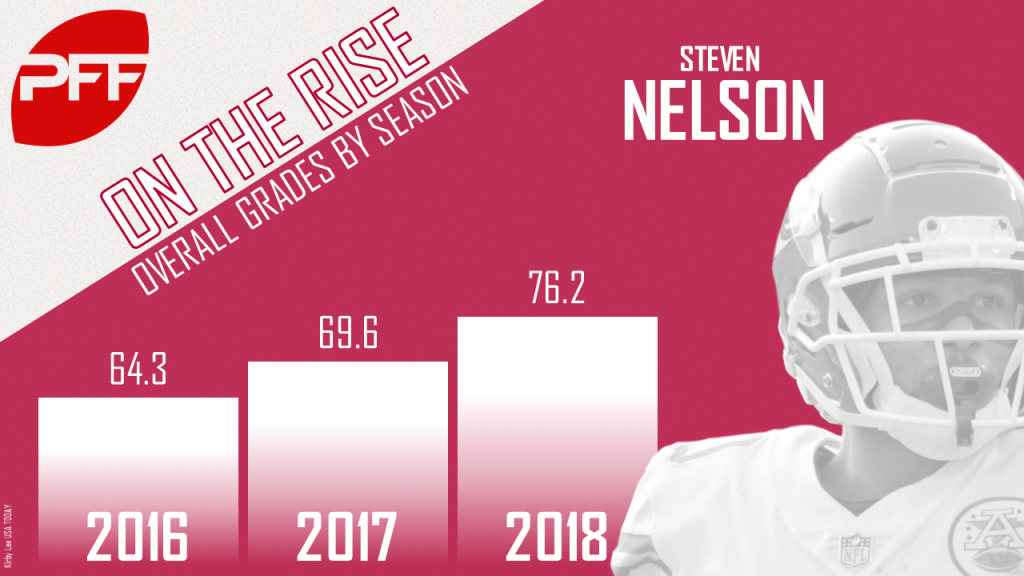 The former Oregon State product has played 549 snaps in coverage, which is more than any other defender in the NFL this season. In those coverage snaps, Nelson has been targeted 86 times, which also leads the league. The quarterbacks looking to pick on the Chiefs' cornerback have not been rewarded thus far; Nelson has allowed a completion percentage of just 50% (fifth-best among cornerbacks with 25 or more targets against) and a passer rating of just 66.4 (seventh-lowest). That has equated to a career-high PFF grade of 76.2, which sits inside the top-20 cornerbacks in the NFL.
It's not just that Nelson has been tested often this season, either. He's been tested deep as well. Of all cornerbacks with 25 or more targets against them, Nelson's average depth of target against of 15.5 yards ranks fifth-highest in the league. He has been targeted a league-high 54 times 10 or more yards downfield, and on those targets, he has nearly as many forced incompletions (11) as he does receptions allowed (17). That completion percentage allowed of 31.5 percent on such targets leads all cornerbacks.
It should be noted that Nelson has received some luck along the way. A league-high 26 of Nelson's 86 targets against have either been dropped by the receiver or so off-target that the receiver didn't have an opportunity to catch it. His mark of 30.2% dropped or off-target attempts sits at fourth-highest in the NFL through 13 weeks.
However, that does not detract from the fact that Nelson has been up to the frequent challenges that he has faced. He has exceeded expectations so far this season, playing up to the level of a top-20 cornerback in the NFL.
Nelson has certainly outplayed the former main man in Kansas City, Marcus Peters, who is suiting up for the Rams on Sundays this season. Through the first 13 weeks, Peters is tied for the fifth-lowest cornerback grade at 50.7. He has allowed a league-high 74.1% of the targets 10 or more yards downfield against him to be completed, sitting in stark contrast to the league-low mark allowed by Nelson.
So yes, the story surrounding the Chiefs will always be centered on their high-powered offense. That doesn't mean that the defense doesn't have a few components worth talking about, though, such as Chris Jones, Dee Ford, and, somewhat surprisingly, Steven Nelson. Quarterbacks have been going after him all season, and it hasn't yielded much reward. Whether or not his success will continue as the playoffs near is a key storyline for one of the most exciting teams in the league.