We're hot on the trail of every NFL Training Camp as we progress into the first few weeks of the preseason. With injury news coming out every day unsettlingly, we're tracking all the major takeaways from every team's camp, be it good or bad, and what that could mean for each franchise heading into the season.
Keeping things going today, we examine all 32 teams' training camps to date, continuing things with the NFC West.

Head coach Steve Wilks said the team's starting quarterback spot is Sam Bradford's job to lose. The Cardinals will hope that Bradford can recapture the form that he found during his first year with the Vikings in 2016, where he ranked in the top three among quarterbacks in adjusted completion percentage (80.3 percent), deep passer rating (121.5) and passer rating under pressure (87.7). In the 12 years that PFF has recorded data, only two quarterbacks have ended the regular season ranked in the top three in each of those categories, with Robert Griffin III (2012) being the other.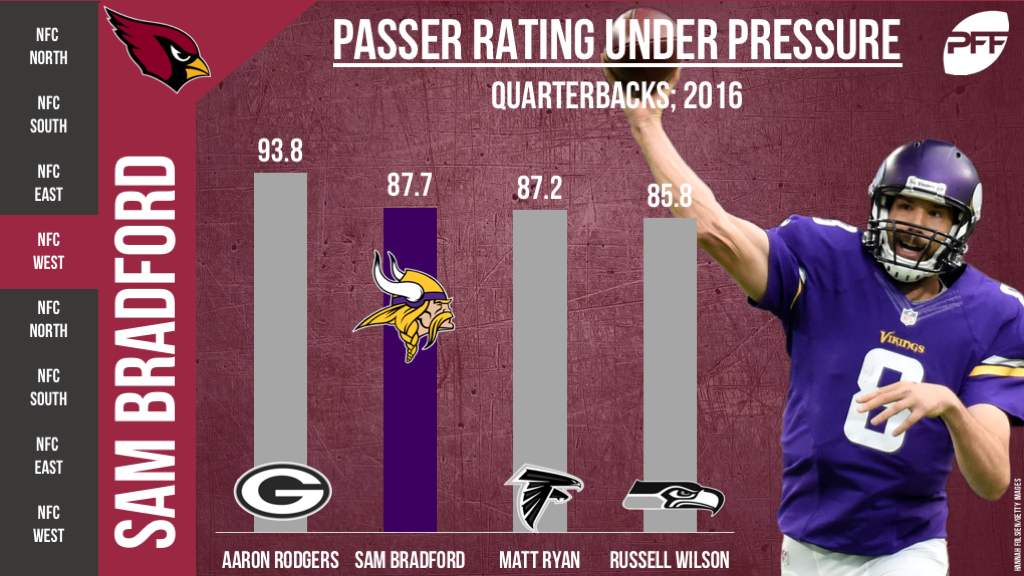 Sean McVay has said he is "really excited about" second-year wide receiver Josh Reynolds. The former Texas A&M star played sparingly in his rookie year, tallying just 282 snaps across 16 games and catching 11-of-23 targets for 104 yards and one touchdown. With a year under his belt and McVay at the healm of the offense, Reynolds could be given more of an opportunity to remind everyone of the promising college athlete who averaged 2.35 yards per route in his final college season, the ninth-most among SEC receivers with at least 50 targets.
ESPN's Adam Schefter reports that veteran receiver Doug Baldwin may miss most of the preseason. Baldwin suffered some soreness in his knee at the start of training camp and is being held out of team drills as a precaution. While Baldwin's absence may worry some fans, Head coach Pete Carroll seems unconcerned and fully expects Baldwin to be ready for Week 1. With Baldwin in the lineup, the Seahawks arguably own the best quarterback to wide receiver tandem in the NFL, as the duo excels at connecting on deep throws. Since Wilson entered the league in 2012, the pair has generated a passer rating of 134.4 on their passes of 20-plus yards downfield, which is good for first among the 27 duos that have tallied at least 100 deep passes over the last 12 seasons.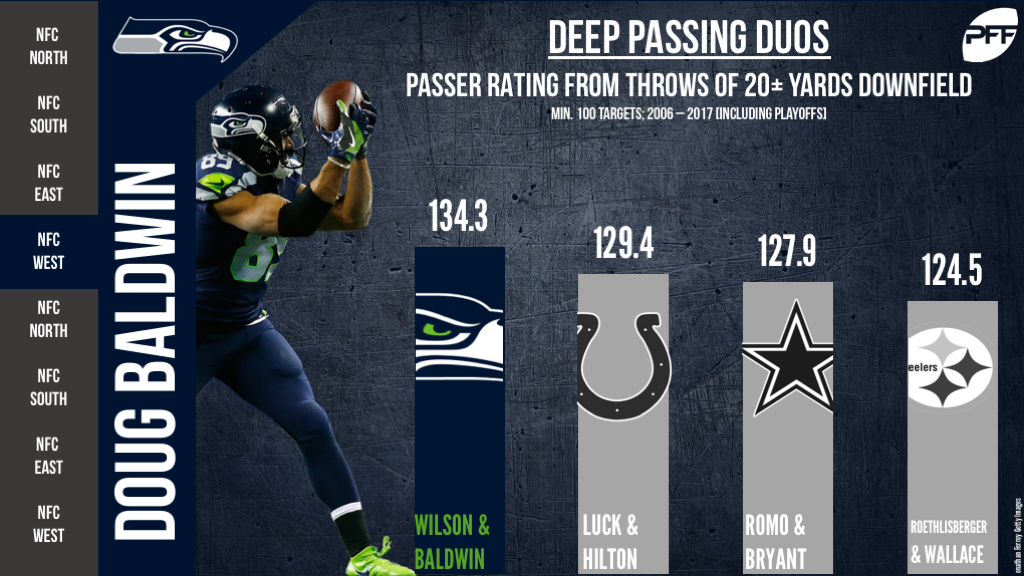 The Jimmy Garoppolo to Marquise Goodwin connection "grows stronger by the day," according to the San Jose Mercury News. Both players have looked good so far in team drills and the pair have reportedly been making quite the habit of connecting on deep passes. Last year, the duo connected on just one of their seven passes of 20 or more yards downfield, so the news of the newfound chemistry between the two should be welcomed with open arms.
PFF Training Camp Takeaway Series
---
AFC East | AFC North | AFC South | AFC West
NFC East | NFC North | NFC South | NFC West