We're hot on the trail of every NFL Training Camp as we progress into the first few weeks of the preseason. With injury news coming out every day unsettlingly, we're tracking all the major takeaways from every team's camp, be it good or bad, and what that could mean for each franchise heading into the season.
Keeping things going today, we examine all 32 teams' training camps to date, continuing things with the NFC East.

According to NBC's Peter King, Eagles quarterback Carson Wentz "looked absolutely, totally like the Carson Wentz who made this Eagles-rabid place swoon for three months last year." The Eagles remain non-committal about their Week 1 starter, but if Wentz looks as good as has been reported, there should be little doubt about who should take the reins in Week 1. Wentz enjoyed a spectacular sophomore season last year and ended the campaign with an offensive grade of 84.9 and a passing grade of 84.7, which were good for sixth and fourth among the league's quarterbacks, respectively.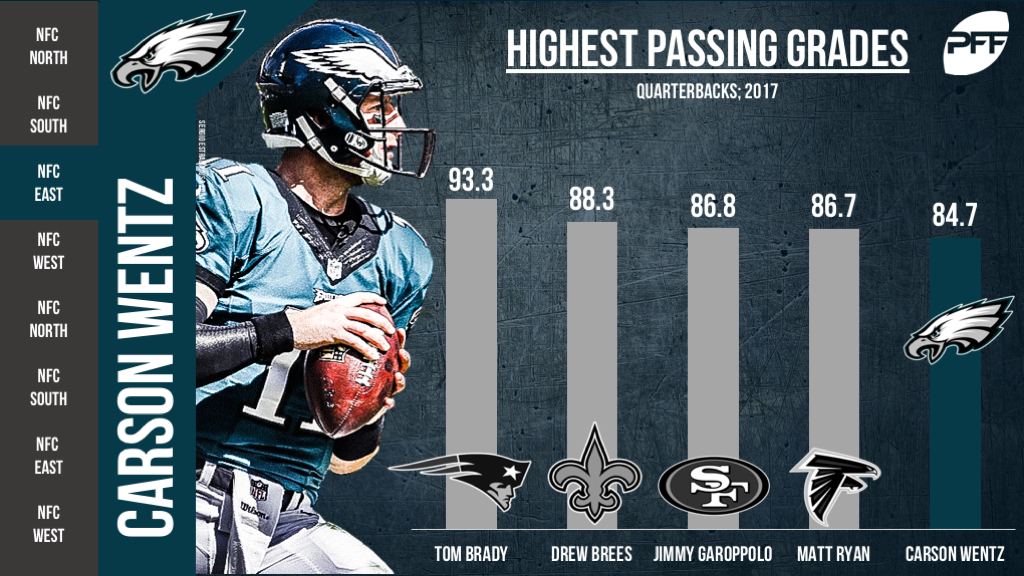 According to NFL Insider Ian Rapoport, the Cowboys have placed rookie receiver Cedrick Wilson on injured reserve with a torn labrum. It's a huge blow for the Cowboys receiving corps, who will now be counting on Michael Gallup to produce instantly in his rookie season. Wilson earned an overall grade of 89.2 for his performance last year after he finished second in the nation with 1,511 receiving yards on 83 catches while only dropping five passes all season long.
Running back Chris Thompson doesn't expect to be fully recovered until November, according to a report by ESPN's John Keim. Thompson enjoyed a breakout season as a third-down pass-catching weapon last year, catching 39-of-51 targets for 510  receiving yards, four touchdowns and prior to suffering a season-ending leg injury, he racked up a receiving grade of 89.9, which was the second-best mark among players at the position. Luckily for the Redskins, running back is one of the deepest positions on the roster and Thompson's role could very well fall to second-round rookie Derrius Guice, who graded well on his passing snaps when he was given the opportunity.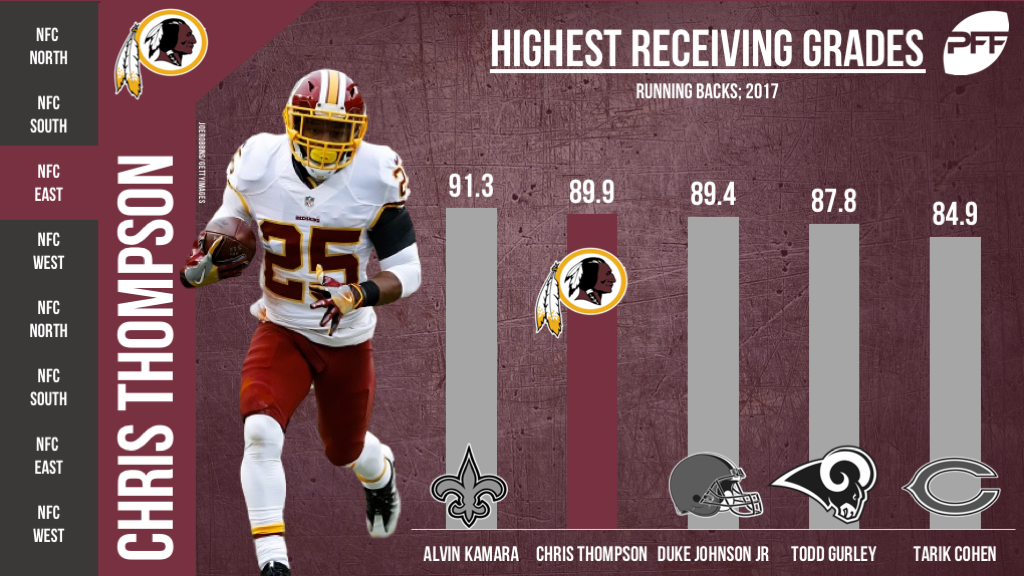 According to reports, star receiver Odell Beckham Jr. was "getting a lot of work from the slot" at Giants training camp on Thursday. Since entering the league in 2014, Beckham has run the majority of his routes (80.1 percent) from the outside but has produced great results when asked to work from the inside. Over the course of his career, Beckham has racked up an average of 2.70 yards per slot route run, which slightly betters his mark of 2.37 yards per route run on his pass patterns run from the perimeter.
PFF Training Camp Takeaway Series
---
AFC East | AFC North | AFC South | AFC West
NFC East | NFC North | NFC South | NFC West