With the draft in the rearview mirror, we are officially in offseason mode. Being months away from any real football being played, it's time to release the second ever Pro Football Focus Top 25 Under 25 – the 25 best players in the league that will be under 25 years of age at the start of the regular season.
This is our opportunity to display where the future of the NFL is heading and acknowledge both the young stars of the NFL and it's emerging talents. This list is based on the cumulative body of work for each player to date, factoring in grades, signature stats and team impact. In some situations, players with multiple seasons of "good" play were viewed favorably as opposed to players with a mixed bag or just one great season under their belt.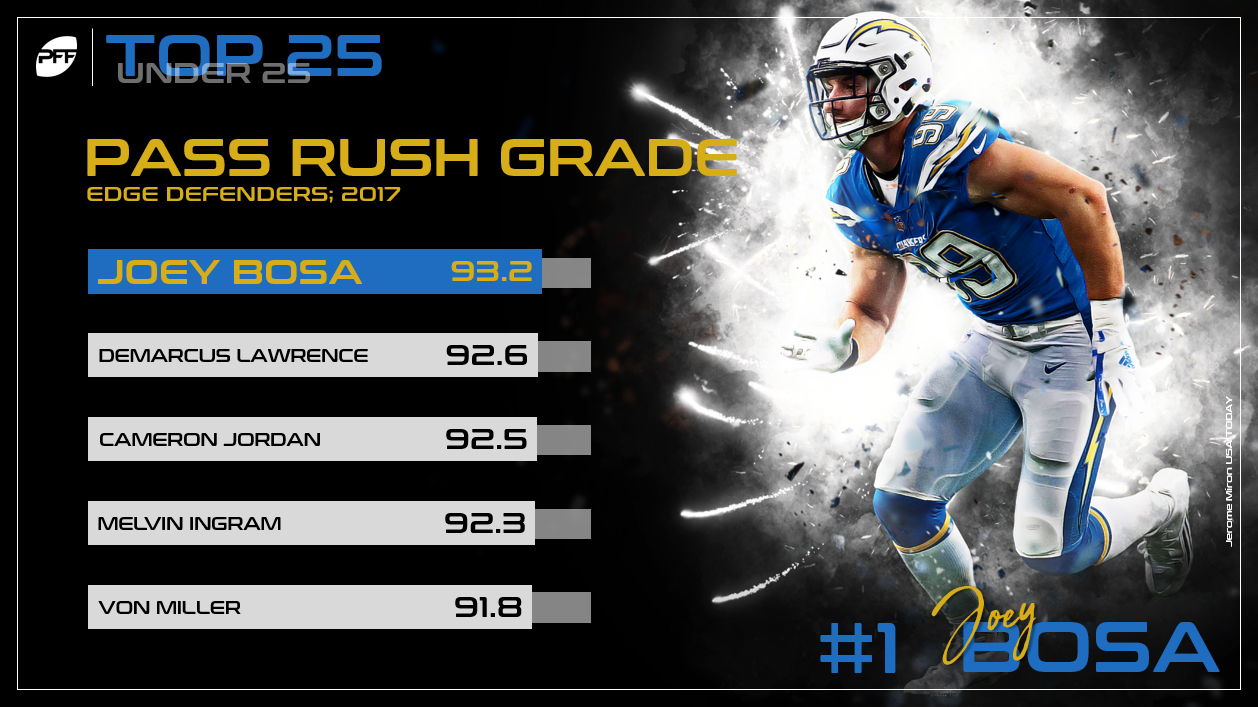 As a rookie in 2016, Bosa earned the highest-ever grade for a first-year edge defender at 89.8. His 59 total pressures that year (37 hurries, 11 QB hits, 11 sacks) were the most we have ever seen through a player's first 12 games, but he wasn't done there. Bosa took his play to another level in 2017, solidifying himself as not only an elite player for his age, but among the entire NFL. Bosa's 2017 pass-rush grade of 93.2 led all edge defenders while his 46 combined hits and sacks since entering the league in 2016 ranks sixth. At only 22 years old, Bosa could hold the top spot down for years to come.
With just two seasons under his belt, Ramsey has already catapulted himself into the "best cornerback in the league" conversation. Building on an impressive rookie season, he put forth a 91.8 overall grade in 2017 which ranked third among cornerbacks. Perhaps the most impressive part of Ramsey's performance is that his success has come while more often than not, shadowing opposing teams No. 1 receivers.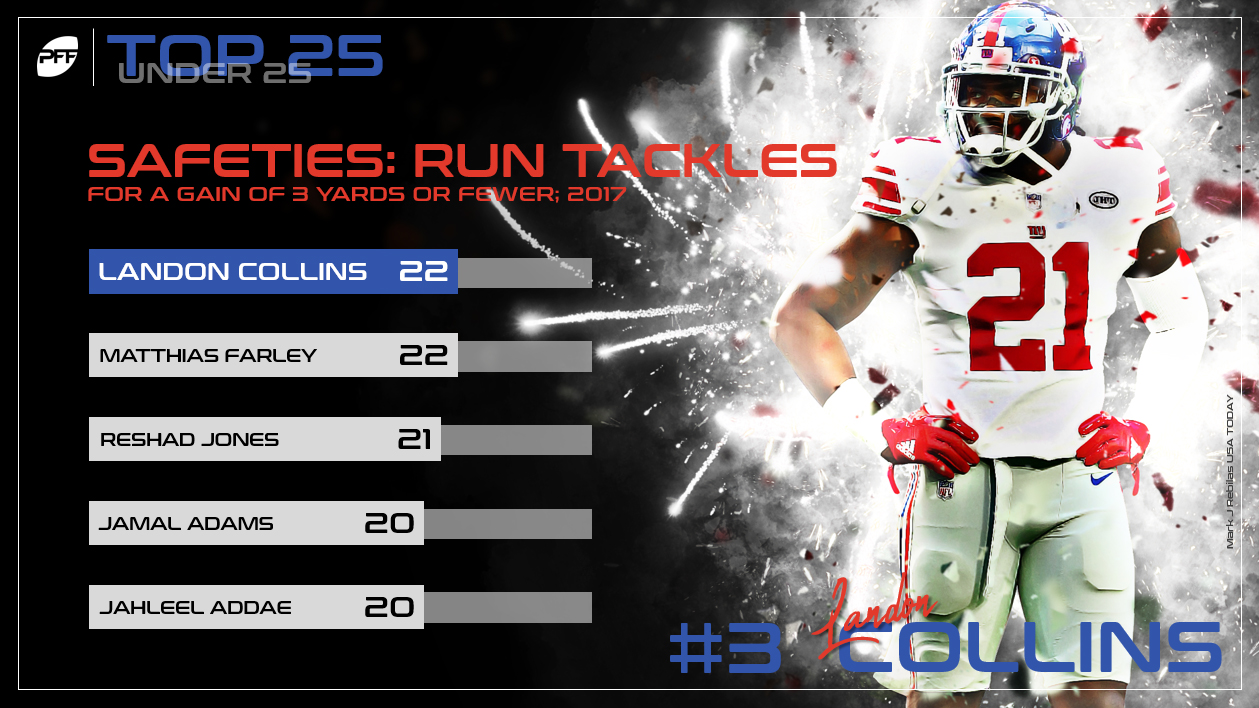 Collins' 2016 performance was one of the best for a safety in the PFF era. His 92.5 overall grade that year ranked sixth all time among safeties. This past year, on a Giants' team that saw regression at large, Collins managed to put up another near-elite season, checking in with an 88.5 overall grade. Over the past two seasons, no safety has racked up more than Collins' 46 run stops.
Buckner established himself among the elite this past season by putting up a 90.4 overall grade. He was incredibly disruptive as a pass-rusher where he racked up the fifth-most pressures among interior defenders with 52 and tied for the most combined hits and sacks with 23. He's done this all on an incredible amount of playing time, as since entering the league in 2016, no interior defender has played more than Buckner's 1,873 snaps.
Coverage defenders are becoming more and more valuable by the day, Jones entered the NFL at the perfect time. Immediately transforming the Falcons defense as a rookie, he has now become established as the premier cover linebacker in the NFL. By the numbers, Jones checks just about every box, most noticeably his 94.8 coverage grade in 2017 which was the second-highest mark for a linebacker in the PFF era. Jones isn't just great at locking down his man or zone, he has shown a serious propensity of making plays on the ball and tallied a position-leading nine pass breakups and interceptions combined in 2017.
White was 'Part A' of the two-part series known as 'rookie corners to light the world on fire' last season. The 2017 cornerback class as a whole is likely to be the gift that keeps on giving and as of right now, White is bringing home most of the early returns. His 92.0 overall grade as a rookie landed him at second among all cornerbacks. A coverage phenom, White forced incomplete passes on 24.1 percent of targets into his coverage, the sixth-highest rate among cornerbacks that played at least 400 snaps in coverage. He also only allowed a touchdown or a first down on just 26.4 percent of targets, the seventh-lowest rate. In total, he narrowly edge his counterpart for PFF's Rookie of the Year honors, following the season.
'Part B' of the aforementioned rookie duo, Lattimore was so sticky in coverage in 2017, targeting him was only a slightly more lucrative opportunity than spiking the ball into the ground and certainly a more a risky one. Lattimore allowed a passer rating against of just 45.3 (third among cornerbacks) while ranking third in playmaker index, intercepting or breaking up 22.1 percent of the passes thrown his way.
The only thing disappointing about the former No.1 overall pick's first year in the NFL is that he didn't play more as injuries delayed his start. Garrett jumped into action Week 5 and proved he belonged from the onset. Surrendering pressure to Garrett proved to be costly to opposing offenses as he converted 48.6 percent of his pressures into sacks or hits, tied for the fourth-highest rate among edge defenders with at least 250 pass-rush snaps. His 88.4 overall grade landed him just outside the top-10 among edge defenders.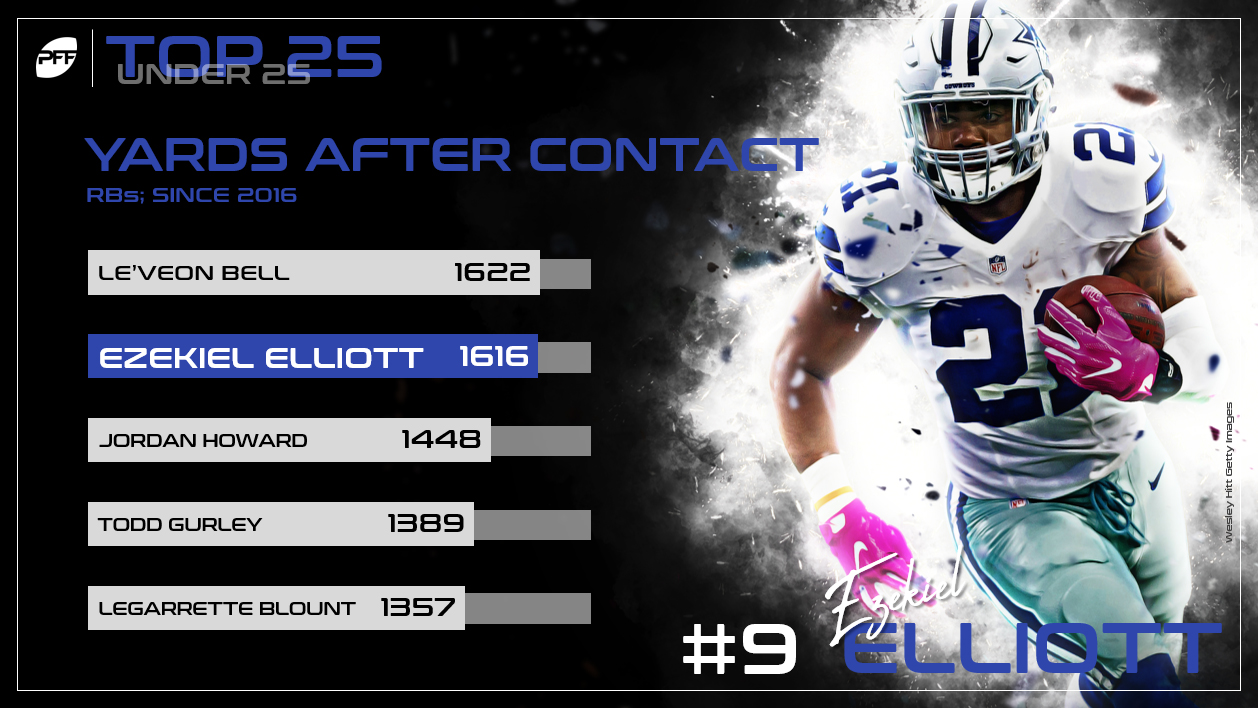 Elliott is the first of four running backs to check in on this list as he now has two good years on the field and he was able to edge out the other guys on this list whose top-end play have been spectacular. Elliott's elite vision has led to him breaking 30 runs of 15 or more yards over the past two seasons. Only two running backs have more breakaway runs than Elliott and neither of them missed six games due to a suspension. At just 22 years old, Elliott has two more years to try and get to the top of this list or maintain his spot as the No. 1 running back here.
Kamara broke onto the scene as a third-round pick and had one of the more incredible rookie campaigns we have seen. Forcing a ridiculous 57 missed tackles on just 201 touches and averaging 3.83 yards after contact per carry, Kamara led all running backs in elusive rating with a mark of 108.5 – the highest elusive rating ever recorded  for running backs with a minimum of 80 carries. Kamara immediately established himself as a mismatch nightmare in the passing game, leading all running backs in yards per route run at 2.84. To top off those two crazy accomplishments, his 90.2 overall grade in 2017 is the second-highest grade we've given to a rookie running back (Alfred Morris, 2012).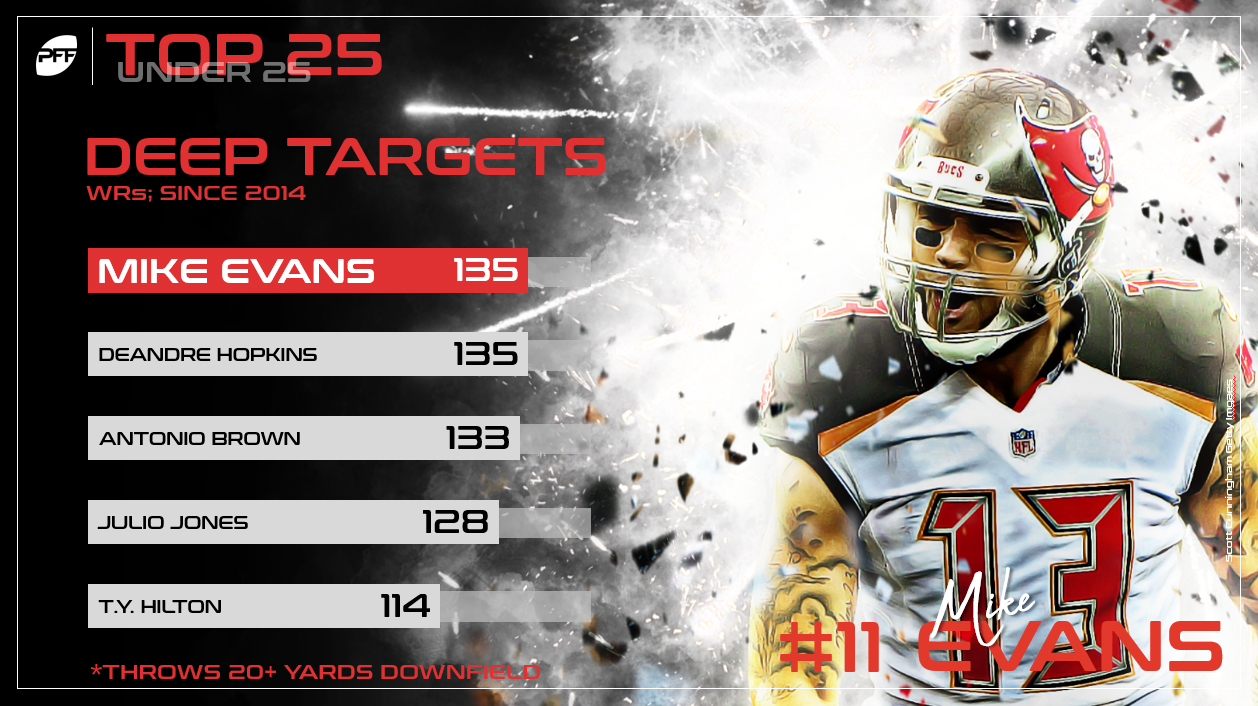 Evans is the only player to make the this list with four seasons under his belt already. In fact, Evans has graded as "good" or better in all four of them and his 2016 overall grade of 93.7 is the highest grade any under-25 receiver has put up and it's not even close.
Gurley started his career with a good rookie season in 2015 (80.4), bounced to a poor 2016 (50.7) and followed that up by checking in as the highest graded running back of 2017 (92.0). Gurley finished near the top in just about every PFF signature stat from missed tackles forced (fourth), yards after contact per carry (15th), breakaway runs (third). His main impact however, is in the passing game where he arguably helped his team the most, averaging 2.14 yards-per-route-run (fifth).
Another third-round pick a year ago, Hunt burst onto to the scene and saw immediate success. Simply put, Hunt was hard to tackle in 2017 as he forced a league-high 77 missed tackles. No surprise to see Gurley (92.0), Kamara (90.2) and now Hunt (88.9) round out the running backs on this list considering they finished first, second and third among running backs in overall grade.
Since arriving on the scene in 2016, Jones has provided the Chiefs with the interior pass-rush they had been missing. Over his first two years, he's put up 80 total pressures and 21 total combined sacks and hits. Jones has graded well in each of his first two seasons and his 2017 88.2 overall grade was a nice jump up from his 84.4 rookie campaign.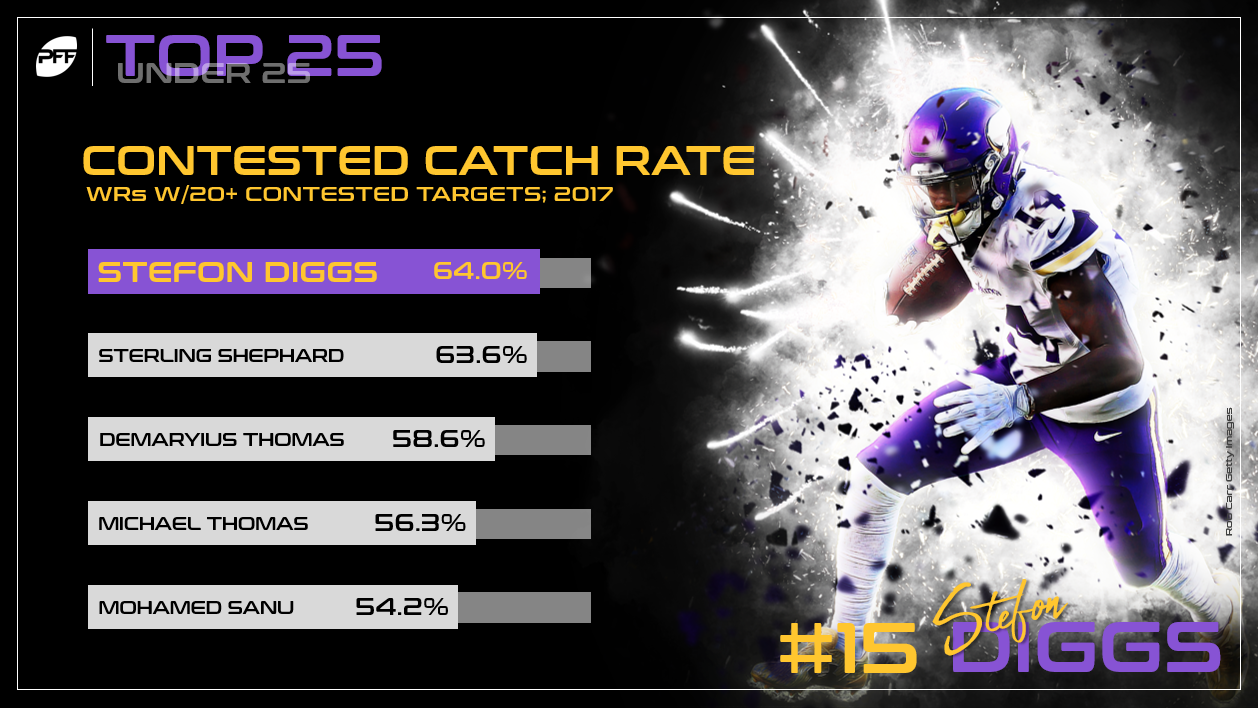 Diggs has been nothing but solid during his first three years in the NFL. In 2017, he elevated his game into "very good" territory by earning the eighth-highest wide receiver grade at 85.4 overall which landed him on the PFF Top 101 for the first time. For a smaller receiver, Diggs sure has a knack for helping out his quarterback leading all receivers in contested catch rate in 2017 (64.9 percent).
Williams' play has been incredibly consistent since being drafted in the top-10 of the 2015 draft as he is yet to record a single year-long grade under 84.8 overall. While 2017 wasn't his best, he was still disruptive as both a pass-rusher and defending the run. Over the past two seasons, Williams has notched 37 combined sacks and hits, and among interior defenders, only Aaron Donald has more.
In his second year, Ngakoue had a breakout campaign playing on a loaded Jaguars defense. He established himself as a premier pass-rusher, producing the fourth-highest pass-rush-productivity among edge defenders (12.8) and ranking inside the top-15 in pass-rush grade (86.2). If Ngakoue can improve as a run-defender, he is a strong candidate to shoot up this list next year.
One of the most electric players in the league, Hill racked up a league-leading 628 yards on deep catches in 2017 and scored six touchdowns on such receptions. He was also incredibly efficient as quarterbacks had a passer rating of 130.5 when targeting him, the second-highest mark among receivers.
After earning a top-10 grade among offensive tackles as a rookie (88.6 overall), Conklin's overall play dipped just a touch in 2017 but was still good enough to rank 13th out of 81 qualifying tackles with a mark of 81.8. Through his first two seasons, Conklin has allowed just four sacks on the quarterback in pass protection.
The first quarterback to grace the list, Winston has finished all three of his career seasons graded 80.0 or above, making it hard to make the case for another quarterback to jump him. Winston has flashed the potential that made him the No. 1 overall pick in 2015. including this past season, he was more productive than any quarterback not named Tom Brady while under pressure, producing a passer rating of 84.4.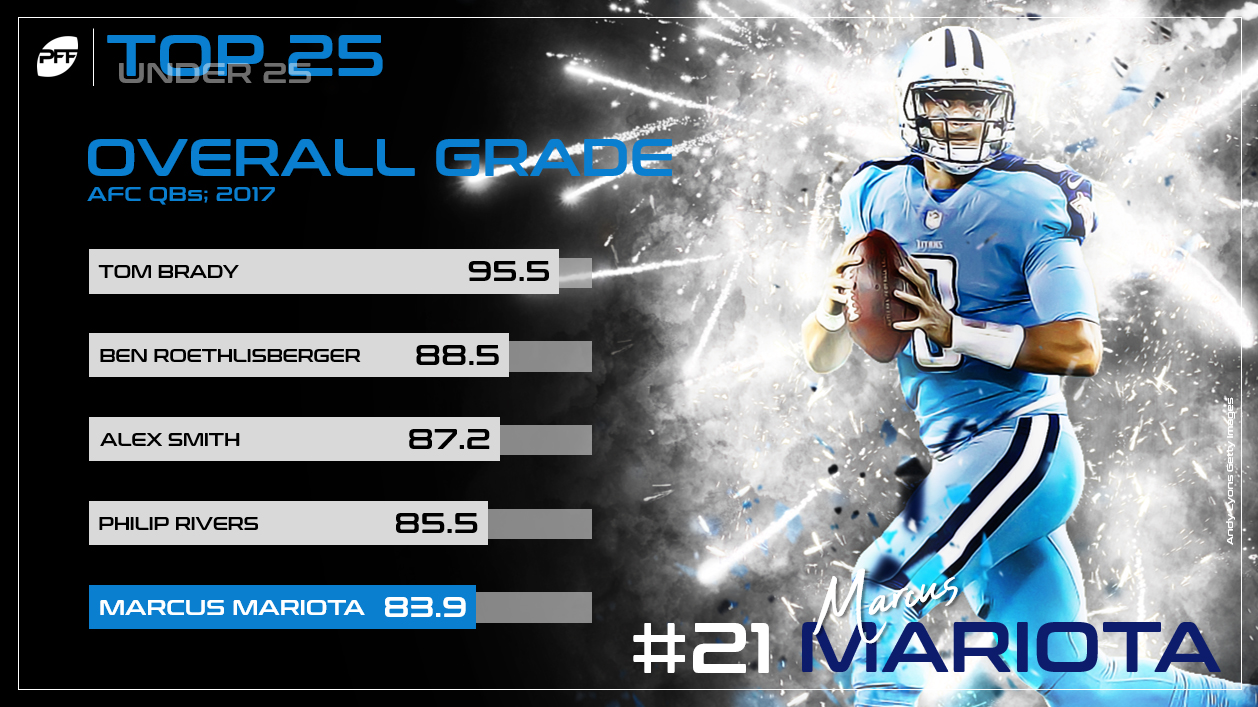 After two mediocre seasons to start his career, Mariota seemingly had his breakout this past year. While traditional stats don't tell the full story, Mariota earned the 12th-highest grade among quarterbacks with a mark of 83.9. He also excelled in several other non-traditional box score areas, including his big-time-throw percentage. Mariota ranked sixth out of 41 qualifiers on big-time throw percentage and also had the third-highest grade while under pressure.
At just 24 years old, Byard's play on the field makes a case as one of the best deep safeties in the league. While he might not be there quite yet, his 15 pass breakups and interceptions combined with his 89.0 overall grade last season are certainly the start of a strong resume.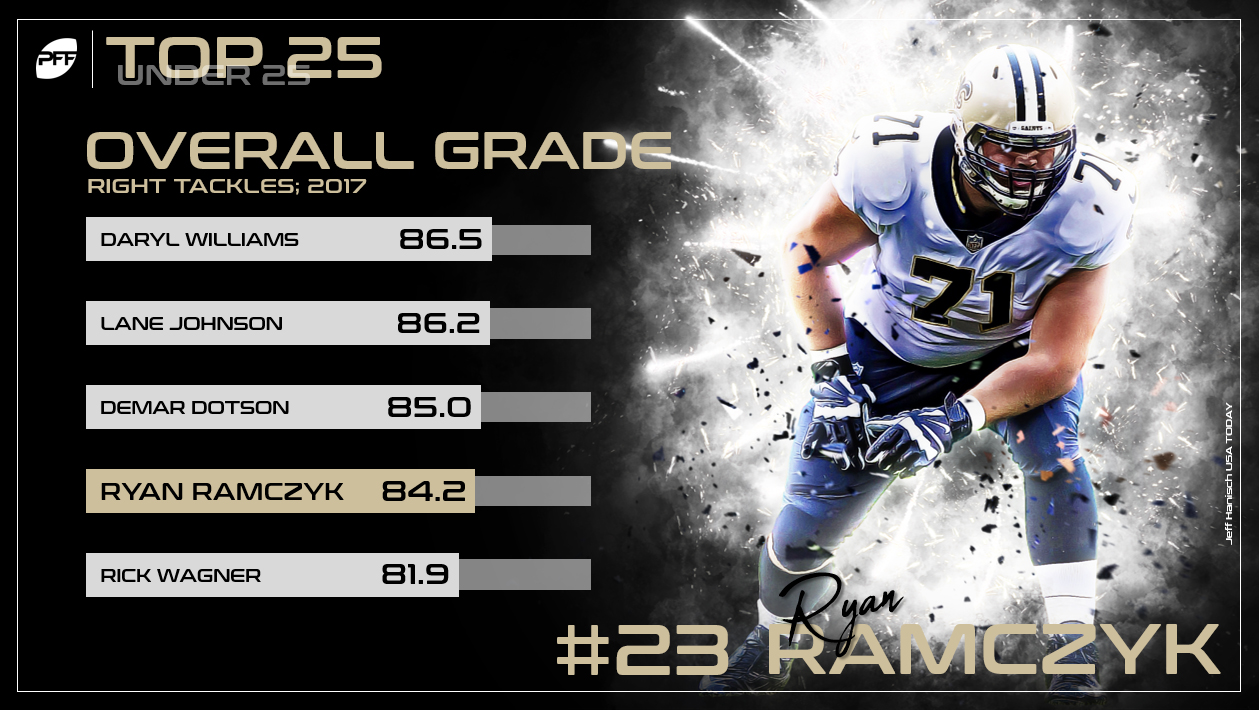 The third Saints member of the 2017 NFL Draft class, Ramczyk immediately made his presence known ranking inside the top-10 among tackles as a rookie with an overall grade of 84.2. From Week 10 through the playoffs, he was arguably the best tackle in the league excelling as both a run-blocker and in pass protection. Outside of one hit surrendered, Ramczyk kept his quarterback completely clean of any pressure over his last eight games.
Thanks to a time share with future Hall of Fame TE Antonio Gates, Henry quietly had a top-notch year posting the second-highest grade among tight ends (88.0) in 2017. Impressively, he ranked inside the top five in both receiving grade (84.9) and run-blocking grade (81.5). When given the opportunity in the passing game, Henry was the second-most efficient tight end, producing 2.05 yards per route run.
Darby makes his second appearance on this list, now with three seasons under his belt. He has graded very well in two of them including the 23rd-ranked 84.2 overall grade in 2017. When quarterbacks targeted his coverage last season, they didn't get much in return, collectively producing a 57.2 passer rating.