If someone asked you who you thought had been the best cornerback over the past five years, who would you say? What about wide receiver? Even if you had just a vague interest in football you might mention names like Chris Harris Jr. and Antonio Brown. Both of these guys have consistently been among the best at their positions for quite some time — and it just so happens that we will get to watch them face off twice next season after Brown's arrival in Oakland.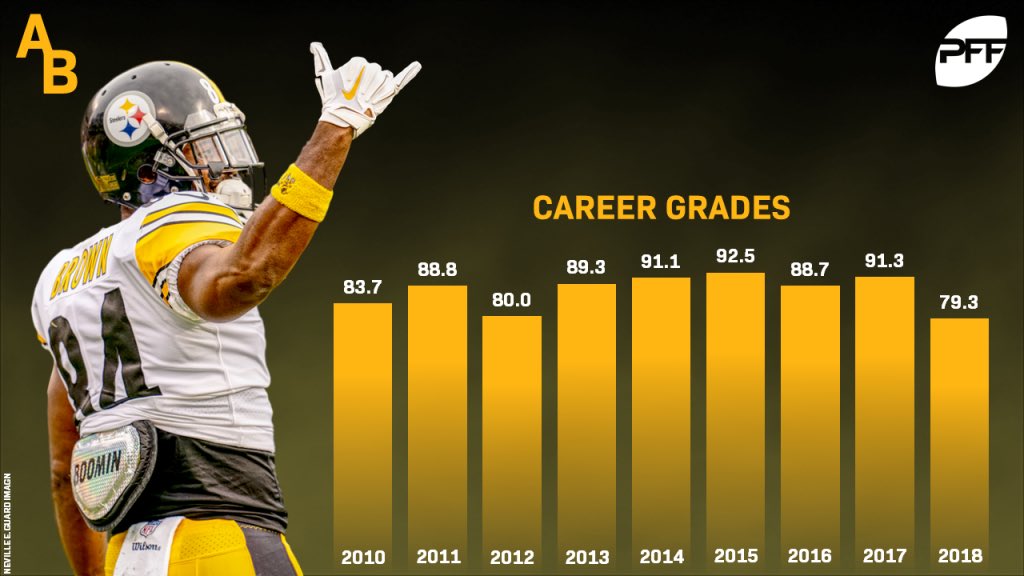 Antonio Brown's five-year receiving grade of 93.9 ranks second among qualifying wide receivers in that timeframe, trailing only the great Julio Jones (95.0). Last season, Brown finished with the lowest single-season overall grade (79.3) of his career, but he still ranked a respectable 27th out of 108 qualifying wide receivers. Regardless of his career-low grade last year, Brown is still arguably the most polished receiver in the game; from his route-running to his sure-hands, Brown is a master of the wide receiver position and he should finish as one of the league's top pass-catchers yet again next season.
Chris Harris Jr., on the other hand, is arguably the best cornerback in the game. Over the last five years, Harris' overall grade of 93.8, which ranks first among all qualifying cornerbacks and is one spot ahead of Casey Hayward (92.9) and three spots ahead of Richard Sherman (91.0). Harris has shown no signs of slowing down at 29 years old, as he finished last season with his fourth-highest single-season grade (86.1) and allowed his second-lowest single-season passer rating (64.6).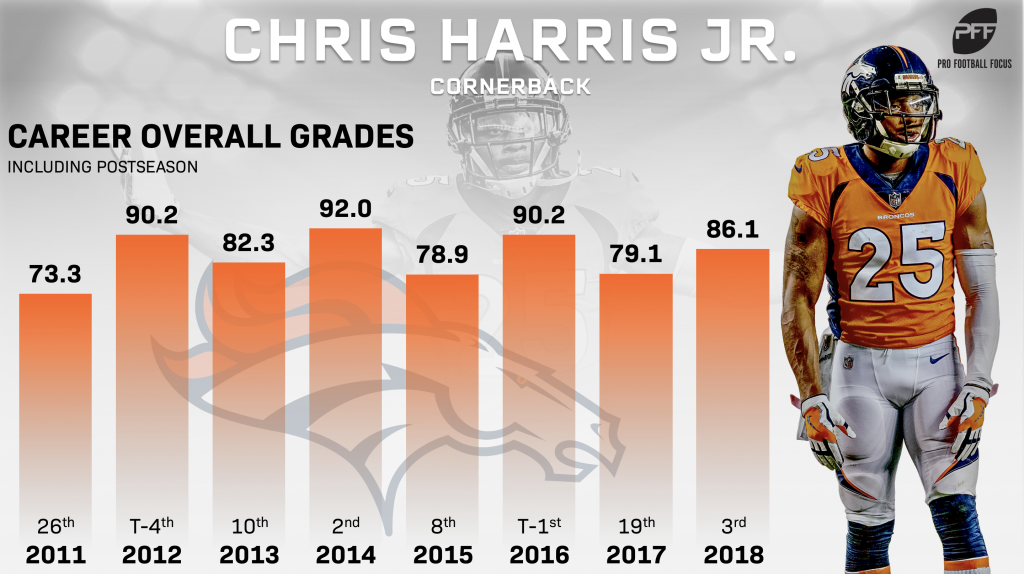 Brown and Harris are both versatile players, as they both perform at a high level whether lined up in the slot or out wide, and they are also two of the most efficient players at their positions as proven by their per-snap metrics. Over the course of his career, Antonio Brown has gained an average of 2.45 yards per route run when lined up outside, ranking third among 104 receivers with at least 100 routes run in that span; when lined up in the slot, Brown has gained an average of 2.54 yards per route run, ranking third among the 157 receivers with at least 500 routes run from the outside.
On the other hand, Chris Harris has allowed just 0.85 yards per cover snap when lined up outside over the course of his career, ranking second among all qualifying cornerbacks and just one spot behind Richard Sherman (0.81). In the slot, Harris has allowed just 0.89 yards per cover snap, ranking third among cornerbacks with at least 500 slot snaps since 2011.
Now that Brown is wearing the silver and black – and Harris still wearing the orange and blue after a contract revision – we will all get the treat of seeing two of the best to ever do it go against each other twice next season. But before that, let's revisit their previous meetings. The last matchup between the two took place last season in Week 12, with the Broncos beating the Steelers in a close game in Denver.
Antonio Brown actually had his lowest single-game grade (55.1) of last season in the game against the Broncos, while Chris Harris earned his third-highest single-game grade (80.4) against the Steelers. Brown saw three targets vs. Harris, and he caught all three balls for just 18 yards and no first downs or touchdowns, while Harris also had one interception as a secondary defender against Brown. Regardless, you can say Harris won their last matchup, but that hasn't always been the case; in fact, it's been far from it.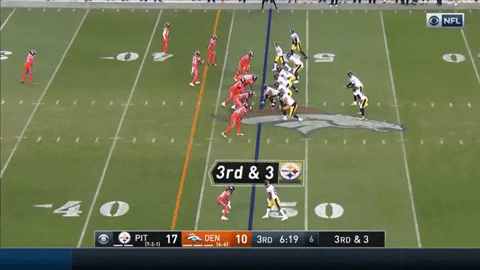 When lined up outside, Harris has allowed a passer rating higher than 100.0 to just one wide receiver (with a minimum of five targets) over the course of his career, and that receiver is none other than Antonio Brown. Brown has been targeted 15 times against Harris when lined up outside, catching 13 balls for 141 yards, six first downs and two touchdowns, which generates a passer rating of 117.6. No other receiver comes close to that number against Chris Harris when lined up outside.
When lined up in the slot, Antonio Brown has generated a passer rating of 109.2 against Chris Harris, which is the fourth-highest mark any receiver has against Harris in the slot (with a minimum of five targets). In total, Brown has exactly five targets against Harris in the slot, with five receptions, 51 yards and two first downs. The only receivers who have generated a higher passer rating against Harris in the slot are Wes Welker (122.2), Keenan Allen (135.1), and Percy Harvin (158.3).
Much of Antonio Brown's success against Chris Harris came in their matchup back in Week 15 of the 2015 season, when Brown put up 12 catches, 137 yards, two touchdowns, six first downs, and generated a passer rating of 150.2 against Harris. At the time, Harris had gone two years without allowing a touchdown, yet he allowed two to Brown in that game (the second touchdown is shown below). Their only matchup since then took place last season, which, as stated earlier, went to Harris.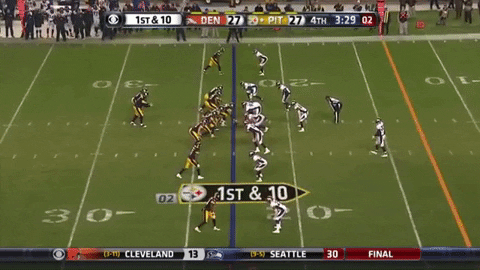 In total, Brown and Harris have played against each other in four games during their NFL careers, but the first two matchups were uneventful, as neither of them was as established as they are now. The first game between the two took place back in 2011 when Brown caught his lone target against Harris for five yards, and the second game took place in 2012 when Brown caught both of his targets against Harris for a total of 32 yards and two first downs. Fast forward to 2019 and both players are in their primes, having split their last two matchups.
Going into the 2019 season, Chris Harris has a chance to get revenge against one of the very few receivers to have significant success against him. On the other hand, Brown has a chance to further showcase how great he is, even against elite cornerbacks like Harris. Both of these players have achieved all there is to achieve at their positions, and at this point, one of the few things they have left to prove is who is better between them.
We will have to wait until Monday night football on the opening week of the season for the next installment in Brown vs. Harris, and none of us should take it for granted, after all, we'll be watching two masters at work. Two of the very best to ever do it are on a head-to-head collision course come September.