The seemingly-everlasting, drama-filled saga that was Antonio Brown's culmination of his tenure in Pittsburgh finally found a resolution early Sunday morning, as NFL Insider Ian Rapoport announced he had been traded to the Oakland Raiders. While just about every report was scrutinized and some even dispelled, Brown made his own announcement via his Twitter account, which caught the NFL world reeling after a week full of transactions and trades left even the hungriest proponent of change in need of a break.
Recent drama aside, Antonio Brown is one of the National Football League's best at his position  — and has been for many years — but now he'll also get paid like it. According to Rapoport, the Steelers will receive a third-round pick and a fifth-round pick in the upcoming NFL Draft, while Brown will also get a reworked contract that will see him collect a maximum of $54.125 million over the next three years.
No receiver who has seen at least 250 targets since 2010 has graded out higher than Brown, as his 94.6 overall grade sits firmly atop the league's best of the best over the past nine seasons since he entered the league. That's a list that includes the likes of Julio Jones, Calvin Johnson, Odell Beckham Jr., A.J. Green, and new-to-the-scene star, Michael Thomas.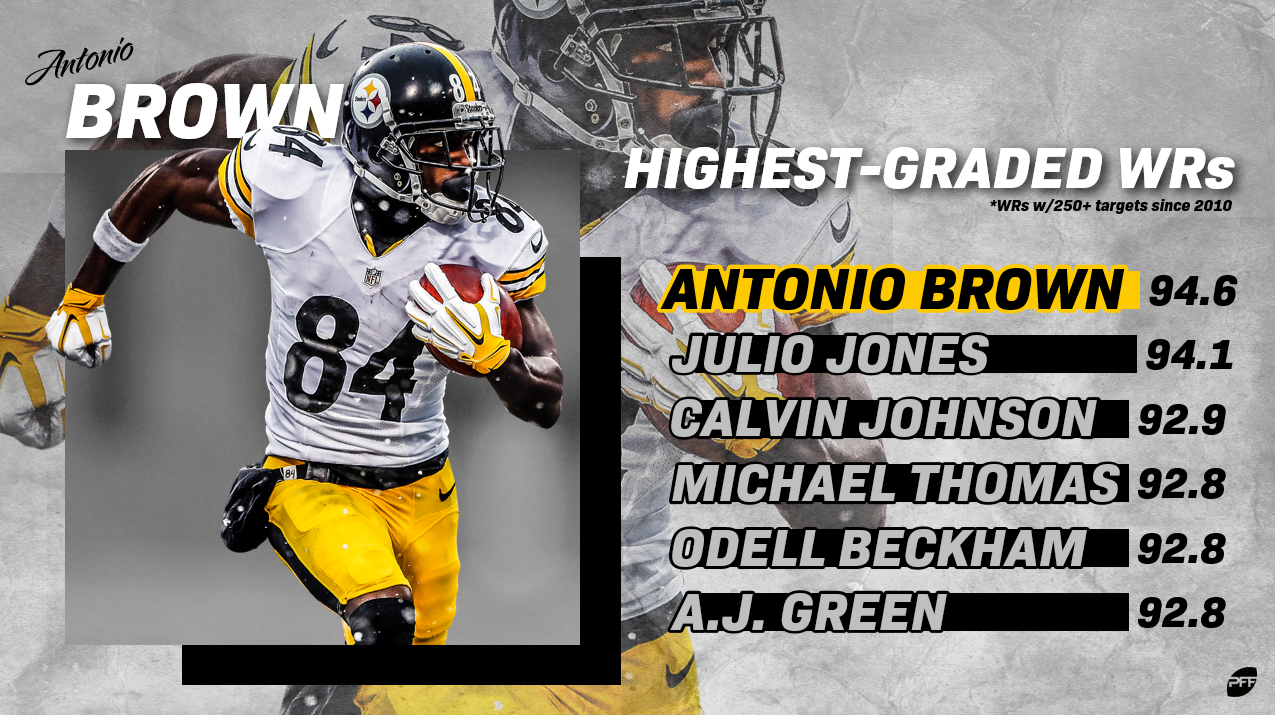 Brown has made a living by using what some would call a smaller frame for the wide receiver position as he broke the mold of what a sub-6-foot receiver could do in the generation of the pass-happy NFL. Brown can win all over the field and it doesn't matter who tried to cover him, he won more often than not.
With Brown leading the charge at receiver, the Steelers have been a perennial threat to not only make the playoffs but open every season with Super Bowl aspirations in each of his professional years. Brown's rapport with Ben Roethlisberger, although perhaps tarnished upon his non-serendipitous departure from the Steel City, was second to none over the past nine seasons.
Since 2010, no receiver has recorded more receptions (837), yards (11,207), yards after the catch (4,076), touchdowns (74) or first-down receptions (471) than Brown and his yards per route run of 2.45 is second only to Julio Jones. Still just 31 years old when we kick off next season, Brown can win in many ways, ranking second in missed tackles forced after the reception with 105 while he has dropped just 35 of the 872 catchable passes thrown his way in that span.
His historically-low drop rate of just 4.01% on catchable passes is the third-lowest behind only future Hall of Famer Larry Fitzgerald and current PFF record holder for most single-season receptions without a drop Deandre Hopkins since 2010 among receivers with at least 1,000 targets.
Brown will join a team in Oakland that is devout of a playmaker at the position after jettisoning Amari Cooper midseason to the Cowboys in 2018. The question is, will Derek Carr be able to get the ball to AB84 like his previous employer's quarterback was, and will that be enough to win some games for the Raiders?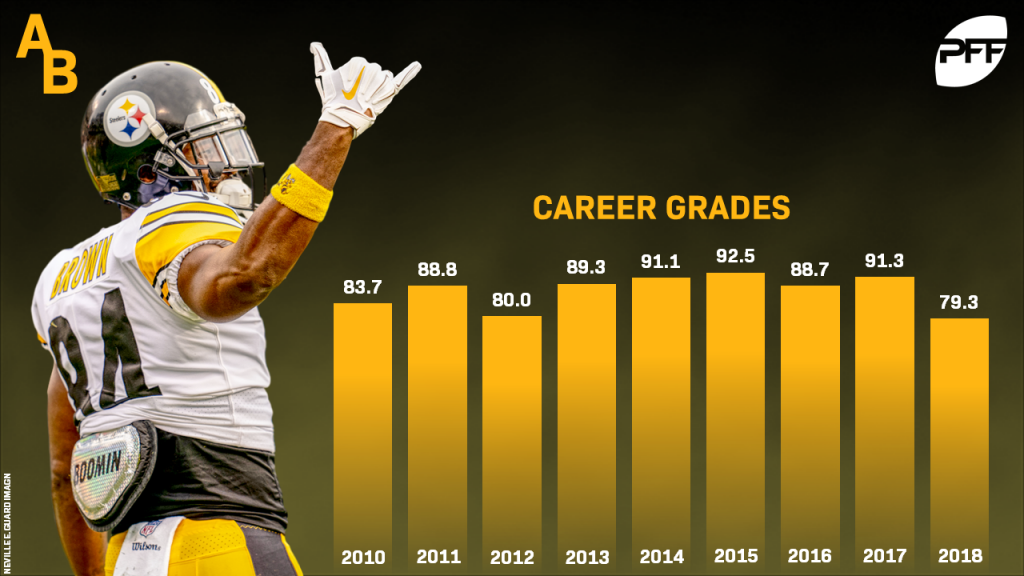 One this is definitely sure, in a league where receivers are becoming more and more important, Brown is far from the average player and his value to his new team should not be underappreciated. In fact, in seven of his nine seasons to date, Brown has been worth at least 1.20 wins above replacement and that's understating his value in the years in which he was arguably the best receiver in football. From 2013 to 2017, Brown averaged over 2.5 wins above replacement, capped by his remarkable 2015 campaign that saw him finish with career-highs in overall and receiving grade.
Throw it to him long (99.0 grade on targets 10 or more yards downfield, 4th) or throw it to him short (83.0 overall grade on targets behind or 0-9 yards past the line of scrimmage, 7th), Brown is and has been the league's top receiver, and maybe a change of scenery is what he needed to refresh what is perhaps one of the top careers of any receiver in recent memory.