When the Tampa Bay Buccaneers selected linebacker Devin White with the fifth overall pick in this year's draft, they got themselves the prototypical modern-day linebacker. White is extremely athletic – as evidenced by his 4.42 40-yard dash – and he can blitz, knife into the backfield to stop the run and also drop back in pass coverage with the best of them.
There is no denying that coverage is the strongest part of White's game. After all, he earned an elite coverage grade of 91.6 last season that ranked second out of 518 qualifying linebackers, and that led to us giving him the edge over fellow linebacker Devin Bush before the draft. But one can argue that White was drafted by the Bucs for his blitzing ability just as much as his coverage ability. In fact, over the last two seasons, White produced a staggering 70 total pressures on 188 pass-rush snaps.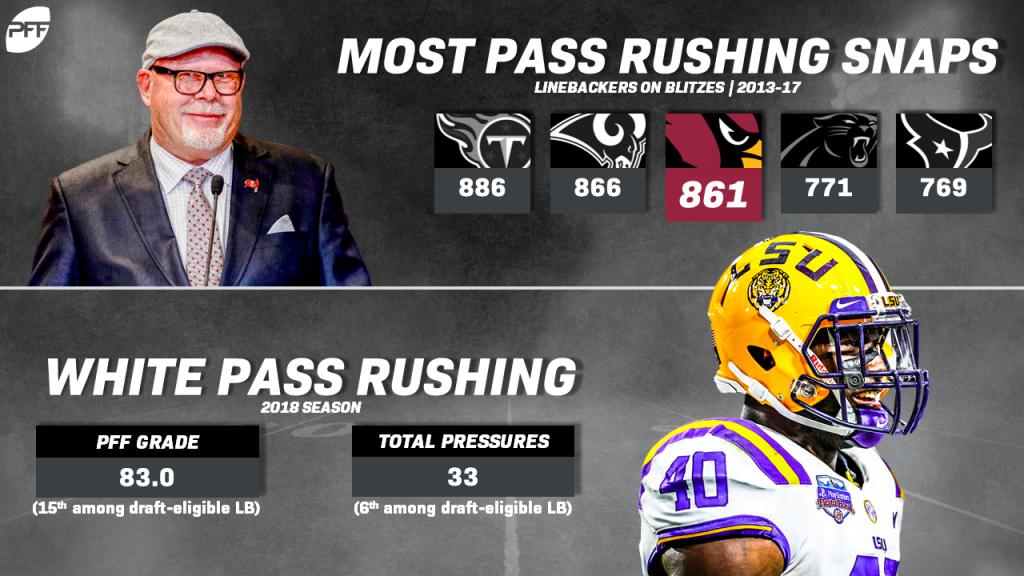 In Bruce Arians' time with the Arizona Cardinals from 2013-2017, his linebackers notched 861 pass-rushing snaps on blitzes, which was the third-most at the position during that time span, trailing only the Titans (886) and Rams (866). As a head coach with a tendency to relentlessly send linebackers on blitzes, who better to have as a linebacker than Devin White?
The former LSU star terrorized college offenses when he was asked to rush the passer, and he's no stranger to doing so, as he spent 21.2% of his passing snaps last season rushing the quarterback. Among Power 5 linebackers who have at least 100 blitzes over the last two seasons, White ranks first in pass-rush productivity, one spot ahead of fellow linebacker Devin Bush. As our lead draft analyst Mike Renner said during our live coverage of the draft, he is freakishly good as a blitzer and treats running backs like speed bumps.
White earned a pass-rushing grade of 83.0 last season, which marked a career high for him after improving upon his 79.7 pass-rushing grade the year before. On 101 pass-rush snaps last season, White recorded 33 total pressures (20 hurries, nine hits, four sacks) — that equals out to an absurd pressure rate of 32.7%.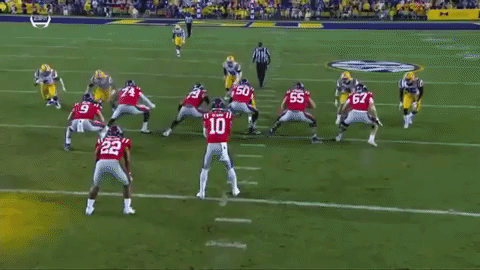 White had to go against top competition in the SEC, and he was more than able to handle it. His best game from a pass-rushing standpoint last season was against Ole Miss when he earned a season-high pass-rushing grade of 85.6 and recorded four total pressures on just four pass-rush snaps against a team that finished with the country's 13th-best pass-blocking grade (86.3).
Of course, White isn't just a blitzer. He earned a solid 73.3 grade in run defense last season, as well as a 70.8 tackling grade to go along with his elite 91.6 coverage grade. White going to Tampa Bay seems like a perfect fit in the blitz-heavy scheme under Todd Bowles, who was the defensive coordinator for the Cardinals under Bruce Arians from 2013-2014.
Arians had some good defenses during his tenure with the Cardinals, with his highest-graded defense being the 2016 team, which earned a defense grade of 85.4 that ranked third in the league. Having Devin White – who we ranked as the best off-ball linebacker in this draft class – at his disposal will be a huge boost to Arians' defensive scheme and could very well end up with Arians having one of the top defenses in the league once again.