Fitted with ideal length and 4.42s speed, Central Michigan cornerback Sean Bunting is (rightfully) coveted for his measurables. His testing at the 2019 NFL Scouting Combine bodes well for his potential at the next level, but high ceilings don't mean much if they're never reached on Sundays.
Bunting, contrary to the surplus of projects with significant potential that never pan out in the NFL, has a high ceiling well within reach due in large part to his game-week preparation.
Going into his Week 5 bout with Michigan State wide receiver Felton Davis III, one of the better wideouts in the Big 10 a year ago, Bunting went through his weekly routine. He watched film on Davis all week and poured over his graduate assistant-provided spreadsheet that detailed every route that Davis had ran in the weeks prior, the depth of his routes, where he caught the ball, and more.
"It's a real in-depth, detailed paper version of what you're watching on film," Bunting said in an April interview with Pro Football Focus. "So, it just puts it right in front of your face and shows you exactly what [the receiver] does."
The result? Bunting logged a pass breakup and an interception from two targets when covering Davis that week. The latter was a product of running Davis' post route for him in the end zone in the first quarter of the contest.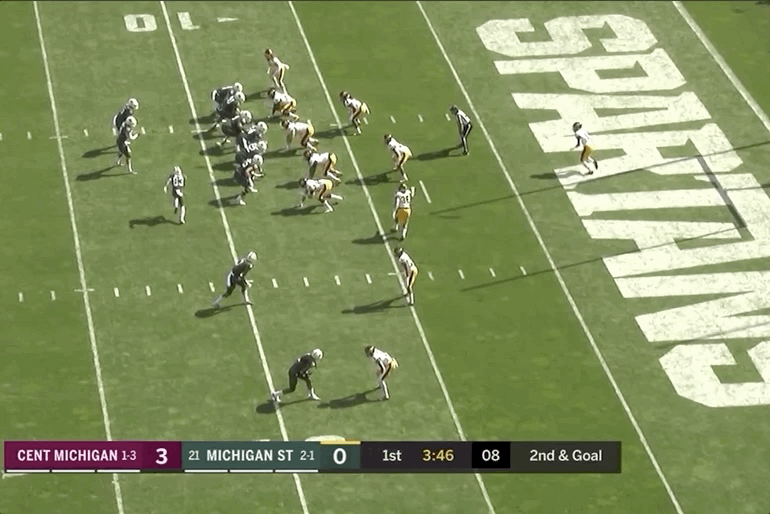 "I take a lot of pride in film study and just knowing the receiver, knowing him more than he knows himself," Bunting said. "I watch the same receiver that I'm going against every single day of the week, all day, all night and between classes.
"I definitely need to know who I'm going against. I need to know what his tendencies are… I just put a lot of time into watching guys and taking tendencies out of guys and using them against them."
Bunting's concerted effort to know his opponent inside and out is reflected in his advanced stats and grading.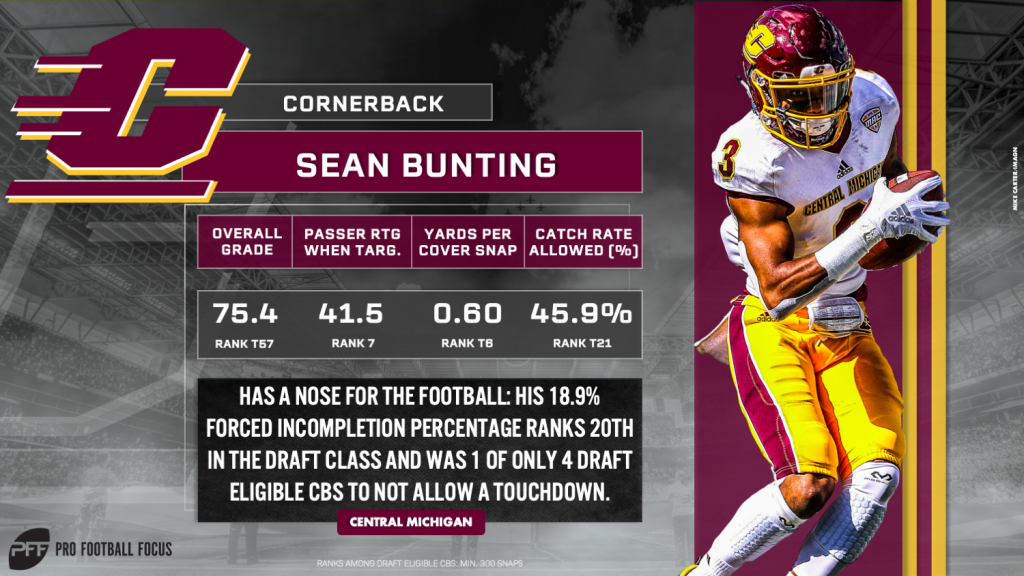 Among the 159 cornerbacks entering the 2019 NFL Draft with 600-plus defensive snaps played in the last two seasons, Bunting ranks 14th in overall grade (89.8) and 13th in coverage grade (90.1). Also, his two-year passer rating allowed (48.5) and yards allowed per coverage snap average (0.75) rank sixth and eighth, respectively, among the class' cornerbacks with at least 50 targets since 2017.
Where Bunting's great length and speed take over is his downfield coverage. Route recognition, of course, helps at the intermediate and deep areas of the field, but his high-end athletic ability take over when he's tested in such areas.
In 2017 and 2018 combined, Bunting allowed receptions on just 22 of his 76 targets of 10-plus air yards for only 370 yards and three touchdowns. His completion percentage allowed (28.9%) and passer rating allowed (20.9) ranked tied for 14th and third, respectively, among draft-eligible cornerbacks with 40 or more targets of 10-plus air yards in the last two seasons.
But Bunting rarely brings up his measurables as key strengths in his game; he, instead, points back to his preparation.
"Once you really buy into the film watch and buy into what you see and trust what you see, you can make a lot of plays on the ball," Bunting said. "You can be more aggressive at times because you've already seen the play happen… It becomes repetitive in your head. You'll already know what's going to happen before it happens."