Since 2007, the San Francisco 49ers have had the luxury of possessing one of the NFL's best offensive linemen. A rarity in today's game, 49ers left tackle Joe Staley is entering his 13th season with the same team, and he is still one of their highest-graded offensive players. Not many can match the resume he's been putting together, and despite playing for seven different head coaches, Staley has been busy building his case for being one of the best left tackles of his generation.
Throughout his career, Staley has proven to be a well-balanced offensive lineman by excelling in both the passing and running game, and the numbers speak for themselves. For starters, Staley's career pass-blocking grade of 86.6 ranks 12th in the PFF era (2006-present) among left tackles with at least 100 career snaps. However, it's been run-blocking where Staley has truly excelled, ranking second in the PFF era with a career run-block grade of 92.4. He also owns the third-highest single-season run-block grade in PFF history by a left tackle, accumulating a mark of 92.4 over 19 games (including postseason) in 2012, and on a game-by-game basis, Staley's name appears twice when looking at the top-15 graded games by a left tackle.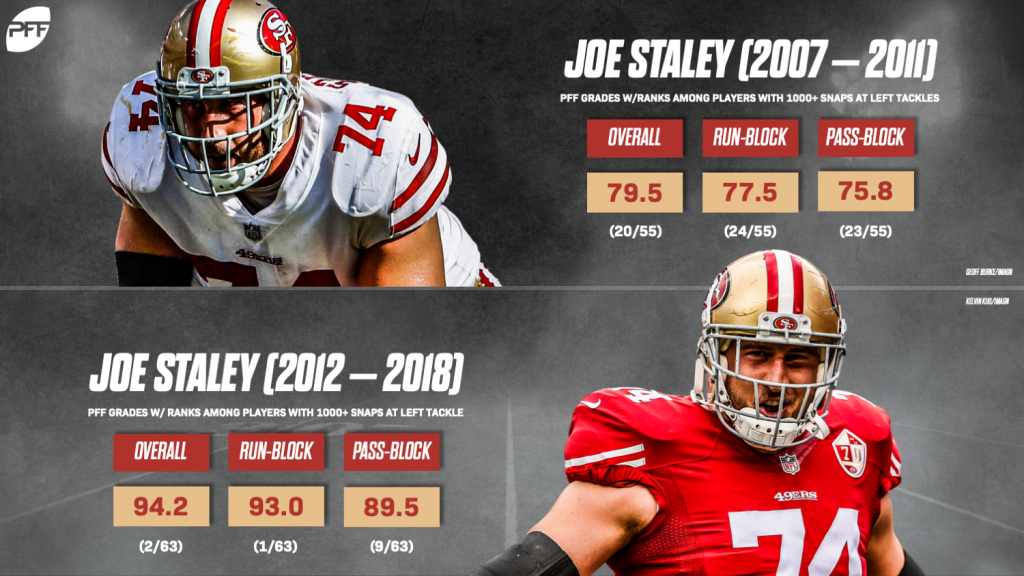 Taking a deeper dive into his run-blocking expertise, Staley has earned two of the top-six single-game run-blocking grades by a left tackle. The highest of two came in Week 16 of the 2014 season, where on 34 run-blocking snaps Staley posted a staggering grade of 96.5. In particular, Staley has found success in a zone-blocking scheme, as he trails only Philadelphia Eagles left tackle, Jason Peters, for the highest career zone-blocking grade of any offensive lineman.
When examining his year-to-year grading, you can see that 2012 was a clear turning point for the veteran left tackle. Leading up to that season, Staley had put up respectable, but slightly underwhelming numbers, with his best year coming in 2009 where he ranked 21st amongst qualified tackles with an overall grade of 78.1. From 2007-2011, Staley finished with an overall grade of 79.5, which showed that he belonged as a starter in the NFL, but it was a fraction of what was to come.
Amid the Jim Harbaugh era, Staley went from good to great. Staley broke out in the 2012 season by leading all tackles with a career-high 92.4 regular-season grade. He was particularly dominant in the run game that year, bulldozing his way to a 93.3 run-blocking grade that ranked first amongst all offensive lineman in the league. Staley hasn't looked back since, as he now ranks first in run-block grading (93.0) and ninth in pass-block grading (89.5) among all left tackles with at least 1000 snaps played from 2012 to 2018. During that span, Staley's overall grade of 94.2 ranks second only to former Cleveland Browns left tackle, Joe Thomas.
Both former first-round selections of the 2007 draft, Thomas and Staley have played 167 and 166 regular season games, respectively, at left tackle to date and with Thomas retired, it makes it a particularly good time to compare the two careers side by side. When looking at the two, they're eerily similar in many ways. Thomas has the edge (albeit a slight one) over Staley in most career categories, highlighted by his career grade of 95.1 compared with Staley's 92.8. Thomas also bests Staley in career pass-block grade, the number of 80.0-plus graded seasons, and perfect pass-blocking games. However, Staley gets Thomas in run-blocking grade (92.4).
While Thomas is quite rightly regarded as one of — if not the best — left tackles of his generation, Staley has remained right on his tail.
Staley has been a model for consistency over his career and when you combine that with his longevity, he's putting up quite the resume for a potential Hall of Fame bid down the road. Throughout his illustrious career, he's been apart of the ups and (mostly) downs with the 49ers organization, but with the tide hopefully turning — he'll enter the 2019 season at age 35, and he will remain as important as ever.