The New York Jets were relatively successful on the defensive side of the ball in 2018, ranking 12th in overall defensive grade (83.5) in the NFL. A large reason for the Jets' defensive success was their run defense, as they ranked fifth in the NFL with an elite run-defense grade of 90.7. Of course, safety Jamal Adams was the star of the show as he was one of our highest-graded safeties in the league last season, but lost in Adams' breakout campaign was Leonard Williams, who has quietly become a game changer against the run.
Leonard Williams now has four NFL seasons under his belt, and he has earned an overall grade above 75.0 in every year of his short career so far. Williams' overall grade of 78.2 last season ranked 32nd out of 129 qualifying interior defenders, and third out of 15 qualifying interior defenders from his draft class back in 2015, trailing only Grady Jarrett and Eddie Goldman.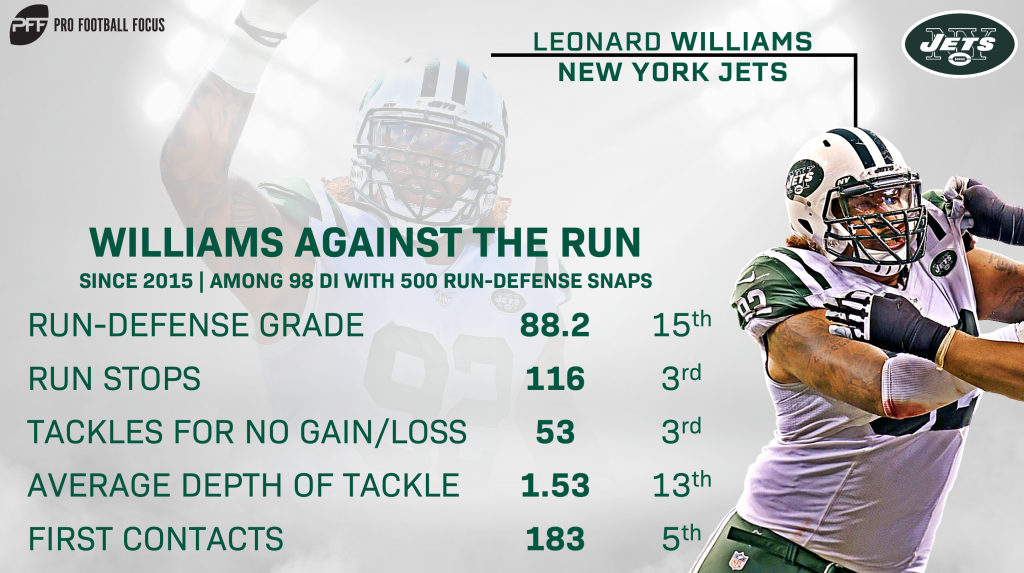 Williams has been one of the most dominant forces against the run since being drafted, ranking among the top in several different run-defense metrics. Among 98 interior defenders with at least 500 run-defense snaps since 2015, Williams' run-defense grade of 88.2 ranks 15th. In addition, he also has the third-most run stops (116), third-most tackles for no gain or loss (53), and fifth-most counts of making the first contact on a runner (183) at the position. It's safe to say that Williams' ability to move bodies and disrupt run plays is evident after four years in the NFL.
Given his dominant run defense, Williams could jump into elite territory if he just improved as a pass rusher. Although he's coming off a career-high pass-rush grade of 71.4 last season – ranking 19th out of 129 interior defenders – he still has yet to earn a pass-rush grade above 75.0 for a single season, something that guys like Aaron Donald and Fletcher Cox can probably do in their sleep.
With 53 total pressures (six sacks, 16 hits, 31 hurries) on 509 pass-rush snaps last season, Williams had the 24th-best pass-rushing productivity rating (5.8) out of 121 qualifying interior defenders. Obviously, that's not bad at all, but it's also not elite, so if he can make that jump in 2019, he could transform himself from a great interior defender into an elite one. After all, stopping the pass is becoming exponentially more important than stopping the run in today's NFL.
Now that the Jets have found their franchise quarterback in Sam Darnold to go with an up-and-coming defense, they have many reasons to be optimistic about their future, and Leonard Williams plays a big part in that. He did increase his pass-rushing grade by nearly five points from 2017 to 2018, which is a good sign for his continued progress as a pass rusher. If Williams can put together a similar increase in 2019, and Quinnen Williams can live up to his sky-high potential, the Jets can become winners sooner rather than later.