Pro Football Focus' 'Snaps Lost' series takes a detailed look at playing time void, created by players who have left their respective team either during the season last year, or during this past offseason, albeit trades, cuts, signing elsewhere or retirement.
This week, we've taken a look at the NFC East, AFC East, NFC West and the AFC West, so today, we investigate the NFC South:
Sign up for PFF Edge for full player grades heading into the 2017 season.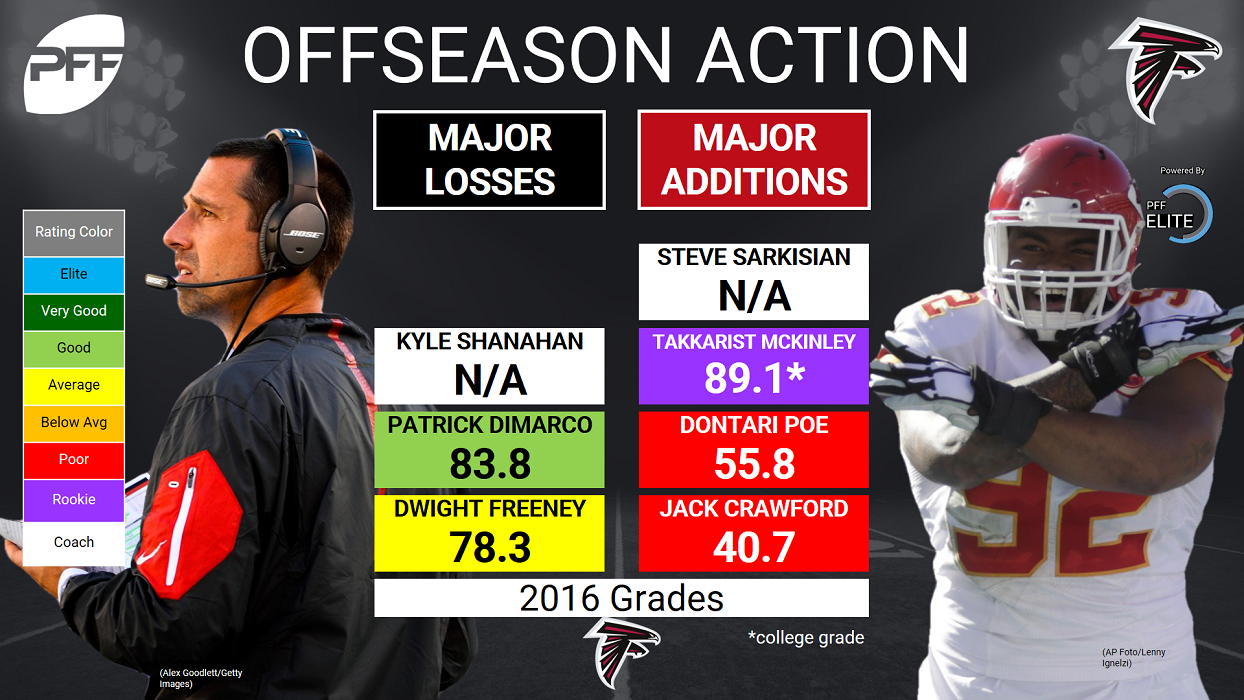 TOTAL SNAPS LOST: 5287 (+636*)
OFFENSIVE SNAPS LOST: 2687
DEFENSIVE SNAPS LOST: 2600 (+636*)
Key Losses, offense: Chris Chester – G – 62.5 grade -1424 snaps, Patrick DiMarco – FB – 83.8 grade – 377 snaps, Aldrick Robinson – WR – 70.1 grade – 438 snaps, Jacob Tamme – TE – 77.6 – 331 snaps
Arguably the biggest offensive loss for the Falcons this offseason came from their coaching staff as offensive coordinator Kyle Shannahan left for steep hills and terrible parking in San Francisco. Steve Sarkisian will take over for an offense that, after being historically great in 2016, doesn't lose much production. Guard Chris Chester retired which opens up a hole on otherwise very stout offensive line. Patrick DiMarco is one of the best run blocking fullbacks in the NFL, and saw the league's highest run block grade among fullbacks at 82.8. Aldrick Robinson had his moments in 2016 but filling the fourth wide receiver spot isn't something to sweat about. Jacob Tamme was a tough loss midseason but clearly didn't set the team back as they won the NFC title game.
Likely replacement: Wes Schweitzer – G – N/A grade.
The Falcons really didn't do much to replace their offensive loses. Schweitzer looks likely to win the job at right guard to replace Chester unless C/G Ben Garland overtakes the starting spot. Schweitzer didn't play in the regular or postseason as a rookie but did see significant action in the preseason. Unfortunately he struggled, which doesn't bode well for his prospects moving forward as he allowed one sack, three hits and five hurries as his pass pro grade was the second worst of all guards in preseason. While he fared better as a run blocker, he was still below average there. Schweitzer had a bit of a transition moving from college tackle to guard so an offseason to work on his technique should help his cause. Harlow has an opportunity to impress in training camp and preseason to win the job. Garland on the other hand has struggled, as the regular season action he saw resulted in poor grades in 2014 (49.7) and 2016 (59.9).
Key Losses, defense: Dwight Freeney – ED – 78.3 grade – 662 snaps, Jonathan Babineaux – DI – 46.3 grade – 642 snaps, Tyson Jackson – DI – 48.6 grade – 450 snaps, Philip Wheeler – LB – 48.2 grade – 396 snaps
A very talented Falcons defense won't lose much except for an aging Dwight Freeney. Freeney showed he still has a place in the NFL, even at the age of 37, as he finished the season with five sacks, nine hits, and 49 hurries on just 428 pass rush snaps resulting with the eighth best pass-rush productivity mark at 11.3. Losing Jonathan Babineaux and Tyson Jackson won't hurt the team as neither played well at all in 2016. Wheeler only saw 27.5 percent of his team's snaps and was ineffective in all facets of the game.
Replacement plan: Takkarist McKinley – ED – rookie, Dontari Poe – DI – 55.8 – 876 snaps
The Falcons get younger on defense with the signing of Poe from Kansas City (age 27) and drafting of McKinley out of UCLA. Poe comes with a tremendous amount of experience and will provide a necessary upgrade in terms of interior pass-rushing ability. McKinley most likely won't be able to match Freeney's production or efficiency from a year ago but he'll be a part of a mix of rotating edge rushers opposite of Vic Beasley. McKinley will need to improve on his effort level and his ability to bend the edge but has the length and burst to become a productive edge rusher in the NFL, his 14.4 PRP last year was 10th in the nation among outside linebackers.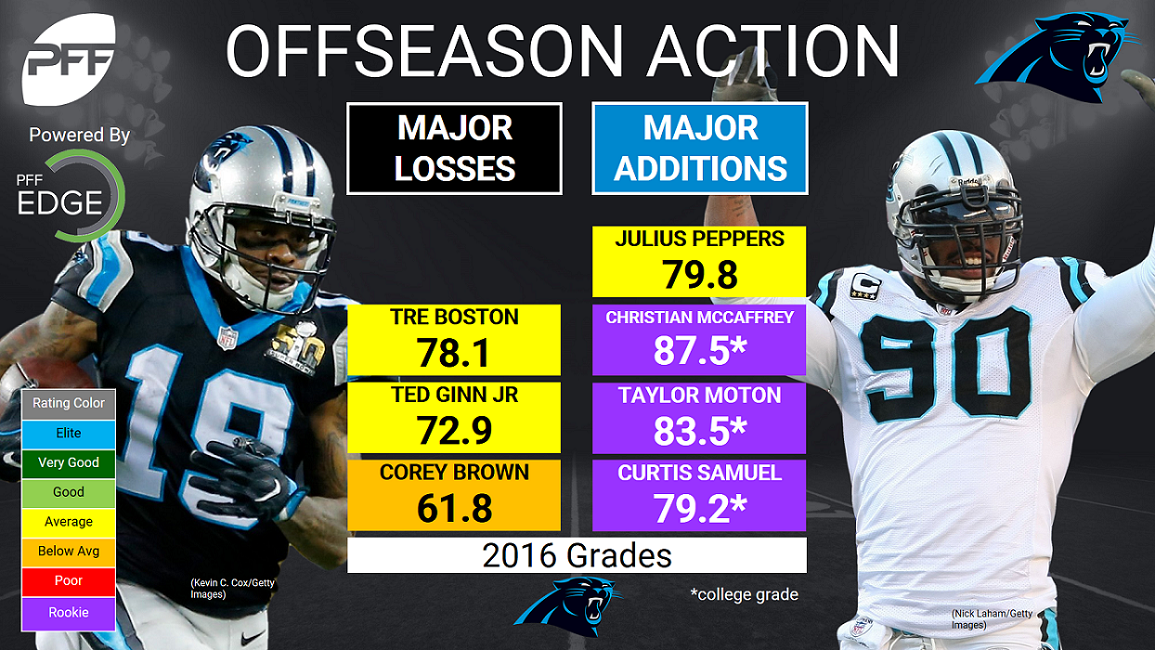 TOTAL SNAPS LOST: 5147
OFFENSIVE SNAPS LOST: 2935
DEFENSIVE SNAPS LOST: 2212
Key Losses, offense: Mike Remmers – T – 68.2 grade -1106 snaps, Ted Ginn – WR – 72.9 grade – 690 snaps, Michael Oher – T – 65.6 grade – 232 snaps, Corey Brown – WR – 61.8 – 585 snaps, Mike Tolbert – FB – 41 – 322 snaps.
The biggest loss in production is Ginn, whose top-end speed is game changing at times (341 yards on deep catches last year, 16th in the NFL), but he has never displayed any sort of consistency throughout his career. Less than two years removed from their Super Bowl loss to the Broncos, they'll start two completely new offensive tackles. Remmers signed with the Vikings in the offseason while Oher was recently cut after failing a physical. While their losses aren't significant from a production standpoint (Remmer had a 93.6 PBE, 42nd out of 61 qualified tackles last year), having consistency on the offensive line helps a team weather transitions elsewhere. Tolbert has struggled two of the past three seasons, though his veteran leadership will be missed.
Replacement Plan: Matt Kalil – T – 37.2 grade – 121 snaps, Curtis Samuel – WR – rookie, Darrel Young – FB – N/A grade.
The Vikings and Panthers swapped their left tackles in hopes that new scenery rejuvenates their careers. Based on their career trajectory, the Panthers got the raw end of the deal as Kalil has been a major disappointment after a very promising rookie season in which he allowed just three sacks and four hits all season. His worst year came in 2014 where he allowed a league high 12 sacks with an additional seven hits. Curtis Samuel was an electric college player and should provide a younger version of Ginn with more versatility. Young didn't play in 2016 but struggled in 2015 on 121 snaps in Washington.
Key Losses, defense: Tre Boston – S – 78.1 grade – 840 snaps, AJ Klein – LB – 46.3 grade – 350 snaps, Michael Griffin – S – 50.9 grade – 284 snaps, Leonard Johnson – CB – 37.3 grade – 436 snaps
While the Panthers lose a significant number of snaps at the safety position, they don't lose a tremendous amount of production as Griffin had a very poor year while Boston was merely average (Boston's grade ranked 52nd out of 90 eligible safeties). Losing LB AJ Klein hurts in terms of having a backup for Luke Kuechly but based on his poor play in 2016, he can be replaced by someone more productive in that role. The Panthers cornerbacks were terrible on the whole so losing Johnson won't affect them this year.
Replacement plan: Mike Adams – S – 82.5 grade, 997 snaps, Captain Munnerlyn – CB – 74.5 – 636 snaps
The Panthers don't go any younger when filling their vacant starting spots on the defense, as Adams turned 36 this offseason but is coming off a very solid season with the Colts. Adams has been a better run defender throughout his career but he's at his best when making plays on the ball. Munnerlyn turned 29 so he's not that old comparatively. Munnerlyn has been a solid slot cornerback throughout his career but he'll have to hold off rookie Corn Elder. He'll need to improve on the 104.0 passer rating he allowed in slot coverage last season.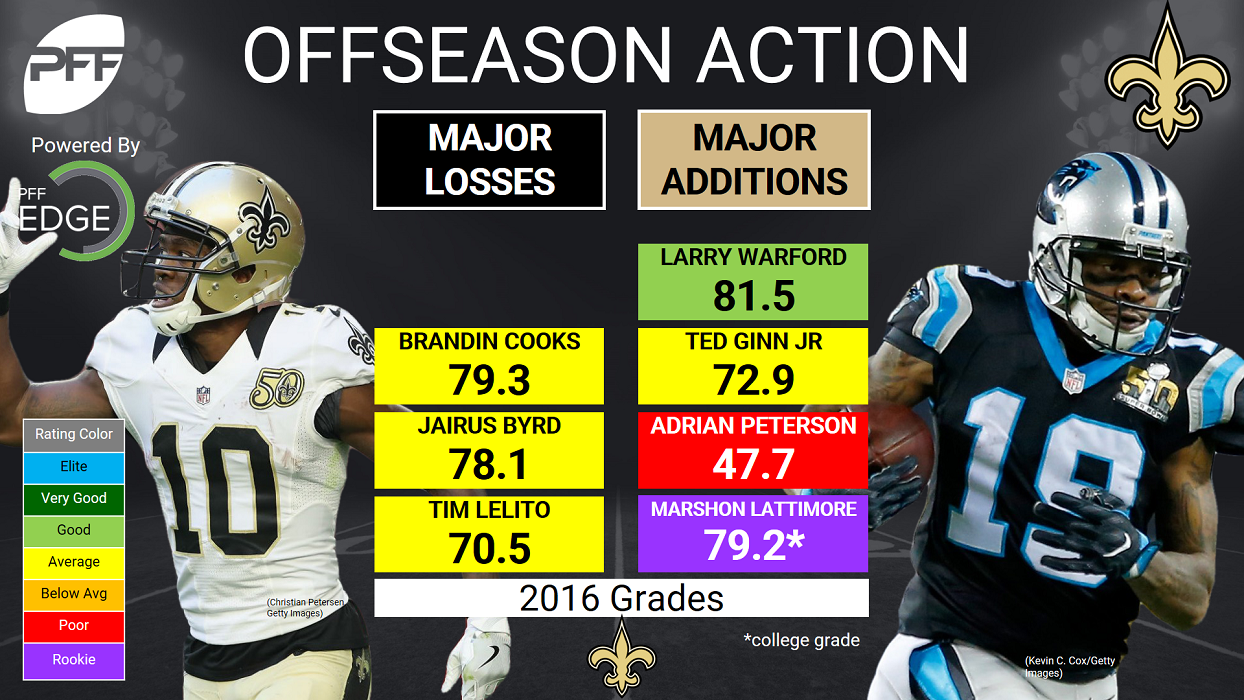 TOTAL SNAPS LOST: 4552
OFFENSIVE SNAPS LOST: 1883
DEFENSIVE SNAPS LOST: 2669
Key Losses, offense: Brandin Cooks – WR – 80.5 grade – 881 snaps, Jahri Evans – G – 74.1 grade -1138 snaps, Tim Lelito – G – 70.3 grade – 406 snaps, Tim Hightower – HB – 47.3 grade -286 snaps
Losing veteran and the still productive RG Jahri Evans will be an adjustment for the team. His play has regressed from his prime, where he consistently graded as one of the best guards in football from 2006 to 2013, but Evans has played at an above average level in pass protection each of the past two seasons. Lelito was a solid sixth option as he played every position on the offensive line in 2016 except left tackle as he allowed just one sack and three hits on 216 pass blocking snaps. The loss of Hightower is merely depth as the Saints now have more options in the backfield to take over his role.
Replacement Plan: Larry Warford – G – 81.0 grade – 1024 snaps, Adrian Peterson – HB – 39.2 – 84 snaps, Alvin Kamara – HB – rookie.
The Saints wisely signed RG Larry Warford to replace Evans, as Warford should be coming into his prime as he just turned 26 years old this offseason. Warford had a rough 2015 but bounced back to his previous good play last year as he finished as a top 20 guard in the NFL. Andrus Peat will slide over from left tackle to man the vacant left guard position. Most notably this offseason, the Saints signed Adrian Peterson after the future hall of fame running back was let go by the Minnesota Vikings. Peterson was limited in action because of injury in 2016 and struggled when on the field. His injuries in recent years are concerning as he's missed the most of two of the past three seasons, though was effective as a runner in 2015 when healthy. Kamara will provide an excellent change of pace third option in a crowded backfield. Kamara was one of the most elusive runners in college football last year, and his 132.1 elusiveness rating ranked sixth among qualified running backs. Kamara already put that elusiveness on display in his debut performance.
Key Losses, defense: Jairus Byrd – S – 78.1 grade – 899 snaps, BW Webb – CB – 52.4 grade – 588 snaps, Paul Kruger – ED – 67.2 grade – 571 snaps, Roman Harper – S – 48.6 grade – 300 snaps
The New Orleans secondary will have a facelift as three major contributors from 2016 will be gone. Byrd is obviously the big name player that is lost but his play since joining the Saints has been inconsistent at best. Considering the fact that he turns 31 this season and his struggles in coverage, losing Byrd won't have a large impact for the play of the secondary. Roman Harper had a one year return to the team that drafted him but his age and declining play were inevitable signs for his signing to be a one-year stopgap. Webb was never able to lock down the starting role at outside corner and allowed four touchdowns when targeted in 2016. Kruger was a late camp waiver wire pickup after the Cleveland Browns decided to go with the youth movement and cut him. The former Utah Ute has declined in play each of the past two seasons as he has just five sacks and 14 hits after posting 12 sacks and 11 hits in 2014 alone.
Replacement plan: Marshon Lattimore – CB – rookie, Alex Okafor – ED – 70.0 grade, 231 snaps, Rafael Bush – S – 71.7 grade – 511 snaps
The Saints were the first team to pull the trigger on a cornerback in a loaded draft class and landed arguably the best of the bunch in Marshon Lattimore. Just a one-year starter at Ohio State, Lattimore impressed with his ability to make plays on the ball and essentially lockdown any receiver he covered. Lattimore was seventh among qualified cornerbacks with a quarterback rating of just 31.9 when he was thrown at. Okafor was signed as a free agent this offseason and comes off the best season of his career, albeit in a part time role, as his 13.8 pass-rush productivity ranked third in the NFL among 3-4 outside linebackers. Rafael Bush brings needed experience and depth in a secondary that famously busts several coverage assignments each season. Playing over 500 snaps for the just the second time in his career, Bush allowed a career-low 78.1 passer rating when targeted.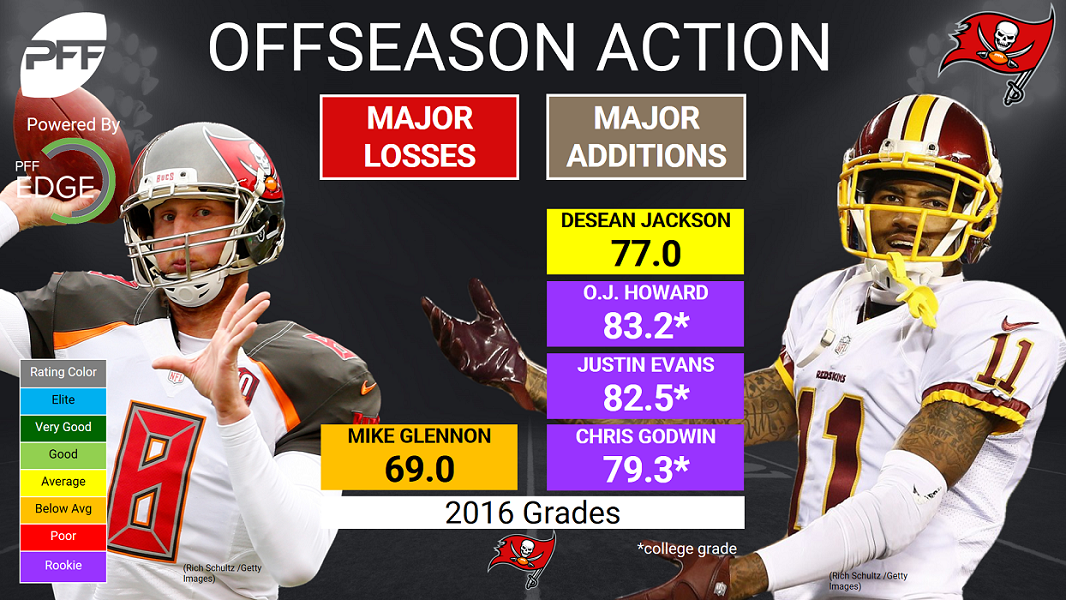 TOTAL SNAPS LOST: 4034
OFFENSIVE SNAPS LOST: 1774
DEFENSIVE SNAPS LOST: 2260
Key Losses, offense: Russell Shepard – WR – 78.4 grade – 433 snaps, Vincent Jackson – WR – 51.8 grade – 314 snaps, Cecil Shorts – WR – 64.5 grade -253 snaps, Brandon Myers – TE – 48.1 – 398 snaps.
While the Bucs lost QB Mike Glennon to the Bears and RT Gosder Cherilus to retirement, those loses are rather insignificant to how the team approached this offseason. The key for the Buccaneers front office this offseason was to get their franchise QB Jameis Winston some big time weapons outside of Mike Evans. Letting role players Russell Shepard and Cecil Shorts go won't impact the team negatively and Vincent Jackson is no longer the elite WR he once was and has regressed to below replacement level production. Brandon Myers has been a below average second tight end most of his career and struggled as a run blocker so his play didn't warrant re-signing.
Replacement Plan: DeSean Jackson – WR – 81.0 grade – 712 snaps, Chris Godwin – WR – rookie, O.J. Howard – TE – rookie.
Giving weapons the Buccaneers did as speedster and deep threat DeSean Jackson signed from Washington. Jackson is more hype than production though, as he's always graded an average to above average level outside one great 2013 season. Jackson will see a plethora of deep targets as usual as he's ranked near the top of the NFL in deep target percentage each of the past two seasons. Chris Godwin comes from Penn State where he excelled on deep passes, hauling in 14 for 506 and seven touchdowns. O.J. Howard was arguably the best all-around tight end in a deep draft class and should be able to contribute immediately as a blocker. His receiving ability is solid but rookie tight ends rarely make a significant impact in the passing game.
Key Losses, defense: Bradley McDougald – S – 77.1 grade – 1012 snaps, Alterraun Verner – CB – 76.6 grade – 241 snaps, Akeem Spence – DI – 41.4.2 grade – 362 snaps, Daryl Smith – LB – 62.0 grade – 475 snaps
Losing two key pieces in the secondary is never easy overcome. McDougald has played a decent level in his career and was reliable as a deep safety as he allowed just three touchdowns in his career when his coverage area was targeted. Verner is a usually reliable slot cornerback though his last two seasons were marred with inconsistency and injury as he played in just 833 snaps combined after dipping below 700 just once before in his career. Spence was a liability against the run as his 38.9 run defense grade ranked 114th out of 115 eligible interior defenders in 2016. Daryl Smith is past his prime and struggled in all facets of the game for the first time in his career as he made career lows in stops and tackles with just 12 stops and 23 tackles.
Replacement plan: J.J. Wilcox – S – 81.9 grade – 573 snaps, Chris Baker – DI – 84.2 grade, 782 snaps, Justin Evans – S – rookie.
After three disappointing seasons, J.J. Wilcox broke out in a major way in 2016 as he helped the Dallas Cowboys to a No. 1 seed in the NFC playoffs. If he can keep up level of play, his addition will be huge for a Bucs secondary that lacks playmakers at the safety position. Chris Baker will slide in alongside Gerald McCoy for a vastly improved interior defensive line. Baker has played mostly as a 3-4 DE but has the talent and experience to play DT in a 4-3. Justin Evans was drafted in the second round out of Texas A&M and posted one of the best pass coverage grades in college but also racked up a ridiculous number of missed tackles in his career – 38 total, 23 last year.