Pro Football Focus' 'Snaps Lost' series takes a detailed look at playing time void, created by players who have left their respective team either during the season last year, or during this past offseason, albeit trades, cuts, signing elsewhere or retirement.
This week, we've taken a look at the NFC East, AFC East and NFC West, so today, we investigate the AFC West:
Sign up for PFF Edge for full player grades heading into the 2017 season.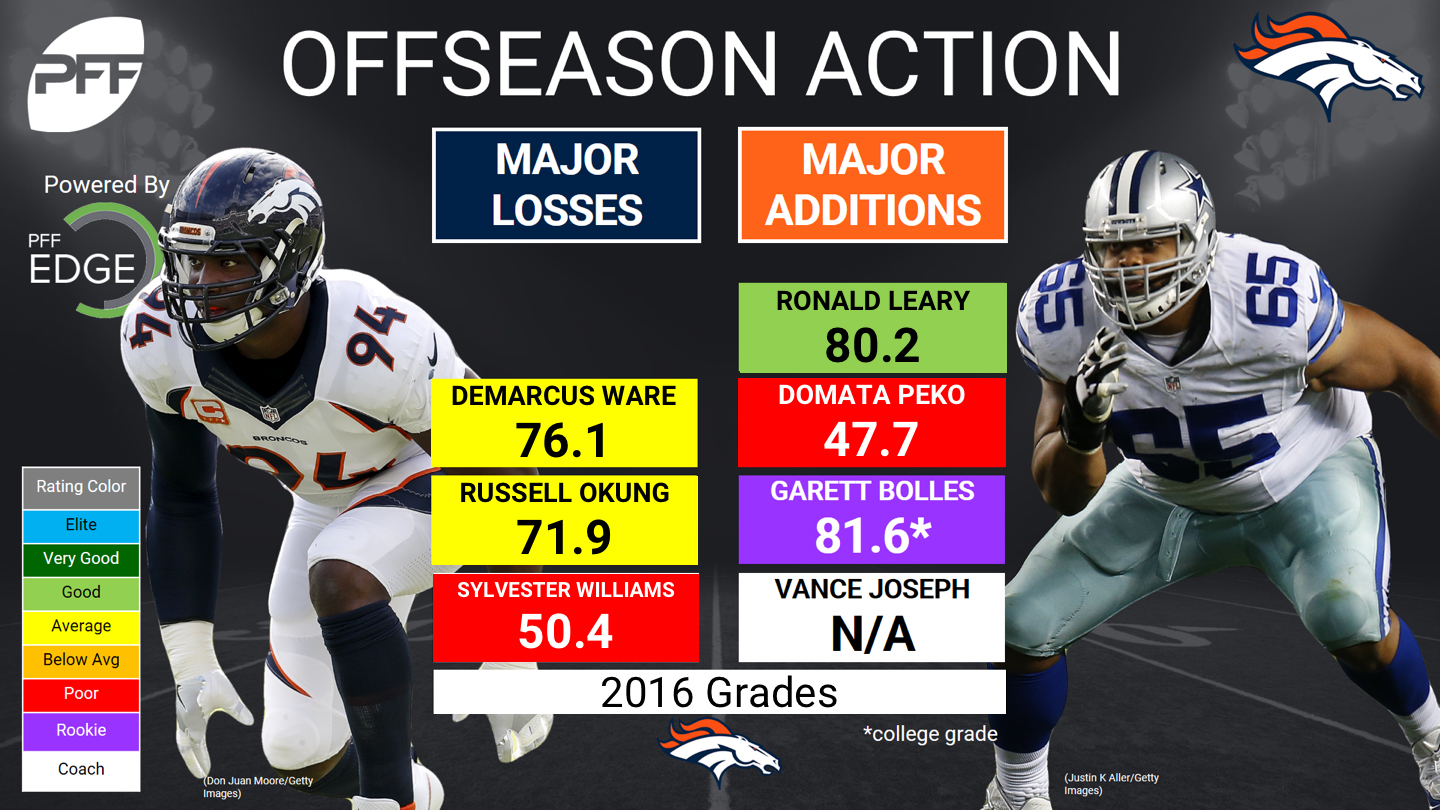 TOTAL SNAPS LOST: 2888
OFFENSIVE SNAPS LOST: 1822
DEFENSIVE SNAPS LOST: 1066
Key Losses, offense: Russell Okung – T – 71.9 grade – 1,061 snaps, Jordan Norwood – WR – 45.1 grade – 473 snaps, Justin Forsett – HB – 47.3 grade – 266 snaps
The Bronco's lost a consistently-good-but-not-great starting left tackle in Russell Okung this offseason as he took his talents to the division-rival Chargers. Okung has graded out between 69.8 and 75.1 overall over each of the last four years (right at average essentially), but his performance as a pass protector has slipped over the past few years: in 2014 – as a member of the Seahawks – Okung ranked 12th out of 78 qualified tackles with a 96.4 pass block efficiency rating (PBE measures pressure allowed on a per-snap basis with weighting towards sacks allowed); that number dipped to 95.1 in 2015 (30th) and then down even further to 92.8 this past season (59th).
Bolles is likely to start the season at left tackle after Denver invested a first-round pick in him in this years draft, but it's no guarantee that he steps in and outperforms Okung from a year ago. Bolles was one of the most dominant run blockers in the country last season, ranking fourth among FBS tackles with an 89.9 run blocking grade but he struggled at times in pass protection. Bolles ranked 102nd in the country with a 96.4 PBE after he allowed 20 total pressures on 441 pass blocking snaps. Charles – as long as he remains healthy – should see plenty of touches and will almost certainly be an upgrade over an unproductive Justin Forsett from a season ago and third-round rookie Carlos Henderson will have an opportunity to carve out a role within Norwood's lost snaps.
Key Losses, defense: DeMarcus Ware – ED – 76.1 grade – 315 snaps, Sylvester Williams – DI – 50.4 grade – 644 snaps
It's impossible to quantify just how much the Bronco's lost with the retirement of future-hall-of-famer DeMarcus Ware as his presence likely impacted the team even when he wasn't on the field. In terms of on-field production, the Broncos lost a heck of a pass rusher, in what was his 12th season as a professional, Ware ranked 16th out of 57 qualified 3-4 OLBs last season with a 10.9 pass rush productivity rating (PRP measures pressure created on a per snap basis with weighting towards sacks – the counter to PBE) after he tallied 26 total pressures on just 190 pass rushing snaps. Williams was on the field quite a bit for Denver last season but his production may not have warranted it as his 3.4 run stop percentage ranked 71st out of 75 qualified defensive tackles.
Replacement plan: DeMarcus Walker – ED – 89.0 grade (FBS) – Domata Peko – DI – 47.7
Denver drafted Walker in the second-round out of Florida State and although he spent the bulk of his college career playing with his hand on the ground, reports from Bronco's camp indicate he's preparing to play OLB during his first preseason action on Thursday night. With both Shane Ray and Shaqil Barrett nursing injuries, Walker could earn himself a large chunk of snaps on the edge with some strong performances this preseason. Peko figures to slide right into Williams' vacated role after seeing 593 snaps himself last season as a member of the Bengals, whether or not that's actually good for the Bronco's defense though remains to be seen: his highest overall grade in the last four seasons was a 50.6 he earned in 2015.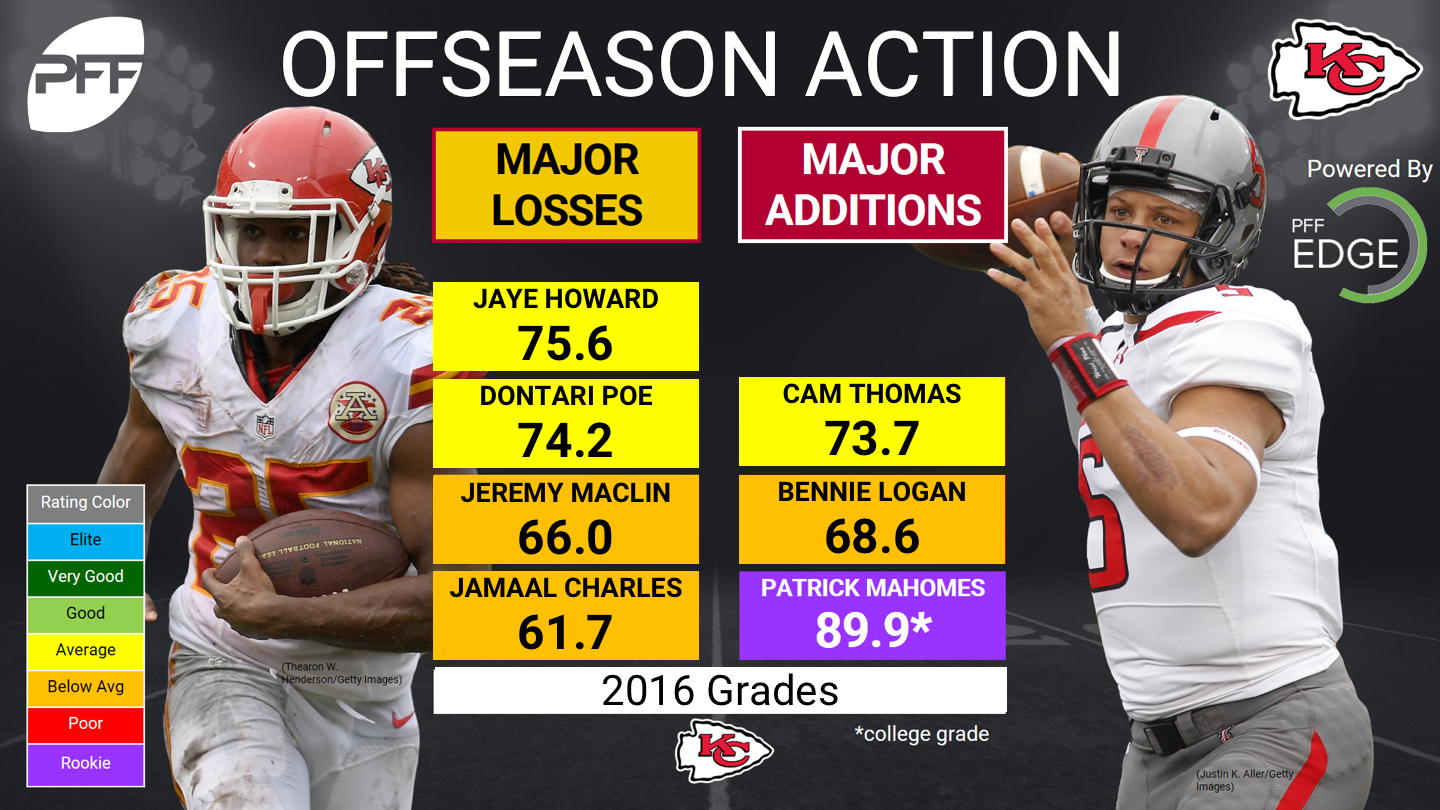 TOTAL SNAPS LOST: 2418
OFFENSIVE SNAPS LOST: 869
DEFENSIVE SNAPS LOST: 1549
Key Losses, offense: Jeremy Maclin – WR – 66.0 grade – 681 snaps, Nick Foles – 69.9 grade – 102 snaps, Jamaal Charles – NA grade – 27 snaps
Maclin had a down year last season – his overall grade ranked just 79th among WRs – but he posted an above-average grade of 82.3 in his first and only other season in Kansas City. Foles will almost certainly never recreate the magical season he had back in 2013 but he played respectably when forced to fill in for Alex Smith in Weeks 8 and 9 last season. After seeing just 27 snaps last season (290 snaps in just the last two seasons combined) the Chiefs have been accustomed to getting by without Jamaal Charles, with his departure though the Jamaal Charles era in Kansas City has officially come to an end.
Replacement plan: Kareem Hunt – HB – 95.1 grade (FBS), Patrick Mahomes II – QB – 90.1 grade (FBS)
How Kansas City replaces Jeremy Maclin is going to be one of the more intriguing things to watch this preseason as they really didn't go out to get anyone to take on a bulk of those snaps. It's a virtual lock that both Tyreek Hill and Travis Kelce will see expanded roles within the passing game but beyond that will be something to watch for. Kareem Hunt could also put a dent into the production lost via Maclin as his 89.0 receiving grade ranked third among all FBS HBs in 2016. Hunt is electric with the ball in his hands, his 112.1 elusive rating (measures a runner's success independent of the blocking in front of him) ranked 19th out of 210 qualified HBs last year and the 22 missed tackles he forced on receptions were the third most. After trading up to take Mahomes in the first round it's clear that Andy Reid believes he's found his quarterback of the future, if he's able to supplant Alex Smith for the starting job Kansas City would have the most over-qualified backup quarterback in the league in Smith.
Key Losses, defense: Dontari Poe – DI – 74.2 grade – 876 snaps, Jaye Howard – DI – 75.6 grade – 360 snaps, Kendall Reyes – DI – 50.4 grade – 249 snaps
Kansas City retained the bulk of their defensive personnel from last season with the exception of one area: the defensive interior, which they essentially gutted. Poe and Howard provided consistency throughout the last four seasons (the lowest overall grade between the two of them since 2013 was 72.4 overall from Howard in 2013 with the highest being Poe in 2013 at 84.5) but with Poe's contract up and a need to cut some costs it was time to reshuffle.
Replacement plan: Cam Thomas – DI – 73.7 grade, Bennie Logan – DI – 68.6 grade
Thomas ranked 58th among DIs with an average overall grade of 73.7; in 2014 and 2015 though he put up well below average grades of 40.7 and 53.0, respectively. Logan had a bit of a down year last season, grading out at just 68.6 overall after posting grades of 76.0 and 79.3 in 2014 and 2015, respectively. Despite the down season though he still was an effective run stuffer, as his 9.0 run stop percentage ranked 17th out of 75 qualified defensive tackles. If both players play up to their potential, pairing them with an emerging star in Chris Jones should replace the production lost from 2016.
For more signature stats like run stop percentage, elusive rating and much more, sign up for PFF Elite now.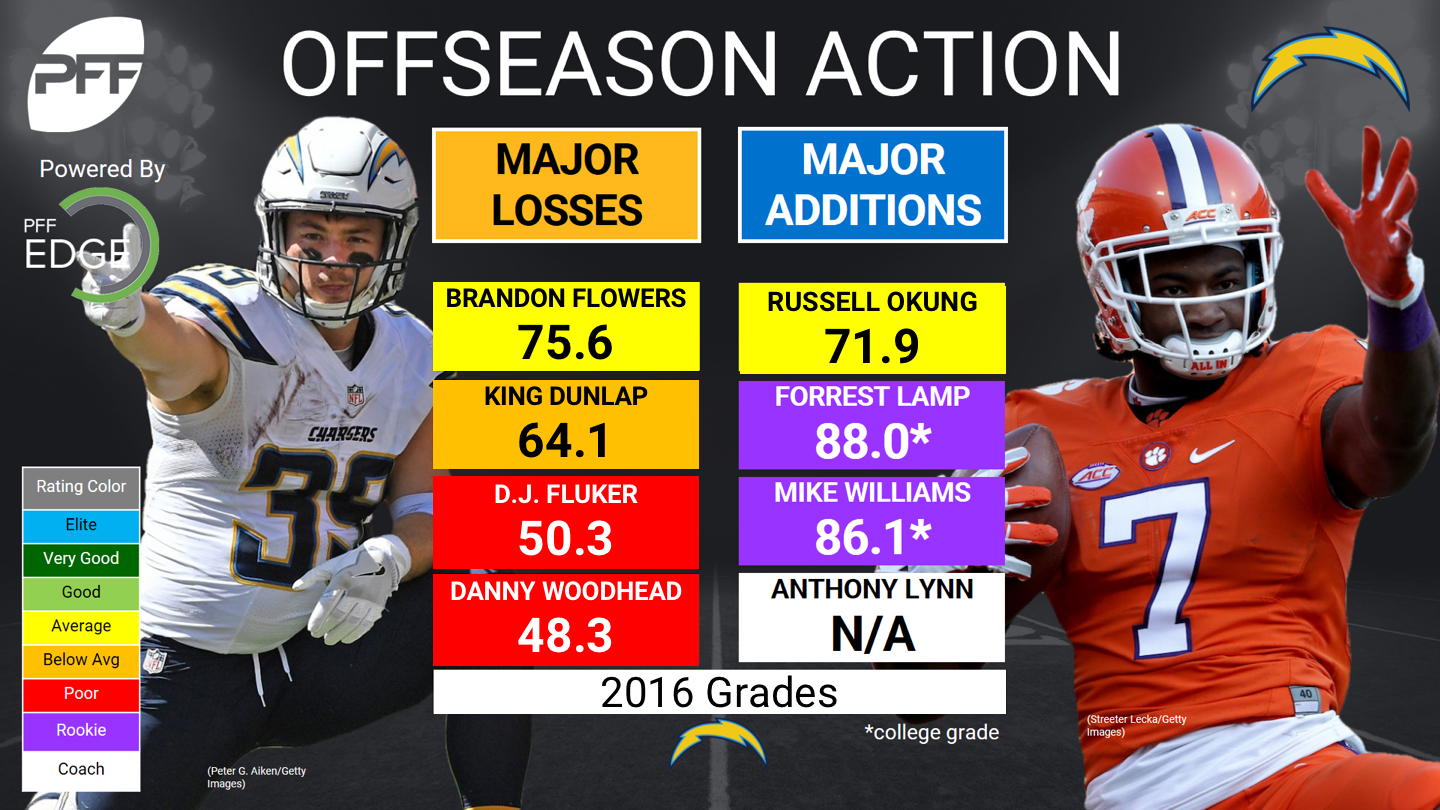 OVERALL SNAPS LOST: 3882
OFFENSIVE SNAPS LOST: 2889
DEFENSIVE SNAPS LOST: 993
Key Losses, offense: D.J. Fluker – T – 50.3 grade – 996 snaps, King Dunlap – T – 64.1 grade – 775 snaps, Orlando Franklin – G – 41.7 grade – 919 snaps
In 2016, the Chargers offensive line ranked 31st out of 32 teams – besting only the Colts – with a 70.3 PBE, in 2015 they ranked 32nd with a PBE of 67.7, the lowest PBE ever recorded for an offensive line in the PFF era (dating back to 2006). With Philip Rivers entering this season at the ripe age of 35, the Chargers finally committed to overhauling a substantial amount of their offensive line this offseason.
Replacement Plan: Russell Okung – T – 71.9 grade, Dan Feeney – G – 86.3 grade (FBS)
Los Angeles' plan took a huge hit already when they lost the 38th overall pick in this years draft, Forrest Lamp in training camp to a torn ACL. Lamp was first among all FBS tackles last season with a 99.3 PBE after he allowed just five total pressures (including zero sacks) all season, there's no denying that his loss hurts. Okung steps in to take over the left tackle spot but he's had his own issues in pass protection, his 92.8 PBE last season ranked 59th out of 74 tackles, just beating out Dunlap's 92.0 PBE. Feeney ranked third among all FBS guards in 2015 with a 99.1 PBE after he allowed just six total pressures (including just one hit and no sacks) on 492 pass blocking snaps, he had his struggles in 2016 though as he battled through injury.
Key Losses, defense: Brandon Flowers – CB – 75.6 grade – 352 snaps, Robert McClain – CB – 38.6 grade – 327 snaps
The Chargers defense didn't take too many hits this offseason. They lost 679 snaps at cornerback between Flowers and McClain but that was the only position to really take a hit in terms of lost playing time. Losing McClain in some ways may be addition by subtraction, his highest overall grade in the past seasons was 45.3 in 2015 and the 130.7 passer rating he allowed last season on balls thrown into his coverage was the fifth highest among 117 qualified cornerbacks.
Replacement plan: Jason Verrett (returning from injury) – 50.7 grade – 178 snaps
The Chargers already have one All-Pro cornerback on one side with Casey Hayward, they're hoping they get a second one of that caliber back with Verrett, who's returning from an injury that ended his 2016 season after Week 4. In 2014 Verrett posted a sparkling 86.0 grade as a rookie and his 89.4 overall grade in 2015 was the second highest among all CBs. The Chargers brought in Tre Boston to add some depth to their safeties (and possibly take over the starting FS job from Dwight Lowery), with the added depth there and the re-addition of Verrett the Chargers could have quite the formidable secondary in 2017.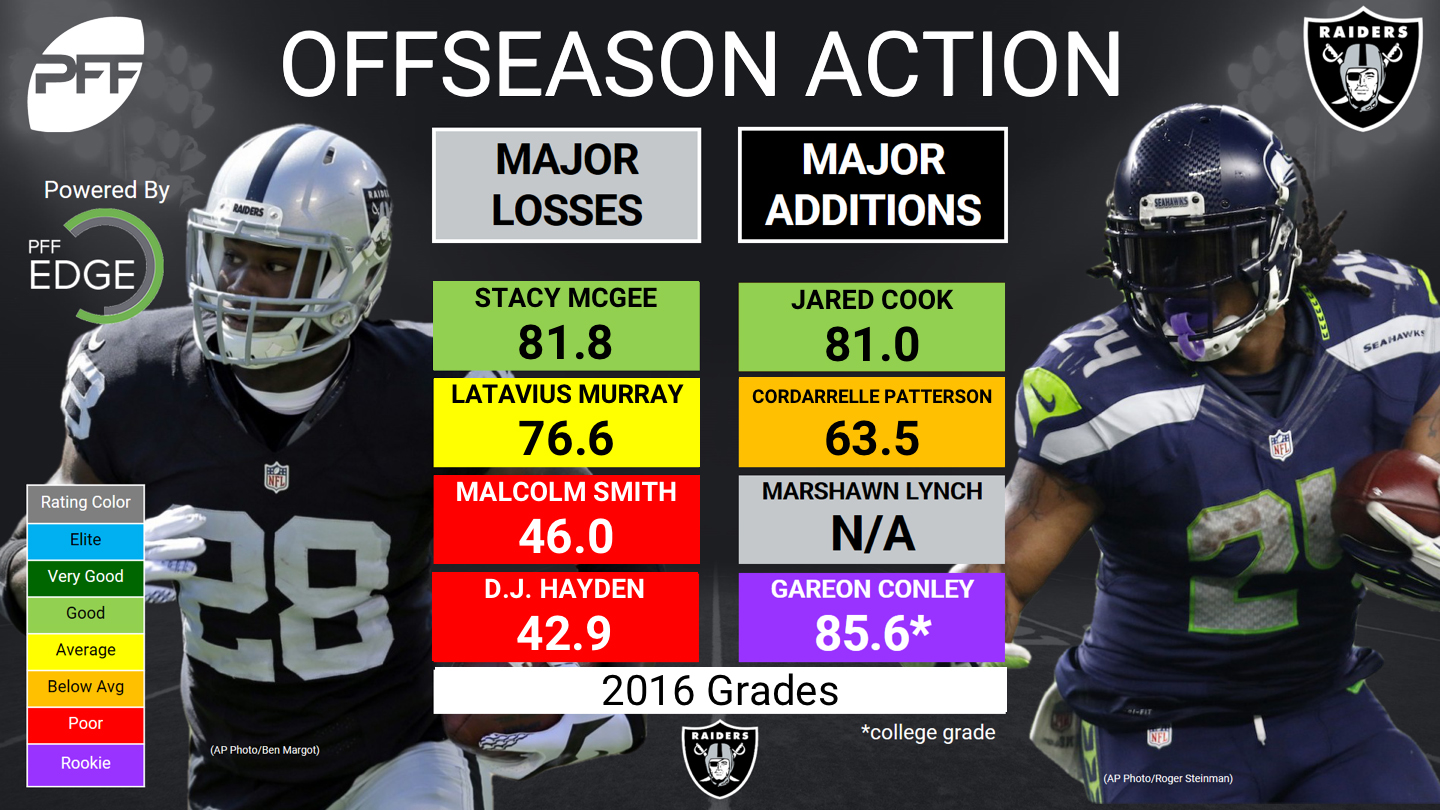 OVERALL SNAPS LOST: 5507
OFFENSIVE SNAPS LOST: 2363
DEFENSIVE SNAPS LOST: 3144
Key Losses, offense: Latavius Murray – HB – 76.6 grade – 561 snaps, Austin Howard – T – 66.9 grade – 791 snaps, Mychal Rivera – TE – 59.8 grade – 336 snaps, Andre Holmes – WR – 73.3 grade – 292 snaps
Murray was our 23rd ranked running back last season in terms of overall grade and his impact was beyond just running the football, he ranked second among HBs asked to pass protect at least 60 times last season with a 96.5 PBE, he allowed just three pressures on 65 pass block snaps. Howard had a career-year in 2015 when he ranked 10th among all tackles with a 96.5 PBE, he regressed in 2016 though, ranking 54th last season with a 93.3 PBE. Rivera's role in the offense had diminished over the years as his snap count had fallen from 845 in 2014 down to 336 last year; the same can be said about Holmes who saw a career high 735 snaps in 2014 before his playing time was cut each year after.
Beast Mode comes home as Marshawn Lynch returns from a year away from the league, in 2015 he finished the season with an elite 90.3 overall grade, his fourth consecutive year over that illustrious 90.0 threshold. Newhouse's highest grade over the last four seasons was the 56.4 he earned last year and unless he takes a big step forward in what will be his seventh season he figures to be the weak link among the offensive line. Jared Cook ranked 12th among tight ends last season with an average of 1.85 yards per route run, his ability as a receiver should add an entirely new element into the Raiders' offense.
Key Losses, defense: Perry Riley – LB – 84.8 grade – 698 snaps, Malcolm Smith – LB – 46.0 grade – 971 snaps, D.J. Hayden – CB – 42.9 grade – 476 snaps, Dan Williams – DI – 74.4 – 397 snaps
It will be intriguing to see how Oakland replaces the 1,669 snaps they got last season from Riley and Smith in their linebacker corp. Riley's production will especially be difficult to replace as he was a sound contributor in both coverage and as a pass rusher while being a sure tackler on top of it all, his 25.0 tackle efficiency rating from last season (the number of attempted tackles per miss) ranked eighth among linebackers, Riley missed just two tackles all year. Hayden had played a large role for Oakland – seeing 2,347 defensive snaps over the past four seasons – but the highest overall grade he received over that stretch was 57.6 in 2014. Williams accumulated 43 defensive stops over the last two seasons while missing just one tackle over that stretch, replacing his presence in the middle will not be an easy task.
Vanderdoes ranked 26th out of 537 qualified FBS defensive interior players last season in terms of overall grade and in Oakland's initial depth chart he's listed as a starter along with Justin Ellis, his play early on will dictate how the dominoes fall within that position group. Marquel Lee – Oakland's fifth-round pick – is currently slated as the teams starting middle linebacker, Lee ranked 23rd out of 348 qualified linebackers last season with a 12.3 run stop percentage. Jenkins struggled mightily last season but he put up respectable grades of 76.7 and 73.2 in 2014 and 2015, respectively; if he can get back to that form he should be able to see time as a rotational linebacker (or potentially start depending on Lee). It will be interesting to see how Conley is used once he's healthy, will he assume Hayden's role in the slot or bump either David Amerson or Sean Smith from the outside?