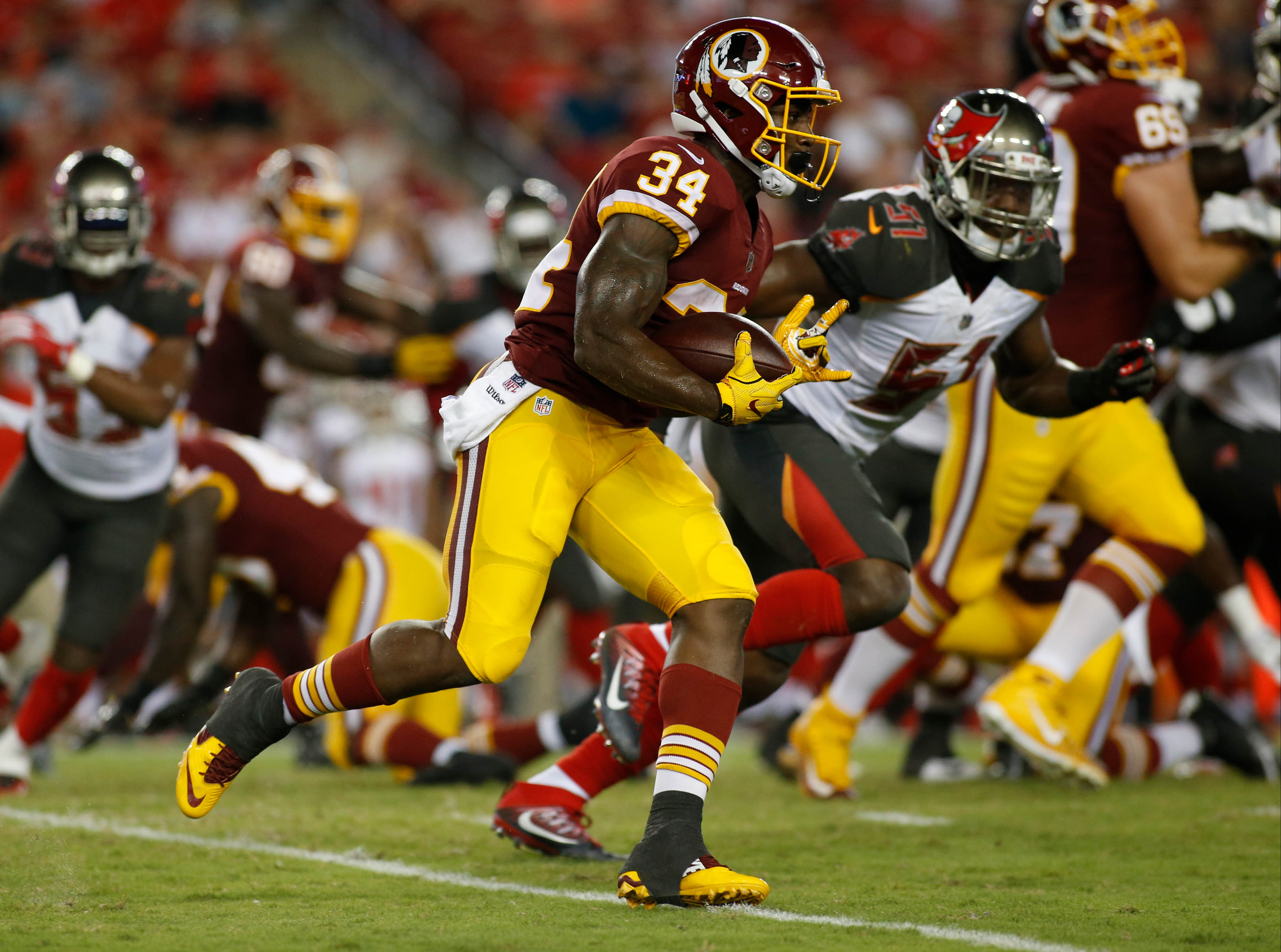 TAMPA, FL - AUGUST 31: Running back Mack Brown #34 of the Washington Redskins runs for several yards during the second quarter of an NFL preseason football game against the Tampa Bay Buccaneers on August 31, 2017 at Raymond James Stadium in Tampa, Florida. (Photo by Brian Blanco/Getty Images)
Redskins QB Nate Sudfeld played the entire game for Washington, while rookie Buccaneers QB Sefo Liufau saw the majority of the reps under center for Tampa Bay. It was Sudfeld who got the best of the game with the victory, as Liufau was the only player to toss any touchdown passes – one to his own WR Bernard Reedy, and another to Redskins' LB Josh Harvey Clemons who returned a Liufau interception 41 yards for a game-sealing pick-6.
Dustin Hopkins added two field goals for Washington to give them the 13-10 victory and with that, we give you our PFF exclusive takeaways from the contest for each team.

Top 5 grades
S Stefan McClure, 92.2 overall grade
DI Anthony Lanier, 85.3 overall grade
LB Josh Harvey-Clemons, 85.2 overall grade
LB Pete Robertson, 84.7 overall grade
G Kyle Kalis, 83.4 overall grade
Performances of Note:
RB Mack Brown, 76.9 overall grade
Brown bruised his way though arm tackles against the Buccaneers. He ran like a man on a mission making holes out of thin air. His 2.61 yards after contact per carry average is better than it looks while overcoming a vanilla game plan sprinkled in with some busted plays to churn out 69 hard earned yards. He forced a preseason-high 10 missed tackles on the evening. Only two other running backs have more than 10 forced missed tackles all preseason.
G Kyle Kalis, 83.4 overall grade
Kalis played like a man on a job interview against the Bucs. He graded out at 83.4 while mauling defenders to open up huge lanes for RB Mack Brown, as well as pass off defensive twist stunts to allow QB Nate Sudfeld time to operate. There are eyes on everything NFL players do and today Kalis delivered. He didn't allow a single pressure 28 pass blocking snaps.
Robertson terrorized the Buccanneers offensive line, leading the team with seven pressures, including three QB hits. He also recorded two stops on defense. His late game pressures from stunts helped the team preserve the victory on Tampa Bay's last ditch effort in the fourth quarter.
Harvey-Clemons also aided in the Redskins' pass-rush, recording three total pressures, but did most of his damage in pass coverage. In addition to only allowing 29 yards on four receptions, he also had a devestating pick-6, giving Washington a 10-point lead which proved to be too much to overcome on a night dominated by the defenses

Top 5 grades
LB Adarius Glanton, 91.2 overall grade
LB Cameron Lynch, 82.5 overall grade
WR Jesus Wilson, 79.8 overall grade
ED George Johnson, 78.5 overall grade
LB Richie Brown, 78.0 overall grade
Performances of Note:
Fitzpatrick capped off a disappointing preseason with another not-so-hot performance. The Buccaneers struggled on offense, and the tone was set early with Fitzpatrick's delay of game on the second play of their opening drive. Fitzpatrick only played a total of 15 snaps, and completed only 2-of-7 passes for six yards for just a 33.3 percent adjusted completion percentage.
Despite only averaging 3.6 yards per carry, McNichols earned his yards tonight, with 23 of his 36 yards coming after initial contact. He also forced two missed tackles and was able to help keep the offense on schedule and move the chains after halftime.
Glanton flew around the field for the Bucs on Thursday night, registering three stops against the run for a 15.8 run stop percentage. He made eight total solo tackles and was targeted on just one pass, in which he allowed the reception, but made the tackle for a loss of four yards for the Redskins. His 91.2 overall grade topped all linebackers in Week 4.
Lynch was great in run defense for the Bucs on Thursday night, registering three defensive stops against the run, and a run stop percentage of 12.5 percent, which was third-highest among 4-3 OLBs on Thursday. He was also targeted twice in coverage, but didn't allow a single reception.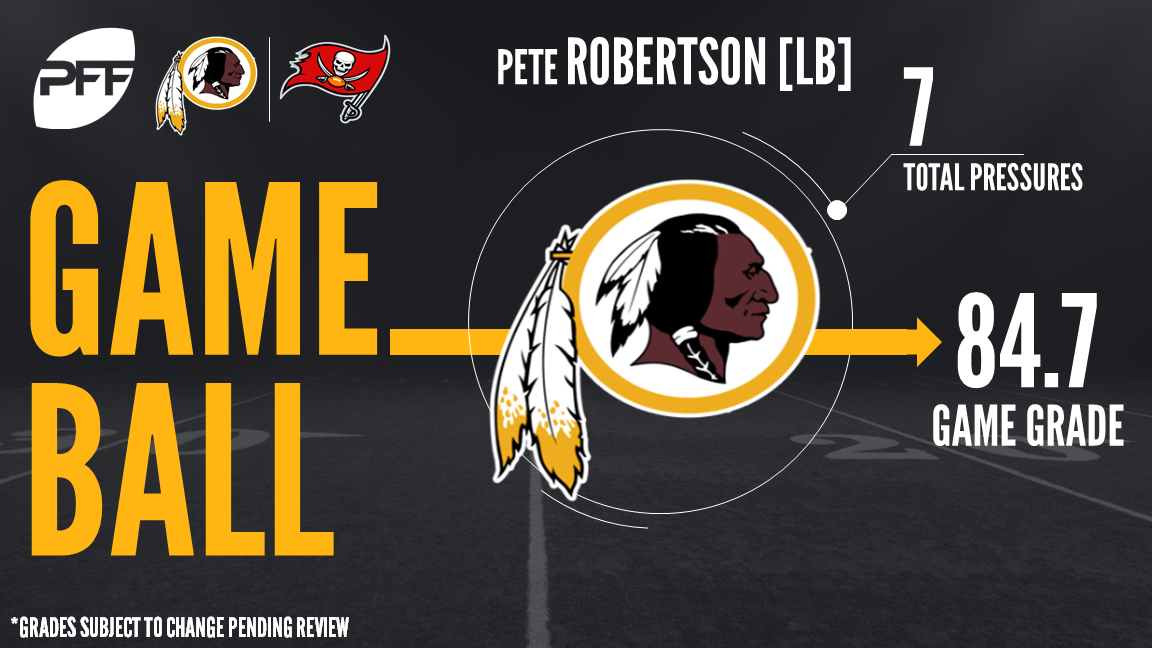 *Grades subject to change pending review