Wins, losses and box score numbers can only tell you so much about how units are performing, but here PFF is going to offer some defensive rankings based on the data.
For the first time we have been able to dive deeper into PFF's database of numbers and begin to build a picture of what numbers mean – actually run analytics on our analytics – and these rankings are a product of that research and work.
Effectively these rankings aggregate the play-by-play grading for every player on defense by facet of play (run defense, pass-rush, coverage, etc.), weights them by how much each area correlates to wins and losses through our research, and then adjusts for strength of opponent to create the final numbers.
So let's take a look at what the analytics says about the top defenses through six weeks of the season:

The Vikings under Mike Zimmer have always had a strong defense, but they have been particularly suffocating this season, with Linval Joseph leading their run defense up the middle and Harrison Smith patrolling the back end along with Xavier Rhodes at cornerback. As a unit, this team has 101 total pressures through six games.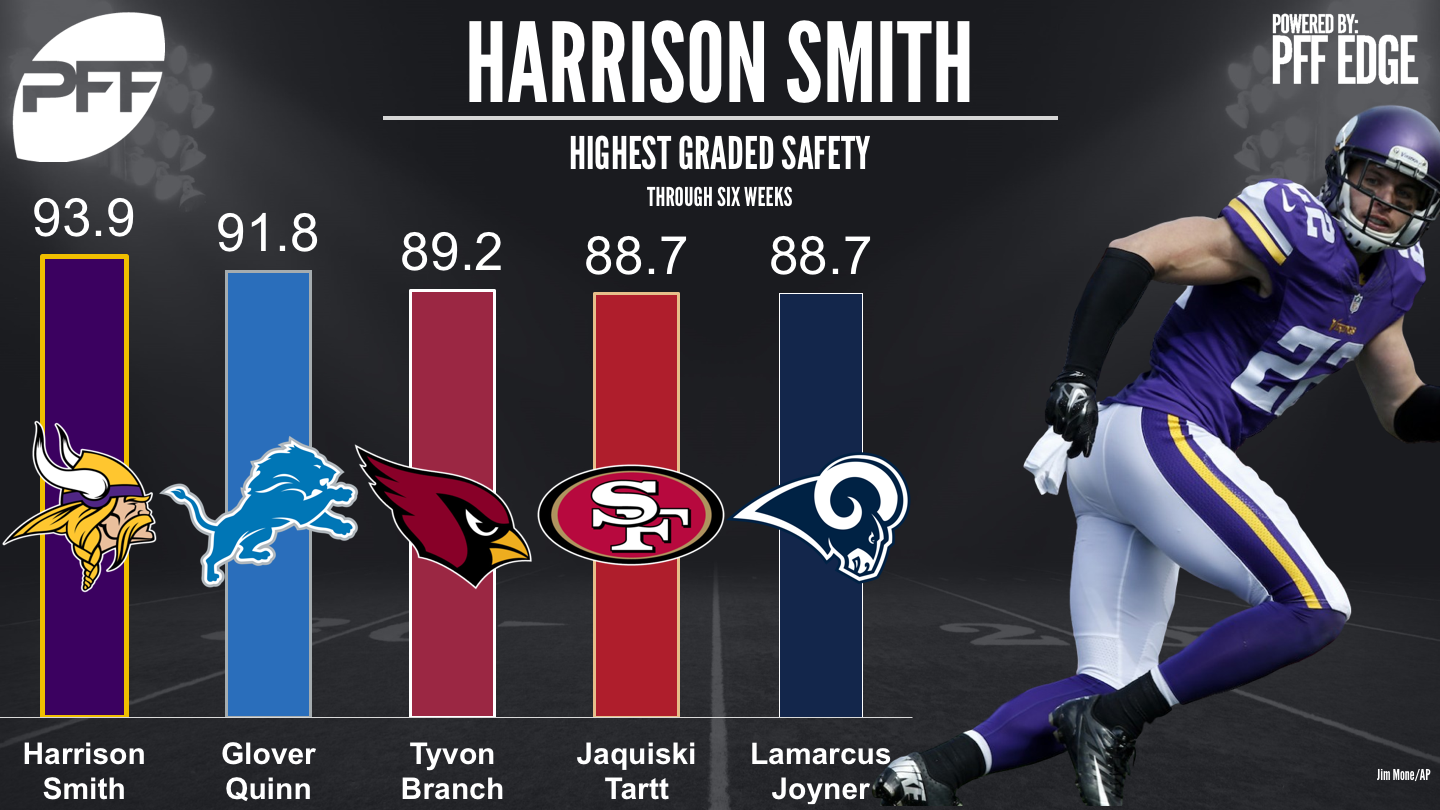 Few teams have been able to play the pass as well as Jacksonville, who have been getting crazy amounts of pass-rush up front and may have the league's best cornerback duo on the back end. Calais Campbell has sacked the quarterback 10 times through six games, and the passer rating of opposing quarterbacks is worse when targeting CBs A.J. Bouye and Jalen Ramsey than it would be if they just threw the ball into the stands every play.
No unit has improved like the Chicago Bears have on defense. It still has some issues, but it has been undermined by their offense more than most teams, not to mention injuries. They have some impressive grades in coverage across the entire back seven, while the defensive front has been very stout against the run, even if the pass-rush remains a concern.
Buffalo's defense has been a revelation in 2017. On paper this entire franchise looked to be rebuilding heading into the season, but the defense has been a force, and first round rookie Tre'Davious White has held up as the team's top cornerback in year one. Jerry Hughes on the edge has also rediscovered his best form, and has 26 total pressures as well as 11 defensive stops.
Miami's defense has held some potent offenses to minimal points this season, with the Falcons being the latest team to fail to top 20 points in the game. No team has put up more than 20 on them this year (New Orleans managed 20 exactly), and they have been able to get after the quarterback as well as make plays in the run game.
BEST-GRADED STARTER: Von Miller, Edge, 88.4
Denver's defense has changed scheme but has still performed at an extremely high level, and been far better than it looked on paper heading into the year. Bit-part players that looked like questionable depth have suddenly become key parts of the rotation, with Domata Peko currently grading more than 35 points higher than his baseline over the past few seasons in Cincinnati.
The Seattle defense is never likely to be far from the top of any defensive rankings, and they have achieved that this season despite a huge drop in pass-rush as a group. Michael Bennett has been the team's leading pass-rush force, but he has taken 182 pass-rushing snaps to get his 19 total pressures, and nobody among their big pass-rushing names has a good pass-rush grade when time to pressure and decisiveness is taken into account.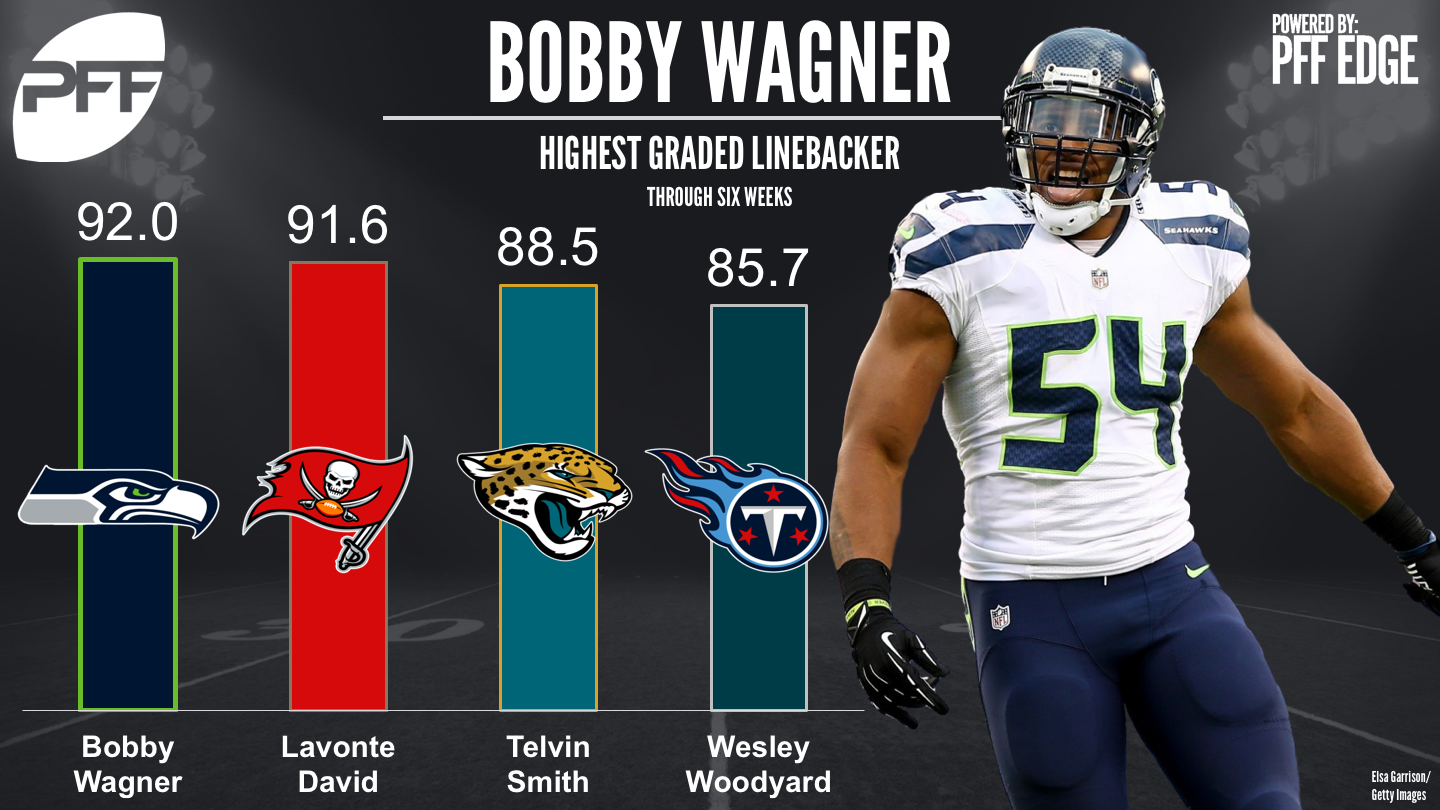 The Giants may be struggling to win games, but their defense has still played well and they have run into some top-end opposition throughout the season. Their performance this week against Denver on the road was the unit back at its best, with lock down coverage, top end pass-rush on the edge and Damon Harrison acting like a one-man run stuffing unit in the middle.
The Raiders were supposed to be carried by their offense while the defense just tried to keep up, but it's been the defense that has exceeded expectations while the offense has sputtered. Khalil Mack remains one of the best players in football, with 19 total pressures and 23 defensive stops, but the back end has seem improved play from Karl Joseph at safety in particular.
Perennially underrated, the Detroit Lions have been impressing this season, and have had shock performances from key members of this defense. A season ago, Quandre Diggs allowed 91.3 percent of passes thrown his way to be caught, but this season that is down to just 57.1 and they have gone for less than ten yards per catch. Diggs has paired with Darius Slay to form a much improved cornerback group.
The Eagles may have the best defensive front in football, but the back end is relying a little bit on smoke and mirrors, and the unsustainable play of Patrick Robinson, suddenly the team's best cornerback due to injury. Robinson has six pass breakups and two interceptions, and has played phenomenally well, but the Eagles secondary is being relentlessly targeted, and may struggle to maintain parity over the season.
Houston's defense is being decimated by injuries. They have already lost their best two pass-rushers to injury with J.J. Watt and Whitney Mercilus being shut down. Watt is also a defensive player of the year caliber player, in addition to just the team's best pass-rusher, so the hole he leaves behind is a huge one. Despite that, the team has been playing well in the secondary, where their defensive backs have done a good job limiting the damage against some top-end offenses.
Despite no Vic Beasley, the Falcons have still been able to generate significant pressure with 101 total pressures as a group despite facing fewer passing snaps than most units. Linebackers Deion Jones and De'Vondre Campbell have combined with the secondary to make this a very tough unit to pass on overall, and their run defense has been far from poor.
The Washington pass-rush has been revamped this season, with unexpected contributions from Junior Galette, coming off the back of multiple season-ending injuries, as well as second-year man Matt Ioannidis up front. Rookie interior lineman Jonathan Allen has been as good as expected but is now feared out for the season, and they have had some surprising positives in the secondary.
The Saints have had talent on defense for years, but the scheme has consistently put them in a bad position. This season that all seems to have changed, and we are seeing real impact from players that previously struggled. Marshon Lattimore may be the real deal at cornerback and has already transformed the team, while Cameron Jordan continues to be the game's most underrated all-pro caliber pass-rusher.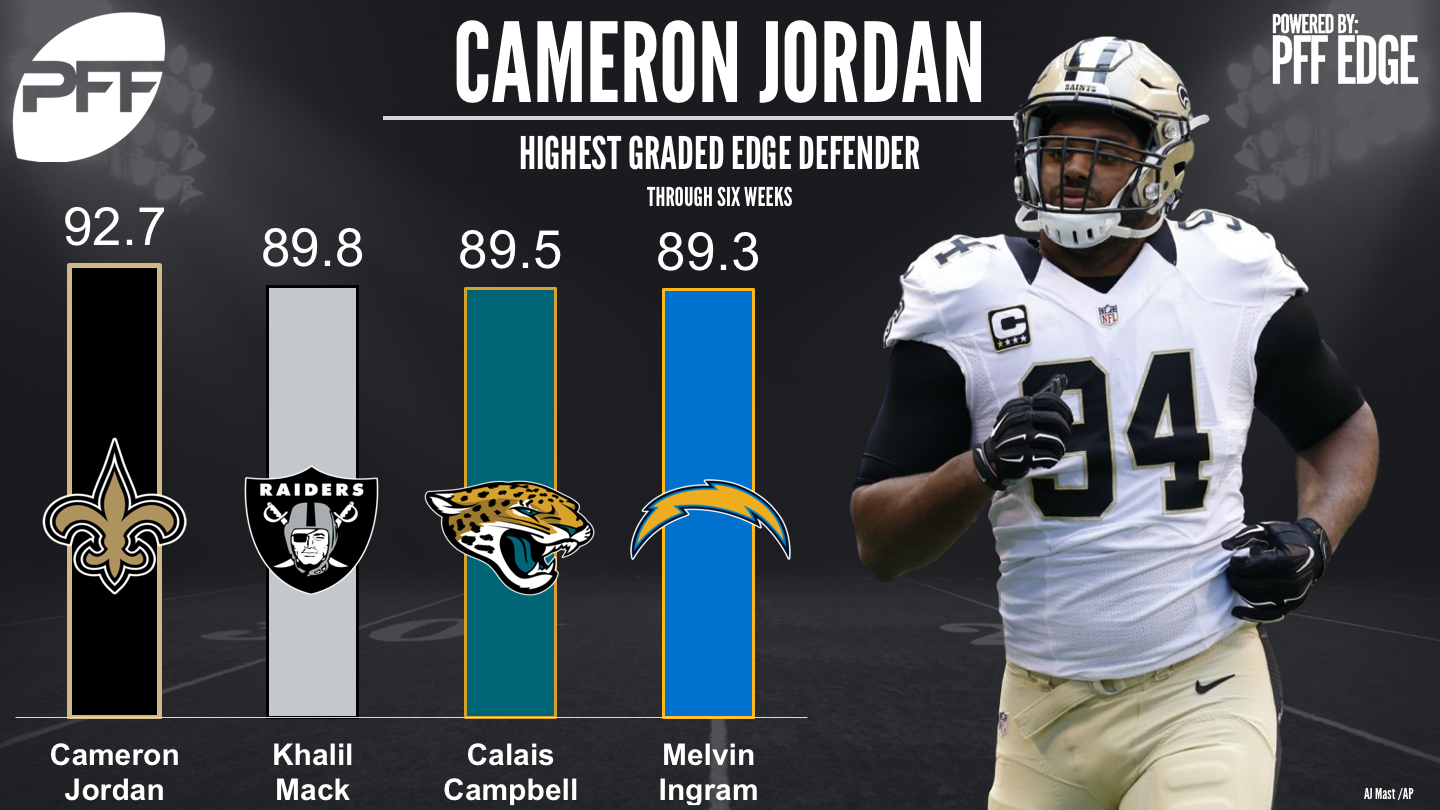 Losing Luke Kuechly for any significant period of time to his latest concussion issue will be a big concern for this team, but when he has been in the lineup they have once again had studs at each level of the defense, with maybe the game's best linebacker corps in the middle. Depth and fringe players is a concern for this team who can be run and passed on at times.
For as catastrophic as some of the Patriots bottom line numbers have been, down to down this unit hasn't been that bad. Most of the big plays have come on complete coverage busts which, though obviously a major issue, are likely to iron themselves out over a season. Rookie Deatrich Wise has been a major boost to the team's pass-rush, with 19 total pressures on 140 pass-rushing snaps.
Geno Atkins has been as good as you would expect, but the real surprise on this team has been the play of rookie fourth-round pick Carl Lawson. Lawson has 25 total pressures, and the second-best pass-rush productivity score among all edge defenders given his relatively small playing time. Adam Jones may not be quite the force he once was, but he is still allowing just 6.8 yards per reception this season.
The Pittsburgh defense is an enigma. We saw yesterday that no team runs man coverage less than Pittsburgh, and in fact they are not even close to the next team in terms of how little they do it. Their best pass-rusher is likely still James Harrison, who has been kept in a padded box on the sideline for much of the season ready for deployment in times of need, and has just 22 defensive snaps so far. Cameron Heyward and Stephon Tuitt up front form an imposing duo on the front line.
No Calais Campbell has left a significant hole in this Cardinals defense that they have yet to adequately patch. Frostee Rucker leads the defensive linemen in snaps, and has been extremely ineffective. On the back end, as good as Patrick Peterson is, the other starter is Justin Bethel, and the disparity in talent means Bethel has seen more than twice the number of passes come his way than Peterson, and has already surrendered six touchdowns.
Kansas City has gone up against some top-flight offenses, but it has also had its share of struggles and for every top flight player they have there is someone else of concern that can be exploited. This week was a good example, with Marcus Peters notching a pick on a miscommunication and generally playing well, while Phillip Gaines allows a pass to ricochet off his face and into the arms of Antonio Brown for the game-winning touchdown.
Injuries seem to be the constant story with the Chargers, and they have once again been without Jason Verrett for most of the season. The back end has been impressive despite his absence, but their linebacker group is a mess, and up front they don't have enough in the middle to complement the edge rush threat of Joey Bosa and Melvin Ingram.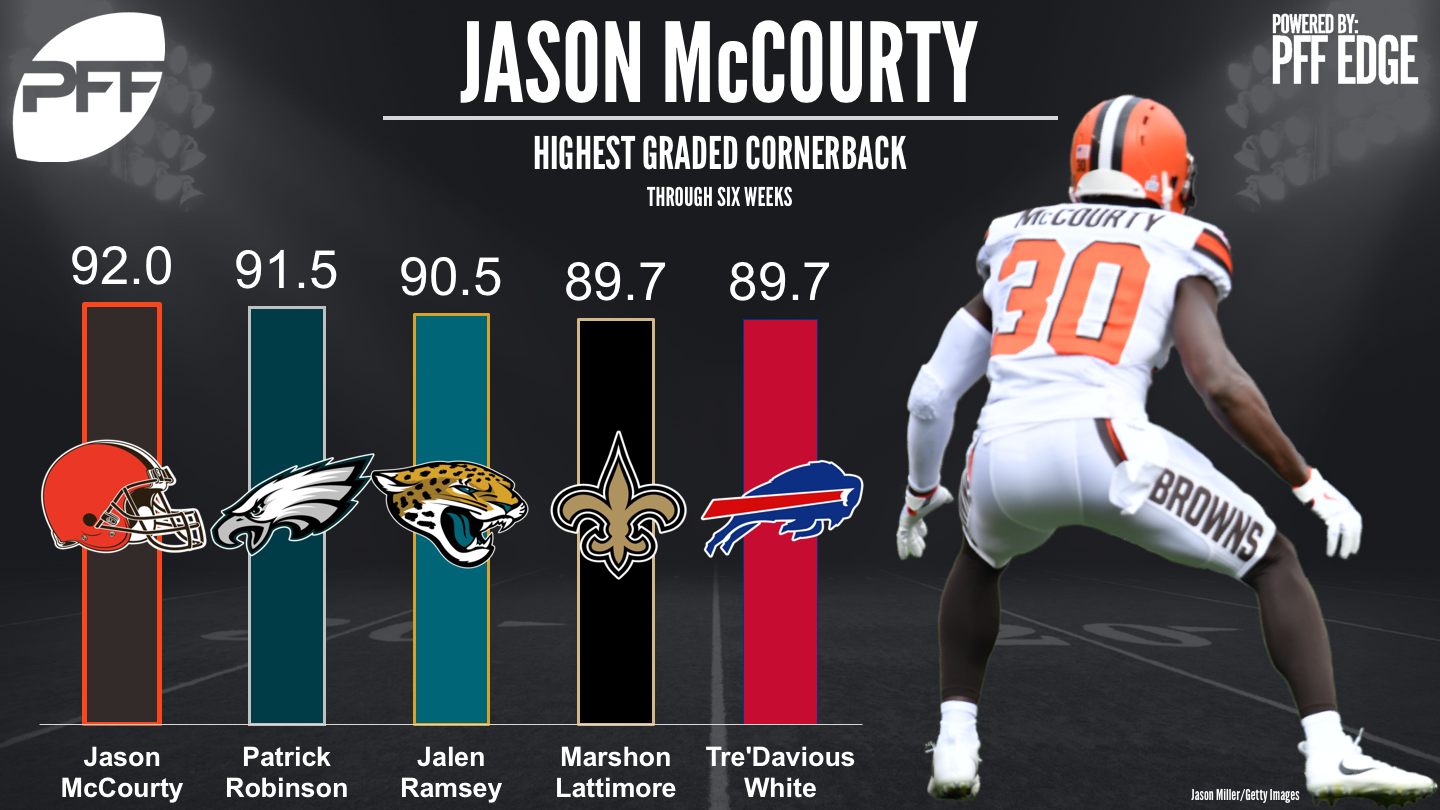 The Green Bay defense has been better than a season ago, but it is still far from a strength and relies too much on a couple of key players that have already missed time this season, contributing to their lowly ranking. The secondary remains an issue, with nobody able to man up with the best receivers in the game and injuries have forced them deeper and deeper into the bench.
Baltimore's defense has run hot or cold this season. They began the year on fire, but those performances came against the Cincinnati Bengals and the Cleveland Browns. Since then the Jaguars put up 44 points, followed by the Steelers and Bears both putting up more than 25, with only Oakland continuing to struggle. They have individuals playing well, but the sum of the parts has been disappointing.
DeMarcus Lawrence has been one of the stars of the new season, with 31 total pressures through six weeks to lead the NFL. He has been something of a one-man-band though, particularly up front until David Irving can shake of the rust after suspension. The tantalizing potential of Sean Lee and Jaylon Smith at linebacker in the middle has yet to be fully realized on the field, with neither player hitting the heights they are capable of yet.
Myles Garrett back in the lineup should vault the Browns up this list in the coming weeks, but without him they have been completely unable to generate pressure, and while they have been capable run defenders, the back end has been porous enough that they can't keep teams running the football.
The best games from this Rams defense have come against Scott Tolzien in Week 1 and Blake Bortles this past week, undercutting their highlights because of strength of opponent. There is certainly potential there though, especially with Wade Phillips seeming to get even greater performance from Aaron Donald, who has 20 total pressures in the past two weeks alone.
The Bucs defense has some talent, with Gerald McCoy still dominating up front, notching 22 total pressures and 11 defensive stops. Their linebacker group has the ability to become one of the best, with rookie Kendall Beckwith impressing early, but the back end has been the big problem. Vernon Hargreaves is edging closer to being a first-round bust at cornerback with each game, and Brent Grimes hasn't been as strong as before.
The Colts may have the worst linebacker group in football, with nobody at that level that can tighten windows in the passing game and make life tougher on opposing quarterbacks. Rashaan Melvin has been excellent at cornerback and Malik Hooker flashed talent at safety, but the rest of the secondary has been a disaster, and the team doesn't have an elite pass-rush to patch that up.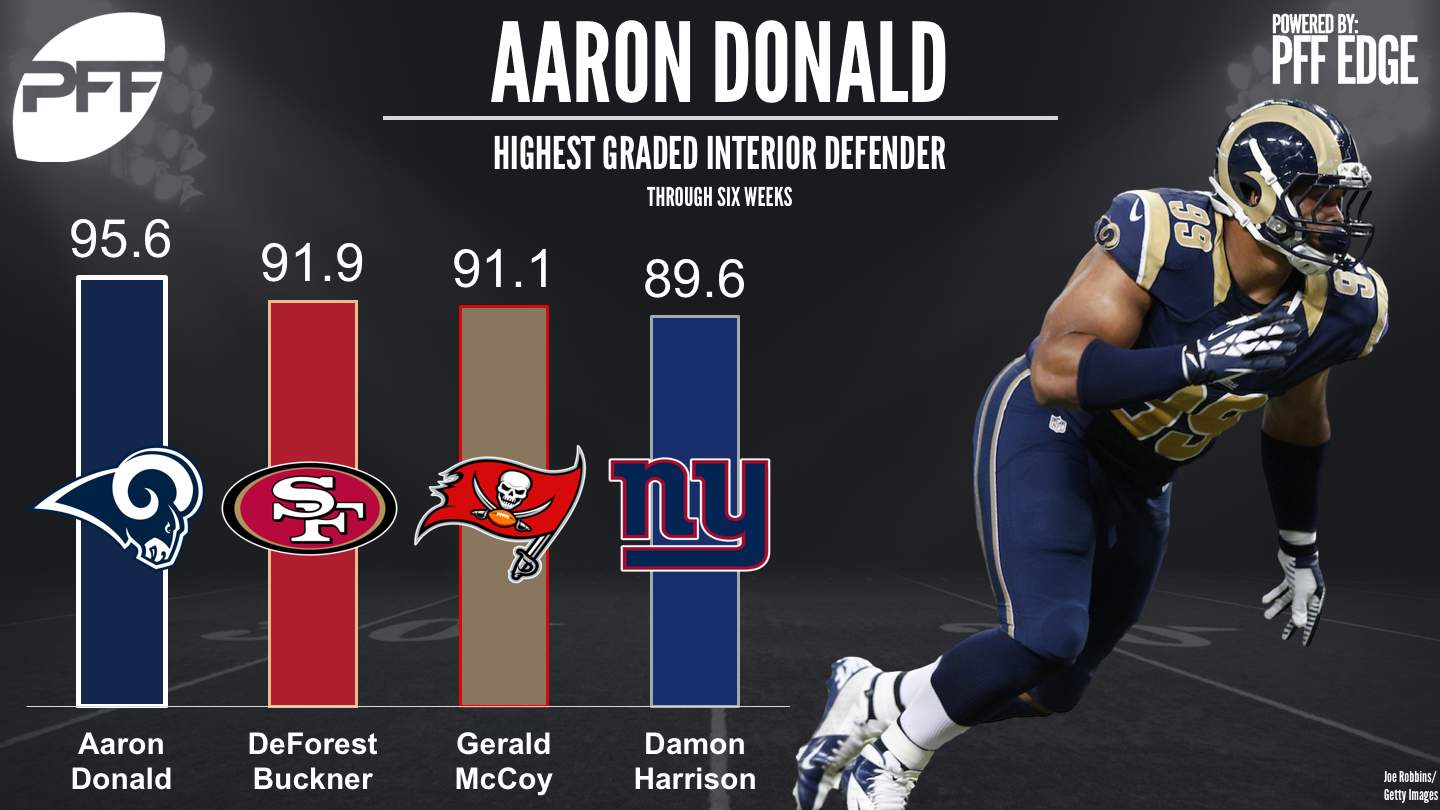 If there's a team that can rival the Colts for the worst linebacker group in football it's the 49ers, at least until they get rookie Reuben Foster back on the field. Their defensive front has actually been pretty good, but it doesn't matter given how porous the secondary has been, with only Jaquiski Tartt covering himself in any glory.
The Titans began the season well, but have allowed big days to some questionable offenses, including getting eviscerated by Houston Texans quarterback, Deshaun Watson. The talent is there for this unit to improve, as some of their better players have had uncharacteristically slow starts to the season, and much rests on the development of Adoree' Jackson at cornerback.
BEST-GRADED STARTER: Kony Ealy, Edge, 82.4
When the team's best player is struggling (Leonard Williams), you know things are not going well. Williams and Wilkerson have turned what should have been the team's strength into a weakness, with their front unable to stand up to teams in the run or pass game. There has been some talent in the secondary, but the front seven hasn't been able to protect them nearly enough.