Atlanta Falcons
Pass Game Supporting Cast – Tier 2
Overall Team Supporting Cast – Tier 1
[Editor's note: The Supporting Cast metrics measure performance of players other than the quarterback, utilizing PFF grades and clustering analysis to group them into tiers from best (Tier 1) to worst (Tier 4). Passing Game Supporting Cast is indicative of supporting players contributing more to passing stats while Overall Team Supporting Cast includes other portions of team performance as well. For more information on support cast rankings, listen in weekly to the PFF Forecast podcast.]
For the sake of Atlanta Falcons' fans psyche, we won't rehash how the previous two seasons ended (or the current Julio Jones contract conversations), but instead look forward to a loaded and experienced roster we just ranked second overall. The Falcons have All-Pro caliber players at every level on both offense and defense and were one of three teams with four players in the PFF Top 50 (Cowboys and Saints the other two). Jones returns as the highest-graded player of the bunch.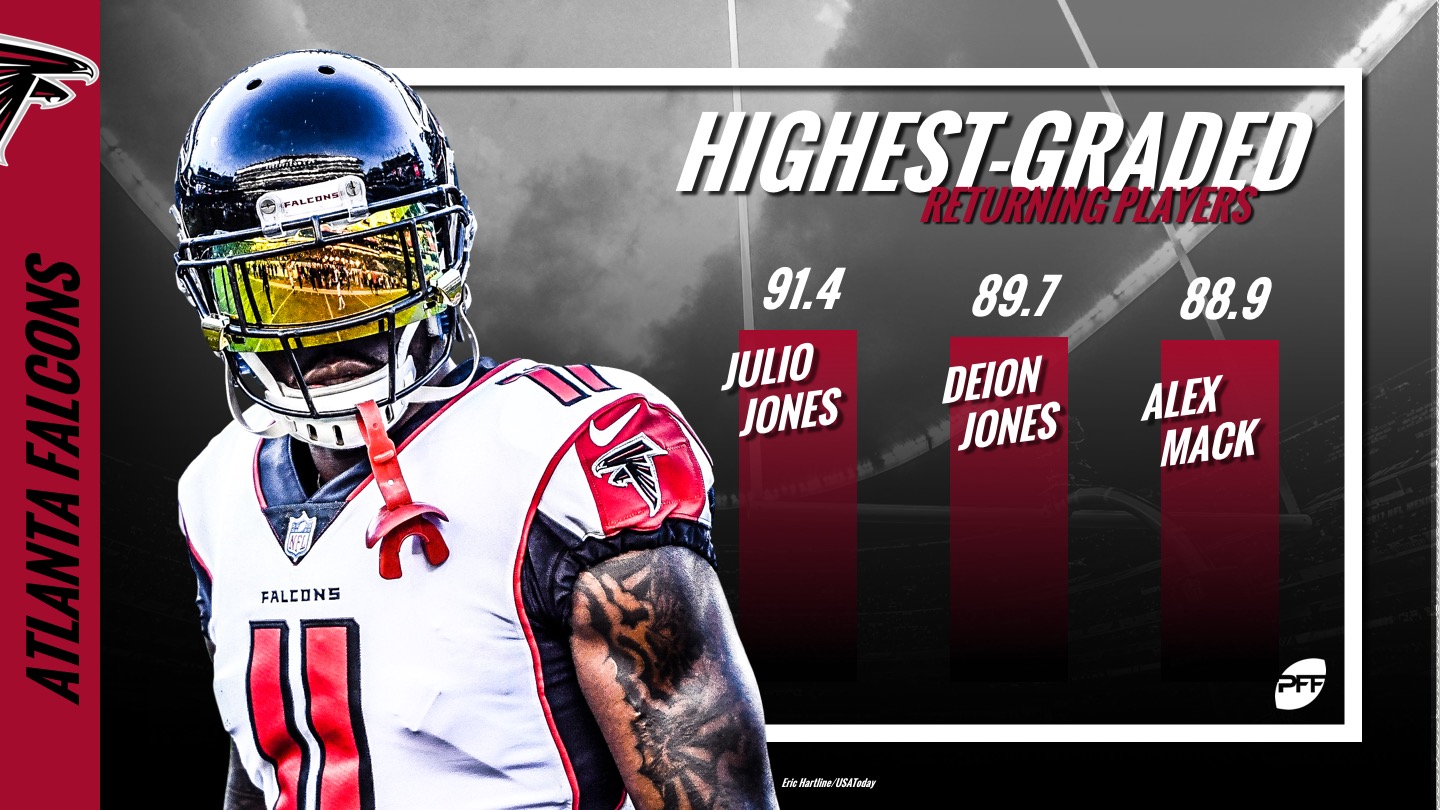 Not to mention young defensive standouts DT Grady Jarrett (87.1 grade), Keanu Neal (85.2) and CBs Desmond Trufant (84.9) and Robert Alford (83.3).
Coming into 2018, our PFF Forecast experts Eric Eager and George Chahrouri have the Falcons as the favorites in the NFC South and give them a 60.5% chance of the making the playoffs. To make those predictions come to fruition, the Falcons and their roster of few holes will have to continue to improve in specific spots (defensive line & right guard) while also getting continued strong play and development from those young standouts.
Defensive line
In our recent pass-rush rankings, the Falcons found themselves ranked 16th as gone are Adrian Clayborn (85.5) and Dontari Poe (81.1), who combined for 1,338 snaps and 92 total QB pressures on the defensive line last season, a third of the team's overall total. To replace Poe's interior presence, the Falcons drafted South Florida's Deadrin Senat in the third round. Senat had career-high pass-rush (80.1) and run-defense (86.7) grades last season, amassing 26 total QB pressures and 37 defensive stops. In addition, head coach Dan Quinn hopes to revive Terrell McClain's career (41.8 grade in 2017, career high of 74.4 came in 2014) while also getting consistent play from a now healthy Jack Crawford (59.7).
For more on Deadrin Senat and the rest of the 2018 NFL Draft class – it's not too late to grab the 2018 NFL Draft Guide –

On the edge is a different story as two recent first-round picks will receive the bulk of opportunities. After a 16-sack second season, Vic Beasley (55.6 grade) became the prime example for why sacks are not stable year-over-year as he regressed in 2017 and recorded only six sacks and 28 total QB pressures. On the other side, Takkarist McKinley (77.8 grade) looks to take a leap in Year 2 with increased time on the field. His pass-rush productivity of 10.1 was second among rookies last season, just behind No. 1 overall pick Myles Garrett.
Offensive additions
Even after coming back to the pack in 2017 from their record setting 2016, the Falcons were still one of the top offenses in the NFL. With all the core positions intact, the Falcons sought to upgrade specific areas. First, they signed veteran right guard Brandon Fusco (76.7), a top-25 ranked guard in both run- and pass-blocking in 2017, to upgrade the interior of their offensive line. Then, they drafted PFF's No. 1 ranked wide receiver in Alabama's Calvin Ridley (82.4 college grade), in the first round.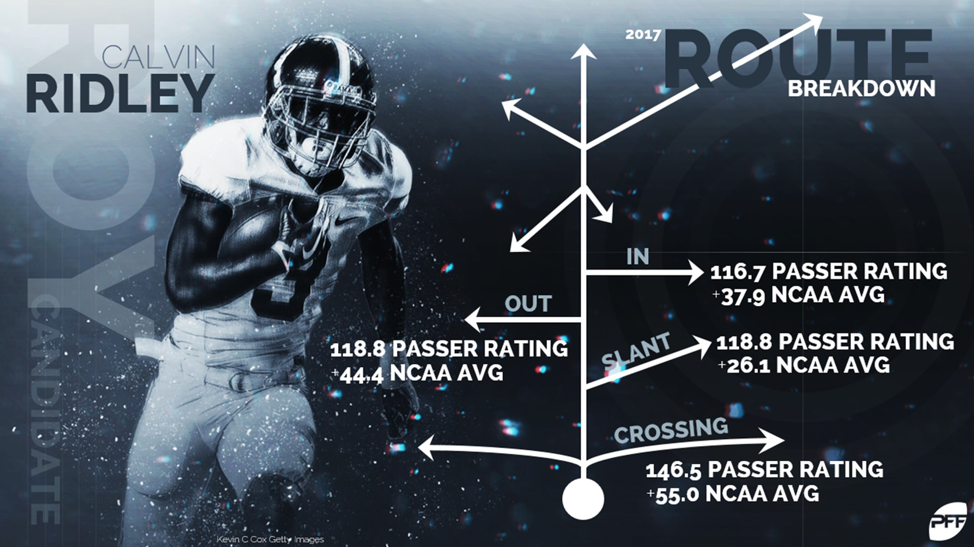 Ridley's ability to get open that we highlighted prior to the draft will only add to the plethora of weapons at QB Matt Ryan's disposal.
Little more luck will go a long way
Outside of red-zone performance (career-low passer rating and completion percentage for Ryan in 2017), perhaps the biggest key to the Falcons this season is finding a four-leaf clover. In 2017, Ryan had the lowest rate of turnover-worthy plays – a great stat to lead. However, he also had (also courtesy of our PFF Forecast preview):
The worst drop rate on third down
More interceptions from non-turnover worthy throws (eight) than actual turnover-worthy throws (six)
Highest rate of turnover-worthy throws ending up as actual interceptions
In other words, the ball had a really bad habit of finding its way into the hands of the other team, even when Ryan put the ball exactly where it needed to be.
Overall, the Falcons are hoping the common statistical phrase "regression to the mean" occurs in 2018 for Ryan's turnover luck and that he and offensive coordinator Steve Sarkisian can work some Year 2 magic like year two of Ryan and Kyle Shanahan in 2016. If that happens and Ryan and Jones continue their elite play as well as the defense continuing to improve and get more consistent pressure on the quarterback, the Falcons will be seeing themselves play deep into January, and possibly even February on their home turf.

POSITION BATTLES TO WATCH
2018 PFF NFL Training Camp Previews
---
Arizona Cardinals | Atlanta Falcons | Baltimore Ravens | Buffalo Bills | Carolina Panthers | Chicago Bears | Cincinnati Bengals | Cleveland Browns | Dallas Cowboys | Denver Broncos | Detroit Lions | Green Bay Packers | Houston Texans | Indianapolis Colts | Jacksonville Jaguars | Kansas City Chiefs | Los Angeles Chargers | Los Angeles Rams | Miami Dolphins | Minnesota Vikings | New England Patriots | New Orleans Saints | New York Giants | New York Jets | Oakland Raiders | Philadelphia Eagles | Pittsburgh Steelers | Seattle Seahawks | San Francisco 49ers | Tampa Bay Buccaneers | Tennessee Titans | Washington Redskins