[Editor's note: This story was originally published on April 20, 2018.]
This is not the strongest wide receiver class in recent memory, and it seems to be populated by players with a piece missing from their game, even at the top. Opinions are divided on the identity of the top prospect, but one name that comes up consistently is Alabama's Calvin Ridley.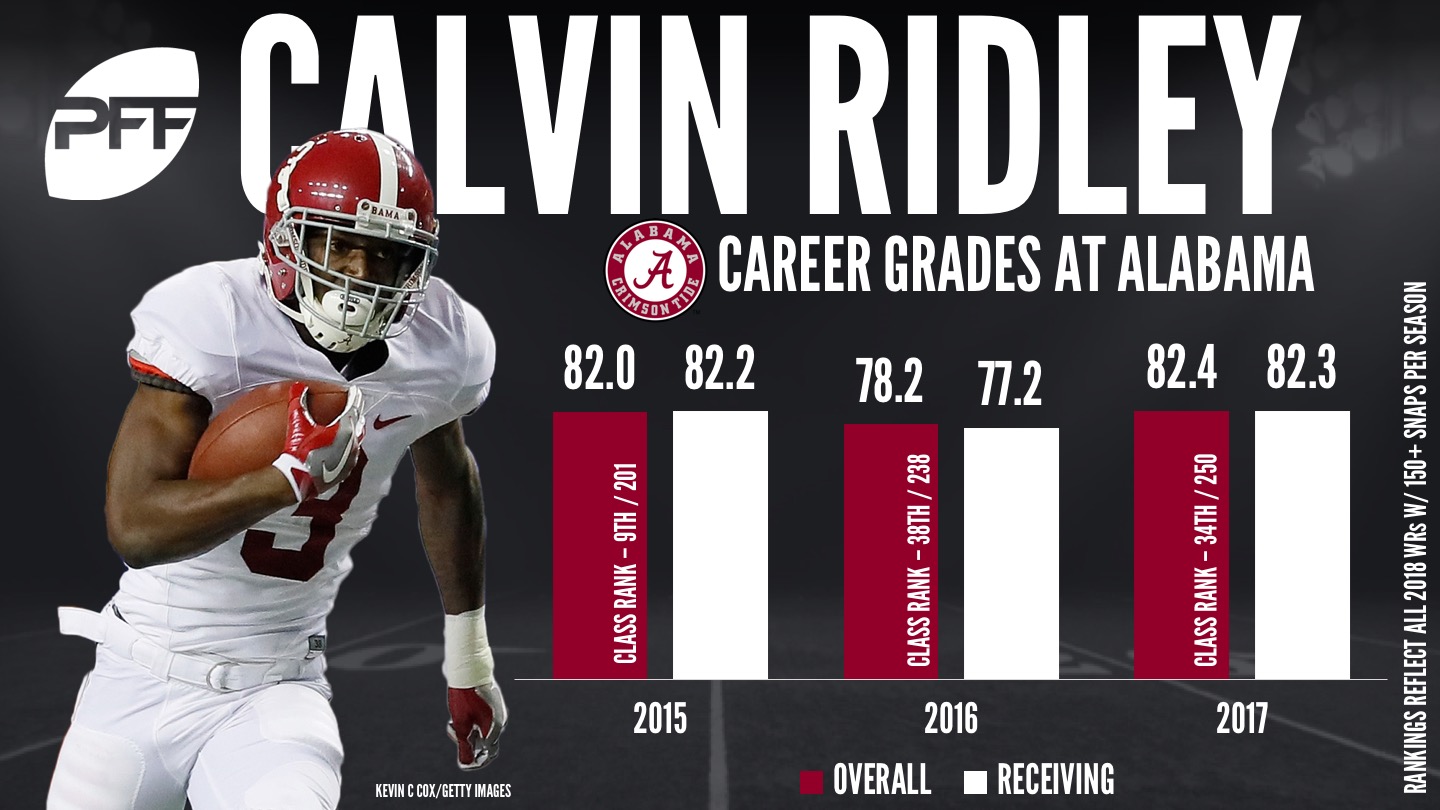 As with all of these top prospects, there are areas of concern in Ridley's game, but he is good at the most important part of playing wide receiver – getting open regularly.
Ridley's Combine measurements are cause for concern, as he posted one of the strangest measurable profiles of any prospect at Indianapolis. His 40-time (4.43 seconds) and 3-cone (6.88 seconds) were both impressive, but he ranked in the ninth percentile or lower in the vertical jump, the broad jump and the short shuttle.
For a player whose 'explosiveness' is regularly lauded on his scouting reports, those are three numbers that call into question that explosion.
PFF's Draft Feature on Calvin Ridley is brought to you by Eckrich, the Official Smoked Sausage of the College Football Playoff.
Going back to the tape, Ridley shows the best route running in the draft class and an ability to get open without needing to lean on pure explosion. His speed and burst are evident, but critically, he understands how to use them to set defensive backs up in both man and zone coverage, breaking him wide open in ways that simple speed and change of direction wouldn't.
So much of route running is not about how crisp your footwork is and how suddenly you can change direction to break away from a defender, rather it's about the subtle moves you make that depend entirely on circumstances.
Calvin Ridley on the top of the screen. Creates easy separation on the slant. pic.twitter.com/i1cHd2gymD

— Marcus Mosher (@Marcus_Mosher) April 17, 2018
Take this play against LSU as an example – with LSU in man coverage at the time. Ridley effectively manufactures the pick play by pressing his route vertically to cause the collision that busts him open. He would have been able to break this route inside earlier, given the leverage of the outside corner, and the route concept itself is designed to cause this kind of chaos in the secondary, but with the coverage on the play it needed help to create the collision, and Ridley instinctively knew how to make it happen. He had the knowledge and discipline to force the contact, knowing that it would break him open even more than just the route itself.
Most receivers would just take advantage of the alignment and beat their man to the inside. They would get open, but they wouldn't be literally uncovered at the point they caught the ball. One of Ridley's greatest traits as a route-runner isn't just that he gets open, but he maximizes how open he gets, deceiving defenders in coverage and baiting them into small mistakes that make his job at the catch point easier. That isn't just a bonus for a receiver, but it's a crucial aspect of his game because he struggles in contested catch situations. The extra separation he manufactures buys both him and his quarterback a greater margin for error.
There are times where Ridley's route running sophistication is on another level to anyone else in this class, as perhaps you would expect given the fact he will enter the draft at 23 years of age.
When most people talk about route running, they are thinking in terms of how sharp and precise the route is and how cleanly it breaks the receiver open, but there are other levels to it, and Ridley is a master of them. Route running is also about being able to manipulate defenders on the field to get them out of position and away from obstructing the path of the receiver.
Against Texas A&M this past season, Ridley executed a route that should be housed in a museum dedicated to the craft. It's third down and the Alabama offense needed to complete a pass to move the chains, and Ridley's pass pattern was a simple out route to the sideline at the first down marker. The problem was the alignment of the defender covering Ridley put him in the way of that completion. Had he simply run the route as it's drawn up on the chalk board, Ridley likely would have had to contest the catch with the defensive back. Had he committed the cardinal sin of rounding the route out, he could even have risked an interception by allowing the defender to undercut the route and gain position on the play.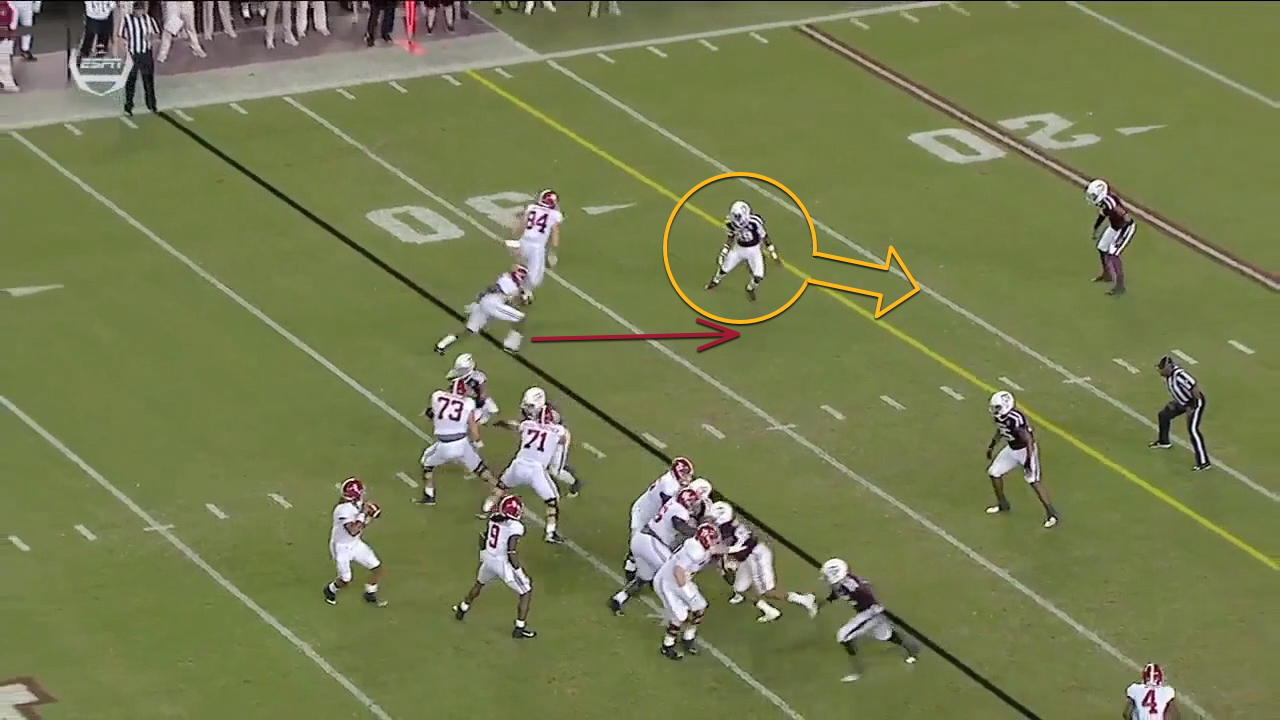 Instead, Ridley makes two subtle moves, each designed to actually reposition the defender, before then breaking open into the area that should have been covered.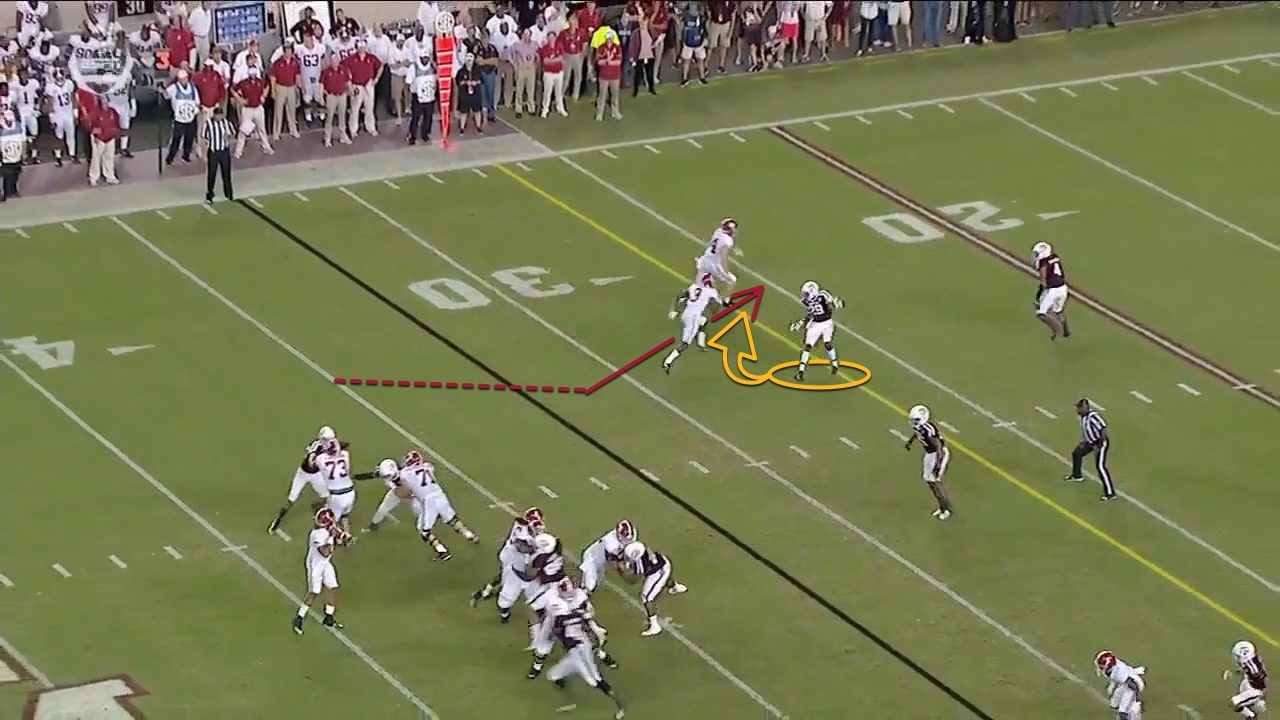 He comes off the line not vertically, but angled inside, forcing the coverage defender to chase him inward with his first steps. Once Ridley has his man moving that way, he cuts up field and angles outside, making the defensive back think this was his break, causing him to scramble back to regain position. That scramble was taking him to the wrong spot, because Ridley's initial break was simply a decoy to re-route the defender onto an incorrect angle. Only then did Ridley make his final break towards the sideline and the first down marker.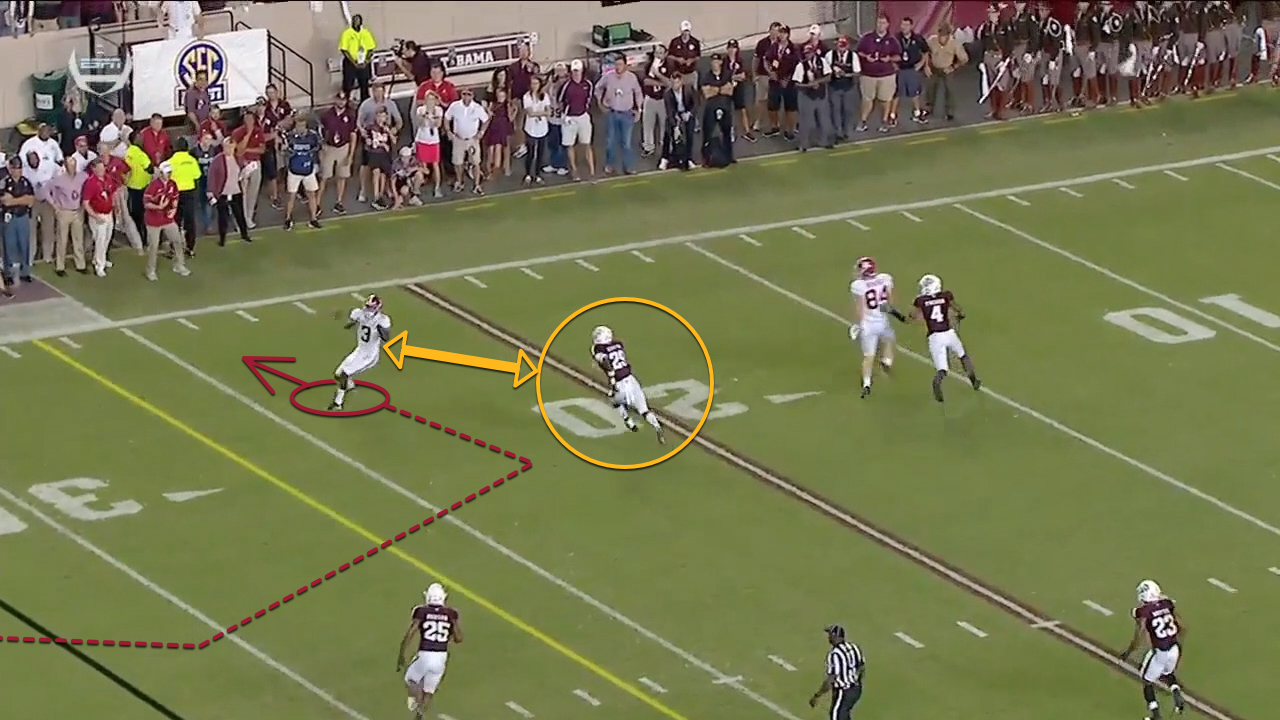 Having moved the defensive back away from his initial leverage, and then sent him on a false angle, Ridley was able to make an easy reception at the sideline for a first down, extending the drive.
Burst
The last thing that aids Ridley's separation is just pure speed and acceleration, not necessarily because he is just faster and more explosive than defensive backs, but rather because he understands how to use that threat to his advantage. Ridley knows how to scare defensive backs into opening their hips and getting off balance before making his move or cutting off his route, slamming on the brakes and watching them sail on up field. He has a variety of little moves with his head to magnify the threat of his speed, and that makes him so much more dangerous than a receiver that only relies on speed and athleticism.
Calvin Ridley's burst and acceleration is also sick. Just eats up the CB's cushion here, but as always there's value add in the route subtlety – head fakes him before the cut to send the CB away. Too easy: pic.twitter.com/35SS70aih0

— Sam Monson (@PFF_Sam) April 18, 2018
Flaws
While his route running is on another level, there are still major flaws to his game. I mentioned earlier that his ability to win contested catches was poor, and in fact his ability to catch the ball generally is not a strength. He has 23 drops over his college career, meaning he dropped 9.3 percent of catchable targets, a figure that would have ranked 70th in the nation this season. Route running isn't just a strength for him, it's necessary given his struggles at the catch point.
While he does have elite speed and athleticism, he is only 6-foot and weighs under 190 pounds. That relative lack of size shows up not just at the catch point, but also against physical corners who can give him a hard time in press coverage at the line. Ridley's release is excellent if he has a little space to work with, but he can struggle if defenders get their hands on him.
This is a similar story to another recent first-round pick – Nelson Agholor – who struggled badly in his first two seasons in Philadelphia because he couldn't hold up to the physicality in the NFL on the outside. Agholor was moved inside to the slot in 2017, and responded with a career year, more than doubling his production on a per-route basis, and leading the league with eight touchdowns from the slot. Ridley spent 20.8 percent of his snaps last season in the slot at Alabama, so he has experience inside even if that move needs to be made. Agholor at least gives him a path to success at the NFL level, and a likely floor to his production. Even if his flaws mean he is limited in upside, at worst he should become a very productive slot weapon with the kind of route running skills that provide more value to an offense than his overall production numbers might suggest.
My favorite aspect of Ridley's route running is that he doesn't just get open, but he maximizes HOW open he gets.

Post vs bailing corner here, no FS – this is always going to be open – but Ridley hits the CB with a move at the break to send him outside and opens even more space pic.twitter.com/J5aOI5hPr7

— Sam Monson (@PFF_Sam) April 18, 2018
This draft is without a clear-cut superstar wideout, but Ridley has elite NFL-level traits, and the kind of skills and feel for his craft that you simply can't teach. While everybody is searching for wide receivers with special physical gifts, they are doing so to find a player that can simply get open consistently and make plays. Ridley gets open more than any receiver in this draft class and, perhaps more importantly, gets more open than any receiver as well. He is well worth a first-round draft pick, even if he may never become the next Julio Jones.