We're near the end of the 2018 NFL preseason schedule and rosters are taking their final shapes for the 2018 NFL regular season. We've got you covered from final position battles to players who have stood out through three games as we dive into Week 4 of the preseason slate.

PFF's Press Pass for Week 4 takes you deeper into the intriguing matchups for every game during the fourth full week of the preseason. Building on our features from last week, here are the budding storylines for all 16 games on the slate this Thursday night:
Thursday, August 30
A tough decision at tight end
Second-year tight end David Njoku has shown flashes of dominance through three games and has caught all six of his catchable passes, for 71 yards and two touchdowns, which has generated a passer rating of 148.5 – the second-best mark among tight ends with at least five targets. Deciding on the depth behind him, however, is not an easy choice. With seemingly only one roster spot available, that decision will likely come down to  Seth DeValve and fan-favorite Devon Cajuste. DeValve has missed a significant amount through injury recently, while Cajuste has hauled in three catches for 53 receiving yards through three games, en route to an overall grade of 68.3. The Browns' last preseason game may be the final chance for them to showcase their skills and claim a place on the 53-man roster.
Ameer  Abdullah's future
This offseason, the Lions signed free agent running back LeGarrette Blount and selected former Auburn running back Kerryon Johnson in the second round of the 2018 NFL Draft, which immediately put Ameer Abdullah's future in Detroit in doubt. Through three preseason games, Abdullah has done himself no favors to secure a roster spot as he's averaged just 1.62 yards after contact per carry on his 13 rushing attempts, which puts him 90th among 104 running backs with at least 10 carries. Abdullah will need to put something on tape if he wants to carve out a role for himself in the Lions backfield this year.
Who will fill out the Dolphins' TE depth chart?
With Dolphins tight ends MarQueis Gray, Mike Gesicki and A.J. Derby likely to be roster locks, the performance of Gavin Escobar and Durham Smythe this week will be key to rounding out the position group. Escobar's 81.2 overall grade through two games played is the second-highest on Miami's offense, while his 93.1 overall game grade for last week's preseason game against the Ravens was the highest among all of Miami's offensive players. Smythe's 67.2 overall grade for the preseason so far is decent, but his 78.1 pass-blocking grade is what's turning heads, as it's the highest grade among Miami's tight ends through three games. Escobar and Smythe could be competing for one available roster spot, so a strong performance by either player could provide some clarity.
Atlanta cornerback competition
Robert Alford and Desmond Trufant should have the starting outside cornerback jobs locked up for the Falcons, but rookie cornerback Isaiah Oliver and veteran cornerback Blidi Wreh-Wilson will be worth watching on Thursday. Wreh-Wilson has earned a 74.1 overall grade through three preseason games and has excelled in coverage, allowing a 28.0 passer rating on seven targets. Oliver's 54.0 overall grade reflects some first-year struggles, as does his 149.3 passer rating allowed on six targets. A strong game from Wreh-Wilson could secure the third cornerback spot on the depth chart, while a strong game from Oliver could accelerate his timetable to contribute in 2018.
Interior linemen living up to their billing
The Bengals picked Billy Price in the first round of the NFL draft this year in an attempt to bolster a weak offensive line. Early returns look good, as Price has produced a pass-blocking grade of 85.5 and allowed zero pressures in 59 pass-blocking snaps. While he has been solid in the passing game, Price needs to improve his performance in the run game where he posted just a 51.0 run-blocking grade. Looking at the defensive interior, the lesser-known Andrew Billings has been turning heads this preseason. After losing his rookie season to a meniscus tear and shaking the rust off last year, Billings has made the most of his snaps and has posted a run-defense grade of 84.6 to go along with a pass-rushing grade of 83.2. He has lived in the opposing backfield where he has notched two sacks, a hurry, three tackles and four stops in just 48 total snaps. With play of this level, Billings should be able to securely lock down the other defensive tackle spot opposite Geno Atkins. 
Quincy Wilson finding stride
Colts cornerback Quincy Wilson is currently listed as third on the depth chart, but we could see that change soon. Wilson has been the Colts highest-graded cornerback throughout the preseason, posting an overall grade of 80.9. More impressively, Wilson has been targeted six times on 30 coverage snaps and has allowed just three catches for 29 yards – good for a coverage grade of 87.5 and a passer rating of just 63.9 when targeted. The Colts' corner has also been a factor in the run game where he has collected six tackles and one stop. The Colts are in desperate need for consistent, quality cornerback play since parting ways with Vontae Davis and it will be interesting to see if Wilson may be developing into that guy this season.
On the roster bubble: Andrew Adams
With Curtis Riley cementing his status as the team's starting free safety, Andrew Adams may be on the outside of the roster bubble during this final week before roster cuts. Adams has played well when called upon this preseason, the former undrafted free agent out of UConn has been at his best against the run so far in 2018, as evidenced by an impressive run-stop percentage of  24.1 percent – the highest mark among all qualifying safeties.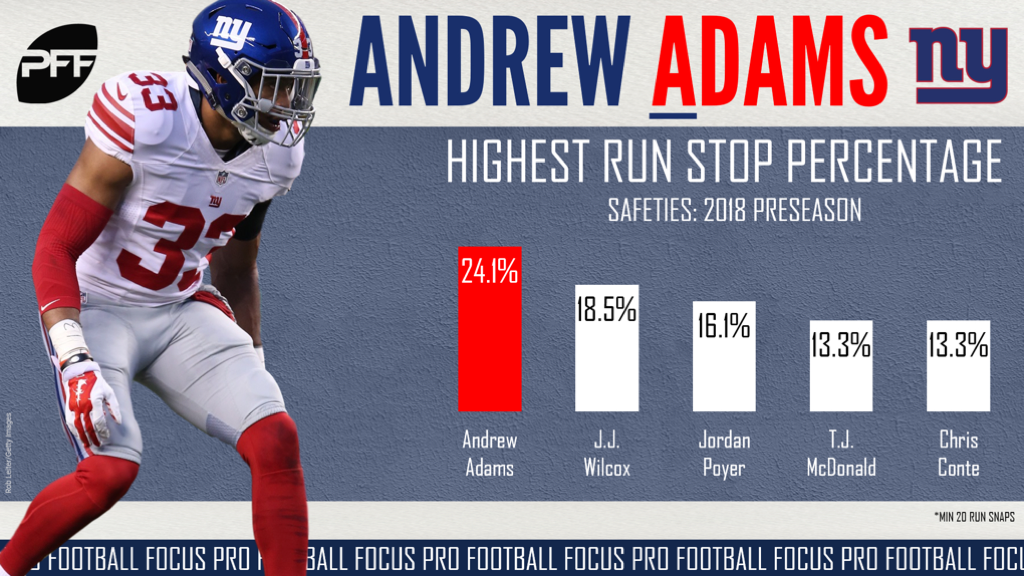 Searching for depth at the receiver position
The Jets are looking for some of their younger receivers to step up and show the team what they are capable of. Players like Chad Hansen, Charone Peake and ArDarius Stewart were all drafted in either 2016 or 2017 but have been unable to make an impact so far. Through three weeks of the preseason, the three have accumulated seven receptions for 70 yards and a touchdown between them. Stewart has been the most targeted of the three and has caught five of his seven targets. The trio's play will be something to keep an eye on this week.  
Crowded Eagles Backfield
Aside from Jay Ajayi, there is not a consensus as to which running backs will remain on this Eagles roster after the preseason. Wendell Smallwood has made a case for a spot, as he has put together a decent preseason with 22 carries for 75 yards, with 63 of those yards coming after contact. However, Josh Adams, who the Eagles signed as an undrafted free agent this offseason, has managed to put up 41 yards after contact on just 11 carries and has shown that he is more than capable of being a solid contributor. 
Byrd trying to carve out a role
The Panthers' final preseason game may be the last chance for fourth-year wide receiver Damiere Byrd to cement a roster spot. Through three weeks, Byrd has been targeted just five times on 34 passing snaps, and he's managed to catch three of those targets for 34 yards. Heading into his team's final contest, Byrd ranks third among the four Panthers receivers with at least five targets in overall grade (61.0) and receiving grade (60.3), while his average of just 1.00 yards per route run puts him fourth.
Dobbs' final appearance?
In his team's third preseason game against the Titans, QB Josh Dobbs was the only one of the team's four signal-callers to not to take a snap. Couple that with the fact that the Steelers remain committed to Landry Jones as Ben Roethlisberger's backup and the fact that rookie Mason Rudolph is being groomed as the heir apparent, and it looks likely that Dobbs' future in the Steel City is bleak. In two preseason games, Dobbs has been efficient from a clean pocket, completing 17-of-22 attempts for 237 yards, three touchdowns and two interceptions, which is good for a passer rating of 113.1 – the best mark among Steelers quarterbacks. Week 4's clash against the Panthers may be Dobbs' last chance to showcase his skillset.
Hogan vying for a roster spot
Kevin Hogan will get the opportunity to make his case for a roster spot this week, but the 25-year-old may have an uphill climb. Struggling last year, Hogan posted a 50.5 overall grade in four games of action with the Cleveland Browns. However, he has shown flashes this preseason, notably producing an overall grade of 80.2 (11th among 62 qualifying quarterbacks with at least 10 dropbacks) last week against the Broncos. While it's hard to imagine the Redskins rostering three quarterbacks to start the season, a strong performance from Hogan combined with uncertainty around a recent thumb injury to backup Colt McCoy could move the needle.
Who will be Flacco's backup entering Week 1?
We all know Robert Griffin III isn't the future of the Ravens but has he done enough to be locked into the backup quarterback role? Rookie quarterback Lamar Jackson had his best performance as a pro last week, finishing with an overall grade of 83.2, sixth among 62 qualifying quarterbacks with at least 10 dropbacks. RGIII, on the other hand, has struggled, posting a poor overall grade of 54.1, ranking 44th. Thursday's contest could weigh heavily as the Ravens' brass contemplates their next move at the quarterback position.
McCray looks to take advantage of extended playing time
While edge rusher is a deep position on the Jaguar defense, the fourth preseason game allows fresh faces to see extended snaps. One in particular who could benefit is Lerentee McCray. Through three preseason games, McCray has played 56 snaps, and his overall grade of 77.4 is the third highest on the Jaguars defense. Through those three weeks, McCray has generated six quarterback pressures with a pass rushing productivity of 9.1 – 29th among edge rushers with 30-plus pass-rushing snaps. He'll get an extended look Thursday as he plays for a spot on the 53-man roster.
Griffin has the opportunity to shine
Unless the Buccaneers want to get Jameis Winston some reps before his suspension, neither him nor Ryan Fitzpatrick figure to play much if at all on Thursday. That opens the door for Ryan Griffin who has performed admirably this preseason, posting an overall grade of 86.5 that ranks fifth among quarterbacks with 20 or more dropbacks in this preseason. So far this preseason, Griffin has a produced a perfect passer rating of 158.3 on his passes of 20 or more yards downfield, completing all three of his attempts for 78 yards and two touchdowns.
Cowboys' Backup Quarterback Competition
With starting quarterback Dak Prescott unlikely to see the field this week, the Cowboys will turn to quarterbacks Cooper Rush and Mike White to battle for the backup quarterback position. So far this preseason, Rush has typically been the first quarterback off the bench behind Prescott and has turned in an overall grade of 47. 1 while managing a passer rating of just 73.2 from a clean pocket. Rookie quarterback White has put together an overall grade of 50.0 and a passer rating of 79.2 from a clean pocket. One area where both can improve is on their accuracy under pressure, as Rush's adjusted completion percentage falls from 71.9 percent when not under pressure to 60.0 when under pressure, while White's adjusted completion percentage drops from 78.8 percent when kept clean to 56.3 percent.
Texans' Third Receiver Battle
Texans' wide receivers DeAndre Hopkins and Will Fuller have the top two wide receiver spots locked up, but there is an opening for the playing time in three-wide sets. Braxton Miller, Bruce Ellington and Sammie Coates have been vying for that playing time throughout the preseason. Each player has produced decent receiving totals with Miller catching nine passes for 94 yards and a score, Ellington catching seven passes for 72 yards and a score and Coates registering five catches for 70 yards and no touchdowns. Their overall grades through this stage of the preseason are 68.5, 64.2 and 69.7, respectively. This week's game will be each player's last chance to make an impression on the coaching staff to make their claim for additional playing time.
Tre'Quan's Impressive Preseason
Tre'Quan Smith has put together quite the preseason for the Saints. In three games, he has been targeted 13 times and has caught 11 of those targets for 147 yards and a touchdown, generating a passer rating 139.4. He owns the second-highest grade on New Orleans' offense at 87.1, as well as the second-highest grade among all wide receivers with at least 10 targets this preseason. This Thursday, he will face a defense in the Rams whose 78.7 cumulative coverage grade is tied for eighth so far this preseason.
 Strong Case for Kiser
After parting ways with linebacker Alec Ogletree this past offseason, the Rams needed to address the position in the draft. The first player they selected, Micah Kiser, has flashed dominance so far this preseason. Through three weeks, Kiser owns the fifth-highest overall grade among all rookie linebackers this season at 83.3 and he has also generated two more quarterback pressures than any other rookie linebacker and is yet to miss a single tackle. Though he may not be able to carve out the starting role just yet, Kiser has caught the eyes of many and shown that he will be around Los Angeles for a while.
Offensive line play is alarming
The Bills offensive line struggled mightily against a stout Bengals front-seven in Week 3. Rookie QB Josh Allen wasn't able to find a rhythm in the pocket, facing consistent pressure throughout the first half. In total, the Bills offensive line allowed 14 total pressures in the game, bringing their preseason total to 39 pressures allowed. As a unit, they own the 22nd-ranked pass-blocking efficiency rating at 81.9. More specifically, the interior offensive line has raised the most red flags. Starting interior linemen Russell Bodine, Vladimir Ducasse and John Miller have combined to allow 11 total quarterback pressures, while current backup center Ryan Groy has allowed another four. Fifth-round draft pick Wyatt Teller has been the bright spot of the group, earning an 88.1 pass-blocking grade and allowing only one pressure on 74 pass-blocking snaps. The rookie could soon be a factor along the interior offensive line which could see some alterations going into the season.
Javon Wims preseason breakout continues
Seventh-round rookie Javon Wims has been making the most of his opportunities in the Chicago offense this preseason. The rookie is coming off of a big performance against the Chiefs last week, as he caught all four of his targets for 114 yards and a touchdown. This preseason, Wims has been targeted 20 times, hauling in 15 catches for a league-leading 227 yards, including one score. Through three weeks, Wims has averaged an impressive 2.52 yards per route run and generated a passer rating of 128.5, which ranks 14th among all receivers with at least 10 targets. The rookie wideout has already earned a spot on the Bears' roster, but with another standout performance, Wims could vault into meaningful snaps early this season.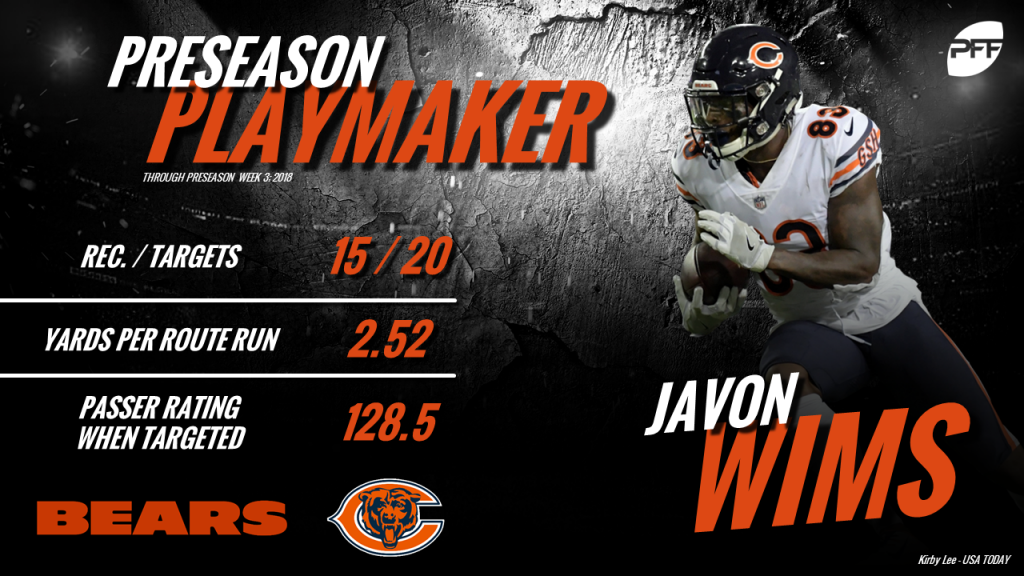 Kyle Sloter making the final push for the QB2 spot
For the second preseason in a row, Kyle Sloter is on a roster with Trevor Siemian, and the sophomore quarterback enters the final week of the preseason with hopes of jumping the veteran on the depth chart. After being waived by the Broncos last preseason, Sloter was claimed by the Vikings and spent much of the season on the roster without playing a regular season snap. He has shown he can excel in a clean pocket for the second preseason in a row, with a passer rating of 136.2 in 2017 that ranked third highest and a 122.2 in 2018 that ranks fifth highest among quarterbacks with at least 30 dropbacks. Sloter has outplayed Siemian thus far in the preseason (75.4 overall grade to 53.4) and can put an exclamation point on his preseason with a strong performance in the finale against the Titans.
Jayon Brown still has some room for improvement
After the Titans selected dominant pass-rushing linebacker Rashaan Evans with the 22nd overall pick of the NFL draft, expectations were that he would battle for the starting inside linebacker spot alongside Wesley Woodyard. However, a training camp injury has delayed his NFL debut and second-year LB Jayon Brown has done his best to seize the opportunity. Brown has improved to become one of the highest-graded Titans' defenders in run defense (81.5), tackling (84.4) and pass-rushing (78.3) this preseason, yet his coverage grade has dropped from 55.6 in 2017 to 54.3 through three preseason games. With most of his usage coming in coverage, Brown will need to polish his pass defense to secure his playing time before Evans returns to the field.
Can Packers find clarity in QB depth chart?
Through three preseason games, the Packers have a dilemma at the quarterback position behind Aaron Rodgers. Last year's backup Brett Hundley has led the group this preseason, having earned a grade of 85.2, fifth highest among 78 quarterbacks with at least 20 dropbacks this preseason. Although they also have QB DeShone Kizer (62.7 overall grade) and undrafted free agent QB Tim Boyle, (81.1 overall grade). Boyle will make a final push for a roster spot, while Kizer and Hundley will continue to battle it out for the backup job behind Rodgers.
UDFA Ben Niemann pushes for a roster spot
Undrafted free agent LB Ben Niemann has been the Chiefs' best defensive player this preseason as the rookie linebacker out of Iowa has an overall grade of 92.1 so far, ranking second of 147 linebackers with at least 45 snaps. Niemann's run-defense grade of 88.7 leads the position, and he has been making a strong case for a roster spot and even playing time this season. He also has one interception on the lone pass thrown his way in coverage and is an intriguing young player to watch as he looks to cap off his stellar 2018 preseason.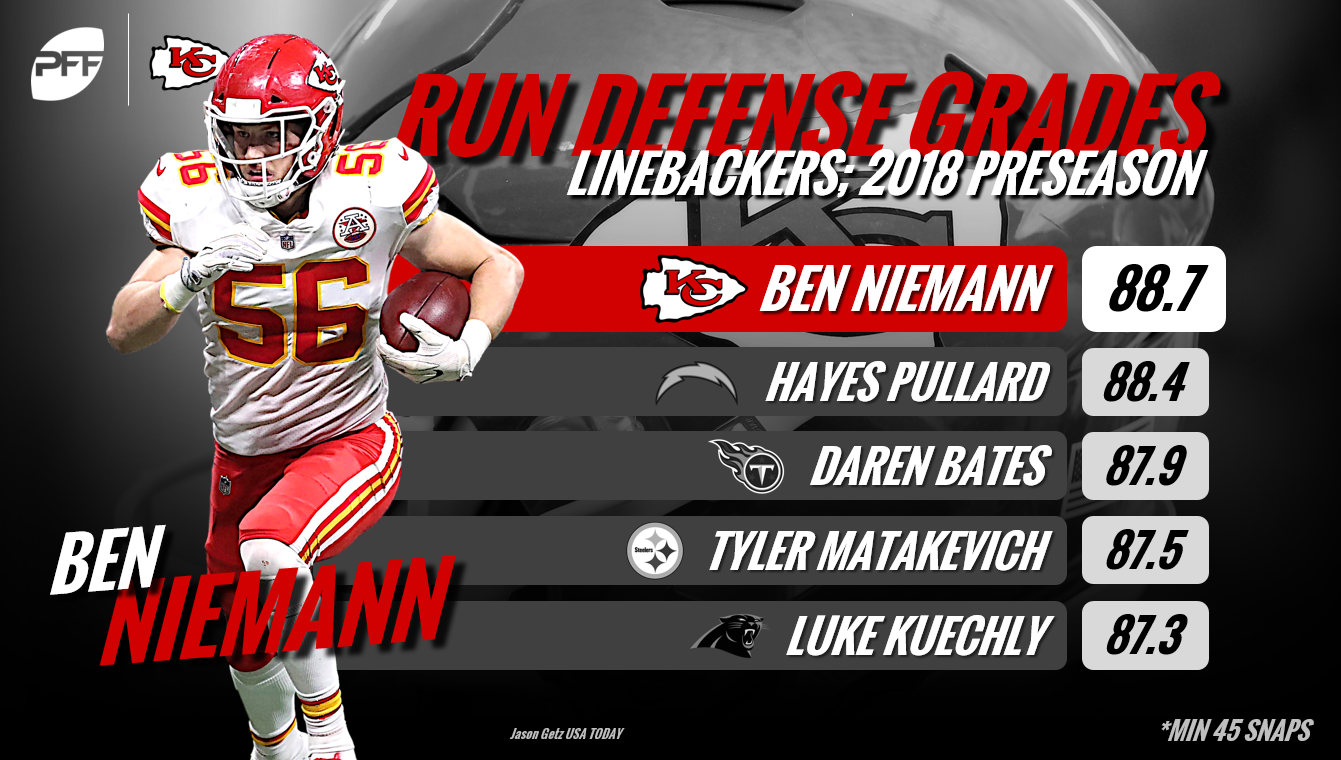 Shaquil Barrett on the verge of a breakout season?
Shaquil Barrett has gone relatively unnoticed while playing alongside Von Miller for his entire career, and that's why he's one of the NFL's secret superstars on defense. In last week's win, Barrett recorded four pressures and earned an elite overall grade of 90.8, ranking fourth among edge defenders for the week. His effort also earned a spot on the PFF preseason Team of the Week. Barrett has quietly been a good player for all three of his NFL seasons so far, earning overall grades of 78.0 or higher each year and a career-high 84.0 overall grade in 2016. As good as he is in pass-rushing, it might not even be his best attribute, as he earned a run-defense grade of 78.7 last season, ranking 16th out 124 edge defenders with at least 200 total snaps. 
Rosen to play in week 4?
Josh Rosen was a last-minute scratch in last week's game due to a hand injury, but he could end up playing in the final week of the preseason. With two games under his belt, Rosen has an overall grade of 46.2, ranking 67th out of 72 quarterbacks with at least 25 dropbacks in the preseason. Rosen has performed admirably against the blitz so far this preseason and produced a passing grade of 66.0 and an adjusted completion percentage of 70.0 percent on such plays. With only one game left for Rosen to prove that he's ready for regular season action if called upon, Cardinals fans hope the confident quarterback can show them what made him so good at UCLA.
Hayes Pullard steps up in an important role
The Chargers have some of the league's most talented position groups in cornerback and edge rusher, but now Hayes Pullard is stepping up in a linebacker group that lacks depth. Pullard, a reach to make the roster last season, has burst onto the scene and only surrendered one reception on 28 coverage snaps while also adding six run stops. The third-year player has the highest grade on the Chargers defense this preseason (86.0), but he'll likely sit behind Denzel Perryman to start the season. Perryman has earned a 57.9 grade on 63 snaps compared to Pullard's 62 snaps.
The battle for Third-String Running Back Continues
The competition to make the 49ers 53-man roster behind Jerick Mckinnon and Matt Breida will be resolved this Thursday. Head coach Kyle Shanahan said he'd split the carries evenly last Saturday in their game against the Colts but ended up giving 17 attempts to Alfred Morris and pushing Raheem Mostert out of the rotation. Mostert was relegated to special teams and will be a reach to make the roster. Morris made his preseason debut and gained 2.80 yards after contact/attempt the eighth-best mark in the NFL last week. Coach Shanahan believes Morris still has "juice" left in him, but we'll see how it shakes out Thursday against the Chargers.
Lee speeding towards the regular season
Second-year defender Marquel Lee is quietly stringing together a fantastic preseason with an overall grade of 92.5, good for second-best amongst all linebackers in the NFL. Lee has graded well in run defense (80.0), but the former 2017 fifth-round-pick should have the Raiders excited about what he's done against the pass. Lee is averaging 26 coverage snaps per reception and 0.12 yards per coverage snap while yielding a minuscule 56.3 passer rating through three preseason games. 
Offensive line shaping up
In last week's game against the Vikings, the Seahawks saw four offensive linemen register pass-block grades above 80.0. The entire unit yielded only eight pressures and finished with a team pass-blocking efficiency rating of 90.7. Seeing veteran Duane Brown play 22 snaps without yielding a pressure bodes well for the upcoming season, but the younger linemen have also been impressing. Willie Beavers continued his successful preseason campaign and after three games, has only allowed one pressure in 40 pass-block snaps. While he's only played 11 total snaps in two NFL seasons, Beavers can finish out the preseason strong and potentially earn some significant playing time in 2018.