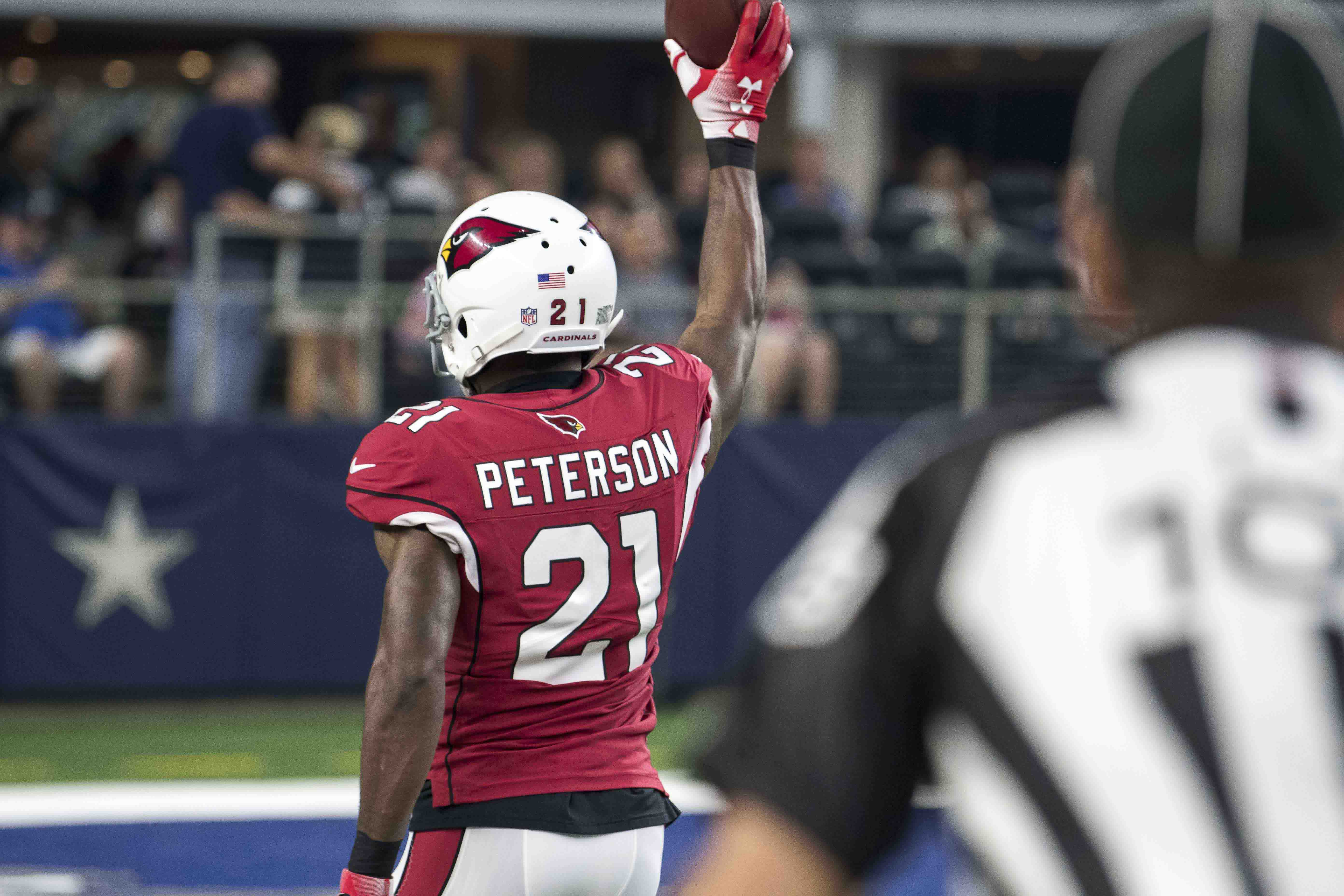 Aug 26, 2018; Arlington, TX, USA; Arizona Cardinals defensive back Patrick Peterson (21) after returning an interception for a touchdown against the Dallas Cowboys during the first quarter at AT&T Stadium. Mandatory Credit: Jerome Miron-USA TODAY Sports
The third full week of the NFL's preseason schedule is in the books and it's time to reflect on the weekend's top-graded players based upon hours and hours of our team of analysts watching every player on every play of every game.
With preseason being such a unique proposition, making this team isn't quite as simple as earning the highest grade at your position in a given week. Weighting has been given towards playing time, as well as doing your good work against the first- and second-string opposition units in an attempt to strike a balance between the best production over the longest stretch of playing time, and against the best standard of players.
Check out all preseason information including every player's grade with PFF Elite and Premium Stats 2.0.

Offense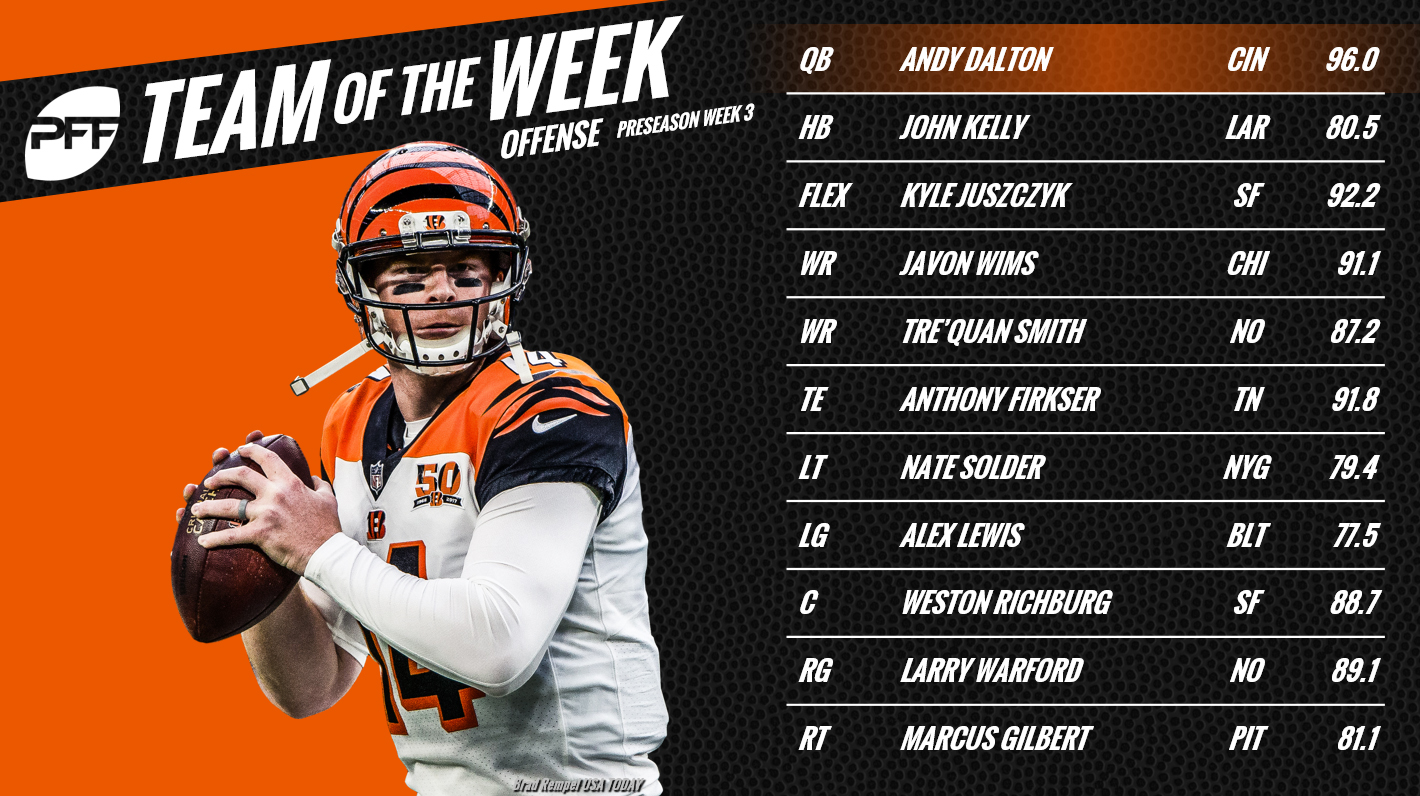 Quarterback
Dalton has been known for the up-and-down nature of his performances throughout his career, but this last performance was definitely an up. He went 11-for-16 passing, but of his five incompletions, two were the result of dropped passes and another came from a batted pass. He excelled throwing the ball downfield as both of his 20-plus yard attempts were caught and went for 81 yards and a touchdown.
Running Back
Kelly had his best game of the preseason so far against the Texans on Saturday afternoon, and not just because he found the end zone twice. Kelly averaged 3.5 yards after contact per carry and forced four missed tackles on 15 carries, taking his preseason total to six avoided tackles.
Wide Receiver
Wims made an impact in the Hall of Fame game but was quiet each of the past two weeks before rebounding with a big game against the Chiefs. Catching all four passes thrown his way for 114 yards and a touchdown, Wims saw a perfect 158.3 passer rating on plays where he was the targeted receiver.
Wide Receiver
Smith has looked like a perfect fit for the Saints offense since arriving as a third-round draft pick out of UCF this year. Against the Chargers, he caught all four passes thrown his way for 39 yards and a touchdown and has yet to drop a pass this preseason.
Flex Offense
Seeing 20 snaps for the 49ers against the Colts, Juszczyk impressed both as a blocker and in the receiving game. He produced an 89.6 run-blocking grade and caught both of the passes thrown his way for 21 yards, with one of those receptions going for a first down.
Tight End
After making a limited impact during the Titans' first two preseason games, Firkser had a breakout game against the Steelers this week. He averaged 4.25 yards per route run, the highest YPRR average among tight ends to see at least four targets in Week 3.
Left Tackle
Solder was solid as a run blocker, producing a 70.3 run-blocking grade, but it was in pass protection that he really impressed this week. From 24 pass-blocking snaps at left tackle, he didn't allow a single sack, hit or hurry, giving him a perfect 100.0 pass-blocking efficiency rating.
Left Guard
Lewis started at left guard for the Ravens and didn't allow a single sack, hit or hurry from 23 pass-blocking snaps, giving him a perfect 100.0 pass blocking efficiency rating also. Lewis has looked comfortable in pass protection so far this preseason, with just one sack allowed from 66 pass-blocking snaps.
Center
Richburg allowed one hurry from 23 pass-blocking snaps at center this week and is the lone offensive lineman on the Team of the Week to have allowed any pressure. He was utterly dominant as a run-blocker however, producing a PFF grade of 91.8 that was well above any other center in the NFL this week.
Right Guard
Getting the start on the right side for the Saints, Warford continued a strong preseason with his best game so far. He didn't allow a sack, hit or hurry from 16 pass-blocking snaps, and has now allowed just one hurry from 33 pass-blocking snaps this preseason.
Right Tackle
Gilbert was another tackle who produced a perfect 100.0 pass-blocking efficiency rating this week, not allowing a single sack, hit or hurry from 28 pass-blocking snaps at right tackle. He was even better as a run blocker, producing an 82.9 PFF grade in that regard.
Defense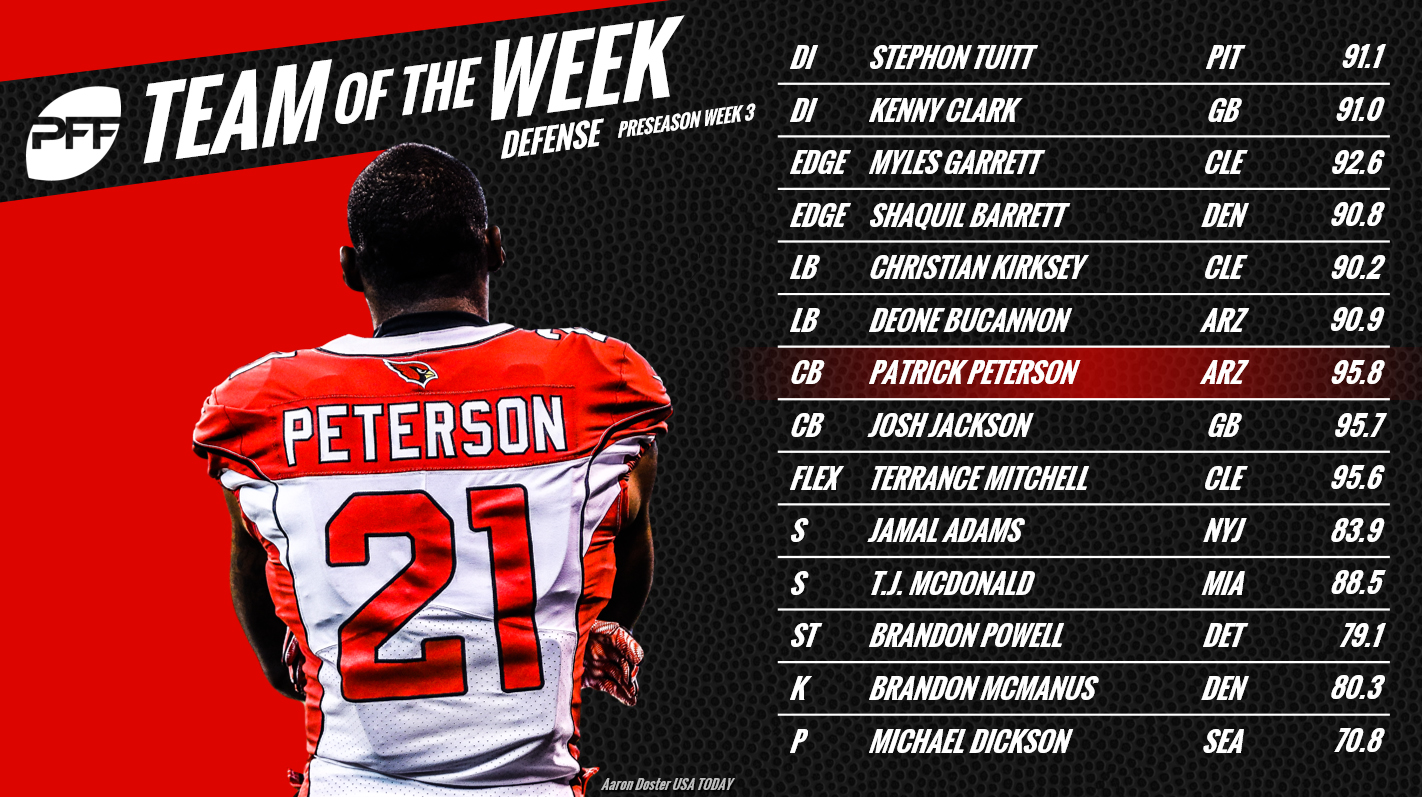 Edge Defender
Garrett looked every bit the level of a former No. 1 overall draft pick in the Browns 5-0 win over the Eagles this week. From 15 pass-rushing snaps, the former Texas A&M star racked up two sacks and three hurries, good for a pressure once every three pass-rushing snaps.
Interior Defensive Lineman
Tuitt was another player who impressed in the trenches for the Steelers this week, proving to be too much to handle as a pass-rusher. From 12 pass-rushing snaps, he picked up a pressure every four snaps, finishing the game with a sack, a hit and a hurry.
Interior Defensive Lineman
Many think that Clark is poised for a huge year on the defensive interior, and his performance this week certainly go a long way for that assumption. Clark was a monster against the run, finishing the game with a 27.3 run-stop percentage as all three of his tackles against the run resulted in a defensive stop.
Edge Defender
After being named to our 'Secret Superstar' list this week, Barrett delivered another big performance for the Broncos. He rushed 17 times off the edge and though he didn't record a sack, he made his presence felt with a hit and three additional hurries.
Linebacker
Bucannon was impressive against the run, in coverage and even as a blitzer, registering a sack despite being used as a pass-rusher on just three snaps. In coverage, he allowed three receptions, but they totaled just 25 yards as he finished the game with five of his seven tackles resulting in a defensive stop.
Linebacker
Kirksey was fantastic in run defense against the defending Super Bowl champions, making a big impact on his 10 snaps against the run. Three of his four tackles resulted in a defensive stop, giving him a 30.0 run-stop percentage on the day.
Cornerback
On the field for 18 snaps in coverage, Peterson was targeted three times, allowing just one reception for a single yard. That alone is impressive enough but when you consider that he had an interception in which he returned for a touchdown, and forced a fumble, all just in the first half, then it really was a special performance.
Cornerback
Jackson's primary strength coming out of Iowa was his ball skills and he has shown than to be the case in each of the past two weeks. In coverage for 21 snaps this week, he didn't allow a reception and came away with a pass breakup. Though the play was nullified for a penalty on the other side of the field, Jackson once again had an interception which he returned for a touchdown as well.
Flex Defense
The Browns defense featured plenty of players worthy of a spot on the Team of the Week and Mitchell is just another of those. On the field for 21 snaps in coverage, Mitchell didn't allow a single reception, had a pass breakup and finished the game having allowed a passer rating of 39.6 on throws into his coverage.
Safety
McDonald made a huge impact against the run for the Dolphins, with all four of his solo tackles resulting in a defensive stop. Coming on 18 snaps against the run, that meant that he finished the game with a 22.2 run-stop percentage.
Safety
Adams, the former first-round draft pick, showed fans exactly why the Jets selected him a year ago with an impressive performance both against the run and the pass this week. He registered two tackles against the run, with one of those resulting in a defensive stop and, despite allowing two receptions in coverage, allowed just 11 yards in coverage.
Special Teams
Kicker
McManus connected on both extra points for the Broncos this week, but it was his field goal success that really stood out. Good on all five attempts, including two from 50-plus yards, and another from 40-49 yards, he put 17 points on the board for the Broncos by himself.
Punter
For the second week in a row, it's the Seahawks' rookie punter earning the nod here, making it clear that he has every chance to be one of the top punters in the NFL even as a rookie. Dickson averaged 45.6 net yards this week, and an average of 4.81 seconds of hang time per kick.
Special Teamer
Powell touched the ball just three times on special teams, all on punt returns, but delivered a huge play for the Lions with an 80-yard return for a touchdown. His other two returns were solid as well, going for a combined 21 yards, but it is the big play which earns him his spot here.