After three difficult weeks, we got our Lock of the Week last Sunday with Arizona winning outright in San Francisco, thanks in large part to C.J. Beathard's reaction to the pressure in Santa Clara. The Dolphins (+6) were unable to hold a 17-point fourth-quarter lead to get us a winning week, but we're on to Week 6.
Our models rely heavily on our PFF ELO rating system for the NFL, along with game information like where the game is played, how far a team has to travel, etc. We also fold in opponent-adjusted PFF grades into our machine learning algorithm to factor in roster changes and possible asymmetric mismatches that can occur through the course of a game.
We are now 16-9-1 on our Lock of the Week picks since the start of 2017 (64.0%), and will be featured on the Sports Illustrated Gambling Show with our pick (visit PFF Greenline to see this week's pick). The analyses here will involve a point-counterpoint between the two of us for all five picks, using perspectives that only the PFF grades and data can provide. Follow us on Twitter at @PFF_Eric and @PFF_George, and for some podcast commentary on some of these picks, and the process that goes into them, give the PFF Forecast a listen. We will have a special Monday morning podcast each week with look ahead lines for the upcoming week.
Prediction: Bears 22-19 (Dolphins cover)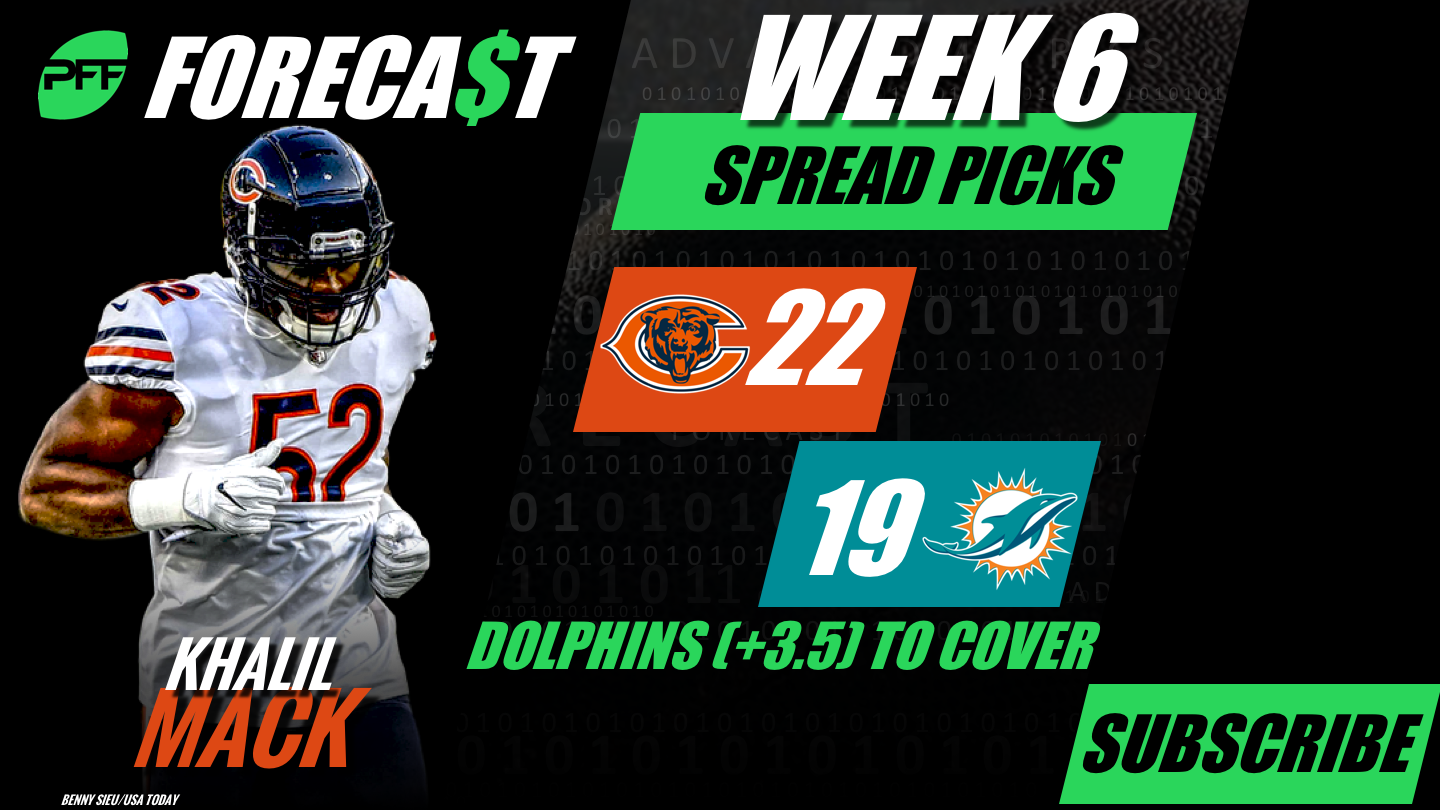 Point (Eric Eager): This one is hard to swallow after last week, along with our grade-A fade of the Bears two weeks ago against Tampa Bay that ended… poorly. There are still substantial fundamentals that remain in place for this to be a good bet. Mitchell Trubisky, even after his breakout performance against the Bucs two weeks ago, has still had fewer positively-graded dropbacks than negatively-graded ones. The 'phins, fourth overall in allowing expected points added on early downs in the passing game, are every bit good enough to slow Matt Nagy's offense and keep this game close enough, despite all of their limitations offensively. The Bears penultimate game was a similar spot – road favorites against an Arizona team that was starting Samuel Bradford, and while the Bears won, they were unable to cover a short number like this. Hold your nose.
Counterpoint (George Chahrouri): The Dolphins may very well be a bottom-three team that somehow lucked into a couple wins early on but now gets stomped on by superior competition for the remainder of the season. Ryan Tannehill currently owns the highest turnover-worthy play rate in the entire league at 6.8% while doing little to make up for it with big-time throws (third-lowest rate). You can almost see the defensive touchdown coming for the Bears who rank first-overall in our defensive rankings and enter this one off a bye week rested and refreshed. The next step for Tannehill could very well be out the door after this one.
Prediction: Bengals 28-27 (Steelers cover)
Point (GC): Much like 2017, Big Ben Roethlisberger has spent the first five weeks of the season in hibernation. 24.2% of Roethlisberger's passes have been uncatchable this season (third-highest), which is not what we're accustomed to seeing. The good news is that we've seen a much larger sample of Roethlisberger and expect that number to regress to his norm which got him to fifth overall in PFF QB accuracy value added (accounting for pass-distance, separation among other variables). Despite Roethlisberger's mediocre play, the Steelers have the fifth-ranked offense and offensive coordinator Randy Fitchner has landed himself in the top-five of our coaching metric. With William Jackson III nursing a knee injury and Tyler Eifert on IR, the Steelers offense should outpace the Bengals in game that carries more significance for the Steelers than the Bengals.
Counterpoint (EE):  The Bengals defense has been a formidable unit so far this year with Geno Atkins and Carlos Dunlap combining for 10 sacks, 11 hits and 27 hurries through the season's first five weeks. They have built the secondary well, with a bevy of first-round picks headed by Jackson III. While Jackson has surrendered a bit more into his coverage than he did a year ago, he has had success going against Antonio Brown in the past, and has as good a chance as anyone to hold down the most important component of Pittsburgh's offense in this one. We were higher on the Bengals going into the season than the market was, and while I think we're on the right side of this one, it would not surprise me to see the Bengals win, cover and take control of this division for the first time since 2015.
Prediction: Texans 23-16 (Bills cover)
Point (GC): This game kicks at 1:00 PM eastern time. If you live on the w(b)est coast, that means you can take a nice fall walk, go grab a breakfast burrito with friends/family or hit the gym for a sweat that actually has beneficial components. Should you find yourself in another part of the country, the gym is still highly recommended if you aren't yet ready for a brisk fall walk. The Texans come off a second OT victory that nearly knocked Deshaun Watson back to the bench and while they are certainly the better team with the better quarterback at home, they are still a deeply flawed team that ranks 30th on our PFF ELO rankings. The Bills will be bad, Josh Allen has a 6.7 passer rating under pressure and from a clean pocket manages to make the lowest rate of accurately located passes among all NFL starters. They do have a strong defense and Allen is a serviceable running back who will do his best Saquon Barkley impersonation while Tre'Davious White and Co. help contain top-graded WR DeAndre Hopkins in check. 10.5 is just too many points for a bottom-five team to get regardless of the opponent. Enjoy the fall foliage folks.
Counterpoint (EE): We've been against the Texans from the get go, and while it would have been nice to see them lose on Sunday night to Dallas, they have mostly met our expectations. What is keeping them from completely going in the tank is Watson, who has been in the top half-a-dozen in terms of raw PFF grade generated per dropback, and is second in percentage of dropbacks grading positively. Hopkins has been the most valuable non-QB in the NFL through five weeks using our Wins Above Replacement (WAR) metric. If these two get rolling, there's a real question as to whether John Skelton and the Buffalo Bills can keep up and cover for the third time in six games.    
Prediction: Rams 32-26 (the over hits)
Point (EE): While "Case Keenum" and "Over" don't necessarily grace the same page of my thesaurus, the Rams defense has a ways to go before they aren't allowing enough points to entice their offense into putting up 40 themselves in an effort to be convincing in their sixth-consecutive win to start the season. Marcus Peters has not transitioned out west very well, allowing the 12th-most yards into his coverage of any cornerback in the league. If that were the worst showing so far this season in this game, that would be something. However, Denver cornerback Bradley Roby has given up the seventh-most yards into his coverage. Jared Goff, generating 0.42 expected points every time he drops back, should be able to firmly bury the myth of the great Denver Broncos defense and put up their end of the bargain in the altitude.
Counterpoint (GC): The Rams defense is not what everyone hoped it would be entering the season, and no surprise that the coverage is to blame. With Aqib Talib on IR and Peters on the field, the Rams have allowed 10 passes completed 20-plus yards past the line of scrimmage (tied for fourth). The Broncos at home are a different team and showed that they can put up some points against sub-par coverage units (see Chiefs, Kansas City), with a quintet of wide receivers and generationally-talented running backs. On the other side of things, the Rams offense with or without their top two receivers is not to be messed with – they have yet to score less than 33 points in a game and the passing attack leads the NFL in expected points added per play by a wide margin. Light it up in Denver, literally why people go there to begin with.
Prediction: Patriots 37-32 (Patriots cover)
Point (GC): The best game of the NFL season to date is on primetime in a cold and rainy Foxboro where Bill Belichick began filming his Masterclass™ series on motivation this week. Don't tell me Tom Brady didn't look up from his avocado-banana-flax seed smoothie when he heard his head coach profusely praising young Patrick Mahomes and his ability to throw the ball downfield (something that Brady has struggled with so far this season – 27th in PFF grade on deep throws). Brady undoubtedly took to the resistance band to pump out a quick set of 200 banded-trunk rotations in preparation for an aerial assault on the Kansas City defense which tried out a wide receiver at safety during practice this week. Brady has yet to hit his stride, most notably with the deep ball but a full complement of Josh Gordon could be just the remedy he needs – Gordon caught 15 passes more than 20 yards downfield in his best season (2013) which is more than the career total of every Patriots receiver except for Hogan (who only has 18 total). Perhaps the biggest mismatch is Brady targeting the Chiefs linebackers in the passing game. Brady has the best passer rating and PFF grade when targeting linebackers over the last four seasons while the Chiefs linebackers own the lowest combined PFF coverage grade and have allowed the most yards than any linebacking corps this season. The half-point might scare the faint of heart but the Patriots have the best side of each mismatch despite the brilliance of Andy Reid and Mahomes. My counterpart is no doubt hoping to reverse-jinx his Chefs into a victory but he forgets that Brady doesn't eat processed fats. Pats squeeze this out by 5.
Counterpoint (EE): I get a frog in my throat every time I try to talk about ways in which the Chiefs can lose. Like Goff above, Mahomes and the Chiefs' offense are generating over 0.4 expected points added every time they drop back to throw. The New England defense has allowed a successful pass play on almost 50% of early-down passes, surrendering a 106.0 passer rating from a clean pocket to Andrew Luck in their last game. Andy Reid has been as favorable in our coaching metrics as Bill Belichick, so I think that angle could be a bit overblown. Both teams have historically gotten more out of poor defensive personnel that would be expected, so the fact that the Chiefs have significant deficiencies in their back seven would likely be less of a big deal if not against the Patriots themselves. OK, I'm done.