While the NFL draft is this week's prominent NFL story, the release of the NFL schedule has provided some pre-draft value in the NFL win totals market.  After going 14-6-1 (70 percent) on our "Lock of the Week" picks a year ago, and 49-37-5 (56.9 percent) overall, we are getting the 2018 predictions.  Using our PFFELO rating system, along with some opponent-adjusted PFF grade data, we simulated the 2018 NFL season 10,000 times to see if there is any value inherent in the current win totals or Super Bowl futures.  
While there were some Super Bowl futures in which we found value (although the Chargers odds moved away from us recently), we've chosen one win total for our initial Lock of the Week. The pick, which aired on the PFF Forecast Tuesday, is given below, with our normal point-counterpoint arguments below the pick:
Pick Cincinnati Bengals OVER 5.5 Wins (+165)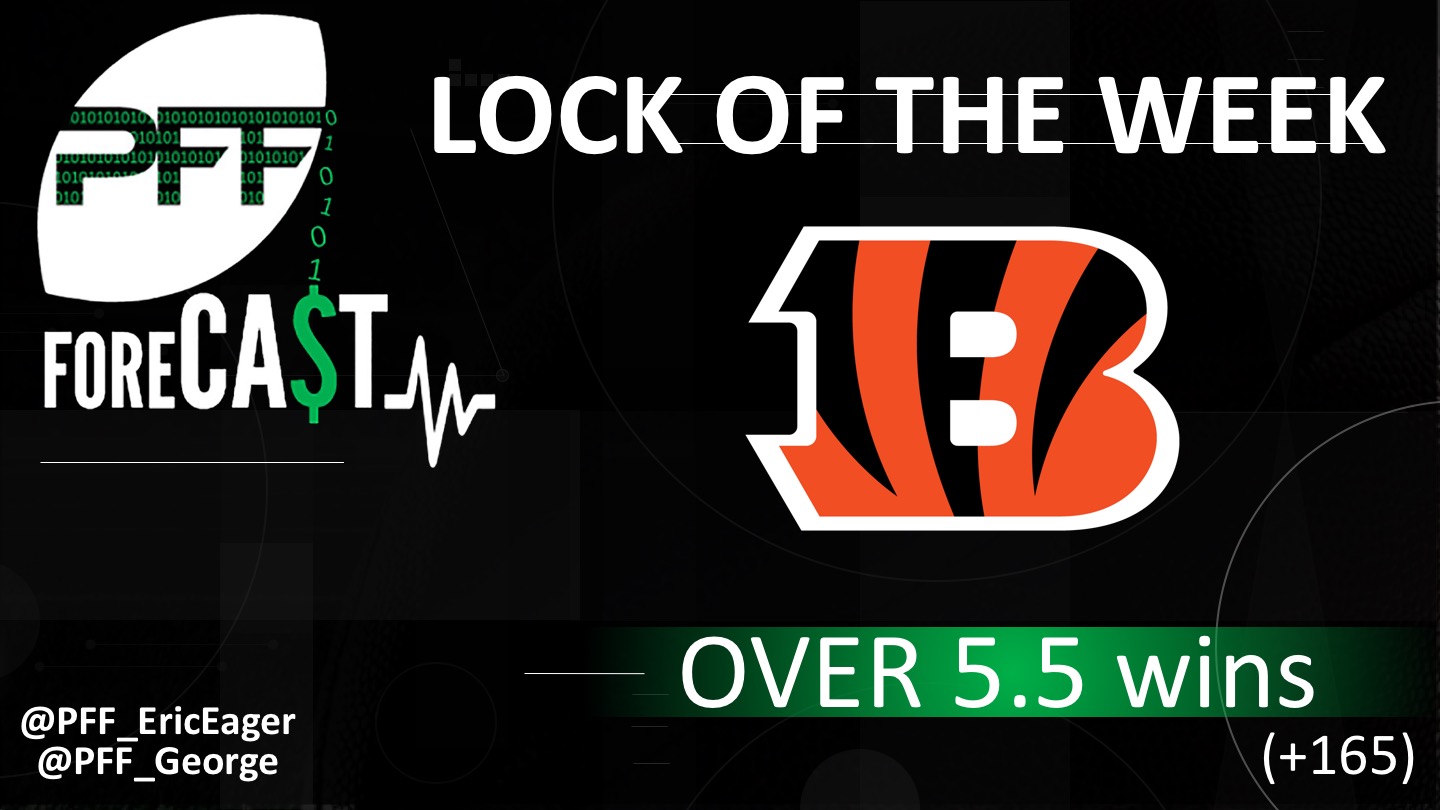 Point (Eric Eager):
This number has moved a bit, as we had it at +150 on the podcast. Be that as it may, the vast majority of our simulations had the Cincinnati Bengals going over this total, meaning that even at even money this is a pretty good bet.  
What has us (relatively) bullish on the Bengals is that they are strong at many of the important aspects of winning football games. Four of their five starting defensive backs have PFF player grades above 77.7, and William Jackson (89.2) was absolutely brilliant a season ago. The trio of Geno Atkins (91.5), Carlos Dunlap (84.3) and Carl Lawson (80.6) is likely to continue to get pressure on opposing offenses. A.J. Green (83.5) remains one of the elite talents on the outside, while the return of Tyler Eifert (75.7) and the acquisition of Cordy Glenn (68.1) should help quarterback Andy Dalton (79.4) be more efficient than he has been the last two seasons.
Counterpoint (George Chahrouri):
They say that Jimmy G works in mysterious ways, and what transpired Tuesday night can only be categorized as a sign from the heavens. I had the pleasure of being in the presence of a wise man with a football mind that is second to none.
My uber ride began without fanfare, then I discovered I was being driven by the most learned of football fans – Steven was a lifelong Browns fan who's years of analyzing the all-14 curated a bounty of the finest takes. I recount them for you now:
Who should the Browns take at No. 1:

"

I really like that Allen kid, he has the most upside so you have to take him. He can learn behind Tyrod for two years and then takeover."
"Defense wins championships, not offense."
"Thank god the Browns started trading their picks for real players."
"As long as we don't take the (insert expletive) kid from Oklahoma, he's just another Manziel."
"You can teach accuracy, you can't teach arm strength."
"You can find corners anywhere, but pass-rushing is hard to find."
"My friend Bill and I have finished first or second in our fantasy baseball league each of the last six years."
"The Bengals are going to suck, they quit on Marvin Lewis at the end of the year."
So there you have it folks, fade the Bengals. Without Hue they only managed to win their last two games of the season against motivated playoff contenders despite having "quit." Steven clearly saw with his eagle-vision that Dalton ranked 26th of 40 quarterbacks in PFF grade on NFL Throws, behind Tom Savage and Joe Flacco (throws that have the most variance and value at the NFL level). The Bengals offensive line ranked just 29th in opponent adjusted pass-block grade and Steven pointed out that Andy Dalton has been hit so much he can't locate his luggage at the airport so he definitely won't be able to locate the pass-rushers moving the orange colored luggage that is protecting him.
Steven, we salute you. Lock it up.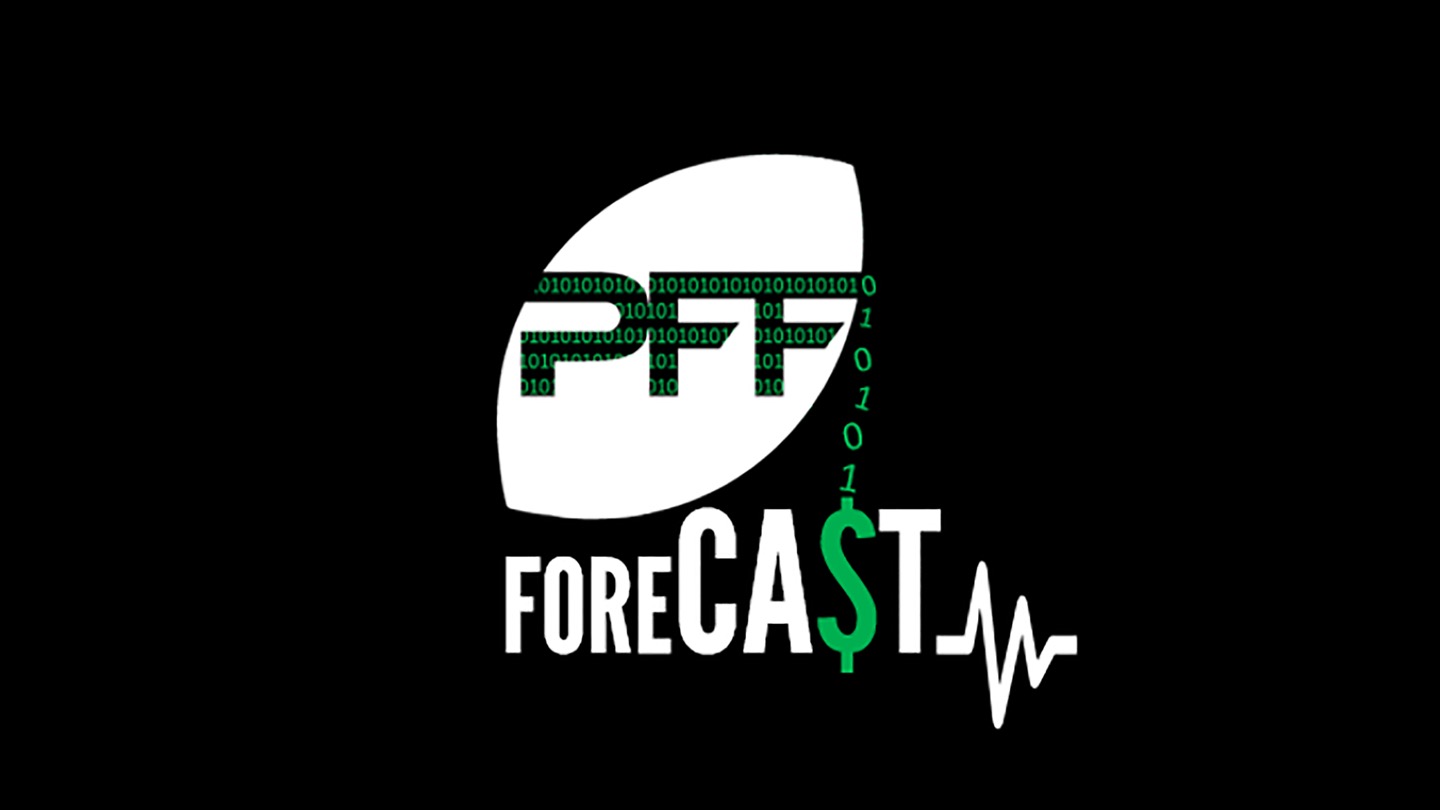 For further discussion on the Lock of the Week, listen to the PFF Forecast and send questions for @PFF_EricEager and @PFF_George to answer on the podcast by submitting a review on iTunes.