Elite Stat: RB Derrick Henry had an elusive rating of 72.2 thanks to his work after contact.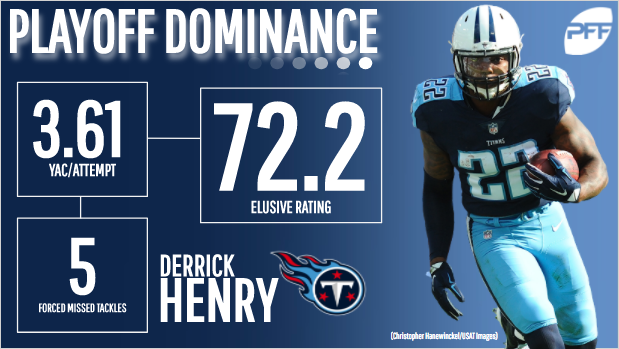 The key to victory for the Titans in this game was Derrick Henry and the ground game, and it showed up not just in the box score, but also in the advanced numbers that PFF tracks. Henry gained 156 rushing yards, but 83 of them came after first contact. He averaged 3.6 yards per carry after contact, breaking five tackles along the way, and ultimately breaking the defensive resistance of the Chiefs late in the game when they needed a stop to give themselves one last chance of a comeback on offense.
Henry's five broken tackles was the same figure as every other back across both games on Saturday managed when put together.
Elite Stat: WR Tyreek Hill dropped three passes, or 30 percent of the catchable passes thrown his way.
This became an even bigger factor in the game when the Chiefs lost TE Travis Kelce to a concussion, but from the first plays of the game Tyreek Hill's drops were an issue.
Early in the game, Hill got behind Titans CB Adoree' Jackson down the sideline only to drop the ball and leave a big play on the table. He dropped two other passes over the course of the game and left the Chiefs largely without their best and most devastating weapon on offense. With Kelce out, they were unable to get the big plays necessary and kept stalling on offense over the second half. Hill dropped just four passes over the course of the regular season, giving him a drop rate of only 5.1 percent, a top-15 mark, and almost six times better than the drop rate he produced against the Titans. It wasn't the only reason the Chiefs failed to win, but it was certainly a big factor.
Elite Stat: Falcons LB Deion Jones allowed a reception once every 15.7 snaps in coverage.
Atlanta linebacker Deion Jones has become the game's best coverage linebackers this season, and has come up big in the biggest games for the Falcons defense. That remained true again against the Rams, where Jones was instrumental in shutting down the threat of Los Angeles running back, Todd Gurley, particularly as a receiving threat out of the backfield.
As if that job wasn't good enough, Jones was in close coverage on fourth down in the end zone on WR Sammy Watkins, helping force a turnover on downs and icing the game for the Falcons, although he was aided by no official calling any of the contact prior to the throw.
Elite Stat: DI Aaron Donald recorded 11 total pressures.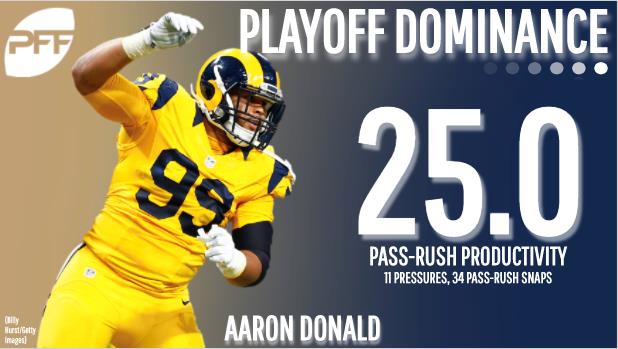 It didn't result in his team winning the game, but Aaron Donald almost single-handedly kept this game close with his ability to knife through the Falcons offensive line almost at will. During the first half, Donald posted 10 total pressures from just 20 pass-rushing snaps, and while the Falcons eventually figured out enough adjustments to keep him quiet over the second half, he was having a huge impact on the game plan because of it.
Donald ended the game with 11 total pressures from 34 pass-rushes, posting an absurd pass-rush productivity score of 25.0, and also notching a pair of defensive stops in the run game.
Elite Stat: Jalen Ramsey allowed a passer rating of just 36.7 when targeted.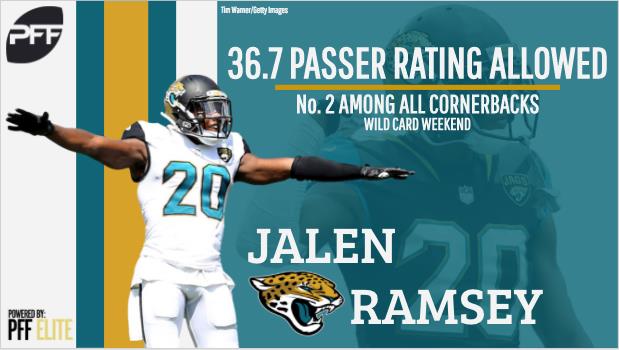 This was a day for defense, and Jalen Ramsey was particularly dominant in this matchup, going one-on-one with Buffalo's top two receivers, Kelvin Benjamin and Zay Jones. Overall, Ramsey allowed just three receptions for 29 yards, but he made the game-clinching interception and was also responsible for shutting Benjamin down in the red zone twice, being the victim of an offensive pass interference penalty on the second occasion.
Ramsey allowed a passer rating of just 36.7 when thrown at in the game, or three points lower than if the Bills' quarterbacks had simply tossed the ball at the floor every dropback instead. Ramsey looked every inch one of the game's best cornerbacks, just as his PFF grade for the season (93.7) suggests.
Elite Stat: QB Tyrod Taylor was accurate on zero percent of his deep shots in the game.
Going against the Jacksonville Jaguars defense, this was always going to be tough sledding for Tyrod Taylor and the Buffalo Bills, but there were plays left on the field that could have changed the dynamic of this entire game. One big play could have been the difference at any point in this game, and Taylor had receivers open at times deep.
He attempted four deep passes (20-plus air yards from scrimmage) and completed none of them, missing on each one, meaning he was accurate on precisely zero percent of his deep shots, the lowest mark of any playoff quarterback this weekend. Taylor was never going to set the world alight this week, but had he been able to connect on any of those deep shots, let alone more than one, we could have been dealing with a completely different game and outcome.
Elite Stat: Drew Brees had a passer rating of 142.8 when kept clean in the pocket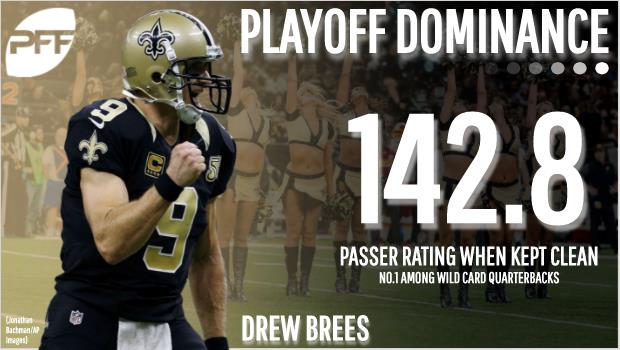 The Saints haven't needed to rely on Drew Brees much this season, with their formidable ground game featuring Mark Ingram and Alvin Kamara, but the Panthers came prepared to force them to the air in this game.
Kamara and Ingram combined to rush for just 45 yards on 19 attempts, meaning the onus went back on Brees and the passing game, and he set about carving up the Panthers secondary, beginning with a big 80-yard touchdown pass to Ted Ginn Jr. early in the game.
Brees was so proficient that Panthers head coach Ron Rivera said at the half that the Panthers needed to find creative ways to get Brees uncomfortable. Ultimately they were never able to manage that, pressuring him just eight times all game. When they couldn't get pressure on him, Brees completed 21-of-26 attempts (80.8 percent), for 315 yards (12.1 yards per attempt) for a passer rating of 142.8, thoroughly dominating the Panthers coverage and lifting his team to a win.
Elite Stat: Christian McCaffrey gained 3.06 yards per route run, the most among running backs this weekend
As has been typical of McCaffrey's rookie season, he struggled to get much going on the ground, rushing the ball for just 16 yards on six carries, but he remains one of the game's great mismatches as a receiving option, and he caught all six of the passes thrown his way, ending up with 101 receiving yards and beating four different Saints defenders for catches.
McCaffrey hauled in one of those catches and took off for a 56-yard touchdown which pulled the Panthers back to within a score of the Saints and made it a close game during the final few minutes of the fourth quarter.