Offense was at a premium in the AFC's Sunday Wild Card game between the Buffalo Bills and Jacksonville Jaguars, with a lone touchdown and two field goals coming together to give Jacksonville a 10-3 win over Buffalo.
The game's lone touchdown came in the third quarter, when the Jaguars went for it on fourth down and QB Blake Bortles connected with TE Ben Koyack for a 1-yard score. Dede Westbrook was the lone Jacksonville wide receiver to catch a pass in the game, as Bortles completed only 12 passes in the win.
With that, we give you our PFF-exclusive takeaways from the contest for each team.

Top 5 Grades:
S Jordan Poyer, 87.0 overall grade
Edge Lorenzo Alexander, 83.4 overall grade
CB Tre'Davious White, 83.1 overall grade
LB Preston Brown, 83.1 overall grade
CB E.J. Gaines, 80.3 overall grade
Performances of Note:
In what ultimately may be his last game as a Bill, Taylor was unable to make the plays the team needed. He was cruelly denied a chance to lead a late comeback because of injury, but the work before that didn't suggest he had the tools to overcome the Jaguars' fearsome defense. Taylor hit on just three passes further than 10 yards in the air as the Jaguars regularly got pressure on him (16 of 43 dropbacks). Taylor has done enough in his time at Buffalo to earn a shot elsewhere, but in this, his biggest game, he didn't do enough to make the decision-makers in Buffalo think it will be with them.
An unlikely playoff run sparked an aggressive move for Benjamin, with the big-bodied receiver meant to add a new dimension to the Bills passing attack. It hasn't played out that way. If anything highlighted this it was with the Bills in a goal-to-go situation, twice throwing to Benjamin in the end zone and the physical receiver not only unable to haul either in, but also getting called for an offensive pass interference penalty that put Buffalo in a position they were never likely to score from. If Benjamin wants to be the top guy in Buffalo, for whoever is throwing, he'll need to be far more productive next year.
Alexander was a man possessed in this game for the Bills, single-handedly trying to keep the Jags off the scoreboard at times. His six stops were a season high, his most since Week 5 last season against the Rams, and his goal-line stop on a leaping Leonard Fournette deserved more than setting up the Jags' game-winning touchdown on fourth and goal. Alexander added a tackle for a loss on the Jags' final meaningful drive as well, giving the Bills' offense opportunities whenever he could.
Brown added 3 stops to his season total today, taking it to 46 for the entire 2017 season, just one shy of his career high set last season. Brown let up 30 yards in coverage for the 10th time this season but in such a run-heavy game his play against the run came to the fore. Unfortunately for the Bills all their hard work in run defense — holding Leonard Fournette under 3 yards per carry — was for naught.

Top 5 Grades:
Edge Calais Campbell, 90.7 overall grade
CB Jalen Ramsey, 89.6 overall grade
S Barry Church, 84.2 overall grade
G A.J. Cann, 82.3 overall grade
DI Marcell Dareus, 82.0 overall grade
Performances of Note:
Bortles is 1-0 as a starter in the playoffs, though his performance through the air Sunday was extremely poor from the outset, missing even the simplest and shortest of throws, but he still had his positive contributions in this tight win. He came up with the only touchdown of the game off of play action on fourth-and-goal to Ben Koyack, and he added plenty of value with his legs, collecting 88 yards on a variety of scrambles and read option keepers. If Bortles is to move to 2-0 next week in Pittsburgh, he'll need to regain more confidence and improve his performance as a passer, or the Jags will be at the mercy of Ben Roethlisberger's performance, as they were in the first matchup.
With the offensive game plan so conservative by necessity and the Bills able to zero in on the run game, standout performances on the Jags' offense were at a premium. Westbrook snagged five catches on eight targets, converting three of them into first downs, and had the opportunity for a big play in the first quarter wiped out by an inaccurate Bortles throw after he got open on a crosser courtesy of Jerry Hughes bumping Tre'Davious White off of the route rather than Westbrook. If Bortles can improve next week, Westbrook looks ready to make a meaningful contribution.
Has there been a better free agent signing in recent memory? Campbell hasn't missed a beat since joining the Jaguars, turning it up a notch when it mattered most. He was a wrecking ball up the middle and on the edge Sunday, ending the day with two quarterback hits, four hurries, and four defensive stops in the running game. As long as he is playing like this, he's going to be a hard man for Pittsburgh to stop.
Initially looking a little nervy, Ramsey soon remembered just how good he is and how hard he makes life for receivers. He was thrown at five times (and once more on a play called back on a penalty) and allowed just three receptions for 29 yards. What's more, he finished the game with a strong break, bat, and grab of a late Nathan Peterman throw that saw him mark his playoff debut with a first playoff pick. There can be no doubt after this year that Ramsey is in the conversation for best cornerback in the league.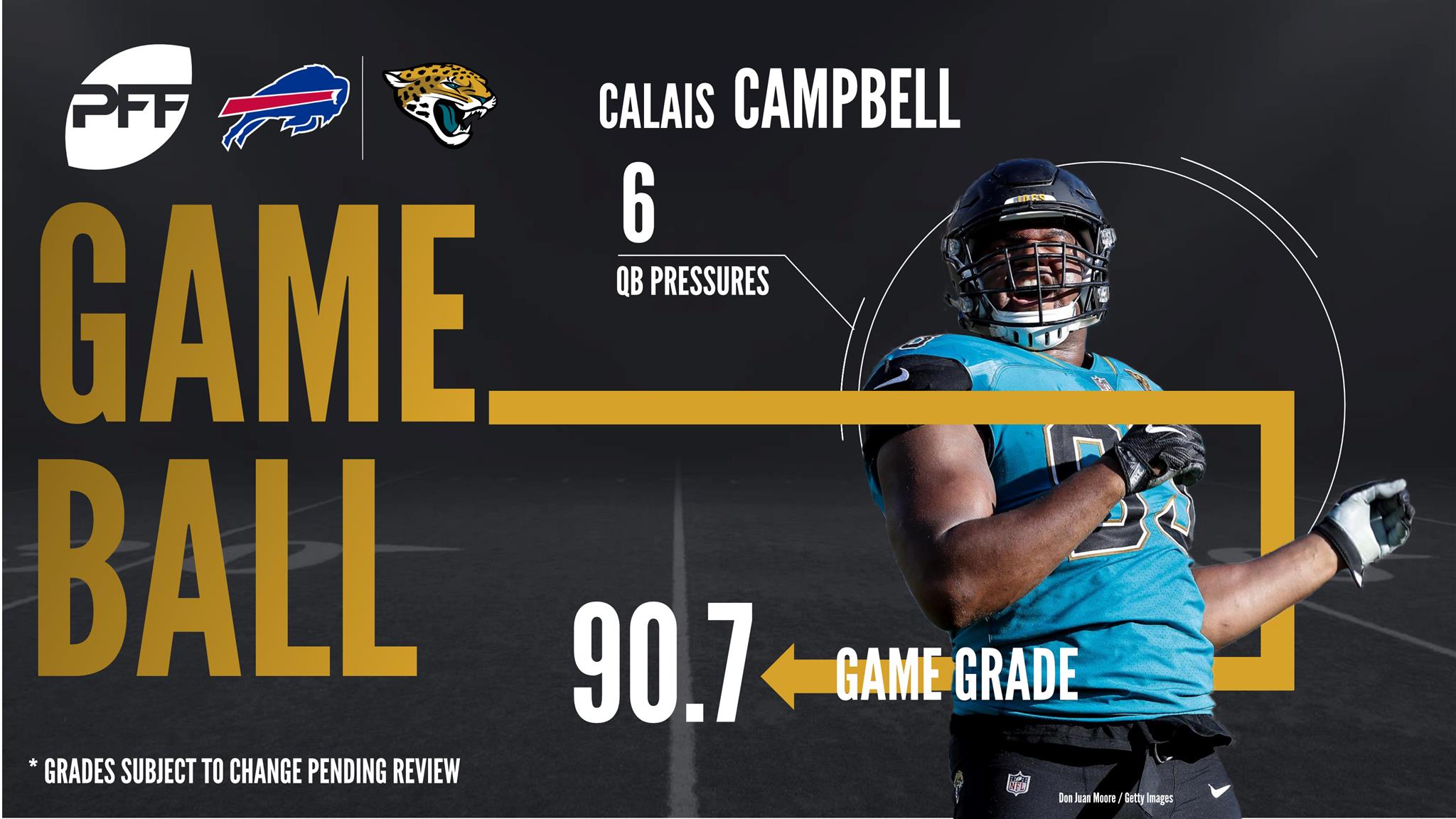 *Grades subject to change