The Atlanta Falcons spoiled the return of playoff football to the L.A. Coliseum, defeating the Los Angeles Rams 26-13 Saturday night.
QB Matt Ryan was fairly efficient on the night, going 21-of-30 for 218 yards. He connected on a fourth-quarter touchdown pass to WR Julio Jones, who had nine catches for 94 yards in total. Running backs Devonta Freeman and Tevin Coleman combined for over 100 yards rushing.
QB Jared Goff didn't have his best statistical night, going 24-of-45 for 259 yards and throwing one touchdown to reliable rookie WR Cooper Kupp. RB Todd Gurley was efficient running the ball, averaging over 7.0 yards per carry on the way to 101 yards on the ground. WR Robert Woods led the Rams with 142 receiving yards on nine receptions.
The Falcons will move forward into the divisional round to face off against the Philadelphia Eagles. With that, we give you our PFF-exclusive takeaways from the contest for each team.

Top 5 Grades:
LB Deion Jones, 87.4 overall grade
CB Robert Alford, 85.8 overall grade
WR Julio Jones, 83.8 overall grade
WR Mohamed Sanu, 80.8 overall grade
TE Austin Hooper, 80.6 overall grade
Performances of Note:
Jones caught all nine targets thrown his way for 94 yards and a touchdown. He did most of his work against Rams cornerback Trumaine Johnson, catching four passes for 52 yards while working against him. The Falcons got solid production out of their top two wide receivers, as Mohamed Sanu and Jones combined for 17 targets on the night, totaling 13 catches for 169 yards.
Ryan had a relatively pedestrian game statistically but he didn't turn the ball over and in the playoffs that's often the difference between a win or a loss. In the first half, he was under pressure on seemingly every dropback but the Falcons' pass protection improved dramatically in the second half and he ended up under pressure on 14 of his 35 pass attempts for the game. Ryan only attempted four throws that traveled over 10 yards in the air, a number which may need to be increased for continued success in the postseason.
Tackling on underneath passes was the key to the Falcons victory and no one did it better than Jones. He had three stops on the day and was in close coverage on fourth down in the end zone to help seal the game for Atlanta.
Alford was lock down in coverage all day on the outside. He was thrown at eight times and yielded only two catches. He also broke up two passes and only allowed 17 yards in this one.

Top 5 Grades:
DI Aaron Donald, 97.8 overall grade
CB Troy Hill, 91.7 overall grade
WR Robert Woods, 82.5 overall grade
G Rodger Saffold, 80.0 overall grade
DI Morgan Fox, 78.3 overall grade
Performances of Note:
Outside of Goff putting it together for a handful of no huddle drives at the end of each half, the second-year quarterback was extremely erratic all day. His ball placement underneath wasn't always conducive to yards after the catch and he was too often content with check downs. When faced with pressure, Goff was only 4-of-12 for 57 yards and he took three sacks.
Mere days after being named first team All-Pro left tackle, Whitworth had the lowest-graded game of his entire career. Brooks Reed killed him a handful of times with a spin move, while Adrian Clayborn and Takk McKinley got the better of him with bull rushes. Whitworth allowed six pressures on the day, his highest total all season.
Donald wreaked havoc in the first half, generating 10 pressures as the Falcons line struggled to contain him. To their credit, he was held to one pressure in the second half, although his 11 pressures and pass-rush grade of 99.5 are still impressive figures.
Hill showed vast improvement down the stretch for the Rams and continued his high-level play Saturday night. He didn't allow a single reception on five targets and recorded two pass break ups. On the night, Ryan had a 39.6 passer rating when throwing into his coverage.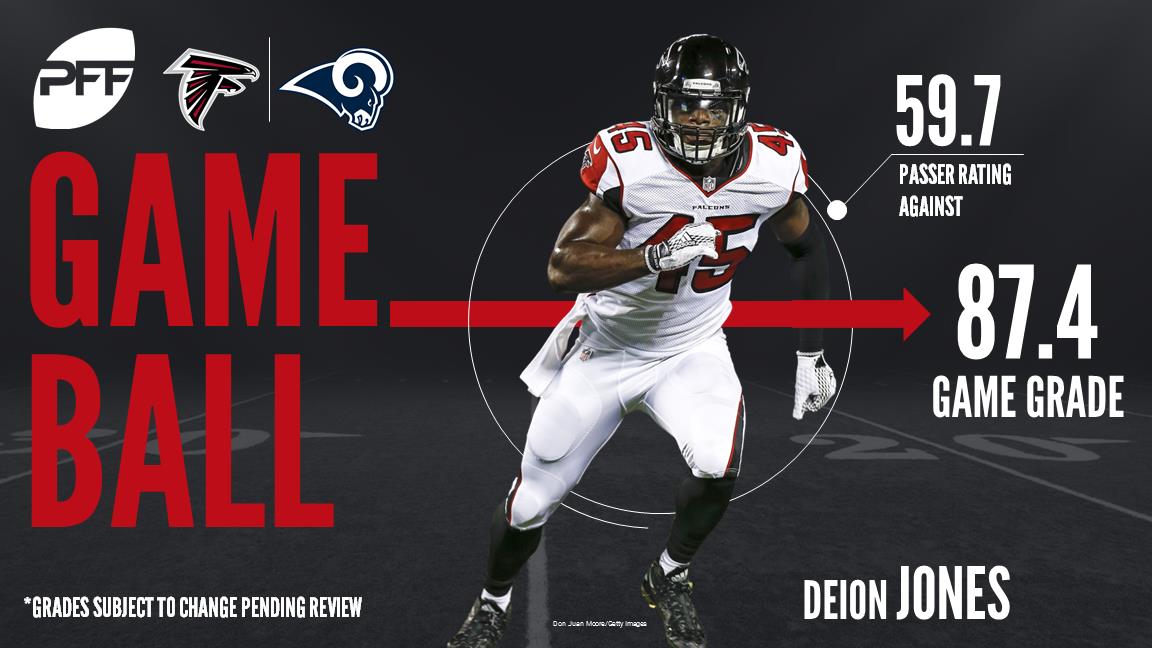 *Grades subject to change