The Tennessee Titans pulled off what seemed to be the impossible, upsetting the Kansas City Chiefs in Arrowhead Stadium after trailing 21-3 at the half. Tennessee's 22-21 comeback win propels Marcus Mariota & Co. to AFC Divisional Round.
Mariota completed 19-of-31 passes on the night, including a batted pass to himself for a six-yard touchdown in the third quarter. He added another touchdown pass to his stat sheet top go up 22-21 with 6:06 left in regulation, finding wide receiver Eric Decker for a 22-yard score.
While Mariota may have captained the comeback, but he couldn't have righted the ship without his running back Derrick Henry. The second-year Alabama product rushed for 156 yards and one touchdown in the win.
Chiefs quarterback Alex Smith had his way with the Titans' defense early, throwing two touchdown passes in the first two quarters of play. However, an injury to his star tight end Travis Kelce neutered Kansas City's passing game and ultimately its offense.
With that, we give you our PFF-exclusive takeaways from the contest for each team.

Top 5 Grades:
G Quinton Spain, 83.1 overall grade

DI Jurrell Casey, 82.1 overall grade

RB Derrick Henry, 81.1 overall grade

TE Delanie Walker, 80.7 overall grade

DI Sylvester Williams, 79.7 overall grade
Performances of Note:
Mariota was especially effective on the ground in the weekend's first playoff game, picking up four first downs on the ground while earning an 89.5 rushing grade. When it came to throwing the ball, he found most of his success in the middle of the field, completing 16-of-19 passes for 188 yards and a touchdown on passes between the numbers. He was just 3-of-10 for 16 yards and a pick on throws coming outside of the numbers. Mariota led the league with 13 interceptions this year without pressure in his face, and his interception on Saturday came from a clean pocket. If the Titans are going to advance even further in these playoffs, he's going to have to eliminate those.
Henry earned 83 of his 156 yards after contact and forced five missed tackles on the ground. He broke out two runs of at least 15 yards in this one – a 35-yard run at the start of the fourth quarter to bring Tennesse within one score and a 22-yard dash that officially put the nail in Kansas City's coffin – and also tacked on a 29-yard catch. Henry was clearly the focal point of the offense in the opening round. As long as Tennessee can get him going like they did today, they can give any team in the AFC a run for their money.
Sometimes it appeared as if Ryan was not even on the field, but he did play 51 snaps. However, Kansas City's Smith was not looking his direction very often, as he was targeted just six times and even those came on short routes. Ryan did allow four receptions in the game, but they went for just 18 yards, as he was a big part of the Titans' defense by taking away the receiver who lined up opposite of him.
Casey showed in his first playoff game what he is capable of, as he wreaked havoc against Kansas City's offensive line and dominated when defending the run. However, what really set him apart from the other Tennessee players was his work rushing the passer, as he led the Titans with three total pressures – all three being quarterback hurries.

Top 5 Grades:
QB Alex Smith, 87.3 overall grade

CB Steven Nelson, 83.1 overall grade

TE Travis Kelce, 80.8 overall grade

DI Chris Jones, 79.1 overall grade

T Eric Fisher, 78.6 overall grade
Performances of Note:
Smith had a terrific game and did all he could to lead the Chiefs to a win. However, he was victimized by five dropped passes, which is significant considering that he had fewer inaccurate passes (four) than dropped passes. Smith did slightly struggle under pressure, as he completed just one pass for -2 yards on the nine dropbacks when he was under pressure and was sacked four times. Two of his sacks were a result of him running into the defender without actual pressure.
Hill had a mixed outing for the Chiefs, as he could visibly create separation and win on his routes downfield; however, he struggled to catch the ball all afternoon. While Hill caught seven passes for a total of 87 yards – including 78 after the catch – he did drop three passes on the day.
Nelson was targeted six times against the Titans and allowed just two catches for 11 yards to go with one pass breakup. Mariota had just a 42.4 passer rating when targeting Nelson in coverage. Nelson also recorded two stops in this one. He had three games in the regular season with multiple stops.
Kansas City struggled to get a ton of pressure against the Titans' offensive line, and their star edge defender was fairly unnoticeable for much of the game. Houston tallied just two pressures on 29 pass-rush attempts, giving him a pass-rush productivity rating of just 6.0 (PRP measures pressure created on a per snap basis, weighted towards sacks). Houston ranked 30th out of 107 edge defenders this regular season with a PRP of 10.4.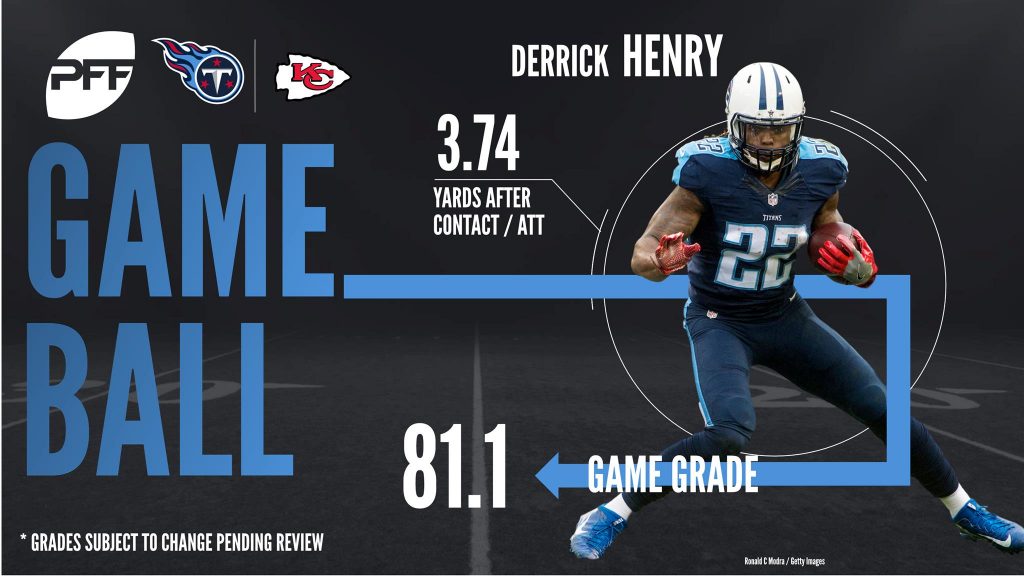 *Grades subject to change