The Tennessee Titans will battle the Kansas City Chiefs in the Wild Card round of the postseason. PFF previews the top player matchups of this win-or-go-home game.

PFFELO Ranking: 17
Coverage by: Sam McGaw
RB Derrick Henry vs. LB Derrick Johnson – With Titans running back DeMarco Murray dealing with a knee injury, Henry is expected to receive a heavy workload for another week. He ranked ninth among qualified running backs with an elusive rating of 60.5, and his average of 3.23 rushing yards after contact per attempt was fifth-best for his position. A majority of Henry's production this season came when he ran to the left side of the offense. When rushing to the left, he racked up 509 rushing yards and five touchdowns. Running backs running to the right side of the Kansas City defense (offense's left) averaged 4.75 yards per carry this season, as compared to a 3.52 average when running to the defense's left. Derrick Johnson, who is better in coverage (86.3) than he is in run defense (43.5), might have a tough time slowing down the big back out of Alabama. Johnson's nine missed tackles against the run were tied for the third-most among linebackers. His run-stop percentage of 7.9 ranked 31st among linebackers, however, showing that he does have the instincts and ability to make a play or two on Henry.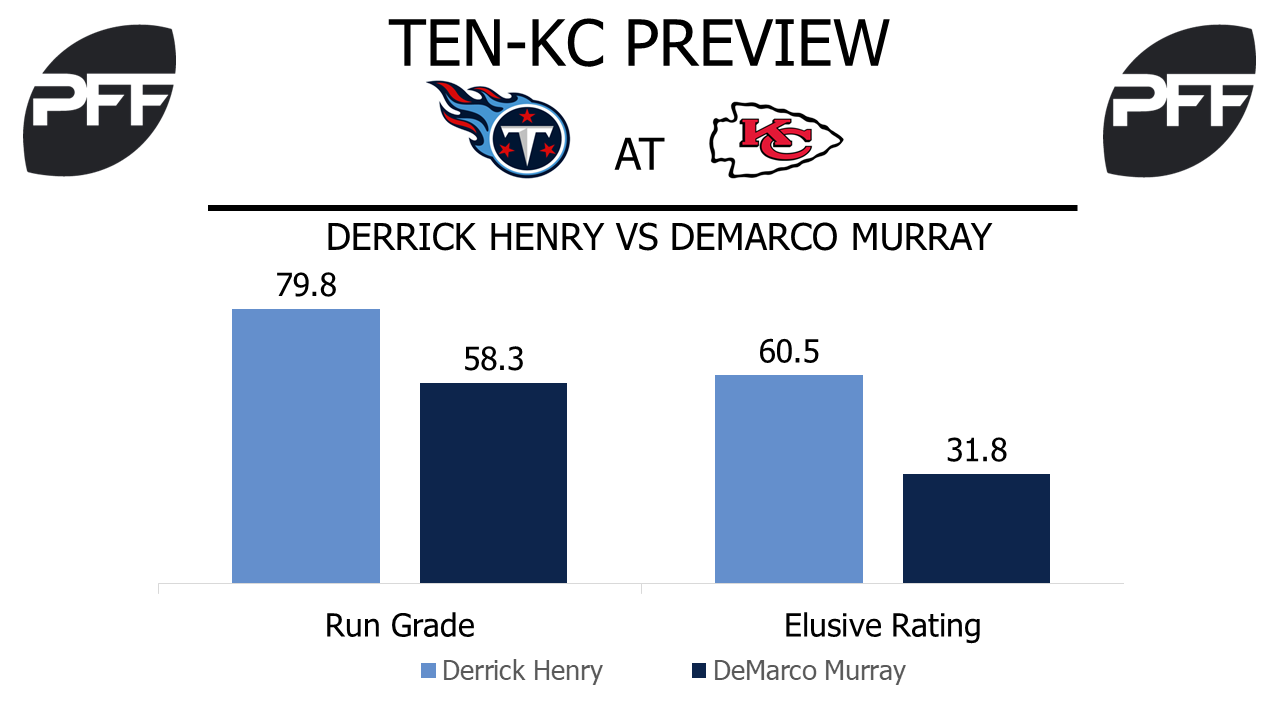 WR Rishard Matthews vs. CB Marcus Peters – Matthews closed the regular season with an overall grade of 79.6, which ranked 27th among receivers. He posted a wide receiver rating of 80.2 and averaged 1.73 receiving yards per route run. When lined up as the right wide receiver, where he lined up at on 44.1 percent of his snaps this season, he caught 20 of 27 targets for 339 yards and two touchdowns and accrued a wide receiver rating of 125.2. Marcus Peters has lined up as the left cornerback for 84.3 percent of his snaps, so when Matthews head's outright, these two will likely square off. Peters ranked 18th among cornerbacks with an overall grade of 85.8. He allowed 0.86 receiving yards per coverage snap, tied for 21st among qualifying cornerbacks this year. Quarterbacks throwing into his coverage averaged a passer rating of 66.0, good for 14th among those same cornerbacks.
TE Delanie Walker vs. S Eric Murray – Walker's overall grade of 84.1 ranked fourth among tight ends this season. He averaged 1.83 receiving yards per route run, which was the fifth-highest rate for his position. In addition, he converted 58.4 percent of his targets for either a first down or a touchdown. The Chiefs use Murray all over the field, but opposing passers made a point to find him in coverage, especially when facing tight ends. Murray allowed a team-high 17 catches for 239 yards and a touchdown against tight ends this season. Overall, he allowed 1.03 receiving yards per coverage snap and a 94.6 passer rating. Any time QB Marcus Mariota can find Walker in Murray's coverage, the Titans should have the advantage.

Coverage by: Mike Guerrelli
TE Travis Kelce vs. S Kevin Byard – This matchup features two of the best players at their respective positions in the NFL this season. Kelce ranked third among tight ends with an 87.6 overall grade. His nine receptions and 266 yards on deep passes (targets 20 or more yards downfield) led all tight ends. Kelce is very effective running routes from the slot, and his average of 2.33 yards per route run from the slot this season was the most among tight ends with 100-plus slot routes run. Tennessee will try to combat him with a variety of coverages, but regardless of what they do, Byard should be heavily involved. His 90.1 overall grade ranked third at safety this year. Byard led all safeties with eight interceptions and seven passes defensed. However, he also allowed six touchdowns in coverage, the second most of any safety, so how this matchup plays out could be a deciding factor in the game.