The Atlanta Falcons will battle the Los Angeles Rams in the Wild Card round of the postseason. PFF previews the top player matchups of this win-or-go-home game.

Coverage by: Bill O'Brien
WR Julio Jones vs. CB Trumaine Johnson – In the first playoff game in the city of Los Angeles in quite some time, PFF All-Pro wide receiver Julio Jones will be among the most important players to watch. For teams to go across the country and pull off a playoff upset, their superstar players usually have to show up in a big way. Year-in and year-out, Jones has played at a high level, and this year is no different as Jones turned in a 91.6 overall grade, the second-highest overall grade among wide receivers. The Rams will likely employ cornerback Trumaine Johnson to matchup with Jones, although both players see a lot of both sides of the field. While Johnson enters the weekend with a 74.3 overall grade, (67th among cornerbacks), he earned that grade while shadowing some of the best receivers in the league, including Dez Bryant, DeAndre Hopkins, and Michael Thomas. There is a disparity in their level of play, but it will be interesting to see if Johnson's experience with playing against big-time receivers will help him.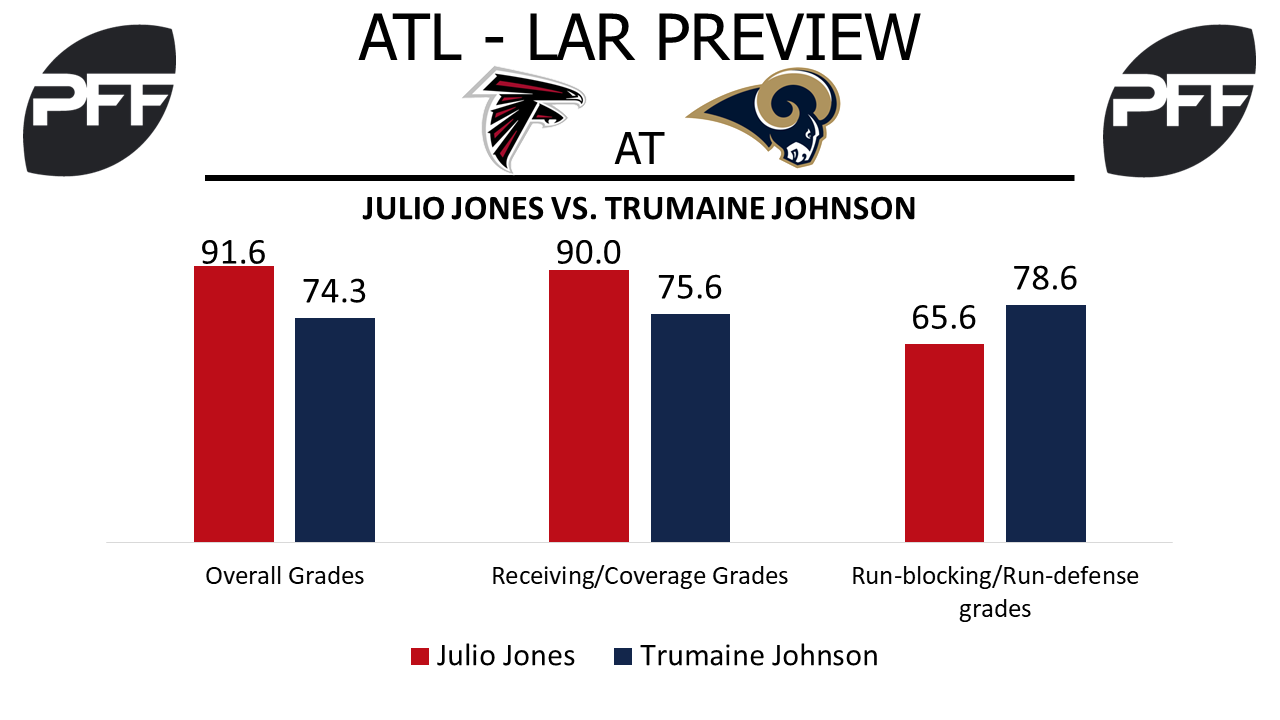 RB Tevin Coleman vs. LB Alec Ogletree & LB Mark Barron – Falcons starting running back Devonta Freeman has been limited at practice this week while nursing a knee injury, which could affect his level of availability this week. That leaves fellow running back Tevin Coleman to pick up the slack. Coleman is a very capable backup, especially in the passing game, where he averaged 1.49 yards per route run this year, 22nd among running backs. The Rams will rely upon their linebackers to cover Coleman out of the backfield. Mark Barron had a 76.9 coverage grade on the season and had an average of 10.0 coverage snaps per reception allowed. Ogletree surrendered the lowest yards per coverage snap (0.91) among all Rams linebackers but his coverage grade of 39.8 leaves much room for improvement.
C Alex Mack vs. DI Aaron Donald– In what will be the most important matchup in the trenches, Rams interior defender Aaron Donald will do battle against Falcons center Alex Mack and the entire interior of the Atlanta offensive line. Donald has been a nightmare for opposing offensive linemen all season, as his 98.4 overall grade is the second-highest grade of any player regardless of position. Given the pass-blocking efficiencies of backup Ben Garland (92.9) and Wes Schweitzer (96.0), the Falcons will likely often use Alex Mack to help against Donald, who was the best pass-rushing interior defender this year. Mack should be up to the task, as his 97.9 pass blocking efficiency is ranked 14th among centers.

Coverage by: Mike Cahill
WR Robert Woods vs. CB Desmond Trufant – Since Week 9 of the regular season, no wide receiver with at least 23 targets produced a higher passer rating when targeted than Robert Woods. He was targeted 38 times in that span and caught 29 of them for 400 yards, five touchdowns, and a wide receiver rating of 149.1. Woods' average of 2.84 yards gained per route run also ranked third at the position during that time. With Desmond Trufant lining up as the left cornerback of the defense 84.4 percent of the time, Woods will see a lot of the 12th-highest graded cornerback of this season. Trufant had his highest-graded season (86.6 overall grade) since 2013 and will look to continue his success against Woods. He was beat for the most touchdowns he's ever allowed in a season with six, but only two allowed since Week 9. With Trufant allowing a first down or touchdown on 37 percent of his targets and Woods gaining either a first down or touchdown on 44.0 percent of his, it's going to be a fun battle to watch.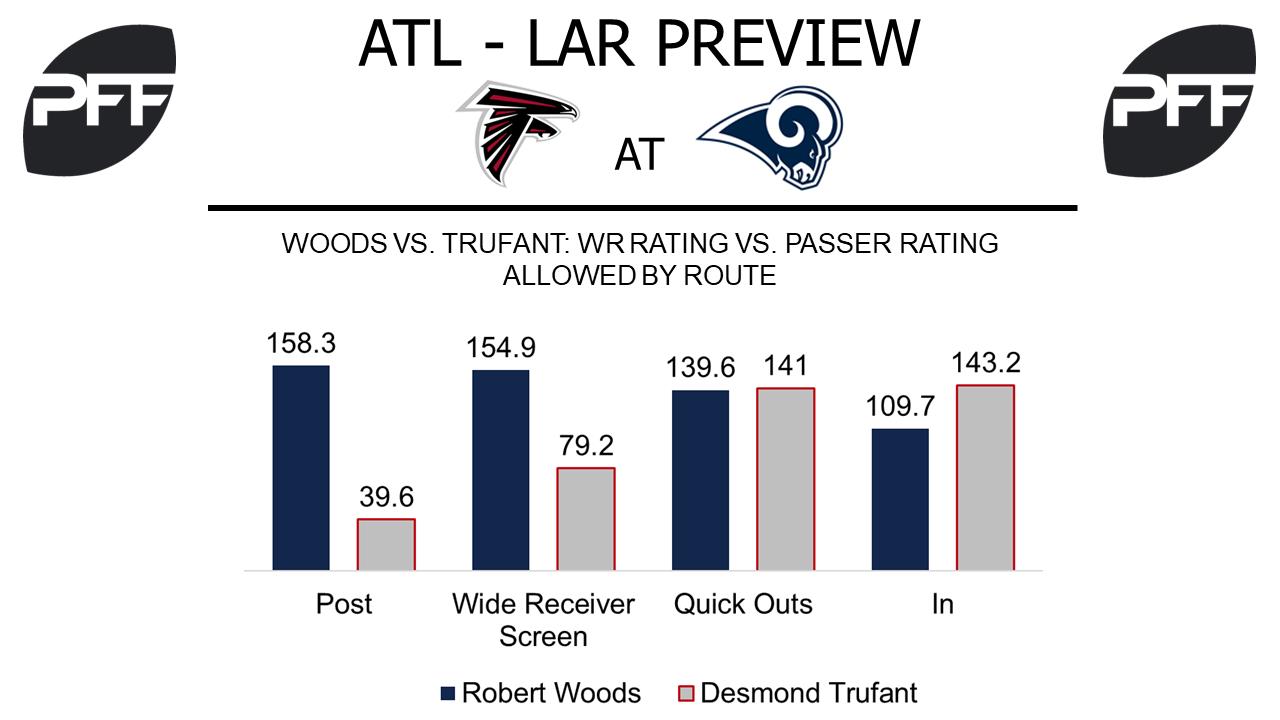 T Andrew Whitworth vs. Edge Adrian Clayborn – Whitworth's pass-blocking efficiency of 96.1 tied for 13th among 55 offensive tackles, while his 24 total quarterback pressures allowed ranked tied for 12th-fewest. Whitworth's task of stopping Adrian Clayborn will be a tall order, as Clayborn tied for 11th among edge defenders in pass-rush grade (88.1). He played 390 of his 394 pass-rushing snaps from the right side of the defense and produced all 54 of his pressures from there, including nine sacks. Clayborn produced 31 of his pressures with either an outside (17) or bullrush (14) pass-rush move. Whitworth gave up 15 of his pressures on outside (seven) or bullrush moves (eight), so it will be interesting to see which player comes in more prepared for each other's tendencies.
RB Todd Gurley vs. Falcons run defense – Gurley finished 2017 as the highest-graded running back (92.0), his first elite season (90.0-plus on the grade scale). He and the Rams excelled in games where he carried the ball 20 or more times, as they won all six of the games where he reached that mark. In those games, Gurley was tied for seventh-most yards per carry at 5.2, had the third-most yards after contact with 368 yards, and he also had eight runs of 15 or more yards. Gurley, who is a strong presence in the passing game as well, might see more rushing touches this week with linebacker Deion Jones on the field. Jones ranked tied for first among all linebackers in coverage grade (93.5). With the Falcons' defense ending the season tied for seventh in missed tackles with 120 and tied for sixth in missed tackle percentage at 13.9, Gurley should be primed to exploit a heavy rushing workload. Jones' 65.4 run-defense grade ranked 49th among 91 linebackers while teammate De'Vondre Campbell's 49.5 run-defense grade ranked 60th. Gurley will need to avoid DI Grady Jarrett (88.1 run-defense grade) to get to them, however.