The Houston Texans visit the Jacksonville Jaguars in Week 15 of the 2017 NFL season. PFF previews the top player matchups of the game.

PFFELO Ranking: 29
Coverage by: Aaron Resnick
WR DeAndre Hopkins vs. CB Jalen Ramsey/A.J. Bouye – Despite having three different quarterbacks throwing him the ball, Hopkins has been having a monster 2017 season. His overall grade of 89.5 ranks third among wideouts, while his 2.39 yards per route run mark checks in fifth. This week presents a challenge for Hopkins as the last time these two teams met, Ramsey and Bouye held Hopkins to six catches for 51 yards in the 14 times they were targeted in coverage. For the season,  Bouye has held opponents to a league-best 26.0 passer rating when targeted in coverage, while Ramsey's mark of 54.3 ranks eighth. Both corners have "elite" overall grades as well. Ramsey's mark of 94.1 and Bouye's of 90.9 rank second and fourth at the position, respectively.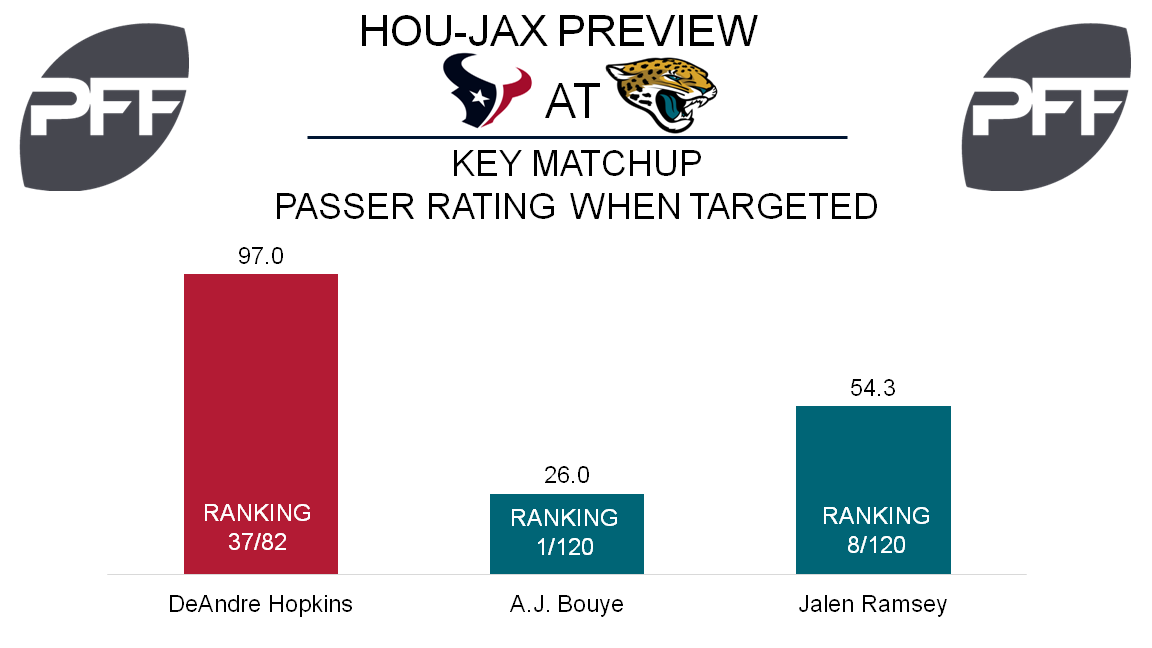 QB T.J. Yates vs. ED Calais Campbell/Yannick Ngakoue – Last Sunday Yates was forced into his first action of 2017, and he dropped back to pass 30 times. While his completion percentage under pressure of 66.7 ranked 15th, he was pressured on 43.3 percent of his dropbacks, which was the sixth-highest rate for the week. Yates now has a daunting task going against a dynamic duo off the edge that has brought pressure all year long. Campbell and Ngakoue are tied for the fifth-highest pass-rushing productivity among 4-3 defensive ends at 12.6. With 61 total pressures, Campbell has the fourth most at the position, while Ngakoue's 58 pressures rank sixth. Yates' throws last Sunday had an average depth of target of 14.2 yards, the second-highest among quarterbacks. Against this duo, it wouldn't be surprising if the Texans emphasize fast developing pass plays to compensate.
RB Lamar Miller vs. LB Telvin Smith – Miller has had some tough sledding on the ground in his past five games. Of his 281 yards in that span, 225 came after contact. Miller's overall grade of 79.2 ranks 20th among running backs, and he has recently seen 20 plus touches per game. Improving his grade yearly since entering the league, Smith's overall grade of 90.9 is fourth among linebackers.  In particular, Smith has stood out in run defense, where he's tops among linebackers with a grade of 93.9. While his run-stop percentage of 11.2 ranks fourth at the position, Smith has missed seven tackles in run defense to this point. Like the past five weeks, it just means Miller might have to continue making things happen after initial contact.

PFFELO Ranking: 11
Coverage by: Aaron Resnick
RB Leonard Fournette vs. Edge Jadeveon Clowney – Playing through a nagging ankle injury, Fournette still managed to show flashes of his speed and power this past Sunday. However, he has still been more of a boom-or-bust runner, as since Week 5 39.3 percent of his rushing yards have come from six runs that went for 15 or more yards. That percentage is eighth among backs in that span, and only two above Fournette have seen a similar workload. With a run-defense grade of 87.0, Clowney ranks eighth among edge rushers to this point. Clowney's run-stop percentage of 8.0 ranks ninth among 3-4 outside linebackers, while he's sixth at the position with 21 stops against the run. Despite the impressive numbers, Clowney has missed four tackles in run defense, which offers some opportunity for Fournette, who thrives off contact.
WR Marqise Lee vs. CB Kevin Johnson – Now in his fourth year as a pro, Lee is coming into his own, as his overall grade of 78.9 ranks 28th among receivers. Primarily lining up on the left side of the field, he figures to see plenty of Johnson this Sunday. After turning heads in his second season, Johnson missed four games with an MCL sprain and has struggled since his Week 8 return. From Week 8 on, Johnson has allowed a passer rating of 142.1 when targeted in coverage, a mark that ranks 114th out of 115 eligible corners. His 1.53 yards allowed per coverage snap rank 89th in that span. Johnson may not fully recover from the injury until this offseason, so in the meantime look for the Jaguars to try to exploit the matchup.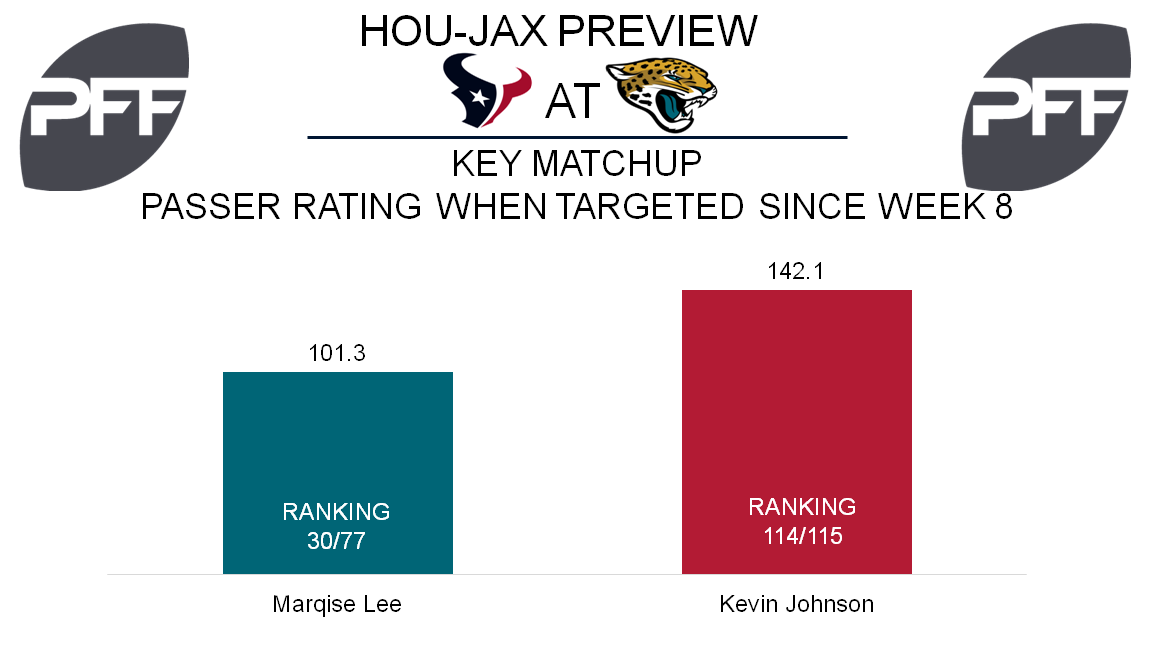 WR Dede Westbrook vs. CB Johnathan Joseph – Coming off the best game of his young career, Westbrook has remained heavily involved in the Jaguars passing attack since being activated from the PUP list. Since returning, Westbrook has ran 113 routes and has been targeted on 33 of them, which is a ratio similar to many top-tier wide receivers. He has been efficient in that span, as his 2.08 yards per route run rank 23rd at the position the past four weeks. With an overall grade of 80.9, Joseph has the highest grade of any Texans corner. While his 12.5 coverage snaps per reception rank 29th at the position, Joseph has allowed a passer rating of 95.5 when targeted in coverage. Just last Sunday, Joseph allowed another vertical threat in Marquise Goodwin to record three catches for 65 yards on five targets. With some similar skills, it wouldn't be surprising if Westbrook also has success against Joseph.