After each week of the NFL season, and once our exhaustive All-22 review process is in the books, PFF will be bringing you the insights from our play-by-play grading of every NFL game with our team of the week.
This year we will match the new and improved All-Pro system when it comes to offensive and defensive formation, with a flex player for both sides of the ball that can be either a receiver, slot weapon, tight end or running back on offense, and anybody in the defensive secondary on defense. This gives us the flexibility to reward the player that best deserves it across multiple positions, rather than shoehorning in somebody just to fit a slot receiver or cornerback role.

Offense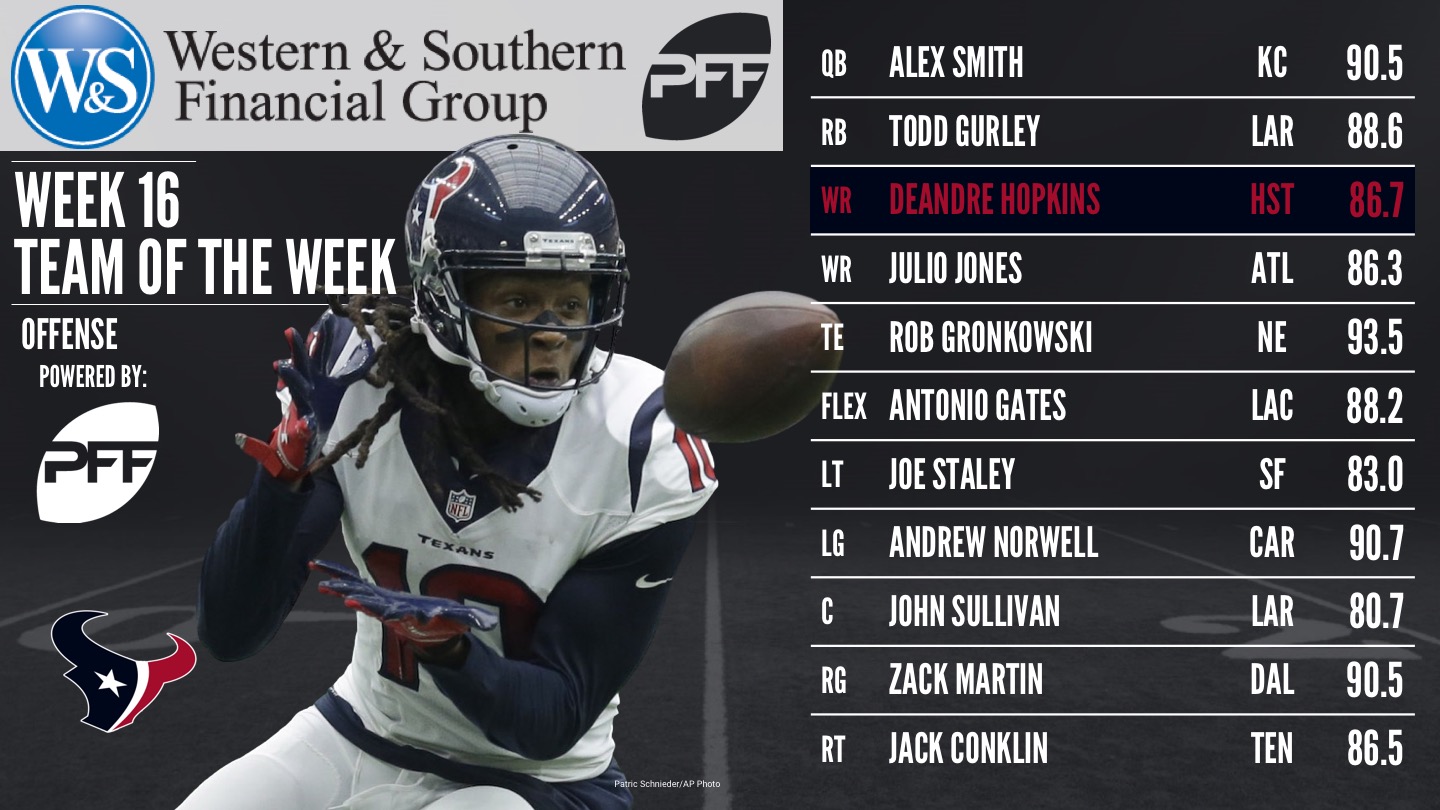 PFF Grade: 90.5
Elite Stat: Alex Smith led the league in deep passing yards this week with 120.
Alex Smith was back to his best for the Chiefs this week against Miami, and crucially, has maintained his aggressive attitude in his play, taking deep shots down the field and exploiting one-on-one matchups with his best weapons. Smith only threw one touchdown in this game, but had another overturned incorrectly on replay and saw a perfect deep pass dropped by Albert Wilson that likely would have given him another early in the game. This is an Alex Smith that can take you to a Super Bowl.
PFF Grade: 88.6
Elite Stat: Todd Gurley averaged 4.94 yards per route run this week.
Nobody has benefited from the Rams' new regime more than Todd Gurley, who has had every bit as big a transformation from last year to this one as Jared Goff. Gurley ended the game against the Titans with 276 yards from scrimmage, and amassed 185 yards after the catch on ten receptions. Gurley has been one of the game's most effective receivers out of the backfield and has been a huge part of the league's most potent scoring offense.
PFF Grade: 86.7
Elite Stat: DeAndre Hopkins had a wide receiver rating of 142.4 against the Steelers.
The Houston Texans may have been on the end of a beating at the hands of Pittsburgh on Christmas Day, but DeAndre Hopkins was once again the lone bright spot on offense, and ended up pulling off one of the catches of the season for his touchdown. Overall, covered by CB Joe Haden for most of the game, Hopkins caught four of the six passes send his way for 65 yards and that touchdown catch.
PFF Grade: 86.3
Elite Stat: Julio Jones averaged 3.82 yards per route run this week.
The Falcons just couldn't buy a decision from the officials this week against the Saints, but the second installment of Julio Jones vs Marshon Lattimore provided some true must-watch TV. This time the balance was weighted firmly towards Jones as compared to their first meeting, which was much closer. Jones caught seven passes for 149 yards overall, six catches and 140 yards of which came against Lattimore.
PFF Grade: 93.5
Elite Stat: Rob Gronkowski averaged 2.58 yards per route run this week, fourth among qualified tight ends.
Rob Gronkowski retains his spot on PFF's team of the week for his performance against the Buffalo Bills. Gronk was near uncoverable once more, despite some very close attendance from the Bills defenders in this game. He caught five of seven targets for 67 yards and a touchdown, but the nature of that touchdown is what separates Gronk this week. He hauled in a one-handed, spectacular catch despite close coverage to make a play few can make.
PFF Grade: 88.2
Elite Stat: Antonio Gates averaged 2.70 yards per route run from the slot against the Jets.
Antonio Gates is still a threat that needs to be dealt with even as he approaches the end of his illustrious NFL career. The Jets have some intriguing young athletes on defense, but they don't have the savvy to be able to match up with Gates'decade plus of knowledge and moves as a route runner. Gates caught all six of the passes thrown his way for 81 yards and a touchdown, five of which came against safety Jamal Adams and LB Darron Lee.
PFF Grade: 83.0
Elite Stat: Joe Staley allowed two hurries across 32 pass-blocking snaps.
Joe Staley put up a valiant effort against the Jaguars' fearsome defensive front and did not allow QB Jimmy Garoppolo to be hit. However, it was his dominating play in the run game that helped the 49ers most on their way to an upset victory.
PFF Grade: 90.7
Elite Stat: Andrew Norwell relinquished zero pressures on 31 pass-blocking snaps this week.
Andrew Norwell has been having a career year for the Panthers in 2017, and this was the best game of his season against the Tampa Bay Buccaneers and Gerald McCoy. Norwell didn't allow any pressures over the course of the game, and matched his pass protection with a near mistake free display as a run blocker, dominating Bucs defenders at the point of attack and opening up holes for the Panthers on the ground.
PFF Grade: 80.7
Elite Stat: John Sullivan allowed one pressure over 40 pass-blocking snaps against the Titans.
One of the most low-key impact moves the Rams made this offseason was the acquisition of C John Sullivan, who has gotten his career back on track after injuries saw it derailed. At his best he was arguably the best center in the game with the Vikings, and while he hasn't hit those heights since, he has been a very solid player for the Rams, which marks a monster upgrade on a season ago. This week he allowed just one hurry as a pass blocker, and graded well in the run game.
PFF Grade: 90.5
Elite Stat: Zach Martin gave up zero pressures on 41 pass-blocking snaps against the Seahawks.
The Cowboys again had problems along their offensive line, but as has been the case all season long, not in Zack Martin's department. Martin was near perfect all game, with no pressures allowed across 41  pass-blocking snaps, while maintaining his consistently high levels in the run game to help boost the return of Ezekiel Elliott. The Cowboys as a team averaged 5.0 yards per carry on runs that went immediately either side of Martin's blocks.
PFF Grade: 86.5
Elite Stat: Jack Conklin did not give up a single pressure on 43 pass-blocking snaps.
Jack Conklin didn't allow any pressures across his 43 pass-blocking snaps, but did his best work as a run blocker, opening space with his down blocks and picking off linebackers at the second level.
Defense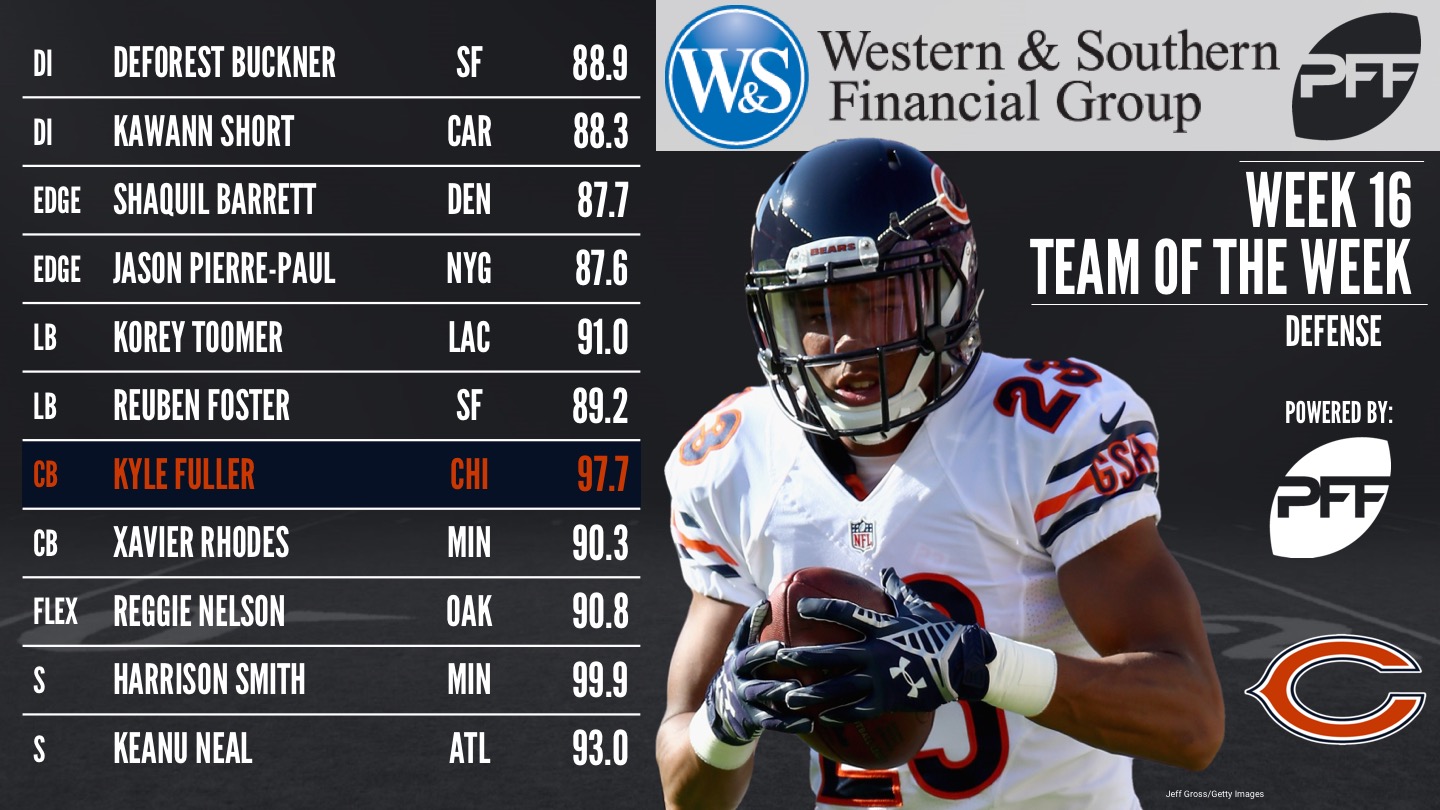 PFF Grade: 88.9
Elite Stat: DeForest Buckner tallied six pressures against the Jaguars.
Somehow DeForest Buckner came out of this game without a sack on the stat sheet, but he did have six total pressures and a batted pass during his pass-rushes. With so much late passing as the Jaguars tried to rescue the game, Buckner ended up on the field for a huge 69 defensive snaps, 52 of which were as a pass-rusher, so he had plenty of time to make that impact, but he also had several plays in which he beat his man but the ball came out before a pressure was registered.
PFF Grade: 88.3
Elite Stat: Kawann Short's pass-rush productivity of 19.3 was second among interior defenders this week.
At his best, he is one of the most dominant forces in the game, that's exactly what we saw this week against the Tampa Bay Buccaneers. Kawann Short notched a pair of sacks, but also had three additional hurries as a pass-rusher from only 26 rushes. Short was consistently knifing through the offensive line and causing disruption in the backfield, and it wasn't so much the volume of pressure he racked up (though five total pressured from 26 pass-rushes is impressive), but rather the decisive nature of the pressure which caused a significant impact in the game.
PFF Grade: 87.7
Elite Stat: Shaquil Barrett tallied five total pressures against Washington.
Having started the season on fire, Shaquil Barrett has somewhat underwhelmed over the course of the year. There have been some impressive games in there, but also some where he has achieved little and not dominated as we have seen him do for stretches. Against Washington this week he recorded a pair of quarterback knockdowns and three additional hurries, while posting five solo tackles and a team-leading four defensive stops.
PFF Grade: 87.6
Elite Stat: Jason Pierre-Paul had a pass-rush productivity of 18.4 this week.
The Arizona offensive line provided the opportunity for Jason Pierre-Paul to have one of the best games of his season, even with a giant club of a cast on one hand. JPP finished the game with a sack, a hit and six hurries from 35 pass-rushing snaps against the Cardinals, and even though the Giants as a team were dominated, he was excellent in the game.
PFF Grade: 91.0
Elite Stat: Korey Toomer led all linebackers this week with a run-stop percentage of 26.7.
Korey Toomer was a run-defending force against the New York Jets offense this week. He had five solo tackles, tied for second on the Chargers defense, but led the team with five defensive stops. In coverage, he was targeted just once, and that pass fell incomplete.
PFF Grade: 89.2
Elite Stat: Reuben Foster allowed 0.46 yards per snap in coverage against Jaguars.
Reuben Foster looks like he was worth the gamble for the 49ers in the draft. When he has been on the field, he has been special as a rookie, and that continued this week against the Jaguars offense. Foster only collected two solo tackles and two defensive stops, but his ability to read and react to run plays and disrupt blocking schemes by beating his man constantly made a positive impact for the 49ers defense. In coverage, he also closed quickly to limit TE James O'Shaughnessy to just twelve yards on two receptions.
PFF Grade: 97.7
Elite Stat: Kyle Fuller allowed a passer rating of 0.0 on 10 targets into his coverage.
Kyle Fuller has had some spectacular games this season for the Bears, and while it hasn't all been good, the team has at least now seen the potential on the field that saw him drafted with the 14th-overall selection back in 2014. Over the last month he has been excellent, and this was his best game of the season against Cleveland, aided by the hapless play of rookie QB DeShone Kizer. Fuller was targeted 10 times overall, allowing just one reception for eight yards, catching as many passes himself as he allowed to be caught by Browns receivers. He also broke up four of the incompletions.
PFF Grade: 90.3
Elite Stat: Xavier Rhodes allowed 18 yards on six targets into his coverage.
PFF has been a little cooler on Xavier Rhodes over the season than many of his fans, but against the Packers this week he was fantastic and he made a significant impact when targeted. He ended the game having surrendered just 18 yards across three receptions on six targets, and made a key play breaking up a pass intended for WR Michael Clark as they went to ground.
PFF Grade: 99.9
Elite Stat: Harrison Smith allowed 0.04 yards per snap in coverage against the Packers.
Harrison Smith has been the best safety in football this year, and headlined PFF's list of Pro Bowl snubs, but nothing could make that case any better than his play in the week following the Pro Bowl announcement. Smith intercepted two Brett Hundley passes, led the team both in solo tackles (eight) and defensive stops (five), and became only the 15th player since 2006 to post a perfect PFF game grade of 99.9.
PFF Grade: 93.0
Elite Stat: Keanu Neal tallied four total defensive stops against the Saints.
Keanu Neal came out of the game against New Orleans on the losing side, but he made a huge impact on defense for the Falcons. Neal tied for the team lead with nine solo tackles, and was one defensive stop behind LB Deion Jones with four. Against the run he was a big-hitting force, but he also made some plays in coverage, despite giving up some yards to Alvin Kamara.
PFF Grade: 90.8
Elite Stat: Reggie Nelson allowed only one catch on 40 coverage snaps.
Reggie Nelson had the best game of his season on Christmas day, even if the rest of the team couldn't give him the present his play deserved with a win over Philadelphia. Nelson was targeted six times in primary coverage, allowing just one catch, while picking off a pass himself and breaking up another two. Nelson was also a significant factor in the run game, notching five solo tackles and two defensive stops.
Special Teams
Bullock went 4-for-4 on the day, including one from 50-plus yards. It wasn't a standout week for kickers, but Bullock was the best of the group with a perfect day for the Bengals.
Edwards produced one of the best games we've seen from a punter all season, dropping seven of his nine punts inside the Chargers 20-yard line.
The only returner to score on special teams this week, Byrd's kickoff return for a touchdown was key to the Panthers taking down the Buccaneers and keeping pace with the New Orleans Saints for the NFC South crown.
A force on kickoffs for the Titans in their loss to the Rams, Palmer racked up three special teams tackles on the day. That doubles his season total, taking him to six special teams tackles in 2017, a career-high.