It's that time of the year again, when the NFL polls fans, players, and NFL coaches to come up with the rosters that populate the annual Pro Bowl. Ostensibly a list of the best performers at every position in the league, the process is fraught with flaws, and we often get left with a pair of rosters with some glaring omissions, even if they may ultimately make it once the annual round of drop-outs takes place.
But let's take a shot at fixing the NFL's Pro Bowl mistakes by running through the 12 biggest snubs to miss the list, and this is by no means an exhaustive group.


PFF grade: 94.6
(Replacing Malcolm Jenkins)
The NFC really made a mess of the safety position this season. Smith has been the league's best safety and a player who could justifiably have been slotted into either free or strong safety given how the Vikings deploy him. Smith is versatile enough that he has spent significant time as a free safety (39 percent), in the box, or even manning up covering receivers in the slot. He has the highest overall PFF grade among all safeties at 94.6 and one of the highest overall grades of any player at any position, and there is no justifiable reason for him not to make the team beyond simply not watching enough tape.
PFF grade: 93.8
(Replacing Anthony Barr)
David is a victim of the Pro Bowl ballot being unable to categorize players without tying itself in knots. Instead of running with edge defenders, interior defenders, and off-the-ball linebackers, the Pro Bowl lumps edge rushers in with off-the-ball outside linebackers, meaning elite players like David get bumped because edge rushers with sacks draw votes like moths to a flame. David has been back to his best this season, forcing five fumbles, recovering a league-leading five, and posting the third-best run-stop percentage among linebackers, with the second-most stops in the run game.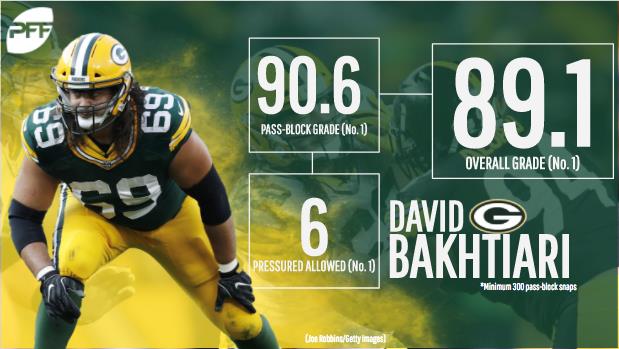 PFF grade: 89.1
(Replacing Tyron Smith)
I get that Bakhtiari missed some time to start the year with injury, and that the Packers have had less luster on their season with Aaron Rodgers hurt, but Bakhtiari has been the league's best pass-blocking tackle – by a distance – and in a league that passes 62 percent of the time, that's kind of important. The Packers left tackle has played in 10 games, and allowed six total pressures. Say that again slowly to yourself because it's not like he's had a quarterback getting rid of the ball as quick as possible to manufacture that number. There are tackles in the league who have surrendered 77 total pressures over the season, while Bakhtiari has allowed a little more than half a pressure per game.
PFF grade: 89.6
(Replacing Eric Weddle)
This one is perhaps the greatest irony of this year's Pro Bowl rosters. Usually the players with the gaudy box score stats make it whether they deserved it or not, but Byard is actually tied for second in the league in interceptions, having led for most of the voting period, and somehow missed despite actually matching that box score stat with his overall play. Byard has been an excellent cover safety for the Titans, really making a statement in the heart of that improved secondary, and breaking up a further seven passes (leading all safeties) on top of the six he has picked off.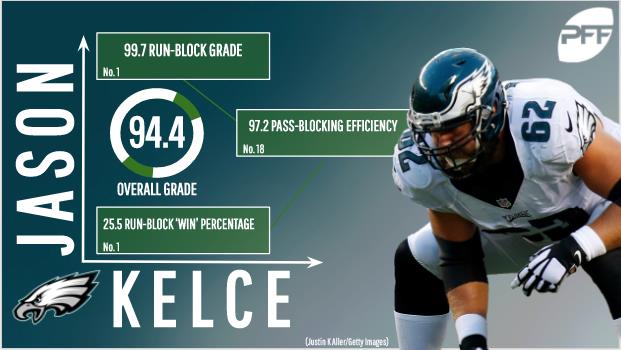 PFF grade: 94.4
(Replacing Travis Frederick)
It's tough to overstate just how good Kelce has been as a run-blocker this season. His quickness and ability to execute any block assignment thrown his way has been instrumental in that offense running as efficiently as it has. If you need any example of how well he is playing, just look at what he did this past weekend, where he was a huge reason Damon Harrison had his lowest-graded performance of the season in the middle of the Giants defensive front. Kelce has been the best run-blocking center in the game by some margin, and easily deserves a spot.
PFF grade: 91.9
(Replacing Aqib Talib)
Performing well as a rookie corner is hard to do, but when your team trades away their No. 1 corner before the season and you have to step into that role it's near impossible. Yet White has done exactly that for the Buffalo Bills. Their top rookie has allowed just 48.6 percent of passes thrown into his coverage to be caught, actually better than Jalen Ramsey and 10 percentage points better than Aqib Talib. White has four picks and 11 pass breakups, and the third-best overall PFF grade with a mark of 91.9.
PFF grade: 86.0
(Replacing Trent Williams)
The snub of Williams, the Panthers right tackle, is the classic Pro Bowl snub. Williams has come out of nowhere to post a Pro Bowl-caliber season, and the NFL simply takes a year to catch up to that kind of surprise. If Williams has the same kind of season in 2018, that's the Pro Bowl roster you can expect to see him on, but it sadly means he has been snubbed this year. Williams has the highest overall PFF grade among right tackles at 86.0, just narrowly ahead of Philadelphia's Lane Johnson, who did deservedly make the roster. Williams has been a force this year for Carolina and is unfortunate he simply isn't well known enough yet to feature.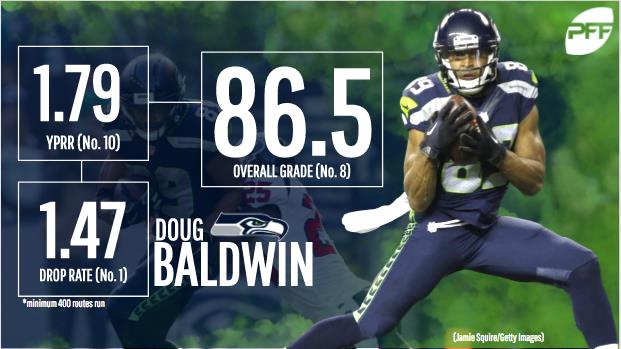 PFF grade: 86.5
(Replacing Larry Fitzgerald)
There are players with more receiving yards and touchdowns than Baldwin, but few who are making the kind of down-to-down impact that he does on that passing game, in tandem with QB Russell Wilson. When Wilson goes off the reservation in the backfield, making magic happen, it's typically Baldwin that he's heaving a prayer in the general direction of, and Baldwin typically making those passes look a lot better advised than they were when they left Wilson's hand. Baldwin has the third-highest overall PFF grade in the NFC, behind only Julio Jones and Michael Thomas of the Saints.
PFF grade: 91.0
(Replacing Jadeveon Clowney or Terrell Suggs)
Ingram somehow misses out for a couple of players who are more hype or reputation than substance in 2017. Von Miller deserves his spot on the AFC roster, but Ingram has been markedly better than either Jadeveon Clowney or Terrell Suggs this year. Ingram has 69 total pressures, more than all but Miller, DeMarcus Lawrence, and Khalil Mack, and that's 13 more than Clowney has managed despite fewer snaps rushing the passer. Ingram hasn't been simply a pass-rush specialist either, and actually has more run stops than Suggs, and just five fewer than Clowney.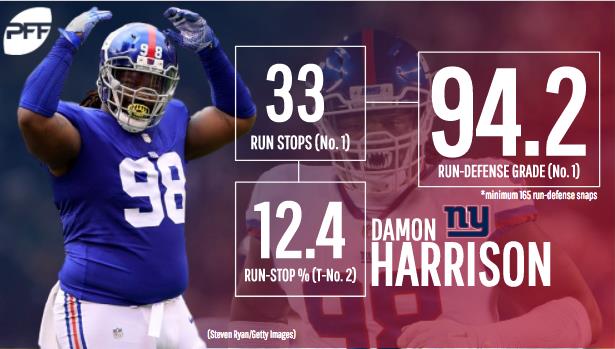 PFF grade: 90.7
(Replacing Gerald McCoy)
People just don't appreciate the run game when it comes to Pro Bowl voting. The interior players with all the sacks get the votes, and players like Harrison, who is truly unstoppable against the run, are ignored. Harrison – again – leads all interior defenders with 33 defensive stops, a year after leading the league with 52. He is within touching distance of leading it again in run-stop percentage, which would mark the fifth straight season he has led this statistical category, or every year of his career in which he played more than a dozen snaps. Put on the tape and watch Harrison against the run closely, he is just a force that changes how teams have to run the ball against the Giants.
PFF grade: 79.7
(Replacing Matthew Slater)
Matthew Slater has a lock on the AFC special teams spot for the Pro Bowl, and he has been a great special-teamer in the past, but he is getting there now on name recognition alone. He isn't even the best special-teams player on his own team, but he is the one on the ballot. Slater has just 12 total snaps as a gunner this year, at least 26 fewer than either player ahead of him. Miami's Thomas is the true "special teams ace" people think Slater is, and he may once have been. Thomas has 10 special teams tackles without missing any, plays all five phases of special teams, has a 27.3 percent win rate as a vice (the player blocking gunners), which ranks fifth in the league. He didn't make the team simply because people don't have a good handle on who is playing well on special teams.
PFF grade: 92.3
(Replacing Landon Collins)
Another NFC safety in need of redress, Amos has been fantastic all season for Chicago. He has graded exceptionally well both in coverage and against the run, and on plays that he has been primary coverage on, he has allowed an average of just 5.8 yards per catch. He has forced a pair of fumbles, recovered one, and returned his interception for a touchdown. He has a top-15 run-stop percentage score and the fourth-best tackling efficiency mark among all safeties.