The Oakland Raiders are moving on from Antonio Brown.
Per ESPN's Adam Schefter, Oakland released Brown Sunday morning. He does not have to clear through waivers and will become an unrestricted free agent at 4:00 PM ET.
The Raiders traded a third- and fifth-round pick to the Pittsburgh Steelers in exchange for Brown early in the offseason. The team signed him to a three-year, $51M contract with $30 million in guarantees shortly after that, but Oakland won't pay a cent of it with Brown's release. Oakland fined Brown $215K for "conduct detrimental to the team" and voided all of his contact guarantees, per Schefter. Brown's agent, Drew Rosenhaus, is "focused on the future" and is already working on finding Brown's next NFL team.
There's no questioning Brown is an elite talent on the field. Only Julio Jones, Michael Thomas and DeAndre Hopkins have earned a higher three-year receiving grade over the past three seasons (2016-18) than Brown (91.5). Among the 119 NFL receivers with 600 or more routes run in the same three-year span, Brown ranks fifth at 2.37.
And losing that talent put the Raiders' offense in a tough position in 2019.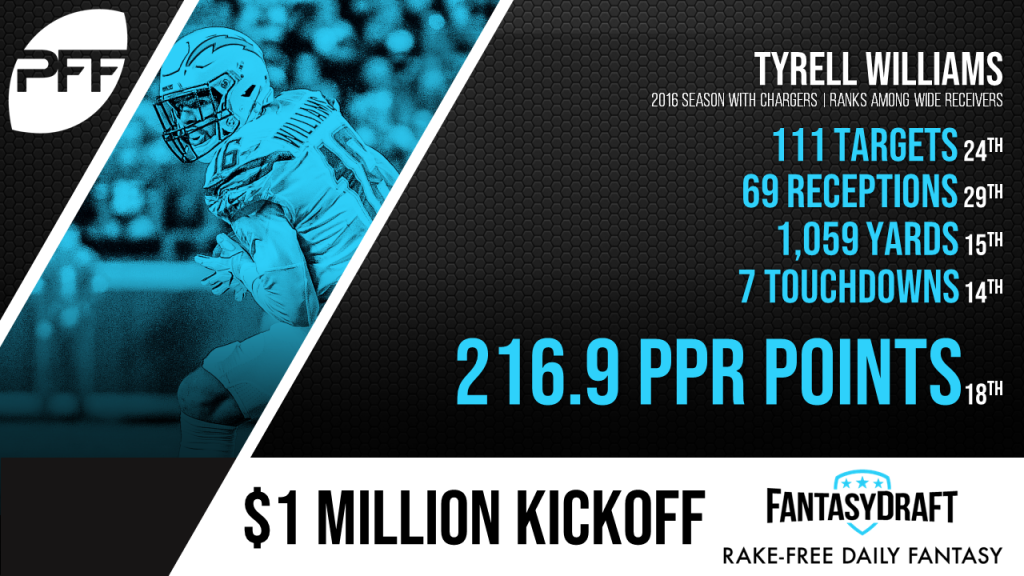 Tyrell Williams earned middling receiving grades in his four years (2015-18) with the Los Angles Chargers before signing with the Raiders as an unrestricted free agent this offseason. The 6-foot-4, 205-pounder earned a 75.6 single-season receiving grade and recorded over 1,000 receiving yards across 599 routes run in 2016, but he's failed to have similar success in years following. Williams earned just 62.0 and 65.9 receiving grades in 2017 and 2018, respectively.
The depth behind Williams isn't any prettier, either.
Veterans Ryan Grant, Dwayne Harris and JJ Nelson have all underwhelmed in recent years. Grant has run at least 100 routes every season of his five-year career and has yet to earn a receiving grade above 69.1 (2017). The 31-year-old Harris hasn't run more than 30 routes in a single season since his 2015 season with the New York Giants, as he's gone away from playing receiver and transitioned into a full-time special teams player. After earning an 83.0 receiving grade across 128 routes run as a rookie with the Arizona Cardinals in 2015, Nelson has watched his receiving grade drop every year. He earned a dismal 48.9 receiving grade across 139 routes run with Arizona this past season,
Oakland will also feature relative unknowns in the passing game in rookie slot receiver Hunter Renfrow and fifth-year tight end Darren Waller. Renfrow is a fan favorite coming out of Clemson as a fifth-round pick in this year's draft, and he had just two drops and 70.0-plus receiving grades in his final two collegiate seasons with the Tigers (2017-18). Waller, a 6-foot-6, 255-pound Georgia Tech product drafted in the sixth round in 2015, has a ton of potential considering his size and athletic profile. However, he's logged just 18 receptions for 178 yards and two touchdowns in his four-year NFL career. He's still all talk, no walk until proven otherwise.
It's likely Oakland's brass seeks out another receiver to add to the mix with Brown released, but unless the move is a drastic one, Derek Carr & Co. will struggle to move the ball through the air with the team's current crop of receiving talent.
Fantasy Takeaways
Fantasy football drafters knew there was some risk to drafting Antonio Brown, but even the most forward-thinking among us didn't see the star wide receiver getting released by the Oakland Raiders just two days before their season opener. In a word, wow. This move caps a series of strange events that started with frostbitten feet, escalated to a retirement threat over his helmet and culminated in a mega meltdown that led to his release on Saturday.
If you happen to be one of the many Brown owners out there in fantasy land, then you're kind of up a creek without a paddle for now. Brown is essentially in limbo for the time being and is not eligible to play in Week 1 regardless of how quickly he gets signed elsewhere. And let's be clear that there's almost no chance he doesn't land with another team quickly. However, the earliest he's allowed to play will be Week 2, depending on when he signs.
Of course, you could consider trading him away, but that isn't necessarily the wisest move. You'll be selling for pennies on the dollar at this point, which isn't how you make a profit. While it may sound appealing to acquire Brown, just remember that in a few weeks you could be in the same position the current Brown owners are in right now.
So we're essentially in "stay tuned" mode for now. If you own Brown, send him to the bench and cross your fingers that he lands in a good offensive situation that also brings some stability to this off-field roller coaster ride we've seen in 2019. But we also have to be very aware that the next red flag could be right around the corner. For fantasy football purposes, this is a quintessential example why we want to look to minimize risk in the early rounds of drafts.
Final Thoughts
Oakland's passing attack takes a major hit with Brown released. The team's receiver room is made up of a combination of unappealing veterans and young question marks. And while Brown should sign with a team sooner rather than later, his outlook is still very hard to project.