Alex Smith has been a reborn in 2017. The Kansas City Chiefs are 5-0 and the league's only undefeated team, and while much of that has been driven by rookie running back Kareem Hunt, Alex Smith has also been central to their improvement.
His passer rating of 125.8 tells you all you need to know about the Chiefs passing game efficiency this season, and that's 20 points higher than his best single-season mark. Passer rating though is really a metric that looks at the passing game as a whole, not just the quarterback side of things, and it's possible for a passer rating to shoot through the roof without the quarterback necessarily playing dramatically better.
This is emphatically not the case with Smith. His overall PFF grade is currently 89.0, and he's our second-highest graded quarterback through five games behind only Tom Brady. Smith has never had an overall ranking higher than 10th over a season before this year.
Some of his advanced statistics are incredible as well. His passer rating under pressure this season is 135.7, which isn't just substantially higher than any other quarterback, but it's higher than the passer rating of any other quarterback when they aren't under pressure.
Smith has always been a capable quarterback, but he has had a fatal flaw to his game, so much so that I wrote a season ago that you couldn't win a Super Bowl with the 2016 version of Alex Smith.
That fatal flaw was a pathological conservative streak that made him too easy to defend and didn't punish defenses enough for taking risks in coverage. Alex Smith is always at the bottom end of the league in average depth of target, and among the lowest in deep ball percentage.
The 2017 version of Alex Smith, though, has thrown caution to the wind far more, and that turns him into a completely different prospect for opposing defenses, and greatly affects the outlook on the Cheifs.
Smith aired the ball out on opening day, connecting on a couple of long touchdown passes to WR Tyreek Hill and Hunt out of the backfield, but they were both more a product of the scheme busting players wide open down the field and less a product of this new, aggressive Alex Smith. As reticent as Smith has always been to uncork the deep pass, even he has always been happy to put the ball in the air when he has as much open space to look at as he had on these passes.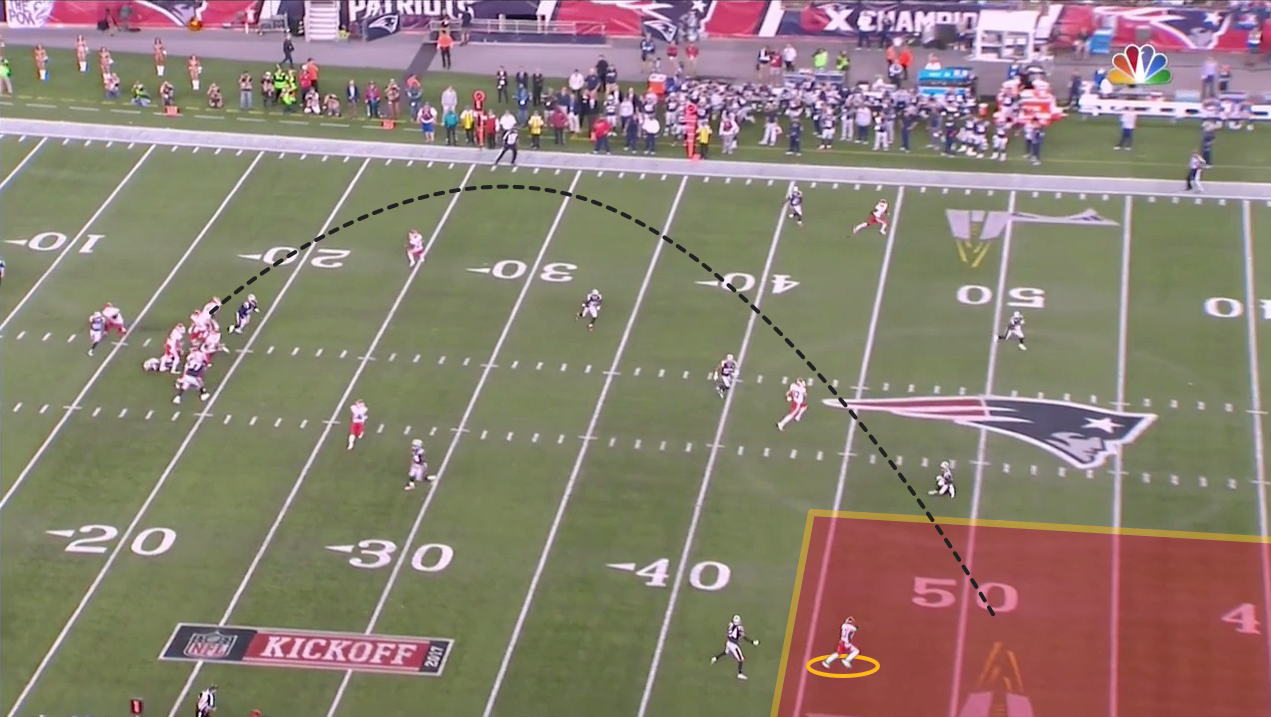 Smith definitively has been more aggressive across the board this season however. He hasn't become a gunslinger overnight, but he has significantly increased the frequency with which he goes deep, which had been a big cap on his play to date. In 2016, Smith went deep on just 9.4 percent of his passes, which was tied for 31st in the league, ahead of only Sam Bradford and the disastrous Minnesota Vikings offensive line, and Colin Kaepernick.
This season his frequency has increased enough to rank 14th, ahead of Drew Brees, Matt Ryan, Cam Newton and Aaron Rodgers through five weeks. In raw number terms, only ten quarterbacks have attempted more than the 19 deep passes that Smith has attempted so far this season.
Simply being prepared to attack a defense over the top is a hugely critical aspect of quarterback play, because it makes them respect all areas of the field and every type of route being run. Without that string to his bow in the past, Smith has made things harder on the offense, but with it there in 2017, the Chiefs have been racking up points.
In addition to simply going deep more often, Smith had been deadly accurate on these more aggressive passes. His passer rating on the deep ball is 142.0, the highest mark in the league, and his adjusted completion percentage is 57.9, also the best mark in football, just ahead of Tom Brady.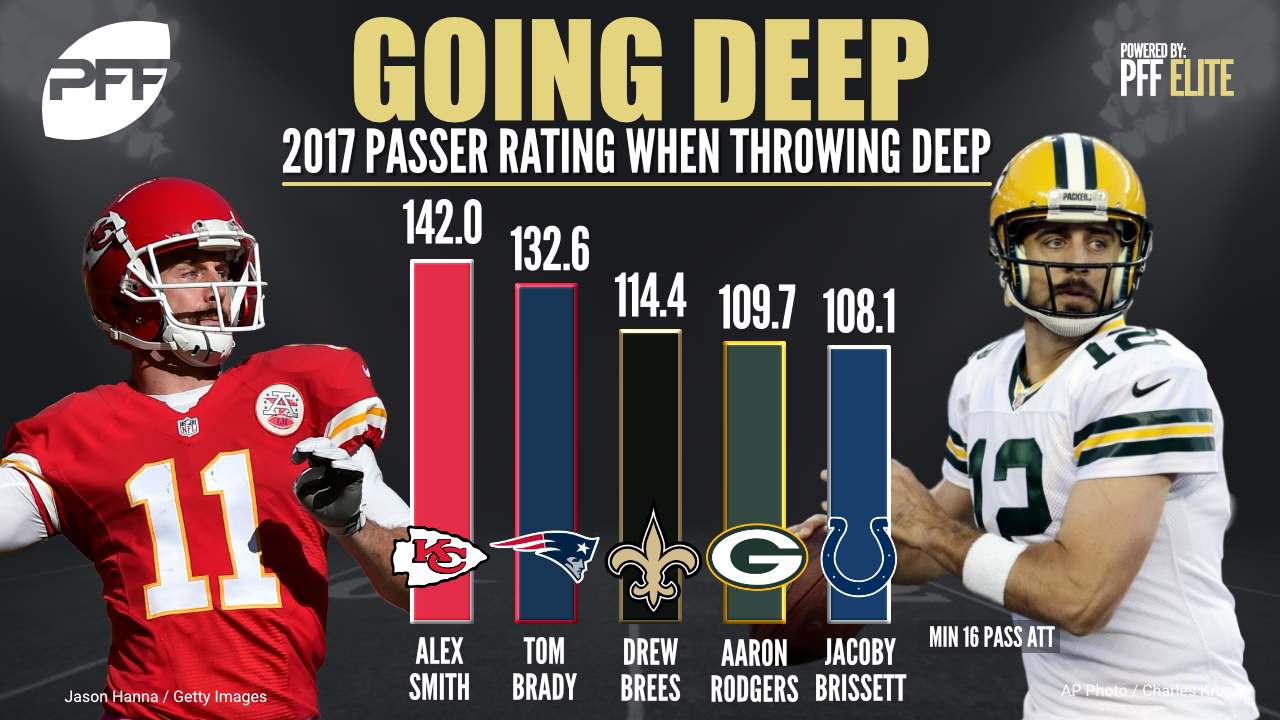 We have seen a fundamental shift in Smith's disposition as a quarterback. In the past he has been extremely reluctant to put the ball in the air deep unless he sees it wide open. If defensive backs were still in good position, he wouldn't give his receiver a chance by throwing the ball early, but that's changing this season.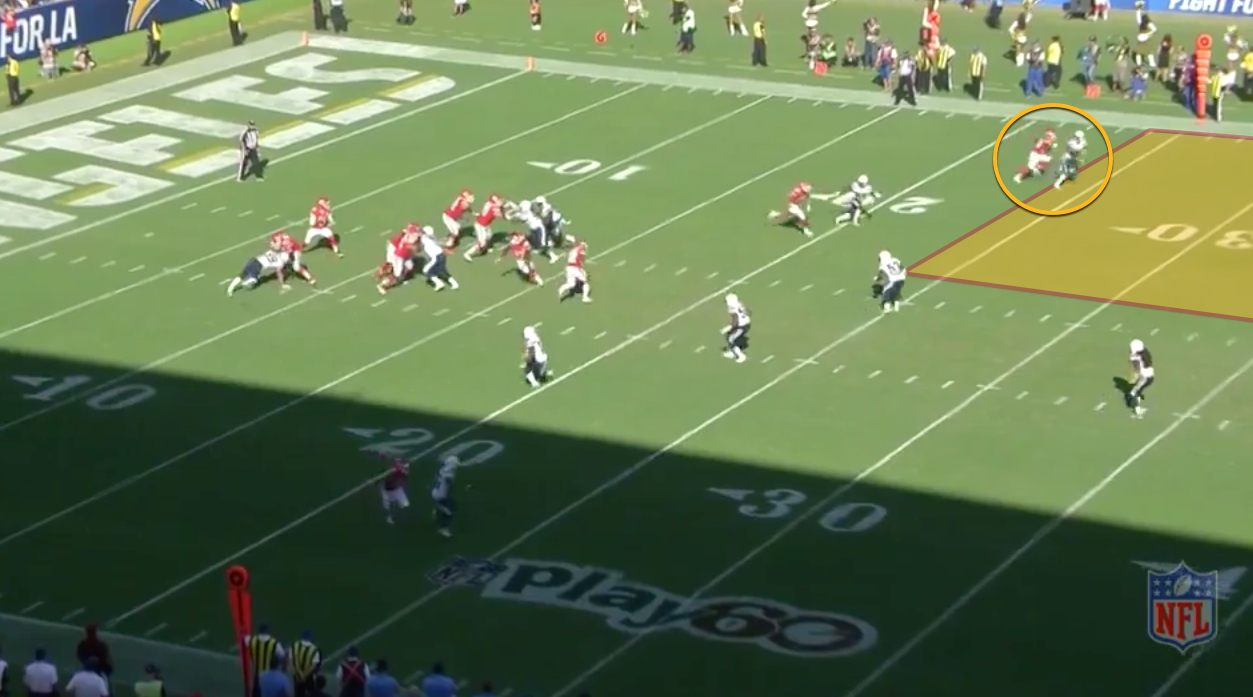 Part of being a great quarterback in the NFL is understanding how to play the percentages, and when to give your receivers a chance to make plays. One-on-one situations in this league are matchup wins for the offense, but if you aren't prepared to take a chance on one unless the receiver is wide open, you will leave a huge number of big plays on the field. This season Smith is taking those shots and picking up big plays because of it.
He already has 440 yards and three touchdowns from deep passing attempts in 2017, while a year ago he scored just twice on deep passes and gained 521 yards in total on those attempts.
When you couple this newly aggressive Smith with the league's best back through five games in rookie Kareem Hunt, the Chiefs are suddenly a completely different proposition on offense, and look like the class not just of the AFC West, but of the NFL.
Kansas City has made the playoffs plenty in the recent past, but they have relied on Alex Smith and the defense playing the games of their lives once they get there. If Smith can simply maintain this more aggressive nature over the season, they are in a far better place, and a much tougher proposition for opposing defenses, even if the quality of his play on a down-by-down basis slips a bit.
You couldn't win a Super Bowl with the 2016 version of Alex Smith, but you most certainly can with the 2017 version.