NFL football returned to us Sunday, and with that came a 2-3 record due in large part to the inability of Cincinnati and Seattle to score two touchdowns in the second half in Seattle. Alas, we're 95-84-10 (53.1%) on printed picks. 
This week we're on only two games, backing a couple of teams that struggled in Week 1. For more opportunities to find value in the NFL, check out PFF Greenline (available with a PFF Elite subscription).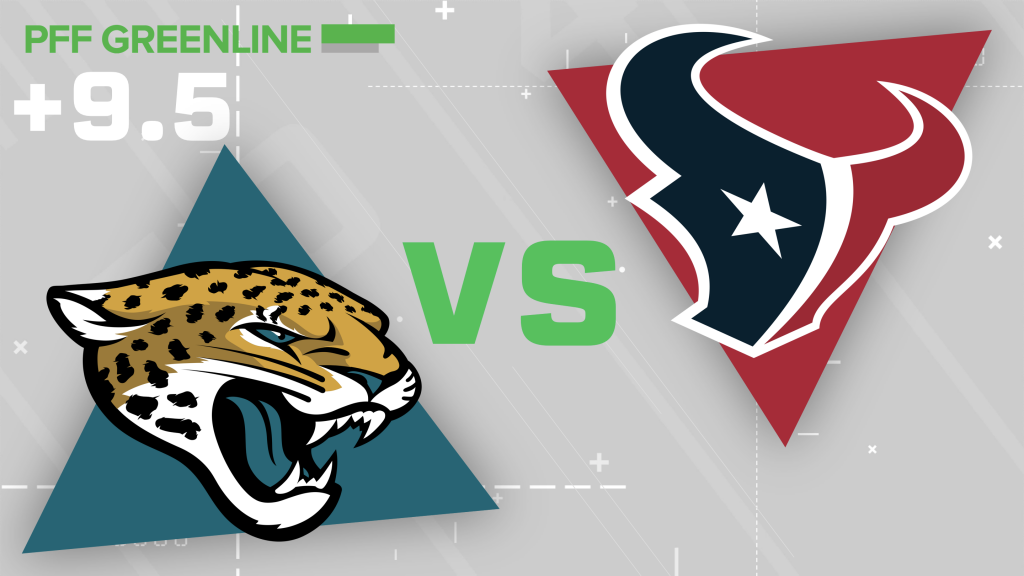 Point (George Chahrouri): Talk about a redemption story. After Antonio Brown's disgraceful look earlier this year, it seemed like the mustache might never recover. Enter a rookie from Washington State, Gardner Minshew II, who is quite literally the quarterback she told you not to worry about. If you put Tom Selleck in a Jaguars jersey, this is exactly the performance you'd expect: Gardner went 16-for-18 from a clean pocket at a 10 yard per pass clip while also going 5-for-5 on throws 10-plus yards downfield after being dismissed as a guy who was nothing more than a dink and dunk quarterback because of the scheme he ran under Mike Leach in college. Minshew earned the sixth-highest grade in Week 1 and yet no one believes: this line has moved away from 9 to 9.5 late Wednesday afternoon. If you need one more reason to believe, consider that Nick Foles might not be a good starting quarterback but he sure knows a thing or two about coming off the bench and beating the odds.
The Jaguars' defense dealt with Patrick Mahomes in Week 1 and it wasn't too pretty. The Chiefs ran up and down the field in Jacksonville but it wasn't without repercussion. The Jaguars' pass-rush got after Mahomes and this week they get Deshaun Watson, who was checked out multiple times on Monday night in New Orleans after taking a bounty of hard hits. Despite risking it all for Laremy Tunsil, Watson found himself under pressure on 50% of his dropbacks while taking six sacks, both of which led the league in Week 1.
The Jaguars' defense has far more talent at each level of the defense than the Saints, with Calais Campbell, Josh Allen, and Yannick Ngakoue upfront, Myles Jack at linebacker and A.J. Bouye and Jalen Ramsey on the back end to cover Deandre Hopkins. Ramsey and Bouye both had rough games against Reid and the Chiefs, allowing a combined 10 catches on 16 targets into their coverage. They are only two years removed from being the best outside corner duo in the league and we all know they aren't lacking in confidence. Ramsey can't ride into camp in a Brinks truck and continue to play like his next contract has him driving the truck instead of receiving his paycheck from one. 
The combination of sneaky good quarterback play and the ability to stop the pass makes a 9.5 point margin simply too darn high. Our PFF ELO power ranking has the Jags at 19th and the Texans at 16, the Jags and Magnum P.I. keep this one close.
Counterpoint (Eric Eager): We faded Houston a lot last year, and I'll be the first to want to bet against them when there's a reason to this year as well. That said, when it comes to the two most important positions on the football field, the Texans have a clear advantage: Deshaun Watson and the league's most valuable non-quarterback a season ago in DeAndre Hopkins. The two connected on eight of 13 targets for over 110 yards and two touchdowns against a talented Saints secondary on Monday. All this included three drops by Hopkins, who had zero a season ago. While he'll draw some good competition in A.J. Bouye and Jalen Ramsey Sunday, they will not have enough corners to slow the quartet of Hopkins, Will Fuller, Keke Coutee and Kenny Stills, whose first touchdown of his Houston career should have won the game for the Texans in the Superdome. 
On the other side of the ball, it's unclear how long the special powers from a mustache like Gardner Minshew's last. Houston are not the 1985 Bears by any stretch of the imagination, but are far better than the Chiefs, who start a pair of replacement-level cornerbacks on the outside and were repeatedly victimized by the rookie from Washington State, whose only three incompletions came as the result of two drops and a pass batted at the line of scrimmage. If Cam Robinson continues to miss time with a knee injury, it will be high time for J.J. Watt to emerge from arguably his worst game as a pro, where he earned just a 43.8 grade against the Saints, generating only one total pressure and zero stops. As I said before, there are far more reasons to bet the Jags than the Texans in this spot, but not because of the lack of star power on Houston's side. 
Subscribe to PFF Edge to continue reading
Already have a subscription? Sign In